In this series with writer James Barrett, we get an honest look at beauty from a fresh perspective. Called (skincare) Virgin Diaries, James takes us through his own skincare journey – the highs, the lows – and everything in between. ⚡️ To read the first article in this installment where James talks about what led him on this journey, and how he plans to develop a skincare routine for the first time, click here.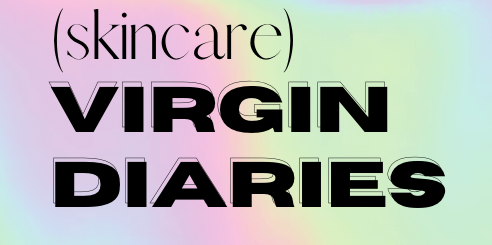 It feels like yesterday that I was confessing in the inaugural (skincare) Virgin Diaries story that never have I ever used a cleanser, exfoliant, toner, moisturizer, or serum before. Well my friends, if you asked me that today, all of my fingers are officially down. Are yours?
SEE ALSO: (Skincare) virgin diaries: Never underestimate the power of moisturizer
I'll be honest — I didn't know what to truly expect from this column when I started it during the summer of 2020 in the height of COVID-19 in quarantine. Yeah, I knew I would be trying products and talking about them, but I never really thought about what I was going to walk away from this column with.
Here I am, someone who at the age of 29-years-old who only washed my face with water. It's clear that I'm probably the furthest away from the stereotype of someone who should be talking about skincare. I mean, why would you listen to someone's skincare recommendations when they don't even have a skincare routine themselves?
But you see, that was the entire point of this column. We cut through all the beauty influencer bullsh*t and fear of being an outsider in the skincare industry and just dove in, face first. I never really told you explicitly what products to buy, because everyone's skin is so different, so who am I to say what you *need*? But what I did in each story is talk about my experience as honestly as I could from the packaging to the scent to even giving mini science lectures like the difference between mineral and UV SPF.
So here we are, at the end of our skincare journey together…and it was no easy feat. Together we conquered the cleanser, SPF, toner, exfoliant, serum, and moisturizer — a basic skincare routine that anyone should know. But before we go, I do have some words of advice. You didn't think I'd let you off without some takeaways from this ~journey~ did you?
Everyone needs a skincare routine no matter how great your skin is.
My lame excuse for not starting a skincare routine until I was almost thirty is that I honestly didn't think I needed one. Please, learn from my mistakes and face the skincare aisle head-on. I'm not saying to go from zero steps to a seven-step routine. Start small with just a cleanser or moisturizer and you'll be glowing in no time.
Be consistent.
Your skincare routine isn't going to be effective if you do it once a week. Go at your own pace, of course, but consistency is what's going to get you results. I've struggled a lot with this and didn't truly get into a groove until about three months into the column. New habits are good, especially when anti-aging results are on the line.
Don't choose brands just for the name.
Here's a secret — some of the brands that seem super-premium and look great on Instagram aren't that great. And more importantly, even if it is a good product, it might not be the product that's best for your skin. I've found throughout the column that I pleasantly was surprised to like some of the more affordable products. Don't underestimate a brand and always give it a try.
Listen to your body.
There have been products that I really, really wanted to like, but they just didn't work out. The product either made me breakout, made my skin super oily, or even left it irritated and itchy. Whatever the case may be, listen to your body to help find what really works for you.
Less is more.
Most of the time, you don't need more than a dime-sized amount of product. Sometimes applying too much product can leave your face oily or make it hard to rub in (SPF, I'm looking at you). I personally love products with a pump so you know exactly how much to use. You're going to pay good money for this stuff, don't let it go to waste!
There's no right answer.
The art of creating your skincare routine is that it's different for everyone and experimenting is fun. Get sample sizes if offered and really see what works best for your skin. After doing some experimenting, you'll soon figure out what your skin type is and what works best for you. I have naturally oily skin, so some products that I thought I loved actually made my skin even more oily.
These are my favorites that I'll be adding to my routine.
After trying out many, many products throughout this journey, here are products that I have purchased on my own and will continue to use:
Cleanser: The Ordinary Squalane Cleanser
SPF: Aesop Avail Facial Lotion with Sunscreen
Toner: Kjaer Weis Toner
Exfoliant: Glossier Exfoliating Skin Protector Solution
Serum: Freck Lil Prick
Moisturizer: Freck Rich Bitch
It's time to officially say, we're not skincare virgins anymore! I hope you feel more confident and glow, even on your bad days — I know I do. Now that we've mastered the basic skincare routine, if you're feeling adventurous, start to explore more complex steps in an advanced regimen such as eye cream, face masks, retinol, and essences. I'm going to take it one step at a time, but will definitely face the skincare aisle a bit less afraid from now on.
(Photo by Eliana Petrides)