Featured Advertisement
Everyone loves a dupe.

I know I do! I'm constantly looking for ways to have my cake and eat it, too — which is to say, obtain effective products at a price that doesn't make me feel guilty for using them. You want efficacy at an accessible price because what good is skincare that you don't use?
Geologie is here to fit that sweet spot. We've written about this 14-time award-winning skin and haircare brand before. They're known for their dermatologist-backed skincare routines that are tailored to your specific skin type and goals. Now, in order to make those goals even more achievable, they've introduced the Vitamin C+E Ferulic Serum to the lineup. This $48 serum rivals a $169 serum from SkinCeuticals. Let's see how they stack up.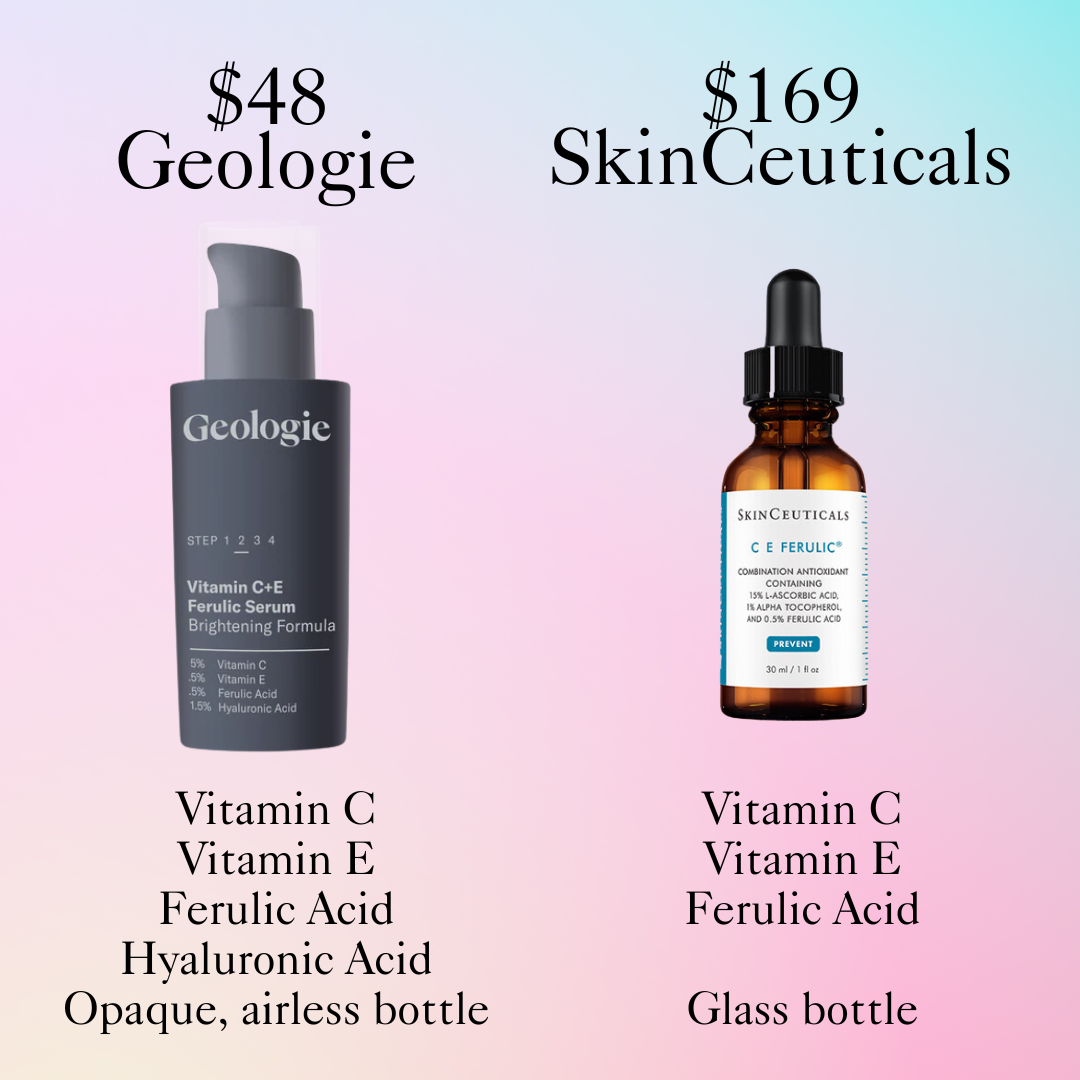 Ingredient-wise, you can expect the same components and then some: 5% Vitamin C, .5% Vitamin E, .5% ferulic acid, and brings an addition of 1.5% hyaluronic acid, which we all know for its ability to add and draw moisture to the skin.
Vitamin C is an antioxidant — which means it protects against pollution and other nasties from the environment. These free radicals are unstable and, when they react with skin cells, can cause damage and premature aging. Ferulic acid, the other star antioxidant, is a compound that helps make other antioxidants more effective. When paired with Vitamin C, it can stimulate collagen production, which helps in the reduction of fine lines. It also has anti-inflammatory properties that can help calm and prevent irritated skin and breakouts.
In the past, I've mostly used Vitamin C serums in my routine for their brightening properties. Having olive skin, I'm prone to having every zit leave behind a lingering dark spot. Vitamin C can help address the hyperpigmentation that you get from the aftermath of a zit. (It's also helpful with helping sun spots!) Regular incorporation of a Vitamin C serum into your routine like this can fade dark spots and prevent them from occurring.
Why Geologie's is different
It's not only what's inside the bottle that makes this product beneficial; it's also the bottle itself. Vitamin C, on its own, is pretty dramatic. It begins to break down almost immediately in reaction to both sunlight and oxygen. (Basically, the opposite of plants.) So, to combat this, the Geologie Vitamin C+E Ferulic Serum comes in an opaque bottle with an airless pump that prevents possible loss of efficacy that can come with glass bottles or droppers.
How to use it
Two pumps are plenty to cover your entire face and neck. Apply the product to clean skin right after cleansing and before sunscreen or moisturizer. The translucent gel formula absorbs quickly into skin with a glowy finish. It's unscented, but the natural ingredients do have a warm, autumnal scent. Apply once a day and marvel at the fact that you saved over $100.
Ready to find hair and skin care tailored to your needs? Head to Geologie and use code VGL20 for 20% off your order, sitewide.
Geologie was also kind enough to offer 50% off 30-day personalized skincare trial sets to Very Good Light readers. You can use the code VGL50 to get started on your custom skincare journey.