A few weeks ago, I was stalking Josh Rosebrook's TikTok when I found a comment where he said, along with great skincare, his wildly flawless complexion is thanks to "lasers, surgery, and Botox in [the] forehead." We all know people with means have access to the best products, procedures, surgeries, and injectables often — but what about lasers?
When you have a trusted routine down with clear and glowy skin to boot, how much more refining can be done? Turns out, a lot, and lasers can be a huge contributor to more even tone and texture.
One of my biggest insecurities with my skin has been broken capillaries popping up over the last few years. They can be caused by hormonal imbalances, sun exposure, extreme weather (such as wind and cold), as well as overconsumption of alcohol. For me, genetics and years of popping pimples pre-Accutane were the culprits.
I was due for a dermatology visit anyway (for tretinoin!), so I made sure to find an office with lasers. After an initial consultation, I was set up with a laser appointment later that month. It's been a few weeks since the treatment, and I'm loving the results. Here's what you need to know:
What laser did I get?
I got Versapulse, which is a green light wavelength that targets redness and superficial veins. There are many other brands and types of lasers on the market, so depending on your concerns, a dermatologist or medical esthetician can help you find the best one.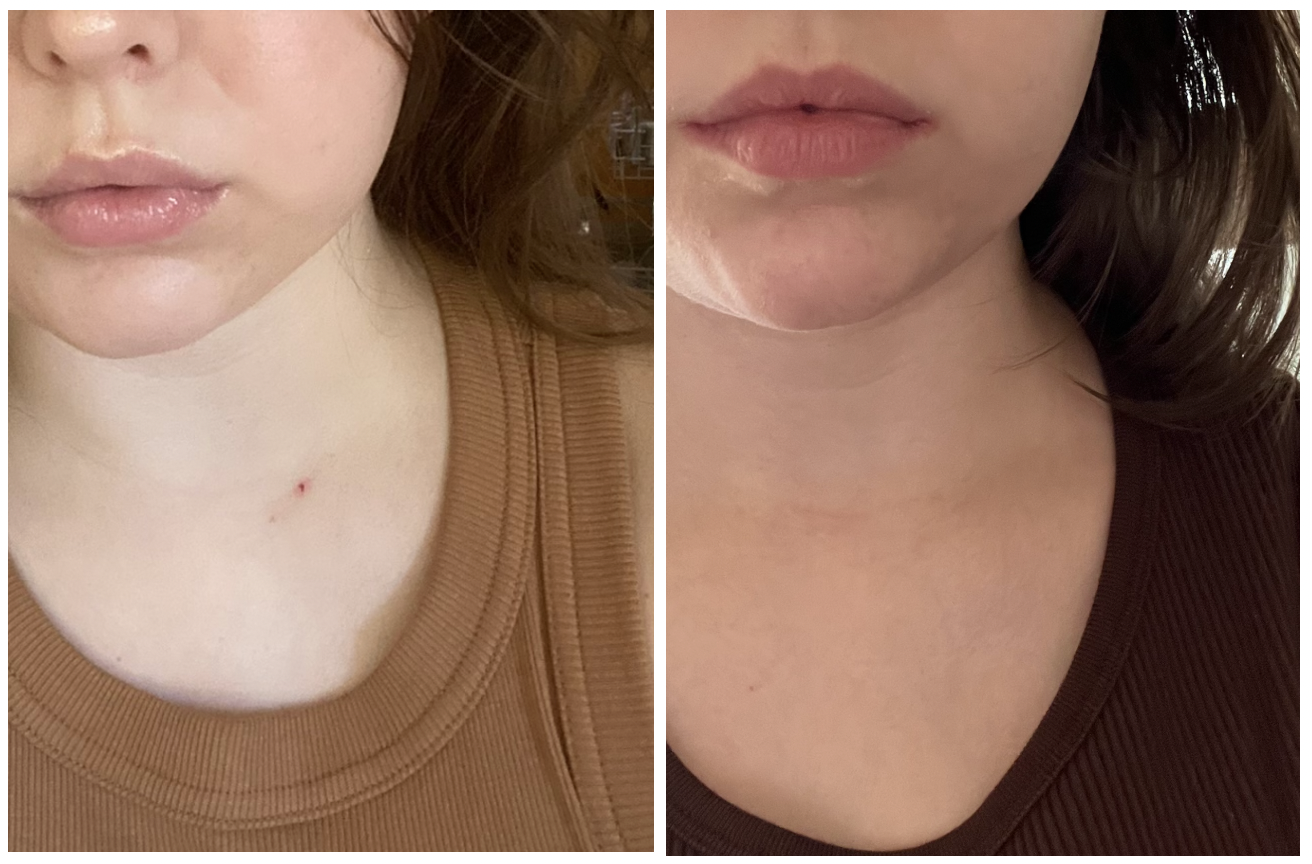 How much does it cost?
This can range depending on where you go, but it was $350 for me. If I needed a second treatment, it would be $250. Unfortunately, insurance will not cover most lasers because they're cosmetic.
Where can you get a treatment like this done?
Many dermatology offices, med spas, and plastic surgeons offer lasers. Search the laser name you want with "near me" in Google, and there should be a few options!
Does it hurt? How long does it take?
It felt like rubber bands snapping on my face. It wasn't bad, but once the technician got around my nose (one of the most common areas for broken capillaries), my eyes started to water a bit. Since I was in and out of the dermatology office in 30 minutes, this felt like a small price to pay!
What's the aftercare like?
Avoiding the sun and using sunscreen daily is a must. This will not only protect the delicate skin that was just lasered but also prevent new broken capillaries from forming. I know you're indoctrinated with sunscreen talk 24/7, but I'm hoping to convince everyone to wear it the same way people learn how to do math: through repetition. Sometimes, it just takes hearing it a million times before, one day, it miraculously clicks and sticks. Other than SPF, you can ice the area to help with inflammation and apply moisturizer to help heal.
How long does it take to see results?
The laser technician did a pass for overall redness on my whole face, and smaller spots had basically disappeared by the time I got home the same day. For the most noticeable spot I got treated, it took a full week to dissipate. Not going to lie. I was planning on calling for my second treatment by the seventh day, but then woke up to find the redness gone. Rejoice! I also got a zap on my finger that's still red, but since I can't baby my fingers with constant care and Cicaplast, it's taking longer to heal.
Do you need this?
Absolutely not. No one needs any sort of cosmetic procedure, enhancement, or product (except sunscreen, but I digress). However, if you wake up every morning, go to the sink to brush your teeth, and can't help but get sucked into focusing on a "flaw," this could be an option for you. I noticed my broken capillaries every time I looked in the mirror and every photo, mostly because the worst one looked like a perpetual cat scratch on my chest. It became worth it to me to spend the time and money necessary to get zapped, so that's what I did. My rule is if you desire something that won't hurt anyone or make you go into debt, do it.