Very Good Light very much cares about your skin barrier.
good light, a skincare brand from Very Good Light launching today, March 17th, is a love letter to the tough but sensitive skin barrier.
The skin barrier is the outermost layer of your skin and it has a big job to do. It's responsible for defending your body against environmental stressors, while simultaneously retaining moisture. The skin barrier is your skin's bodyguard. Essentially, it keeps the bad things out and the good things in.
SEE ALSO: Launching good light was an impossible dream.
Very Good Light has been praising the skin barrier and its impressive defensive abilities for years. We've written about skincare sandwiching for repairing the skin barrier, the damaging effects of chronic inflammation on the skin barrier, and we even talked to a skin scientist about the role your skin's microbiome plays in skin barrier function. As we've continued to cover new launches and lust over the latest skincare products, it's clear now that our favorites all share one thing in common: they all repair and protect the skin barrier.
We can relate to the skin barrier – it's resilient yet sensitive. It's responsible for holding everything together, evaluating balancing constant exterior and interior changes. With the right support, it makes having glowing skin look easy. However, with just one wrong move, it can be thrown completely out of whack, leaving your skin angry, inflamed, and broken.
But it doesn't have to be this way. With proper care and protection, your skin barrier can bounce back stronger than before, ready and willing to protect you from the harsh world. good light is about finding that good light within us all to help light the way, and it all starts with the skin barrier.
To find out why good light chose to create an entire line focusing on strengthening the skin's moisture barrier, check out the brand synopsis and review below.
The brand
When Very Good Light founder David Yi started thinking about the kind of products he wanted to create for good light, inclusivity was top of mind. He wanted to create products that were beneficial to everyone, regardless of their skin type. Across all the common skin concerns, whether you suffer from acne, oily skin, or redness, the skin barrier plays an important role in your healing journey.
As a Korean American, David grew up understanding the importance of skincare from an early age. In his career as a fashion and beauty journalist for publications like GQ and Vogue, skincare became an even more meaningful part of his confidence and identity.
Early in his career, David didn't see anyone that looked him in the beauty industry, so he made his own space for himself with the launch of Very Good Light back in 2016. Since then, David knew he wanted to launch a skincare brand for this community, and five years later, it's finally come to fruition.
The products
Very Good Light's own diverse community inspired the three products good light is debuting at launch: Cosmic Dew Water Cleanser ($18), Moon Glow Milky Toning Lotion ($22), and We Come In Peace Probiotics Serum ($24). At less than $65 for the entire set, this line is accessible for everyone, regardless of your skincare budget.
While skin concerns like acne, dryness, and sensitivity are universal, they're often treated separately. Consumers are sold one product for pimples, one for blackheads, one for eczema, and on and on, until their skincare routine becomes a laundry list of products and steps that at some points even counteract or worsen the very problems they're trying to fix.
good light's three-product lineup seeks to address all skincare concerns by focusing on strengthening the skin's moisture barrier function, which can help alleviate issues from acne to dryness and dehydration.
The review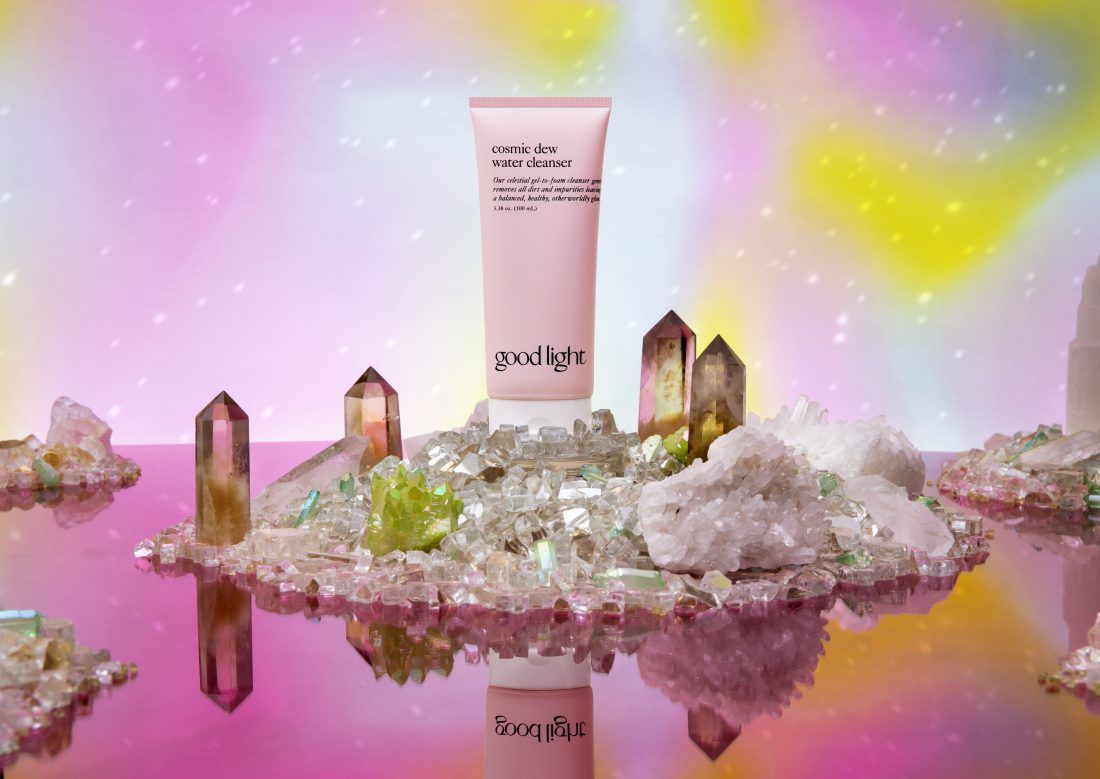 It's my personal opinion that cleansers shouldn't be complicated. After all, it's only on your face for a few seconds before it's washed down the drain. The Cosmic Dew Water Cleanser ($18) is simple, hydrating, and yet wildly effective at removing makeup and SPF residue. Gentle enough for sensitive skin, it cleanses without stripping your skin of its natural oils and hydration. Laminaria japonica extract, a type of brown seaweed, and eclipta prostrata leaf extract from a Korean daisy flower both contain anti-inflammatory properties, which makes for a soft, non-irritating cleanse. Beta-glucan, a humectant derived from oats, hydrates and soothes parched skin.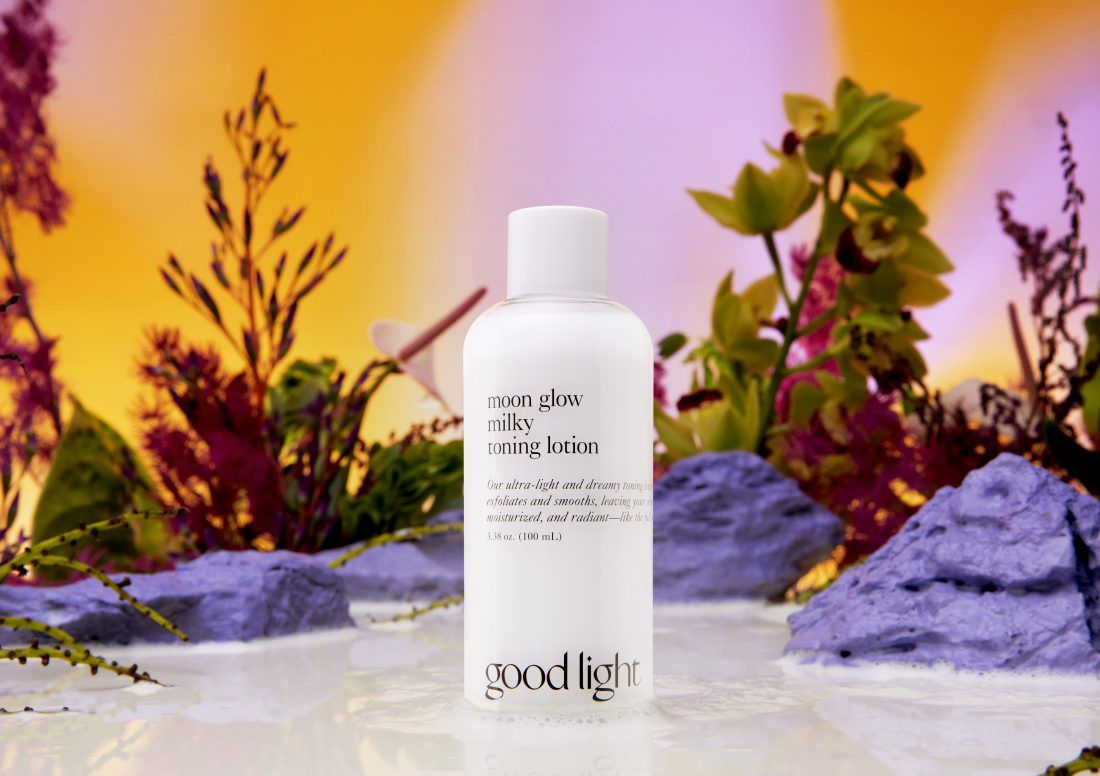 The Moon Glow Milky Toning Lotion ($22) is like a warm, gentle hug. It literally looks like milk in the bottle, which is a clear indication of just how nourishing and beneficial it is for your skin. The clear glass bottle feels luxe in your hands. After shaking it up, you can see how the formula coats the surface of glass, which isn't porous in the slightest, so you can only imagine how hydrating it is on the face. I shake out a little into the palm of my hand and gently press it into my face, cupping the curves of my jaw and cheeks. It's unlike any other toner or essence I've ever tried, and I truly think it's the most revolutionary formulas of the year.
What makes it so unique is the blend of nourishing oils (argan, avocado, rosehip, and sunflower seed) alongside some star ingredients like plant-based allantoin, an anti-inflammatory, pore-refining niacinamide, moisturizing urea, and snow mushroom, which I predict will be the next big thing in skincare. Snow mushroom is similar to hyaluronic acid, but its particles are smaller, allowing it to penetrate the skin more easily. This toning lotion is ultra-soothing and I noticed a visible difference in my skin's texture and tone after two weeks of using it.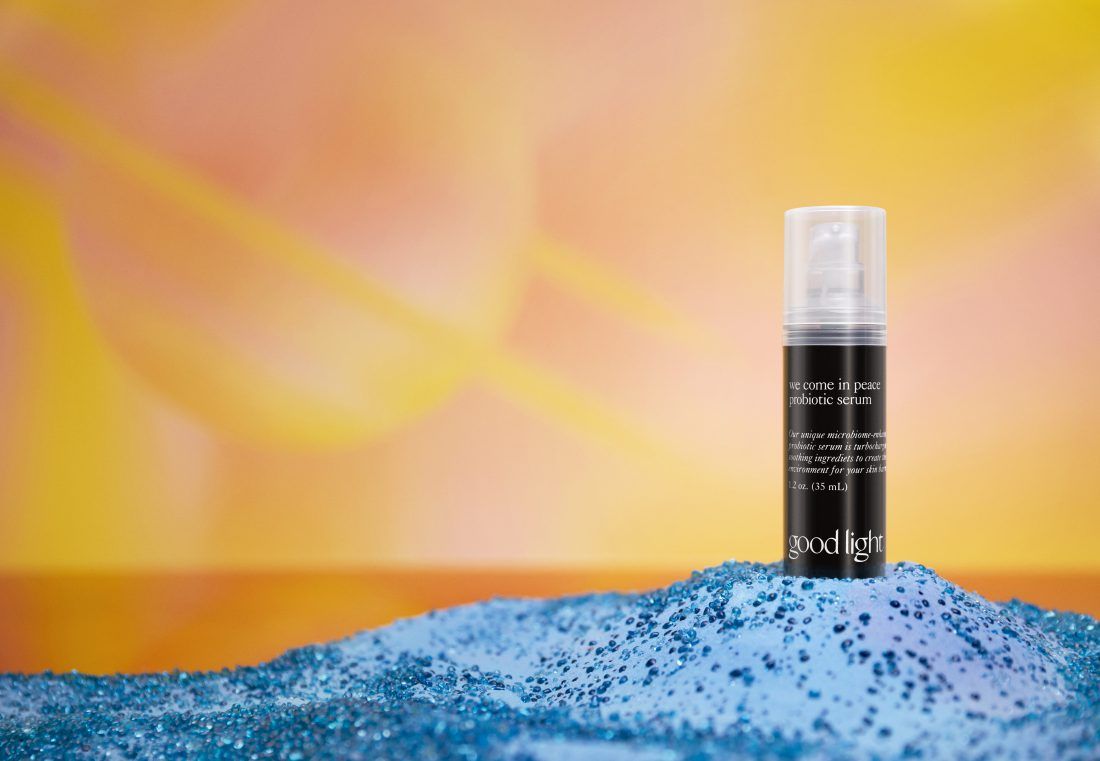 We Come In Peace Probiotics Serum ($24) is the ultimate supportive serum. The secret is in the probiotics, namely lactococcus ferment lysate, which actively works to improve your skin barrier over time. It completely balances your skin, and as someone with true combination skin, I've never experienced something that addressed my oily T-zone and dry cheeks so effectively in a single product. Also featuring bakuchiol, a plant-based alternative to retinol, this probiotic serum stimulates collagen production and gently decreases wrinkles to reveal balanced, brighter skin.
Overall, this line is my all-in-one skincare support system. It addresses my problems with love and care, and has genuinely improved my skin confidence. I used to be the person with a 10-step routine, believing that a cocktail of different products was the answer to my seemingly disparate skin problems, but this simplified routine has completely changed my view. My skin didn't need all those products, and in fact, they may have exacerbated my problems. This simple routine paired with a hydrating moisturizer gives me the soft, pillowy skin of my dreams, which is something I didn't think was possible without spending a ton of money on professional-grade products and treatments.
It's a lesson that I needed to learn in more ways than one: less is more. Quality over quantity. My skin just needs a little support to help it shine.
TLDR;
– David Yi, founder of Very Good Light, launches good light today, March 17th
– The launch includes three products: Cosmic Dew Water Cleanser ($18), Moon Glow Milky Toning Lotion ($22), and We Come In Peace Probiotics Serum ($24)
– good light is built with our diverse community in mind and seeks to address all skin concerns by putting skin barrier health first
– Star ingredients include Korean plant-based extracts, snow mushroom, a powerful probiotic called lactococcus ferment lysate, and wrinkle-reducing bakuchiol.
Check out the entire lineup of products HERE and make sure to follow good light on Instagram and Tiktok to keep up with new launches.
READ MORE LIKE THIS