Very Good Light founder and editor-in-chief David Yi's new book, "Pretty Boys: Legendary Icons Who Redefined Beauty (and How to Glow Up, Too)," is out today! "Pretty Boys" is the first comprehensive and boundary-pushing book on inclusive beauty, featuring advice from the best makeup artists and beauty experts in the business, including Sir John, Daniel Martin, Bretman Rock, and so many more. Get it at your local bookstore or order your copy here!
Before my first day of seventh grade at a brand-new middle school, when I should've been fussing over small details like the outfit I'd blow everyone away with or the lunch table I'd sit at, I was worried about something far more important: whether or not my new friends would call me gay.
At an age when I was desperate to fit in, conforming was a means of survival. That meant hiding behind a broken facade of aggressive masculinity: the toughest kid in the schoolyard doesn't get picked on. So on that first day, I puffed out my chest, wore my jeans a little baggier, deepened my voice from soprano to tenor, and pretended that I was anything but who I actually was: a confused Korean American boy who was bewildered by—and afraid of—his identity.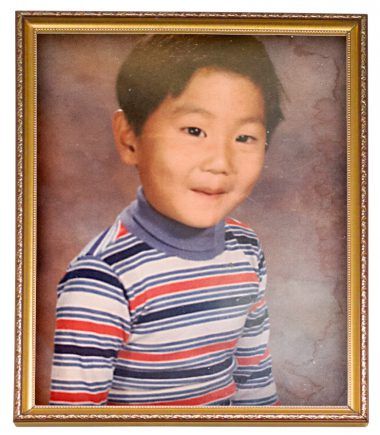 It didn't help that I had a Korean mother who was obsessed with protecting me from the sun. She'd slather my skin with sunscreen so thick, I ended up resembling a vampire by the time I got to school. And while beauty by way of skincare was normalized in my Korean household, it was a foreign concept to my American peers, who taunted me for it. To them, beauty was only for girls. Beauty was the ultimate act of feminine behavior. As a young boy, it meant you were deviant.
These dual identities pulled me in very different directions. I was taught that beauty isn't solely about aesthetics, that with every cream you layer, every drenching of your pores, you are engaging with a mindful practice of self-care and self-actualization. You're respecting and taking care of yourself. The West, on the other hand, equates skincare and beauty (or "grooming," to the men's beauty world) with weakness. Men are perceived as more "masculine" when they care less about their appearance and are encouraged to show their dominance through physical might and an aggressive personality.
Or at least, they were.
Fast-forward to today, when preconceived notions of  "masculinity" are being challenged like no other time in recent history. In today's colorful world, people are discovering the freedom to express their identities in ways big and small. We're living in a day and age where exuberant stars from RuPaul's Drag Race are not only embraced but celebrated as pop culture icons. This is an era in which men who paint their nails à la Frank Ocean or Harry Styles aren't automatically relegated to one orientation or the other. A time when the world's biggest boy band, BTS, is setting the new standard of male sex appeal with not only their talent, but their dewy complexions (and colorful hair!).
But did you know that eons before Chanel launched its men's beauty line, Boy de Chanel, cavemen had already created early forms of foundation and highlighter? In fact, thousands of years before Troye Sivan showed up on the red carpet with a multicolor mani, the ancient Babylonians were painting their nails in salons before battle. And centuries before K-pop boy bands and their makeup became international sensations, sixth-century Korean warriors known as hwarang used smoky eyes to channel a higher spiritual power while defending their kingdom from invaders.
So it's curious how history books emphasize the sheer brawn of men, particularly legendary historical figures, but fail to acknowledge their beauty—as if it somehow weakens or makes a man less-than. Centuries of heteronormative attitudes have minimized the close relationship men have always had with the ritual of beauty: to beat their foes, these men needed to beat their faces. To snatch some wigs, these leaders needed their own wigs snatched. For their legacies to grow, they needed to glow.
In this book, you'll read about how the radical act of beautifying for each of these pretty boy icons throughout history has always been more than the sum of their cosmetics and products—how beauty has acted as a channel for self-care and self-love. But of course, we'll cover both inner and outer beauty in this book: along the way, you'll pick up tips on makeup and skincare, and advice from the best makeup artists in the business—from Beyoncé's own Sir John to drag queen superstars like Kim Chi—in addition to meeting some inspiring contemporary pretty boys as well. They're all in here waiting for you.
Wherever you are on your journey—whether you're someone who cleanses their face with just water or subscribes to a ten-step Korean beauty regimen, already a beauty boy who celebrates yourself with a full beat and wig or simply a person curious about the history of masculinity and gender expression—this book is for you.
Before you get started, I hope you'll embrace this book on your own terms, and at your own pace. Think of the table of contents as a map, and choose your destination depending on what you need!
History buffs: Travel to specific time periods to meet pretty boys of yore, uncover their surprising relationships with beauty, and experience the wide range of gender expression around the world and through the ages. (And in keeping with the spirit of the sheer diversity and fluidity of experiences within, don't be alarmed if you read one chapter and it's in a second-person perspective, then another reads like a love story, and yet another is like a mystery novel . . . )
Beauty enthusiasts: Learn how to level up through tutorials from the best in the industry—get tips and tricks on everything from washing your face and taming your eyebrows to getting into your first drag look.
For the community: Get personal stories of self-actualization—from learning to love oneself to making beauty a brand—from real people throughout the world. Flip through the exclusive interviews with our pretty boys from around the world, or even start your journey at the end, and get inspired by ten modern-day pretty boys in the "What I Love About Me" section.
I've scoured the world and sifted through history books to discover examples and proof that men and masculine-identifying people did indeed beautify—but I realize this book doesn't represent the full scope of every human who's ever walked this earth before us. There are so many more equally important stories to include, so I hope this is just the beginning of this conversation about the gender-neutrality of beauty.
Writing and researching Pretty Boys has allowed me to finally come to peace with who I am. This has been such a healing process for me. Looking back, I know of one boy who struggled over the years to accept himself. In those lonely moments of confusion and self-loathing, he could have used a book like this to show him that he was perfect just the way he was. So to those of you out there questioning whether you can think of yourself as beautiful right now . . . yes, you absolutely can. You are, in fact, stunning. And I hope that the following pages will help you realize that your pretty has and will always be pretty powerful.
Here's to you, pretty boy . . . may your inner and outer beauty light the way.
(Excerpt from PRETTY BOYS by David Yi, illustrated by Paul Tuller. Copyright © 2021 by David Yi. Illustrations © 2021 by Paul Tuller. Available June 22, 2021 from HMH Books & Media.)
📘
Read these stories next...
1) How my dad taught me to become a pretty boy
2) Kyle Dion on his new album "Sassy," gender fluidity, and his extra skincare routine
3) It was the most 'successful' year of my life, so why do I feel dead inside?
4) David Yi's "Pretty Boys" book launch party was a Slaysian celebration