Our problems are not unique.
Everyone is struggling with something, and we all feel the same pain, even when it comes to our skin problems. Recent studies show that our personal skin woes potentially all stem from the same trigger: inflammation.
It's true that everyone's skin is different and reacts differently to products and lifestyle changes. However, there's an emerging idea in skincare that all of our different skin problems are at least initially caused by inflammation. Inflammation is an immune response that disrupts the skin barrier, which is responsible for maintaining skin homeostasis. Each layer of your skin has a unique role in maintaining homeostasis—your body's state of equilibrium. A weakened skin barrier throws the entire system out of wack and results in irritated, inflamed skin that can appear as redness, dryness, inflamed acne, and other common skin concerns.
SEE ALSO: Cocokind's new Sake Body Lotion brings microbiome skincare to the rest of your body
Which makes sense that anti-inflammatory skincare is becoming super popular as consumers come around to the idea that inflammation might be the root cause of their problems. Data collected by consumer intelligence firm Spate indicates that searches for "anti-inflammatory" are up over 12% since last year, indicating that this is a growing movement amongst those who recognize the early signs of inflammation on their skin and in the rest of their body and are looking for a solution.
To help break down the science behind inflammation, how it affects your skin, and how to treat it, we talked to Dr. Mary Stevenson, M.D., assistant professor in the Ronald O. Perelman Department of Dermatology at NYU Langone Health.
What is inflammation?
"Inflammation is a broad term used to describe when an immune response results often from a trigger," explains Dr. Stevenson. This immune response is activated in the face of a perceived threat and is deployed to protect the body from further injury.
You might have inflammation if you're experiencing any redness, pain, itching, heat, swelling, or dryness, which conveniently describes just about every skin condition that skincare products are trying to solve.
What does inflammation look like on the skin?
Hives, eczema, and psoriasis are commonly known inflammatory skin conditions, but things like acne and discoloration can also be triggered by inflammation.
"Skin inflammation often looks like a raised, red, rash, and it can present localized or diffusely, and can often feel itchy or irritated," says Dr. Stevenson.
If you're suffering from almost any skin condition, there's a good chance that inflammation is the true source of your troubles. By treating the inflammation instead of its secondary effects on the skin, you're actually stamping out the problem at its source, effectively ripping the root out with the weed instead of mowing the lawn every week.
What causes inflammation?
Inflammation can be caused by both internal and external factors. Things like your diet, how much sleep you get, stress, and other health conditions can bring on inflammation. Pollution and sun damage can also cause your skin to freak out, which is another reason why sunscreen and antioxidant products are so important in your skincare routine.
One of the biggest precursors for inflammation is product overuse – over-exfoliation, using harsh products on a recurring basis, and using too many products in combinations that weaken the skin barrier can all contribute to inflammation in the skin. This sets off a chain reaction that leads to skin concerns like stubborn breakouts, acne, and discoloration, which many people treat with more products, and the cycle continues.
"Fragrances are a common allergen and can cause inflammation," says Dr. Stevenson. "Products like retinoids used for acne and anti-aging if used too much can cause skin inflammation by drying the skin. There are many ways [inflammation] can happen, which is why it's good to discuss your skin and skincare with a board-certified dermatologist."
How to treat inflammation
Inflammation wants one thing and one thing only: to be left alone. It's basically your body telling you, "Hey, we know there's a problem here, but don't worry, we got this." Your body is designed to fight off foreign bacteria, viruses, irritants, and injuries, but that doesn't mean it can't use a little support. Treating inflammation benefits from a "less is more" approach, but there are certain products or treatments that a dermatologist can recommend or prescribe.
Dr. Stevenson treats inflammation based on the cause and skin type. Steroids and antihistamines are common agents for many types of inflammation, but it depends on the condition, and there are many treatments depending on the cause. Inflammation is always a response – not a condition. Figuring out what triggers the inflammation is fighting against is the first step in developing a treatment plan.
If inflammation is occurring as a side effect of an autoimmune disease, your doctor might recommend systemic treatments to address your whole-body health. Always seek professional counsel from a derm before incorporating any major changes into your routine.
Anti-inflammatory skincare
Anti-inflammatory skincare describes a class of products that are designed to support the body's natural response to inflammation. Products that calm irritation and facilitate healing can be classified as anti-inflammatory, and usually contain ingredients like chamomile, oat, turmeric, green tea, and CBD. None of these ingredients are particularly new in skincare (except for maybe CBD), which leads to the conclusion that anti-inflammatory skincare as a trend is nothing new.
Consumers have always used these soothing products to calm irritated skin, but only recently has the skincare craze in many ways glorified exfoliating treatments and the suffering through inflammation (or "purging") as a sort of penance to pay in order to reveal brighter, better skin. This needless suffering can be alleviated with the help of anti-inflammatory skincare, which is in many ways an old idea dressed in new clothing.
"I think anti-inflammatory skincare has been around in many ways, shapes, and forms for a long time," explains Dr. Stevenson. "There also seems to be a recent increase in anti-inflammatory soothing products, but these are just new twists on old treatments – just a new focus."
VGL-Approved Anti-Inflammatory Products
1. Youth To The People Adaptogen Deep Moisture Cream with Ashwagandha + Reishi ($58)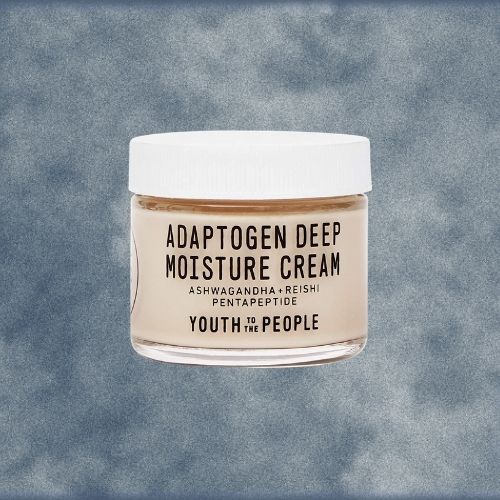 Adaptogens help support your body's natural defenses to reduce inflammation. This cream contains Ashwagandha, rhodiola, reishi, and holy basil, all of which contain soothing, calming properties to hydrate inflamed skin. It's fragrance-free and a great pick for sensitive skin.
2. Muri Lelu Mauvaise Herbe Indica Oil ($135)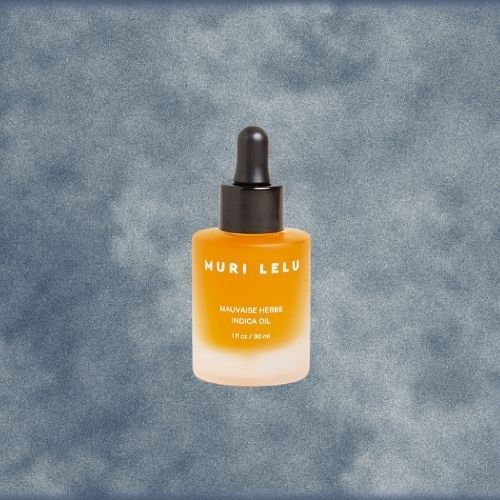 This super-rich facial oil contains phytocannabinoids, terpenes, chlorophyll, flavonoids, and fatty acids derived from cannabis sativa extract for maximum healing. Made without sulfates, parabens, phthalates, silicones, synthetic fragrances, or colorants, it nourishes skin while you sleep so you wake up to radiant, glowing skin.
3. Eminence Organic Skin Care Calm Skin Arnica Masque ($44)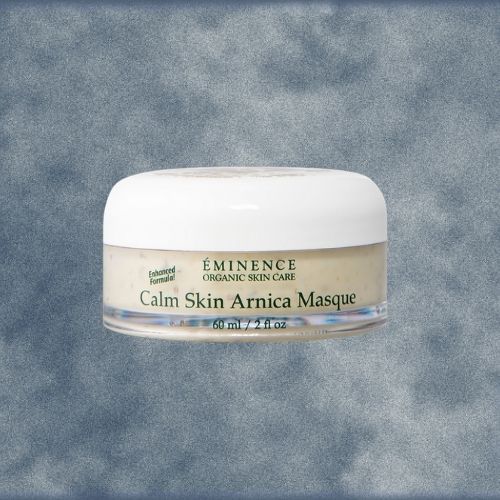 Calendula, ivy, and arnica soothe and detoxify the skin while reducing the appearance of inflammation. The addition of shea butter helps replenish the skin's moisture barrier while antioxidants, coenzyme Q10, and alpha-lipoic acid help protect the skin from environmental stressors.
4. Skinfix Eczema+ Dermatitis Face Balm ($28)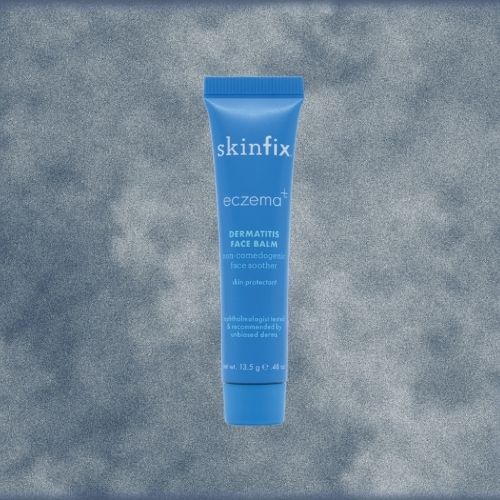 This concentrated face balm is formulated with 5% colloidal oatmeal, which helps relieve minor skin irritations and itching due to eczema, rash, and dermatitis. Sweet almond oil nourishes the skin as it heals, providing soothing relief from itchy skin conditions brought on by inflammation flare-ups.
Inflammation is the universal skin condition, the precursor to all skin conditions, but the antidote is simple: do less, simply your routine with soothing products, and let your body heal in its own time. It's gotten you this far – trust your body to have your back.
READ MORE LIKE THIS