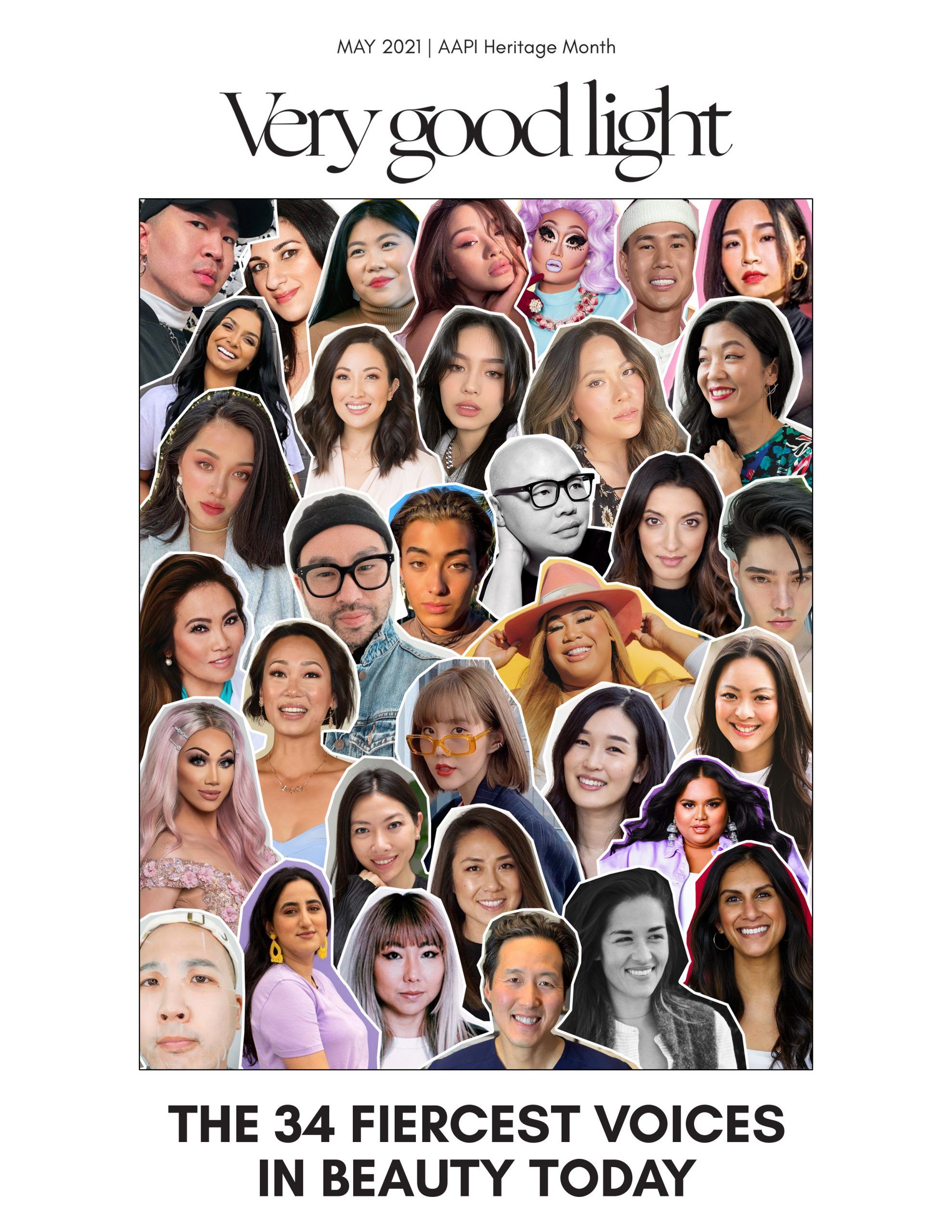 Every month, Very Good Light aims to celebrate all people and amplify underrepresented voices.
This month specifically, we are recognizing and uplifting our Asian American/Pacific Islander community to celebrate AAPI Heritage Month.
May is Asian/Pacific American Heritage Month – a celebration of Asians and Pacific Islanders in the United States. Asian/Pacific encompasses all of the Asian continent and the Pacific islands of Melanesia, Micronesia, and Polynesia.
SEE ALSO: good light partners with Soko Glam in support of The AAPI Community Fund
The month of May commemorates the immigration of the first Japanese to the United States on May 7, 1843, and also marks the anniversary of the completion of the transcontinental railroad on May 10, 1869, the majority of the workers who laid the tracks were Chinese immigrants.
This month is a period to recognize the achievements and contributions of Asian Americans and Pacific Islander Americans and their influence on the history and culture of America. This year, it is especially important to listen to AAPI voices and experiences, as America continues to see a significant increase in anti-Asian violence and community discrimination.
To celebrate, Very Good Light listened to the diverse voices of 35 Asian Americans within the beauty industry to amplify their experiences and what it means to be an Asian American today in 2021.
1. Neil Shibata, Influencer
Neil Shibata is a 20-year-old Japanese-Canadian Tik Toker based in Vancouver. He's best known for his 60-second videos featuring intricate makeup looks and transformation videos, including gender-bending looks and tutorials. He's redefining masculinity by expressing his gender on his own terms, whether he's in full glam or bare-faced. With 2.2 million followers on TikTok, the pressure to fit the norm doesn't bother him. He's gained and lost followers since his first gender-bending TikTok and won't let that stop his creativity and gender expression. His dream is to one day collaborate with none other than Lady Gaga (icons only, of course.) We took a peek inside Neil's daily grooming routine, which you can read all about here.
2. Priscilla Tsai, CEO and Founder of Cocokind
Priscilla Tsai is a 33-year-old Taiwanese-American founder of Cocokind, which she started in 2014. Before starting Cocokind, Priscilla worked at JP Morgan doing equity research while battling skin troubles like cystic acne and sensitive skin. She spent two years sourcing clean ingredients and developed the skincare brand from the ground up. She started selling her products from door-to-door and eventually developed an online following. After just five years of being in business, the brand has seen exponential growth with loyal supporters. Very Good Light recently reviewed the brand's newest bestseller, the Sake Body Lotion, which helps to calm irritated skin including eczema and redness. Their Daily SPF is another bestseller that even protects from blue light! To read more about how Priscilla made it big in the beauty business, read our interview with her here.
3. Plastique Tiara, Drag Queen
The 24-year-old Vietnamese drag superstar Plastique Tiara started her career on RuPauls' Drag Race Season 11, where she was a fan favorite for her jaw-dropping runway looks. Since then, she's skyrocketed to TikTok fame with 6.4 million followers who love her high production videos featuring glow-in-the-dark lighting, wind machines, and perfect transitions (lots of feathers and flawless makeup, too!). Plastique learned how to do drag through social media. During the pandemic, she started her own drag show called Drag N' Drive, a drive-in drag show featuring other favorites from RuPaul's Drag Race to quench her thirst for wanting to perform.
4. Young Yuh, Content Creator
Young Yuh is a Korean-American skincare content creator on Tik Tok with 1.5 million followers. He isn't just posting reviews. Young connects with his audience with his extremely energetic personality and tries ridiculous things…all in the name of skincare. Things like using a whole bottle of toner on his face in one sitting and doing his skincare routine in reverse. Above all else, he reminds his followers to do their research before believing everything they see on the internet. Oh and, he's the "Egg King" because he's bald and thinks he looks like an egg. Simple as that. To read more about how Young Yuh became one of TikTok's top skinfluencers, click here.
5. Joan Kim, Influencer
Joan Kim is a 29-year-old YouTuber from California, now living in South Korea. Joan is known for her personal beauty and travel vlogs, and honest beauty product reviews, which she shares with her 515k YouTube subscribers. She began her YouTube channel in January 2009, and graduated from the University of California at Berkeley in 2013. She then moved to Korea, where she worked as an English teacher for almost a year, and then as a radio host at a broadcasting station in Seoul. Aside from her skincare, beauty, and fashion YouTube channel, Joan vlogs on a second channel, Joanday. The word translates to "Good day" in Korean. There, she vlogged every day of her year of being 25, and since then, uploads weekly vlogs that give a glimpse into everyday Korean life.
6. Patrick Ta, Makeup Artist and Founder of Patrick Ta
Patrick Ta is a 30-year-old Vietnamese makeup artist from San Diego, CA. Patrick is the creator and founder of his own beauty brand, Patrick Ta, which launched in April 2019. Patrick is the makeup artist best known for glamming all the top A-list  Hollywood celebrities like Gigi and Bella Hadid, Ariana Grande, Chrissy Teigen, Rihanna, Olivia Munn, and several Kardashian sisters. He's known for his bold eye looks and a signature dewy glow on clients. Patrick got his start in makeup working for MAC Cosmetics. He has spoken out about being bullied in his past for being gay, his weight, and his race. After years of emotional and financial ups and downs, Patrick launched his eponymous beauty brand in 2019, which is focused on natural glow and monochromatic neutrals. To read more about how Patrick turned his failures into success and how he's standing up against Asian hate, click here.
7. Kirin Bhatty, Celebrity Makeup Artist
Kirin Bhatty is a South Asian American artist in the celebrity makeup space, working with clients such as Awkwafina and Kate Mara. During her makeup artistry career, Kirin has had the opportunity to work with top beauty brands such as Dior and Smashbox. Now more than ever, Kirin is using her platform to speak on social issues, specifically ones that affect BIPOC and people of color in the beauty and fashion industry.
As a female South Asian-American makeup artist, Kirin feels honored to be considered a trailblazer in this space. "I hope that what I'm doing can help light that path for other artists of color who want to break into the field," she says. Kirin is happy to inspire other artists of color in creative fields, and help them know that they are just as deserving of greatness. "They deserve equity in the space and they deserve to thrive."
Kirin's parents are first-generation South Asian-American immigrants a huge source of inspiration. Her parents provided Kirin with the American dream by coming to this country so that she could have every opportunity. She says that their "spirit and bravery is something that pushes me every single day."
In a time of so much hate and violence, Kirin says that she is "taking every opportunity to educate others about my culture through my work." Since Kirin has increasingly become more in front of the camera in partnership with brands, she will try to find a way to pay homage to her roots, "be it through something simple like my nose ring or another jewelry choice." She also likes to incorporate products or methods whose origin is from Asia, "or has been passed down generationally through my own family."
8. Michelle Phan, YouTuber and Founder of Ipsy and Em Cosmetics
Michelle Phan is a 34-year-old Vietnamese beauty founder and entrepreneur from Boston, Massachusetts. She began her career on YouTube, where she now has almost 9M subscribers and is known as YouTube's original and biggest beauty star. She founded Ipsy, a beauty subscription service, in 2011, and Em Cosmetics in 2015. In 2017, Michelle stepped away from the social media scene and has since returned stronger than ever. Once she returned, she has since spoken out about experiencing burnout, and needing time to recoup. She has recently become interested in non-beauty topics like astrology, while simultaneously and quietly continuing to grow her cosmetic businesses.
9. Marc Reagan, Makeup Artist
Marc is the current Director of Global Artistry, Education & Events at Hourglass Cosmetics, but before that, he spent 14 years working his way up the ladder at Bobbi Brown. His journey started as a makeup artist at the Bobbi Brown counter at a Nordstrom in downtown San Francisco in 2004 and reached a pinnacle when he became the Director of Global Artistry from 2016 to 2018. To read more about Marc's journey from makeup counter to global director, click here.
10. Sarah Cheung, YouTuber and Founder of Sacheu Beauty
Sarah Cheung is a 24-year-old Cantonese YouTuber and founder of Sacheu Beauty. Sarah graduated with a degree in philosophy from a university in Hong Kong and then immigrated to the United States. She is passionate about activism, especially when it comes to her identity as a bisexual woman and self-made immigrant. She shares tips and insight on fashion, skincare, and makeup. On her social media, you'll find a variety of makeup and skincare tutorials, vlogs, philosophy videos, and girl chats. Her brand, Sacheu Beauty, consists of primarily skincare tools, including a gua sha and facial roller, as well as one moisturizing lipids serum.
11. Priyanka Ganjoo, Founder of Kulfi
Priyanka Ganjoo is a 34-year old South Asian businesswoman. She is the founder of Kulfi, a NYC-based beauty brand, targeted towards a billion globally dispersed South Asians, which launched in February 2021. She has worked in the beauty industry for years and was the general manager of IPSY Glam Bag. Priyanka's mission for her business was based on her personal struggle growing up immersed and interested in beauty, but failing to find products that complimented her skin. She has spoken about never seeing herself or women that looked like her represented in the beauty industry, so she created her own brand to do just that.
12. Kim Chi, Drag Queen
Kim Chi, born Sang-Young Shin, is a 33-year-old South Korean drag queen and beauty founder from Chicago. She is known for her appearance on Rupal's Drag Race Season 8 in 2016. She launched KimChi Chic Beauty in 2019. She has long been an advocate for the LGBTQ and Asian communities. The motivation behind her brand lies within her belief that every face is a canvas to create art with makeup to elevate the way you feel about yourself. For more AAPI drag queens, read our roundup of the 12 drag queens that slay face and serve representation realness here.
13. Vicky Tsai, Founder of Tatcha
Vicky Tsai is a 41-year-old Taiwanese business owner and beauty expert. Vicky founded Tatcha in 2009, a modern skincare brand rooted in timeless Japanese beauty rituals. Vicky quit her job on Wall Street to begin chasing her beauty and skincare passion. She now splits her time between Japan and San Francisco, which is where she started her company out of her mom's garage. Vicky says she created Tatcha as a love letter to Japan and the healing experiences it has given her. Vicky has been married to her husband Eric Bevan, who is also a co-founder of Tatcha, for 15 years and share a daughter together named Alea.
14. Rooshy Roy, Founder of Aavrani
Rooshy Roy is a 31-year-old South-Asian founder and beauty expert. She started Aavrani in 2017 to offer clean, effective cosmetics rooted in ancient beauty rituals. Rooshy went from investment banker to skincare aficionado. She grew up in Detroit in a Bengali community, where she was first introduced to skincare. She went to college in Indiana, then moved to New York and worked in finance for six years. Rooshy started in business school in the fall of 2017, where the idea behind Aavrani really started taking shape. The brand is focused on the growth of its customers and the impact quality skincare and self-care can have on them.
15. Michelle Lee, Editor-in-chief of Allure Magazine
Michelle Lee is the editor-in-chief of Allure and is credited with the notable increase in diversity at the brand since she took the helm in 2015. Most notably, in 2017 Michelle announced that Allure would ban the term "anti-aging." Allure was also the first major women's magazine in the U.S. to feature a woman in a hijab on the cover in July 2017 with Muslim model Halima Aden. Michelle has always been a fierce advocate for diversity and inclusion and has been instrumental in bringing representation to mainstream media. Her hustle, hard work, and relentless dedication to giving a voice to underrepresented communities earned her the title of Editor of the Year in 2017 by Adweek, with Allure also recognized for Magazine of the Year. In addition to her work at Allure, Michelle is also the co-host of The Science of Beauty podcast and a mother of three.
16. Kumi Craig, Celebrity Groomer
Kumi Craig is a Japanese celebrity groomer based in New York. She got her start in beauty when living in Vancouver after attending Blanche Macdonald, Vancouver's top makeup school. She then moved to New York, where she began networking and assisting photographers on set. Soon enough, she landed her first full-page portrait editorial with Jimmy Fallon. Since then, she has worked with Michael J Fox, Leonardo DiCaprio, Mark Wahlberg, Jerry Seinfeld, Suraj Sharma, Russell Crowe, Michael Strahan, Jay-Z, and Rick Ross. She is known for her simple and natural grooming techniques.
17. Jessica Vu, Influencer
Jessica Vu is a 21-year-old Vietnamese-American beauty influencer from Alabama and now based in LA. With a focus on makeup and fashion, she is most known for her presence on YouTube. She started YouTube as a hobby in her senior year of high school, and now has 1.37 million subscribers. Jessica was a Best in Beauty finalist in the 12th annual Shorty Awards, which recognize content creators. In 2019, she collaborated with Jenn Im and her clothing brand Eggie to launch her first collaboration, #JESSYxEGGIE.
18. Sandra Siew Pin Lee, Dermatologist and Founder of SLMD
Sandra Siew Pin Lee, also known as Dr. Pimple Popper, is a 50-year-old Chinese-American dermatologist and YouTuber based in California. She is known for her online videos and her TV series, Dr. Pimple Popper, which airs on TLC. She founded her own direct-to-consumer skin-care line called SLMD, which is now officially sold at Target. SLMD offers a full line of products including an anti-aging skin trio, an exfoliating face wash, acne wipes, spot treatment, retinol serum nighttime clarifying treatment, sulfur lotion, hyaluronic acid, and daily moisturizer with SPF. Dr. Sandra Lee was also the winner of the 2nd Annual Critics Choice for Female Star of the Year.
19. Nam Vo, Celebrity Makeup Artist
Nam Vo is a 24-year-old Asian-American celebrity makeup artist based in LA. She started her career in beauty in San Francisco, selling cosmetics at the mall, as a makeup artist for a strip club, and doing bridal makeup. Eventually, she ended up working at Elle Vietnam in their New York City office, which she left to pursue makeup full time. She's known for her "dewy dumpling" complexion look and "glow jobs," which she calls the glam makeup on top. Nam believes that skincare and makeup go hand-in-hand, which is something that has made her career as a makeup artist extremely successful and attractive to clients like Kylie Jenner, and Rosie Huntington-Whiteley.
20. Amy Liu, Founder of Tower 28 Beauty
Amy Liu is a 41-year-old Taiwanese beauty founder from California and mom of three. She graduated with a BA from the University of California San Diego and an MBA from the University of Southern California. In 2019, Amy created her brand, Tower 28 beauty. Amy wanted to create makeup products that people with sensitive, compromised skin would feel good about using. Before creating her brand, Amy worked at Kate Somerville, Smashbox Cosmetics, and Josie Maran, each job gaining more experience and getting her closer to having her own seat at the table, at her own company. Today, one percent of all Sephora customers are buying Tower 28. For more on how Amy created the Tower 28 brand, read our interview with her here.
21. Arpeeta Oberai, Founder of Beauteani
Arpeeta Oberai is a South-Asian founder and beauty expert from California. In December 2019, she founded her holistic beauty brand, Beauteani. The small brand only sells face masks and herbal teas, developed to nourish the inner health, and outer skin health, combining beauty and wellness. The brand is an ode to self-care in the techniques of Arpeeta's roots in India. The basis of her beauty experience was learned at her extensive career working at Sephora, where she developed her passion for skincare and makeup products. She would work with products and familiarize herself with the founders, wondering if she could one day be  able to do something like that. One of the most unique parts of her brand is that the only two products, masks and teas, are meant to be used at the same time, to give you the full self-care experience, inside and out. For more on how Arpeeta brought Indian tea culture to American beauty, read our interview with her here.
22. Anthony Youn, Plastic Surgeon
Dr. Anthony Youn is a plastic surgeon also known for his educational short videos on TikTok. With his community of over 4.4 million followers, Dr. Anthony Youn is able to reach millions of people each day and educate them on the topic of how to take care of your skin, eating healthy, and steer some people away from unnecessary surgery.
As an American-Koran, Dr. Youn says it has been a journey to getting to where he is today as a visible person of color in his space. "I started off doing a lot of traditional media, mostly national television," says Dr. Youn. Through social media, Dr. Youn has been able to build an impressive community online seeking out his tips and advice. "As a prominent Gen X Korean American, I am blessed to have such a platform to reach people and add a little diversity to the equation."
Dr. Youn is truly a trailblazer in the beauty community, providing the TikTok skincare community with science-based information to help people build healthy lives and better relationships with their bodies. On his TikTok, Dr. Youn debunks plastic surgery myths and ridiculous alternatives, while providing natural and science-based solutions. "I feel like I can impact 10-30 people a day by seeing them in my office, but I can impact millions each day through my social and other platforms." He adds, "It's a real privilege to be able to do this."
23. Edward Zo, Influencer
Edward Zo is an actor, musician, and entrepreneur who built a social media empire with his Instagram and TikTok presence.  Edward runs two businesses outside of his skyrocketing online presence: Moonfiber Hair, a line of men's wig and hair care products; and Fangs and Fables, a POC-owned and run temporary tattoo company. Edward's aesthetic is defined by perfect, slick hair; and the idea of the temporary effervescence via Fangs and Fables. Edward himself does not have any visible, permanent ink, but he flaunts his designs on himself all over social media, bridging the gaps between Asian culture and tattoo culture. Edward blurs and pushes the definition of Asian masculinity every day in his work, and by being himself.
24. Charlotte Cho, CEO of Soko Glam
Charlotte Cho is the founder and CEO of Soko Glam, an e-commerce platform where you can find carefully curated Korean skincare products. Charlotte has also developed two independent skincare brands, Then I Met You and Good (Skin) Days. Then I Met You, an independent skincare brand from Soko Glam, focuses on infusing the Korean concept of Jeong, a deep feeling of empathy and affections for a person, place, or thing, into the ethos of their brand. Good (Skin) Days, Soko Glam's first skincare line, reflects Soko Glam's philosophy of "only good (skin) days ahead," and incorporates all the customer feedback they have seen over the years. Charlotte has gracefully navigated the beauty space, ultimately acting as a bridge between Korean skincare and the American beauty market.
25. Stephanie Lee, Founder of SELFMADE
Stephanie Lee is the Chinese and Vietnamese founder of SELFMADE, is an emotional wellbeing brand that creates everyday personal care and digital products to institute the rituals mental health and wellness. Stephanie has experience across many different industries, from politics to beauty and consumer goods. She worked in product development and innovation at MAC Cosmetics and as a former staffer in the Office of First Lady Michelle Obama at the White House. Her brand is about actually connecting customers with each other, and showing that we can all learn from each other through our shared experiences. It teaches us that we're not so different from one another, and one thing that unites us all is our journeys of self-care. To read more about Stephanie, click here.
26. Susan Yara, Content Creator and Founder of Naturium
When it comes to busting skincare myths or answering your burning skincare questions, Susan Yara's Mixed Makeup platform contains a wealth of information. Susan began her career as an on-camera beauty reporter for Forbes, PopSugar, and as an editorial video and interactive director at NewBeauty. She then transitioned her career to focusing on her own YouTube channel, Mixed Makeup, which focuses on high-quality beauty, lifestyle, and parenting content. Through the immense knowledge and feedback gained from her followers on YouTube, Susan launched Naturium, an innovative, accessible, and high-performing skincare line, which was recently launched in Target nationwide.
27. Deepica Mutyala, CEO of Live Tinted
You definitely have seen a multitude of iterations and dupes of Deepica Mutyala's signature beauty hack: using red lipstick as a color corrector for under eye circles for people with deeper skin tones. Her success as a YouTube darling and beauty vlogger led her to create her own brand. Deepica is the founder and CEO of Live Tinted, an inclusive online beauty community, and a beauty brand best known for its Huestick lipstick and color corrector. She is also an outspoken advocate for more representation of South Asian people in the beauty industry.
Nabela Noor is a first generation Bangladeshi-American entrepreneur and the founder and CEO of Love and Noor, a digital media company that encompasses and works within the industries of lifestyle content, size inclusive clothing, and social justice work. Nabela uses her platforms to advocate for social change, redefine beauty standards, and expand the inclusion of marginalized communities and people of color within the beauty industry at large. As an influencer, Nabela has a rich presence on Instagram, TikTok, and YouTube which she utilizes to promote self love and inspire her followers to live in a way that feels good for the soul.
29 & 30. Jenny Qian & Youri Park, Founders of NEWNESS
Twitch is the live streaming center for gamers, but NEWNESS is the uplifting and supportive live streaming platform made just for beauty creators. Jenny Qian and Youri Park, former Twitch employees, created NEWNESS specifically to provide beauty creators a safe space to comfortably share their thoughts while still enjoying the "special magic" live streaming provides. On NEWNESS, you can create engaging content, hype up the streams by moderating, and win exclusive prizes with NEWNESS crystals, which can be earned by watching and engaging with streams. Even brands like Tatcha and Rare Beauty are joining in on the fun party-like atmosphere of live streams by hosting events and launching new products live on NEWNESS before anywhere else.
31. CeCe Vu, Lead, Fashion and Beauty Partnerships at TikTok
CeCe Vu is a Vietnamese American social media expert based in LA. She is currently the lead of fashion and beauty partnerships at TikTok. Before heading up her department at TikTok, CeCe was perfecting beauty, lifestyle and fashion content creation on multiple platforms, as well as expanding her career in social media professionally.
32. Anthony Nguyen, Celebrity Makeup Artist
Anthony Nguyen is a celebrity makeup artist and KVD Beauty Global Veritas Artistry Ambassador, working with clients from Lil Nas X, Katy Perry, and Dua Lipa, among others. From full-on transformations to soft and pretty glamour, Anthony is able to express his artistry in a range of different works. In his most recent project with Lil Nas X, Anthony had the opportunity to create looks on the rapper for his music video 'MONTERO (Call Me By Your Name).' From being on the sets of major music videos, television events, and high-fashion editorial, Anthony's innovative talent is represented in many different areas of the beauty industry, creating fierce representation for his AAPI community.
33. Daniel Martin, Celebrity Makeup Artist
Daniel Martin makes minimal makeup look effortless, but it takes a lot of work to make it look easy. His makeup style is frequently praised for its delicate and deliberate restraint. The recent "skinimalism" trend, which started in skincare but has slowly trickled into the world of makeup (see Fenty's two most recent launches: Eaze Drop Blurring Skin Tint and Bright Fix Eye Brightener Concealer, both lightweight serum-like textures with minimal coverage), can be traced directly back to Meghan Markle's "no-makeup makeup" wedding day look three years ago. Very Good Light caught up with Daniel Martin to discuss his experience growing up Asian across different continents, how his identity has evolved over the last year, and his profound impact on the beauty industry, which you can read here.
34. Patrick Starrr, YouTube Beauty Expert and Founder of One/Size
Patrick Starrr is a 31-year-old Filipino-American YouTube beauty expert and makeup artist. He is from Orlando, Florida, and now lives in Los Angeles. Sparked from a passion for photography, Patrick became passionate about makeup at a young age, drawn to the art of transformation. He started out filming makeup tutorials for his YouTube channel and working at MAC Cosmetics and has since become one of the most well-known male-identifying makeup artists, standing up for the idea that makeup has no gender. Patrick is also the host of the successful podcast, Say Yas to the Guest. Last year, he founded his own beauty brand, One/Size, in July 2020. The brand is built on his idea that makeup is truly 'one size fits all.'