TikTok loves rediscovering old faves we forgot about and making them go viral.
The app helped revive dermatologist-backed skincare brand CeraVe, taught us how to "slug" with good ol' Vaseline, and told us what to buy from The Ordinary. Personally, I've yet to be let down by a TikTok beauty recommendation. The best thing about new products I find on TikTok? They're almost always affordable. Gen Z knows how to fuel my beauty addiction without breaking the bank.
SEE ALSO: Why are beauty influencers and brand owners moving to South Korea?
Why is Clinique's Almost Lipstick in the shade Black Honey going viral?
Recently, TikTok uncovered the berry-colored sheer lipstick of your dreams from the depths of beauty obscurity: Clinique's Almost Lipstick in the shade Black Honey ($20).
@geographyjI had to put y'all on this lip color, it evens out your lip tone too #makeupreview #blackhoney #brown #indian #desi #lipstick #lipstick♬ original sound – Jewlz
The lipstick has gone viral on the app, with users even posting themselves grabbing the last one in stores. The hashtag #BlackHoney on TikTok has over 12.6 million views, and hundreds of users gushing about the versatile lip shade.
The shade has sold out on Sephora and even Clinique's own website, which has led to a flurry of TikTokkers posting their favorite dupes from drugstore brands like Burt's Bees and e.l.f. Since going out of stock, the brand has updated the copy on the product page, calling Black Honey "a TikTok sensation."
@jenn_aedo#stitch with @jenn_aedo Need a #dupe for #blackhoney ? I got you 😘 #sephoragirl #beautyadvisor #drugstoredupe #makeupdupe #clinque #makeupover40♬ Everywhereigo – Babyxsosa
Clinique's Almost Lipstick in Black Honey
What makes this specific shade so universally flattering? It gives you wine-stained lips without the hangover. Black Honey looks almost black in the tube, but when applied, it's the perfect shade of plum that looks good on everyone. It's sheer enough to feel moisturizing like a lip balm, but it also gives your lips just the right amount of color.
Launched 50 years ago in 1971, Black Honey has always been a cult classic of the Clinique brand. It's their number-one-selling lipstick, and the brand purports that one tube of Black Honey is sold every minute. Over the years, the Black Honey franchise has expanded to include a gloss, a blush, and an eyeshadow palette. Before Gen Z got their hands on the shade, Black Honey was the millennial generation's best-kept secret.
Where to buy Clinique Black Honey
TikTok sold out the shade on most major retailer sites, including Clinique's website, but at the time of publishing, you can still grab Black Honey online at Ulta, Target, and Macy's. Hurry and grab the universally flattering shade while you still can before the TikTok mob rushes in to get their hands on it.
Clinique, then and now
Clinique isn't exactly a cool, Gen Z brand. If you ask anyone over the age of 25, there's a good chance their first skincare routine was Clinique's signature three-step routine. (Over a decade later, I'm still suffering from PTSD from the harsh, drying products in this line.)
Clinique's makeup line carries a similar nostalgia factor, minus the trauma. The little green compacts with gold hardware were one of the first non-drugstore makeup products I owned. Before Sephora and Ulta existed, department store makeup brands were the "it girl" products, and Clinique was for teen girls in the early aughts what Glossier was in the late 2010s.
Clinique's Almost Lipstick in the shade Black Honey was the Cherry Balm Dot Com of the millennial generation: everyone had it. I even rediscovered my tube of Black Honey deep in the recesses of my makeup collection. It's definitely expired, but that didn't stop me from trying it on anyway.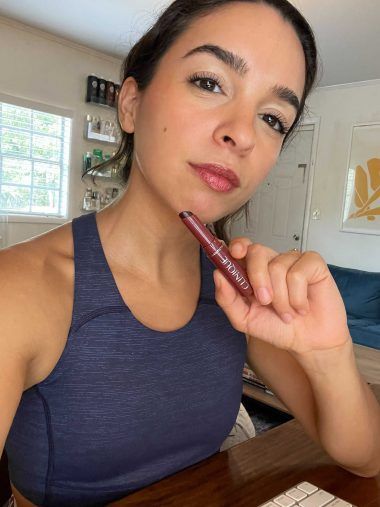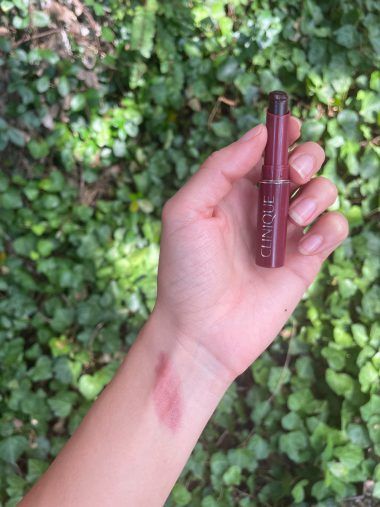 As predicted, Gen Z has the best taste. Black Honey just became my go-to everyday lipstick. The lip balm-like texture and sheer berry color go perfectly with my end-of-summer tan. Obsessed.
Is Gen Z's love of Black Honey powerful enough to bring Clinique back into cultural relevance? Can a legacy brand like Clinique compete against beloved Gen Z brands like Milk Makeup? We'll just have to wait and see, but it looks like the 90's makeup trend is here to stay. As a 90's baby, I'm so here for it.
---
READ MORE LIKE THIS