In a year full of sunscreen scandals, it's time for some good SPF news.
The beauty community has been left feeling deceived and confused as they watch their favorite sunscreens fly off the shelves not knowing when they'll return. Why? Well, a bunch of cult-favorite brands discovered errors in their formulation processes, discovering the formula to be a much lower SPF level than advertised. And most recently, tons of drugstore SPFs were recalled after the discovery of benzene (a known carcinogen) within the formulas.
SEE ALSO: Everyday Humans' newest SPF is a mineral sunscreen unicorn
But as promised, we have some positive SPF news to share amongst the chaos. Your favorite affordable and cool SPF brand, Everyday Humans, has exciting news about their best-selling product, Resting Beach Face ($24). By now you're on the edge of your seats, so we'll get right into it.
The brand
Everyday Humans founder Charlotte Pienaar believes that no one should ever dread the use of SPF. She set out to show the beauty industry that better basics can exist and that we can finally have a fun SPF brand that looks and feels cool. Today, she's successfully cut through the noise of many legacy sunscreen brands that Gen Z has a hard time relating to and has even launched the brand into stores like Target.
Everyday Humans has all the sunscreen essentials plus fun additions like pre and post sunscreen water to soothe sun-drenched skin. Their best-seller is Resting Beach Face ($24), a 2-in-1 sunscreen serum with antioxidants and a hyaluronic acid booster that goes on easy while providing the hydration our skin craves.
The brand aims to be the sunscreen of choice for Gen Z and millennials. All of their formulas promise zero white cast across all skin tones and often discuss what it means to be truly inclusive in the beauty space on social media.
The commitment to sustainability is an undeniable value for Everyday Humans. They're a member of 1% for the Planet and are Plastic Neutral Certified. The brand uses tubes that are made of recycled plastic, bottles that are biodegradable, and paper that is FSC certified. Their latest merch is even made from recycled packaging of their Bomb Diggity Wonder Salve.
Resting Beach Face reformulation
To further its commitment to sustainability and address feedback from its dedicated community, the brand decided to launch a new and improved version of Resting Beach Face ($24).
RBF is the first-ever Plastic Neutral Certifed Sunscreen and the new tube will be in a 35% post-consumer recycled plastic tube. The brand also completed a Life Cycle Assessment and found the new packaging reduces its carbon footprint by 12% when compared to the original.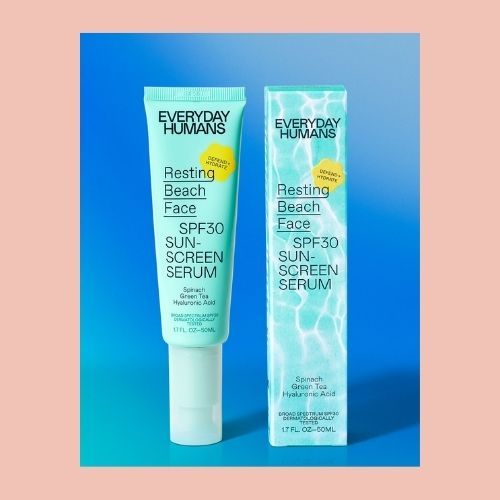 Besides sustainability updates to the packaging, the actual formula of the cult-favorite product has been slightly tweaked. After taking in some feedback from their community, the brand made improvements to the scent and how it hydrates skin.
"We asked why they chose Resting Beach Face over other SPFs and the results showed that in addition to our eco-conscious mission, customers loved that the product was multi-purpose and came back because of the hydration and serum light texture," says Charlotte.
This response led Everyday Humans to add an additional hydration complex and kopara extract for anti-pollution protection. As far as the scent, some customers reported they didn't repurchase due to the scent being a bit too SPF-like. The new version features a completely different scent that is light and energizing.
The review
I've been using Resting Beach Face ($24) for a little over a year, and I think I've been through about seven or eight bottles. I personally like lightweight sunscreens because I have oily skin. So, something that is hydrating that doesn't leave a film and is marketed like a serum always piques my interest. The best way to describe the texture (and the texture hasn't changed with the new formula) is fluid and serum-like. It's easy to blend into the skin and it feels really nice under makeup, almost like a primere It's SPF 30, so nothing too major – just the right amount.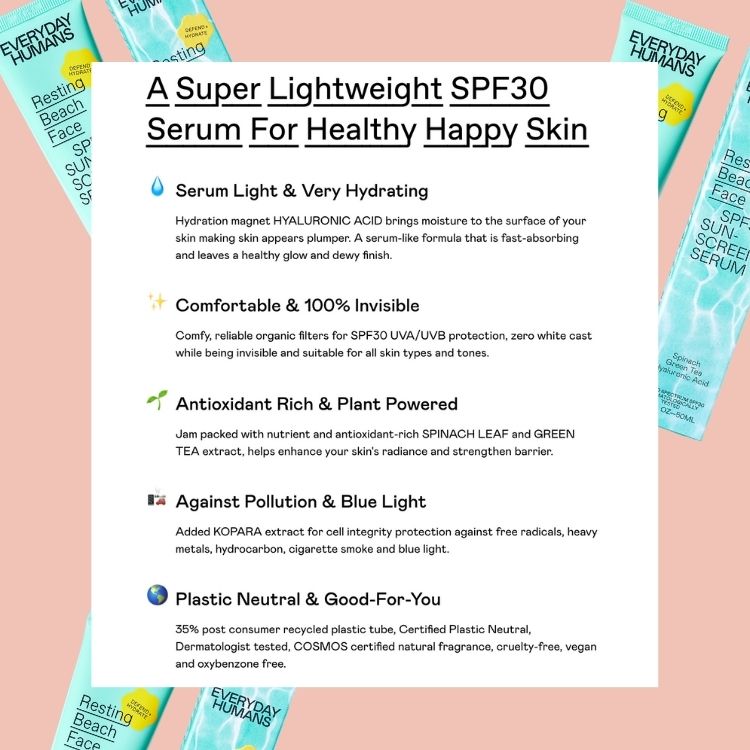 I definitely relate to the customer feedback about wanting the formula to be even more hydrating without sacrificing the amazing texture. An SPF that hydrates the skin is a must for any beach day, city shopping day, or even work from home day.
They nailed the extra hydration boost by adding an ingredient called pentavitin within the formula. It is 100% plant-based and compliments the existing hyaluronic acid complex well. The SPF still remains light, it just leaves your skin feeling hydrated and happy for longer.
The improved scent is nice, too. I didn't notice how much the first one smelled like traditional SPF until I had the new version to compare it to.
BUY or BYE?
I was a Resting Beach Face ($24) fan before this reformulation, so the improvements only make me more of a stan. I think this is great if you have oily or acne-prone skin. Even dry skin would love this formual. Plus, who doesn't love zero white cast SPFs made by a brand that values sustainability?
TLDR;
– Everyday Humans reformulated their best selling SPF, Resting Beach Face ($24)
– The new formula is even more hydrating than before and features a lighter, more energizing scent
– It comes in a bottle made from 35% post-consumer recycled plastic and is biodegradable
– It's the first Plastic Neutral Certified SPF
– Buy HERE, $24
---
READ MORE LIKE THIS