Ballet dancers embody a special type of beauty. They are strong, poised, and confident – yet so graceful and effortless.
Their art relies on exerting 110% percent of the body's muscular strength while making it look as though they have barely lifted a finger. The same goes for their beauty. In the heat of stage lights after dancing a two-hour-long ballet, dancers must still look perfectly contoured and smooth through all of their sweat and exhaustion.
SEE ALSO: How this Brooklyn ballet dancer serves face despite high-intensity training
How do they stay looking snatched and sweat-free throughout long, physically demanding performances? American Ballet Theatre makeup artist Diana Manzanares has all the answers. She has been working as a makeup artist for 15 years and does the makeup for some of the world's best ballet dancers at the American Ballet Theatre. Diana has a passion for doing theatrical performance makeup because she loves the process of transforming someone from a regular person to a character. She gave us her secrets to achieving that flawless ballerina beauty beat.
Emphasizing natural features
In ballet, everyone has to wear stage makeup, no matter their character. We asked Diana about the differences between turning male and female dancers into their characters.
"While men and women's makeup can differ, it still needs to be seen," she says. No matter the character, Diana says, "we are just playing up the natural features." When doing a dancer's makeup, it isn't about having a "look" in mind. It's about following the existing contours and shapes of their face and making them even bolder.
This is a simple idea that can be pulled into everyday makeup, too. Rather than trying to morph your face into something new, try just playing up what you already have. Unless of course, you are trying to look like Von Rothbart (the villain from Swan Lake). (In that case, you may need Diana's help.)
Sweat-proof makeup
In the heat of summer, you may be feeling like you sweat like a ballet dancer does on stage. Diana prioritizes priming and setting the skin to make the dancer's makeup last all night long. She points out that it really depends on the dancer's skin, but there are some things she does for everyone. She loves the Dermblend primer because it creates a strong base, but doesn't affect the makeup she applies on top.
While prepping the face is important, Diana also points out that stage makeup isn't about making a "no-makeup makeup look."
"While you still want makeup to look pretty, beautiful, and blended, you have to get it on there and not worry about it being seen. I think this was the biggest lesson for me coming from a beauty/fashion world. That bigger is better, that it is okay to see the makeup. You want the nosebleeds section to see the character!"
For setting makeup, Diana loves layering powders over cream products. "Powdering any creams is important. For eyes, I love layering, using a smudge-proof cream base and layering with shadows is important to make the makeup last. Depending on the production and maybe the makeup sponsor or makeup designer, this can change. But I think pancake (water-based makeup) is a go-to and stays on!"
Working with the dancers
Diana has picked up a few tricks from the dancers she works with. Her favorite is the "ballerina liner." She loves how it can be so specific to each dancer.
Eyeliner is a crucial part of stage makeup. The dramatic long wing is what ensures the dancer's eyes appear wide and bright to the audience. Offstage, we definitely think you can copy ballerina eyeliner to create a bold look, like FKA Twigs did here in 2019.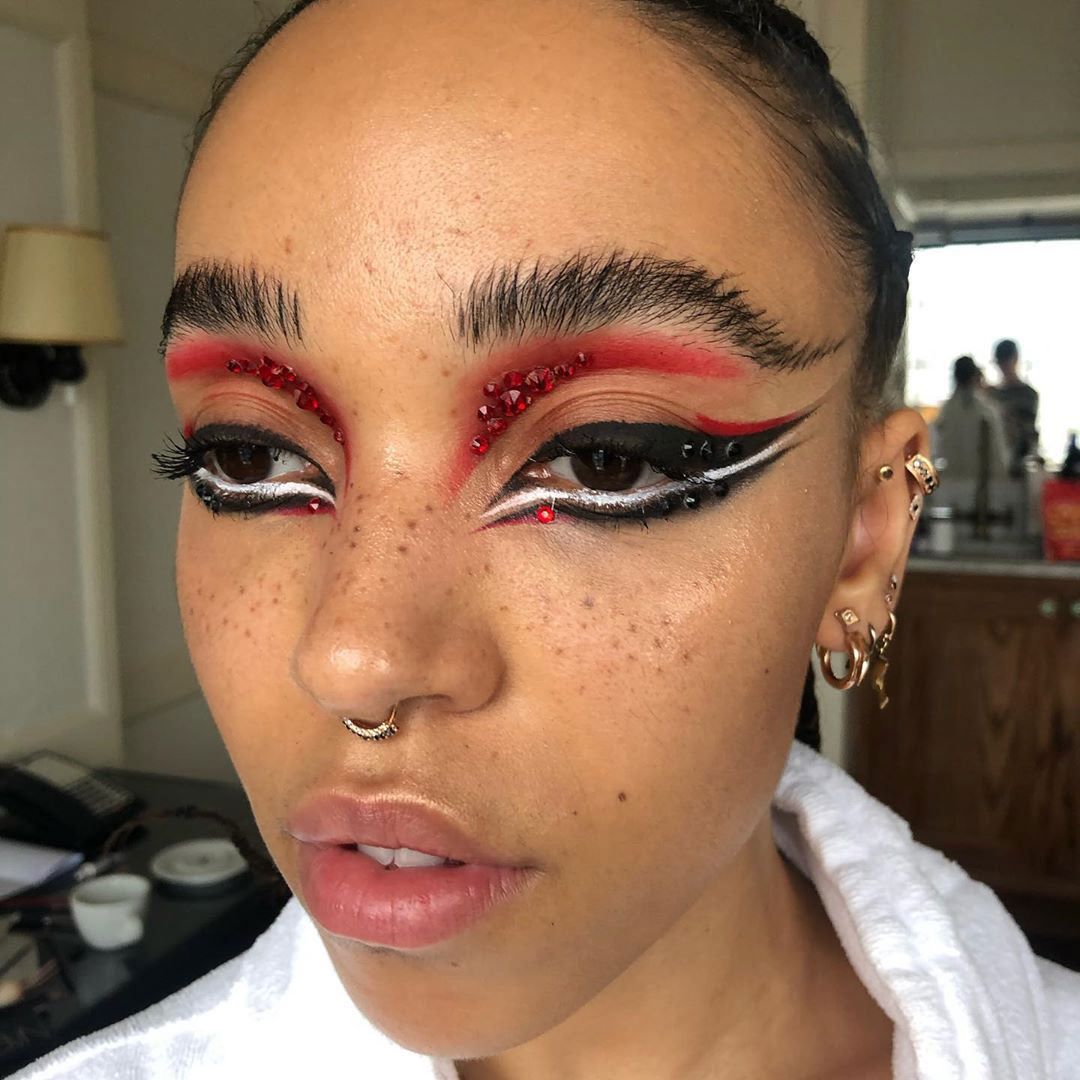 ​The world of dance is such a special creative sector of the arts that interacts with the beauty world to help turn dancers into storytellers. Diana says that she "loves making dancers feel beautiful… but I also have lots of fun with the characters and making them someone completely different."
Costumes and makeup take dancers from studio rehearsals to stage performances, where the art really comes to life. Perhaps we could all use a little more ballet-inspired beauty to add drama to our own lives. Just don't forget your pointe shoes!
READ MORE LIKE THIS