I have to be honest: I kind of hate sunscreen.
Please don't cancel me just yet. I promise I still wear it every day, I'm just SUPER particular. I've always said to my friends and family that SPF has to make me feel excited for me to use it. The formula has to be so good and ideally bring an added value (other than sun protection) for me to wake up and feel great about putting it on. What makes it even harder is my skin type.
SEE ALSO: The 8 best gentle cleansers for cystic acne-prone skin
When you have oily skin, you never want to feel like anything you're using will make the problem worse. That's why when it comes to skincare, I love gel moisturizers and lightweight serums. I don't like feeling I have a film over my face after doing my routine. Plus, I have cystic acne so whatever I can do to minimize bothering my face, the better. Bottom line: my SPF can't be greasy. I need it to feel like an extension of my moisturizer or rather another layer of it.
The latest SPF that I'm raving about? ZitSticka's MEGASHADE Breakout-proof SPF 50 sunscreen serum ($40). "Breakout-proof" was the reason I was instantly roped in and interested. But whether you're acne-prone or not, I swear this is the SPF for you. Read on for the full review, Lighters!
The brand
ZitSticka is no doubt one of my favorite acne care brands. I love their approach to social media and their packaging is super cute. I've quite literally tried everything from them – their Press Refresh sheet masks ($36) being my favorite (also the first facemasks I've found that truly cater to acne-prone skin).
They initially launched with their Killa Patches ($29), micro-needled zit patches with a little tea tree and a witch hazel-soaked cloth to clean the pimple before slapping the patch on. It's a two-step pimple-killing process that makes you feel pretty boujee and like you know what you're doing.
Besides having cool products for my pimples, ZitSticka was the first acne brand that I really felt connected to. I crave emotional connections with brands and I enjoy taking a deep dive into what they're about. But for so long, acne brands were boring and not education-focused AT ALL. ZitSticka is really transparent about its research and development process and its social media channels aim to make acne look and feel cool. There's a true conversation happening within their community. And don't you dare sleep on their awesome blog, The Spot. They have tons of fun science articles and acne hacks that are totally worth checking out.
With the launch of MEGASHADE, this will be the brand's first SPF product. Hopefully, this opens the doors for more 'true' skincare products from them. Perhaps a cleanser, moisturizer, or spot treatment that isn't a patch!
The ingredients
As soon as I got this product, I patch tested it on my hand. I do this with all strong skincare products, just to make sure my skin can tolerate it. I think this is important with SPF since it needs to be the right fit for you, and you'll be reapplying (hopefully).
MEGASHADE is technically a mineral sunscreen, featuring a 3% zinc oxide formula. This allows the SPF to create a physical barrier between your skin and the sun. It has hyaluronic acid to lock in moisture, ceramides to keep your skin plump and dewy, vitamin C to work on those pesky dark spots, niacinamide to soothe breakouts and redness, tea tree to banish zits, and colloidal oatmeal to calm inflammation.
So not only is MEGASHADE SPF 50, but it has tons of ingredients to keep breakouts at bay—all while targeting redness and treating dark spots, too.
The review
My skin is a bit sensitive,  and I almost always forget it. After practically ruining my skin barrier with acne-zapping acids in college, my skin does get hot and bothered from time to time. Besides MEGASHADE being great for acne-prone skin types, it's also perfect if you're sensitive.
The word 'serum' was exciting to me, as I've tried numerous SPF serums and haven't fallen in love yet. While this isn't a thick SPF, I wouldn't say it goes on as light as a serum. Or not as light as the SPF serums I've experienced before. The texture dries down to where your skin feels insanely soft. Once it's on, you don't feel an extra layer of product. It's not hard to rub into skin and it doesn't leave a white cast. Above all, it's fragrance-free, which is something really important to me in SPF.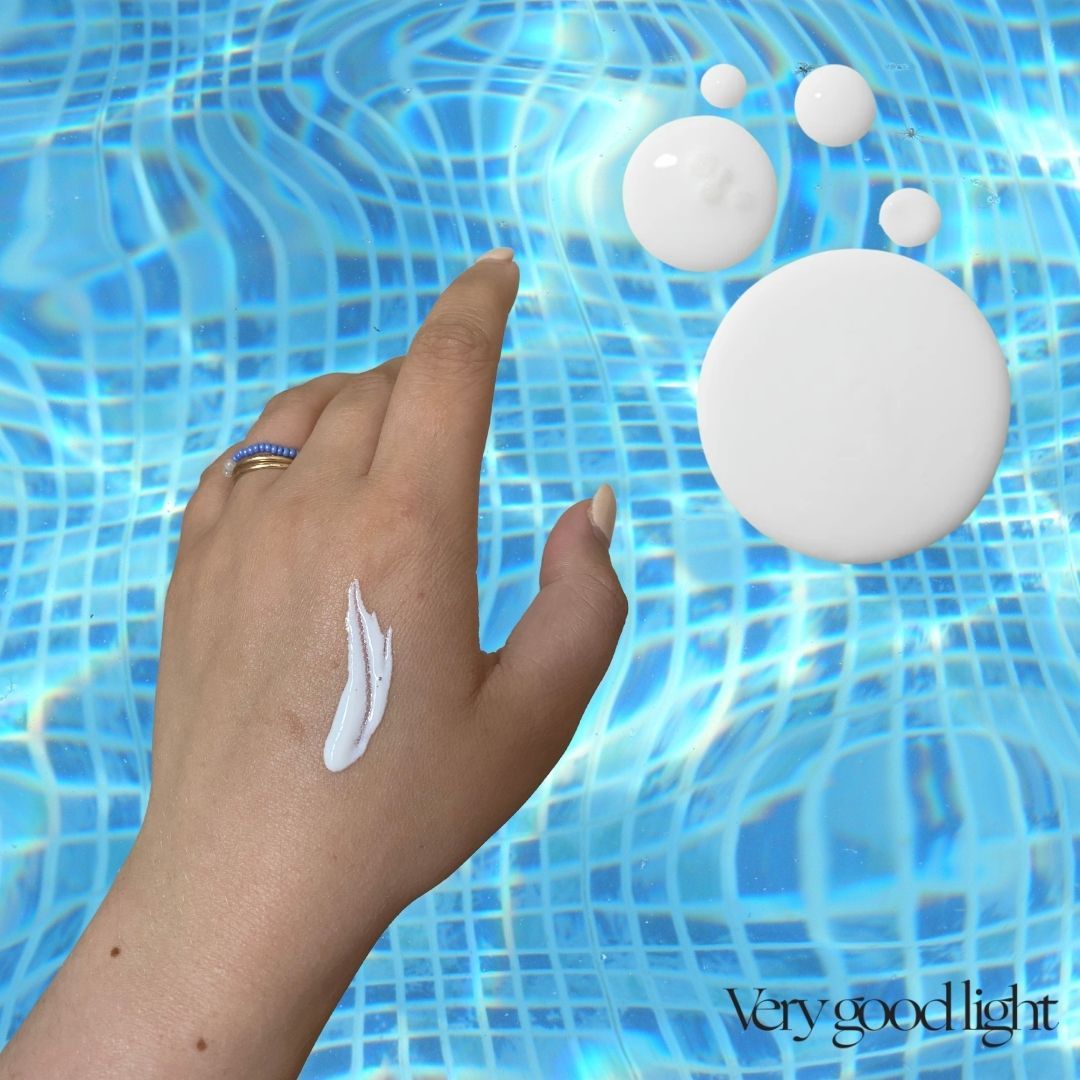 ZitSticka launched the product with the tagline, "Breakout-proof suncare, made dewy." It's true: MEGASHADE does leave a really awesome sheen on your face. With makeup or without, you'll notice you have a natural-looking glow. Just make sure you give the product a good shake before you use it (it separates a bit) and try your best not to touch the applicator to your face!
Overall, I really love this product and it checks all my boxes for a fabulous SPF. The only thing that I haven't gotten right is that I'm not sure what an appropriate amount is. I normally go for the two-finger rule, which works well for SPFs that are more like lotions. But for this one, since it's pretty fluid, I've just been doing each section of my face one at a time and applying liberally.
BUY or BYE?
A total buy. If you like SPFs that are a bit lighter in texture, this is for you. If you're acne-prone, this is also for you. If you're sensitive, yup, you guessed it, this is for you!
With makeup or not, on a super sunny day or one that's spent inside working from home, MEGASHADE is truly one of the most versatile SPFs I've ever tried. Buy HERE for $40.
📘
Read these stories next...
1) Tower28 just launched the SPF skin tint of our sensitive skin dreams
2) Everyday Humans' newest SPF is a mineral sunscreen unicorn
3) 16 best sunscreens for your face and body 2020
4) Aesop's new facial sunscreen is here – but it's not for everyone