Gone are the days of tweezing our brows into oblivion. The new supermodel brows are faux-natural, full, and fluffy.
Want brows like your favorite celebs? Lizzo and Cardi B are debuting their first collab on a song together this upcoming Friday, but also share something else in common: the same brow master. We sat down with René de la Garza (@skinmaestro), celebrity brow artist for Lizzo, Cardi B, and Noah Cyrus to learn how us mere mortals can get brows like his celebrity clientele.
SEE ALSO: The best multi-purpose makeup products to simplify your routine
The brow pendulum
"Beauty is amazing because it's as innovative as technology," explains René. "I see that beauty is like a kind of like a swinging pendulum, and it swings from one opposite end to the other, to the next."
Brows aren't excluded. He adds, "We were having really bold filled in blocky brows and now we're moving away to more of a natural look in terms of beauty in general and with brows. And I think we're going to probably start to move more into sculpting tails, and I don't want to say thinner, but more defined and sculpted."
"We're moving away from pomade and filling in brows to make them thicker and darker," predicts René. "Now, the trend is more placed on like texture of the hair." He jokes, "I've gone from a brow artist to a brow hairstylist."
His A-list celeb clients get the look from René with his signature grooming treatment: brow lamination. René stands by it, claiming "defined and fluffy" brows can make a face "more lifted and awake."
What is brow lamination?
According to René, brow lamination is a "chemical process that's done to the brow it makes it so the brow can be manipulated and set in any direction."
Who is it for? "It's great for brows that are super coarse," says René. "It just makes them super fluffy and breaks up density." He adds, "It's good for brows that are thin, because it makes them fuller. And it also just kind of hides any areas of sparseness."
As for who shouldn't get the treatment done, René says for the most part, it's great for all skin and hair types, but he warns against getting brow lamination after a professional facial.  "There are a couple of contraindications or people that are not the best candidates for a brow lamination. I would say those that do chemical treatments or have had recent peels," adding, "If there are active breakouts around the brow, then I would probably say not to do it."
How long does brow lamination last? The treatment itself takes about 45 minutes, and it lasts about four to six weeks.
"Aside from the no wetting for 24 hours, it's just moisturizing the brows every night with castor oil and hydrating them to keep them lifted," René recommends. "As a PM treatment and as an AM treatment, I recommend my BROW NATURALE Brow Lamination To Go ($16)."
How to do brow lamination at home
Because it's a chemical process, René advises brow lamination treatment is best left to the professionals. But who says you can't fake it till you make it? The brow style created by the treatment is known as feathered brows, and can be achieved temporarily through various ways. Feathered brows (or soap brows) can be achieved by brushing their brows up with, yes, you guessed it, soap.
For the best products with a longer and stronger hold than a bar of soap that still mimic the look of laminated brows, we've got you covered. Here are the best products to get the laminated brow look at home.
Best products for laminated brows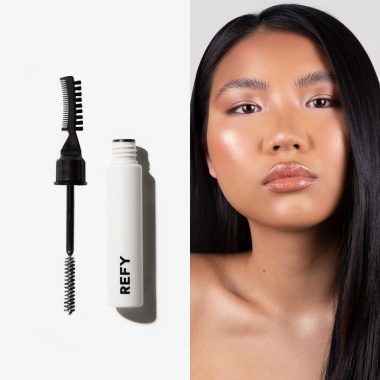 Shop this unique cream formula here for $24.
Patrick Ta Major Brow Lamination Gel ($24)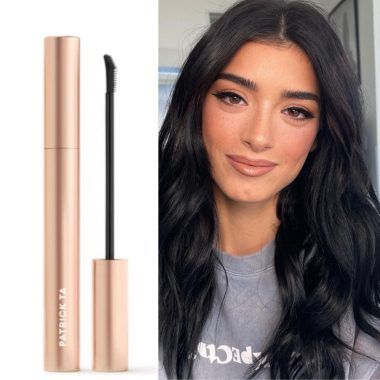 Shop this strong-hold gel here for $26.
Patrick Ta Major Brow Shaping Wax ($22)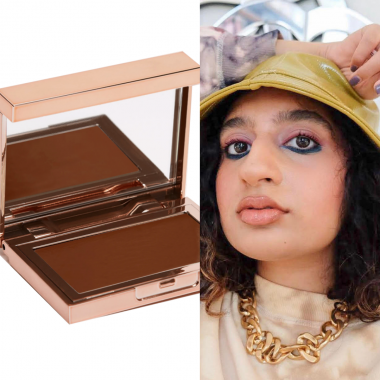 Here I am wearing my go-to Patrick Ta Major Brow Shaping Wax in its Tinted shade; it's also available in Clear. Shop here for $22.
This post-lamination aftercare product from René nourishes, hydrates, and strengthens brows, and also doubles as a way to get that feathered brow look. This transparent wax even comes with a spoolie for application.
To use brow wax, René instructs, "Just wet a brush or spoolie, massage it into the wax, and wave your brows upward and out."
And just like that, my recovering overly-tweezed brows became long-wearing full and fluffy feathered brows within seconds (pictured below).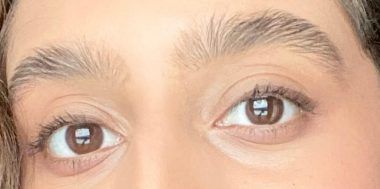 ---
READ MORE LIKE THIS