There have been so many times I've treated my skin horribly.
Of course, I didn't know I was doing it. Things like diet, hormones, and stress can have an effect on my skin, but the thing that was hurting my skin more than anything was how many products I was using.
SEE ALSO: The benefits of carrot seed oil for acne-prone skin
The old me would have never dreamed of using a heavy moisturizer or face oil. I would've fought anyone who tried to tell me my acid toners "made for acne-prone skin" were too strong and making my skin worse. The thing that puzzled me was I could go camping for a whole week, complete a less than ideal skincare routine each day and night, and my skin would magically clear and balance.
As I began to educate myself about the causes of inflammation and the way my skin barrier functions, I decided I had to overhaul my skincare. I needed to take control of my skincare routine by taking out those extra serums and getting rid of those harsh exfoliating acid toners.
And while I never thought a facial oil could heal and protect my skin, I actually found one that does that while also making my skin look healthier with each use. REYN Performance Oil has made me feel confident about paring down my routine, and it's also helped me protect my skin from inflammation, something I struggle with due to having cystic acne for the past five years.
The brand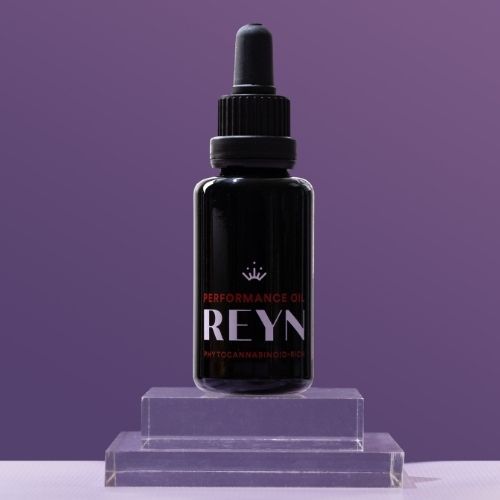 REYN is a female-founded brand that places social responsibility above anything else. The brand, which launched earlier this year in 2021, is led by Jo Marini, who's also the founder of a social-purpose venture fund named Mother Superior. She's a powerful disrupter, dedicated to working with founders and brands that are often excluded from traditional venture capital opportunities.
"We have a whole team of women collaborators; a woman in Alaska who hand forages rosehip all the way to a formulator that has a Ph.D. in biomedical technology," says Jo.
1% of all REYN profits help future founders who are also dedicated to social responsibility and wellness. REYN intentionally seeks out women, BIPOC, and queer founders and team members to join their mission, and every team member is an equity stakeholder.
The brand currently has two products, Base Serum and Performance Oil. Base Serum acts as the hero product in your minimalistic skincare routine, tackling signs of inflammaging both on the outside and in deep layers of the epidermis. Performance Oil acts as a protector to the skin, fighting against environmental stressors while calming inflammation and restoring homeostasis. Together, they're an unstoppable duo helping skin be as supportive to us as possible.
The ingredients
REYN notes that Performance Oil is "designed with therapeutic doses of active ingredients." It uses micro-encapsulated mushroom adaptogens, CBD +CBDA, and a botanical blend meant to calm skin and soothe redness. It's 100% plant-based and it doesn't have any fragrance or dyes.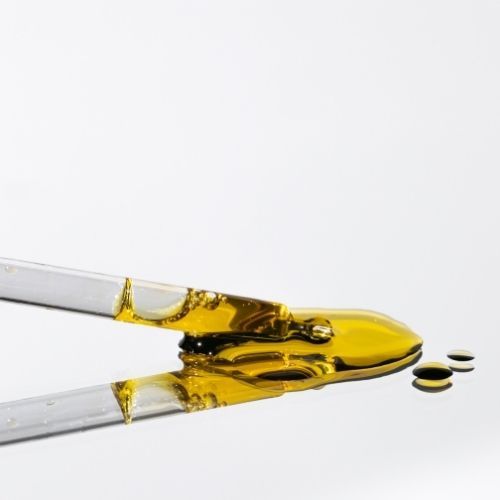 Diving into this product has really taught me that you can do so much for your skin with less. "We are bought into the idea that our skin needs more of everything when the vast majority of us need less. We need fewer 'better' things. What we need is something designed thoughtfully from beginning to end," says Jo.
This thought stuck with me for a while. Natural and pared-down ingredient lists are often better. But the "natural" that the beauty industry tries to sell us on misses the mark and is often just a marketing ploy. With just seven ingredients in Performance Oil, REYN is taking back the reigns.
The review
I've actually never felt more safe using a product than I do this one. Not that I'm scared to try new things, but in a world where Goop can sell us unsafe products and where CBD brands confuse the heck out of me, I breathe a little deeper knowing that REYN was created in a thoughtful and caring way. They have complete oversight of their supply chain, and can tell you exactly where every ingredient is sourced and extracted before it's eventually bottled, right here in the U.S. In fact, I could probably mail a letter to the woman who hand-forages the rosehip in Alaska if my heart desired.
I have high expectations for face oils. Most don't pass the test for me because they never really soak into the skin, they just sit on the surface. Reyn's Performance Oil is an oil, but it doesn't feel like an oil once it is mixed into the skin. The silky-smooth formula immediately soaks in and leaves a velvety finish behind, not greasy.
Despite having oily and acne-prone skin, I struggle with dullness and I look like I am always dehydrated. A true lack of radiance. After one use of this oil, I could see my skin being brought back to life a bit. Through three weeks of testing, I feel my skin is better at showing me what it needs before I break out in a cystic mess and my skin looks so much more bouncy and youthful.
When it comes to the price point, $130 can seem a bit steep. But, we're all no strangers to splurging on self-care. Plus, you know you're giving to a business that is committed to social good, and helping other female founders get their start. If this product can help you pare down your routine and do more with less, the price isn't so much of a shock. This oil is worth it, and once you start seeing results, you'll understand why.
TLDR;
– REYN is in the business of paring down skincare routines and only offers two products, a serum and an oil
– Female-led and dedicated to social responsibility, 1% of all REYN profits help future founders who are also dedicated to social good
– REYN's 100% plant-based Performance Oil leaves skin feeling plumped, protected, and radiant
BUY or BYE?
Performance Oil is a definite BUY. This product is the ultimate multi-purpose product. Buy HERE, $130
---
READ MORE LIKE THIS