You might have heard growing up that carrots were great for eyesight, but did you know they can also benefit the skin?
Believe it or not, the healthy snack has amazing anti-aging and anti-inflammatory benefits. And above all else, it can really benefit people with oily and acne-prone skin.
You can't just visit your local grocery store, grab a bunch of carrots, and put them on your face. The skincare secrets lie within cold-pressed carrot seed oil, which can be found in many beauty products. We bet you already have some on your vanity that contains it!
SEE ALSO: The 11 best skin barrier repair products for healthy skin
Is carrot seed oil good for your face?
Technically, carrot seed oil is an essential oil that is cold-pressed from seeds and used in many types of cosmetic products. Be careful not to confuse it with carrot oil, which is commonly used in cooking. This type of oil wouldn't be ideal for use on the skin.
"Carrot seed oil is thought to have both antioxidant and strengthening benefits for the skin," says New York-based dermatologist Dr. Joshua Zeichner. "There is data to suggest that it helps neutralize free radicals to protect the skin from environmental exposures like UV light."
Besides its rich antioxidant properties, carrot seed oil is an amazing ingredient to fight against inflammation, bacteria, and aging. In skincare, it's commonly found in serums and facial oils geared towards helping signs of aging, dull skin, dry skin, skin barrier repair, and acne scarring.
Is carrot oil good for oily acne-prone skin?
There are so many factors that play into someone experiencing acne. Bacteria, excess oil, and sebum are all reasons as to why you could be more prone to acne than otherwise. However, inflammation in the skin is a driving factor, as well. All types of acne are rooted in inflammation, but some more than others (like cystic acne).
And even once your pimple has healed, you may experience hyperpigmentation or acne scarring from where a breakout once was. Products that will help with skin cell turnover or light exfoliation to are key to fading dark spots and hyperpigmentation.
"Carrot seed oil is loaded with beta-carotene, a precursor to vitamin A. It may be converted at low levels to a mild form of retinol, which is known to enhance cell turnover and stimulate collagen and elastic fibers in the skin," says Dr. Zeichner.
Not only is carrot seed oil an effective ingredient for acne-prone skin when it comes to inflammation and bacteria, but over time it can speed up cell turnover making it perfect for aiding in acne scars.
Best carrot seed oil products
good light We Come in Peace Probiotic Serum, $24
This serum is truly a skin super-protector. While great for all skin types, it comes highly recommended for people who struggle with painful acne and eczema. It has the ability to soothe skin while working to repair the skin barrier without being too heavy. It's a gel-like formula that uses bakuchiol, probiotics, carrot seed oil, and blue tansy to calm skin. It's vegan, cruelty-free, and fragrance-free.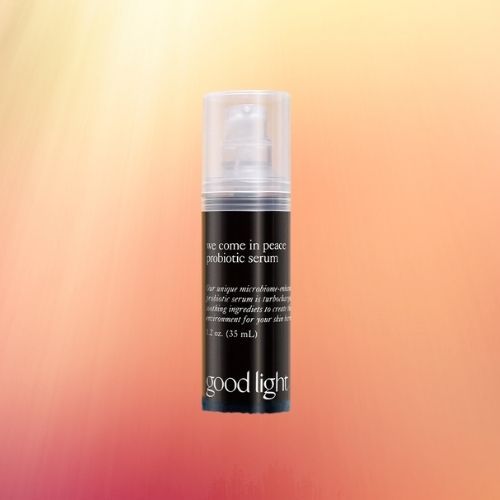 Sunday Riley Juno Antioxidant + Superfood Face Oil, $36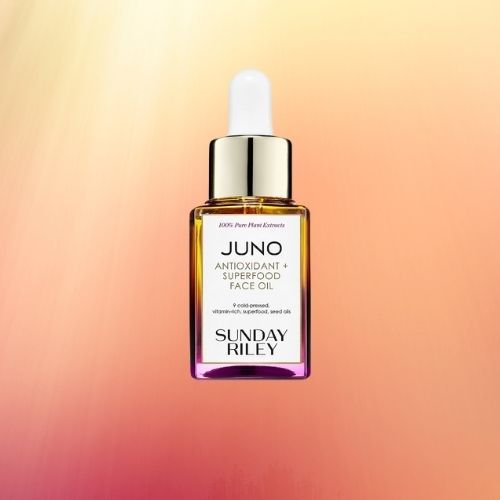 If you have dehydrated skin and are in need of balance, you might want to check out this cult-favorite oil. Made with 100% pure plant extracts, leaving out artificial fragrance and preservatives, this can be used even if you have super sensitive skin. It has cold-pressed blackberry, blueberry, cranberry, raspberry, wild carrot, black cumin, grape, and broccoli seed oils; all highly rich in antioxidants ready to nourish your skin. Sunday Riley also notes this can be used on dry cuticles or on the ends of your hair.
Whimsy Official Halcyon Botanic Serum, $95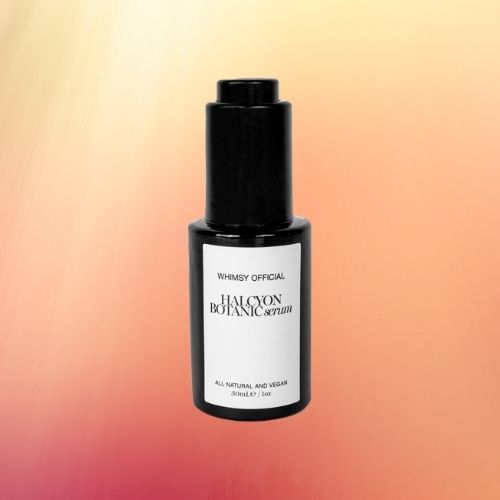 A bit pricey but totally worth it. This eight ingredient serum has the power to heal those pesky pimples that pop up from irritation (like mask-ne or eczema). This serum is free from essential oils, comedogenic ingredients, and allergens. Kalahari watermelon, rosehip seed, jojoba, camellia seed, apricot, strawberry, borage, and carrot seed oils are the eight ingredients within the serum. It's a pretty light facial oil texture – perfect if you have oily and acne-prone skin as it isn't too thick or greasy.
---
READ MORE LIKE THIS