You might be seeing a lot of blue skincare products on the shelves lately and wondering if these products are legit or just another skincare scam.
The blue hue in these science experiment-looking products comes from one magical ingredient: blue tansy. And it might be the ingredient that your skincare routine is missing. It can help with acne, sensitivity, and irritation all at the same time. Plus, it has powerful aromatherapy benefits to help you relax as you do your skincare.
SEE ALSO: The 11 best skin barrier repair products for healthy skin
We spoke to Cheryl Woodman, a skincare expert, product formulator, and scientist from Honesty for Your Skin, to find out why and how we should be using blue tansy.
What is blue tansy?
Ironically, this bright blue oil comes from a yellow flower. Blue tansy is derived from a North African flower Tanacetum Annuum, commonly known as "Morrocan chamomile," and commonly found in the Mediterranean basin. Unfortunately, due to a spike in popularity, the flower was over-harvested. Today, it can be found in Morocco.
"The manufacturing process is actually the reason why blue tansy is blue, as heat causes an active in blue tansy (known as chamazulene) to turn deep blue," says Cheryl. Chamazulene also contributes to blue tansy's anti-inflammatory and antibacterial benefits.
Is blue tansy oil good for skin?
Blue tansy is a unique ingredient because of how universal it is for different skin types. For those with acne or inflammation, blue tansy's antibacterial and antihistamine benefits can help to prevent spots and calm redness. For anyone with sensitive or irritated skin, it will calm and soothe your skin, while also providing moisturizing benefits. Blue tansy is packed with antioxidants to help protect and reinforce your skin's surface.
When you use a product with blue tansy, you also inhale additional benefits. The oil has a sweet, fruity smell. When inhaled, it will instantly help you relax and calm down. It also has the ability to help regulate your hormones as you take in the herbaceous scent. By the end of your skincare routine, you should feel a significant decrease in tension and stress.
Does blue tansy oil clog pores?
Luckily, you don't need to worry about blue tansy oil causing blackheads or clogged pores. Cheryl says that "while blue tansy hasn't been rated on the comedogenicity scale, it would never be used at a concentration which could cause comedogenicity." She also says that you don't need to worry about it staining your skin blue because of how little is used in skincare products.
Cheryl says that she likes blue tansy for most skin types, but especially anyone who is prone to redness and irritation. "When I'm creating a skincare routine for someone who would like to use blue tansy, the only skin type I'm cautious of is hypersensitive skin – it's best to at first reduce the amount of plant oils in hyper-sensitive skincare routines as they can sometimes cause allergy type reactions."
Blue tansy products to try:
good light's We Come in Peace Probiotics Serum ($24)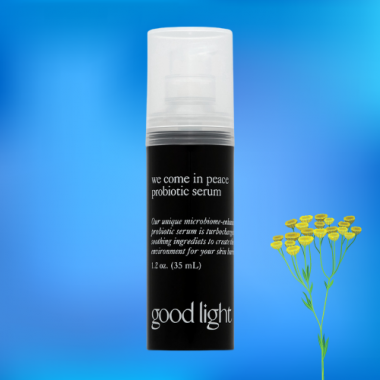 If you have been on the hunt for a good serum, good light's We Come in Peace Probiotics Serum ($24) is a great option. The blue tansy in this product focuses on soothing your skin and repairing your skin barrier and is coupled with carrot seed oil. This is one of the most affordable products with blue tansy if you want to test out the ingredient without too much financial commitment. Cheryl likes this product because it "also contains the sensitive and natural anti-aging retinoid alternative known as bakuchiol."
Primally Pure Blue Tansy Deodorant ($16)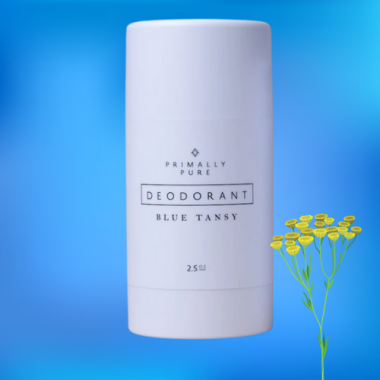 If you struggle with natural deodorants irritating your armpits, try this Primally Pure Blue Tansy Deodorant ($16). The blue tansy in this product will leave you smelling fresh and sweet, while also ensuring your armpit skin remains irritation-free.
Acure Seriously Soothing Blue Tansy Jelly Mask ($13)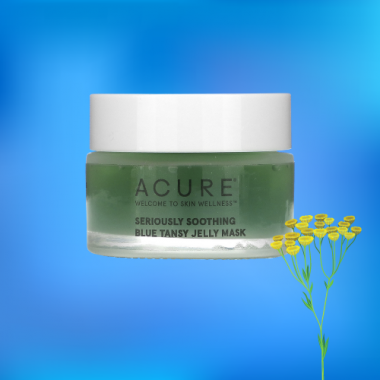 The Acure Seriously Soothing Blue Tansy Jelly Mask ($13) is a great hydrating and soothing mask. Cheryl says that it "comes with a sensitive skin-friendly hydrating 'punch,'" so it's great for anyone with dry and sensitive skin.
Herbivore Lapis Blue Tansy Facial Oil ($48)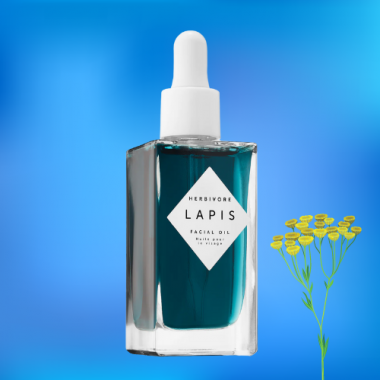 If your skin is dried out from acne products and over-stripping, this Herbivore Lapis Blue Tansy Facial Oil ($48) can help revive your skin. It works to combat your acne but also soothes your skin to prevent over-drying.
May Lindstrom Skincare The Blue Cocoon ($180)
For anyone struggling with extremely dry and sensitive skin, this May Lindstrom Skincare Blue Cocoon solid face oil ($180) is a good choice to reset and rebuild your skin. This facial oil comes in solid form so it can be used as your daily moisturizer to combat skin irritation.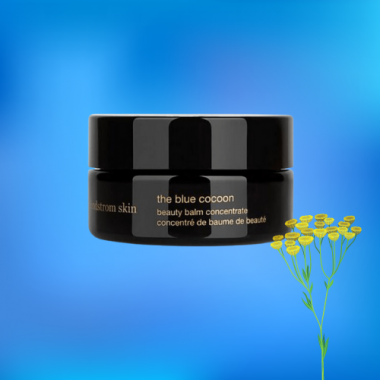 📘
Read these stories next...
1) I was glued to a treadmill for a week to test this beauty brand
2) Aesop's new moisturizer wants to calm your fussy skin
3) ZitSticka's new MEGASHADE SPF is perfect for sensitive, acne-prone skin
4) This custom serum totally balanced my oily skin
5) How much sunscreen should you really be applying to your skin?