Face oils? You can walk away.
For years, I've passed up tons of (seemingly amazing) facial oils, cleansing balms, and oil-based serums. After all, I have oily skin, which means I've been conditioned to think oil on oil equates to one cystic-sized mess.
SEE ALSO: Why you're breaking out in quarantine
I realize not all "oily feeling" serums are the same, but after a couple of failed attempts, I kind of gave up and just stuck with what I knew. But it turns out that maybe an oil-based serum is exactly what my skin's needed all this time. Oil, as it turns out, breaks down oiliness, and tackles what causes painful cystic acne on my cheeks.
And so I was intrigued when I found out about the brand Atolla, a custom serum company rooted in science and data that aims to learn about your skin, fine-tune, and adapt throughout your skincare journey. Long story short, it's a personalized skincare brand designed to help you identify your skin concerns and triggers for specific skin woes. Then, they create a custom serum formulation with all these things in mind.
But a serum? Who would have thought? The more I thought about it, the more I was intrigued. Are serums perhaps more important than we all thought?
Atolla doesn't work by analyzing your results from a bland questionnaire. Instead, it sends you a skin test: I'm talking test strips, little vials of product, pH solutions, THE WORKS.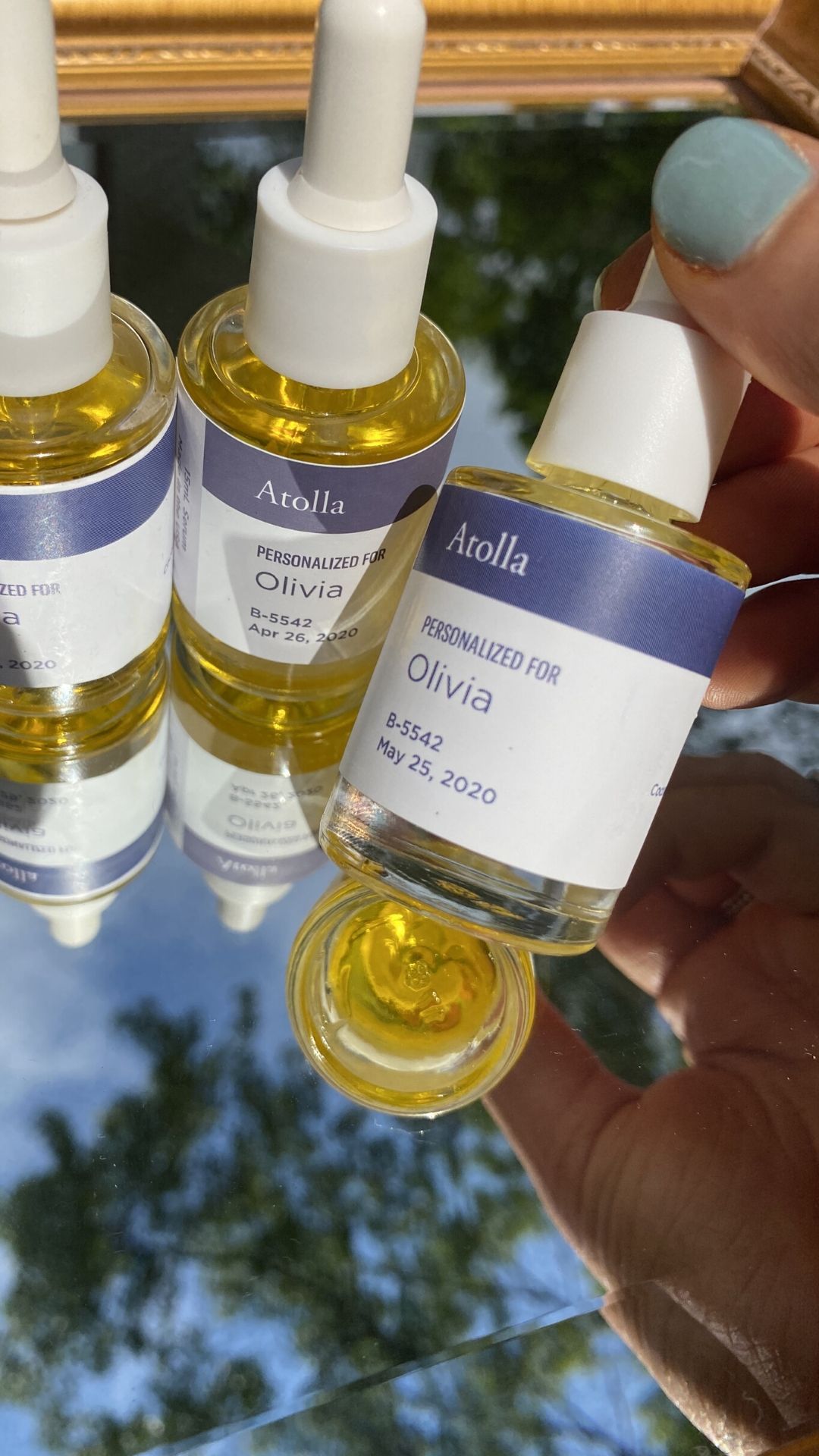 My serum preferences
For years I've been loyal to gel serums like The Ordinary's Niacinamide 10% + Zinc 1% and the Stroke of Brilliance Brightening Serum from Versed. I once strayed away from my trusted serums and tried Acure's Brightening Vitamin C & Ferulic Acid Oil-Free Serum. And hey, sure, it's "oil-free" but the consistency is none other than a slippery oil. I hated it and my skin didn't forgive me for about three weeks. It was just too much. It clogged my pores and I had a terrible breakout. I had completely written off serums of this consistency after this.
And because of this experience, I thought for sure gel serums were the only thing my skin liked. I was absolutely SHOOK to the core when my Atolla serum arrived and it was not a gel consistency. Considering my horrible track record with oil-based serums, I was doubtful it would work for me, but I decided to give it try.
The skin health test kit
Atolla notes that their custom serum formulations are meant to target your primary skin concerns. That can be anything from acne, dryness, oil production, redness, sun damage, or wrinkles. They do it all, folks. Some personalized skincare can seem ~not so personal~ as some brands pull exclusively from data and send the same formulations to the same skin concern group. Atolla is actually very different. Each month, you'll receive a skin assessment to track progress and make any ingredient or concentration changes to your serum.
Once you sign up for Atolla, you go through your first skin health kit process. After completing a few questions online (questions include things like hormone concerns, sun sensitivity, environment factors), an at-home skin health test kit is mailed to you. You'll need to do a few different types of tests, including oil and moisture tests, pH tests, and a base preference test. It only takes about 10-20 minutes, and you'll need your phone and/or laptop so you can record your results for Atolla.
You might feel a little funny with test strips stuck to your face, but you can make it cute.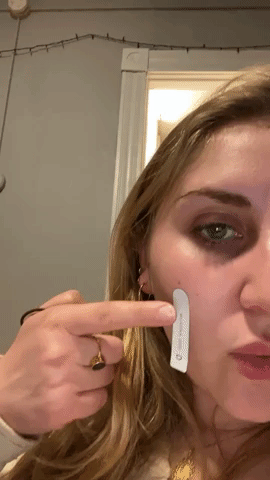 The last part of the skin assessment is choosing your serum base. There were four different bases to choose from and test out on your skin. Atolla recommends taking note of how each feels and sinks into your skin. Naturally, I chose the one with the gel consistency.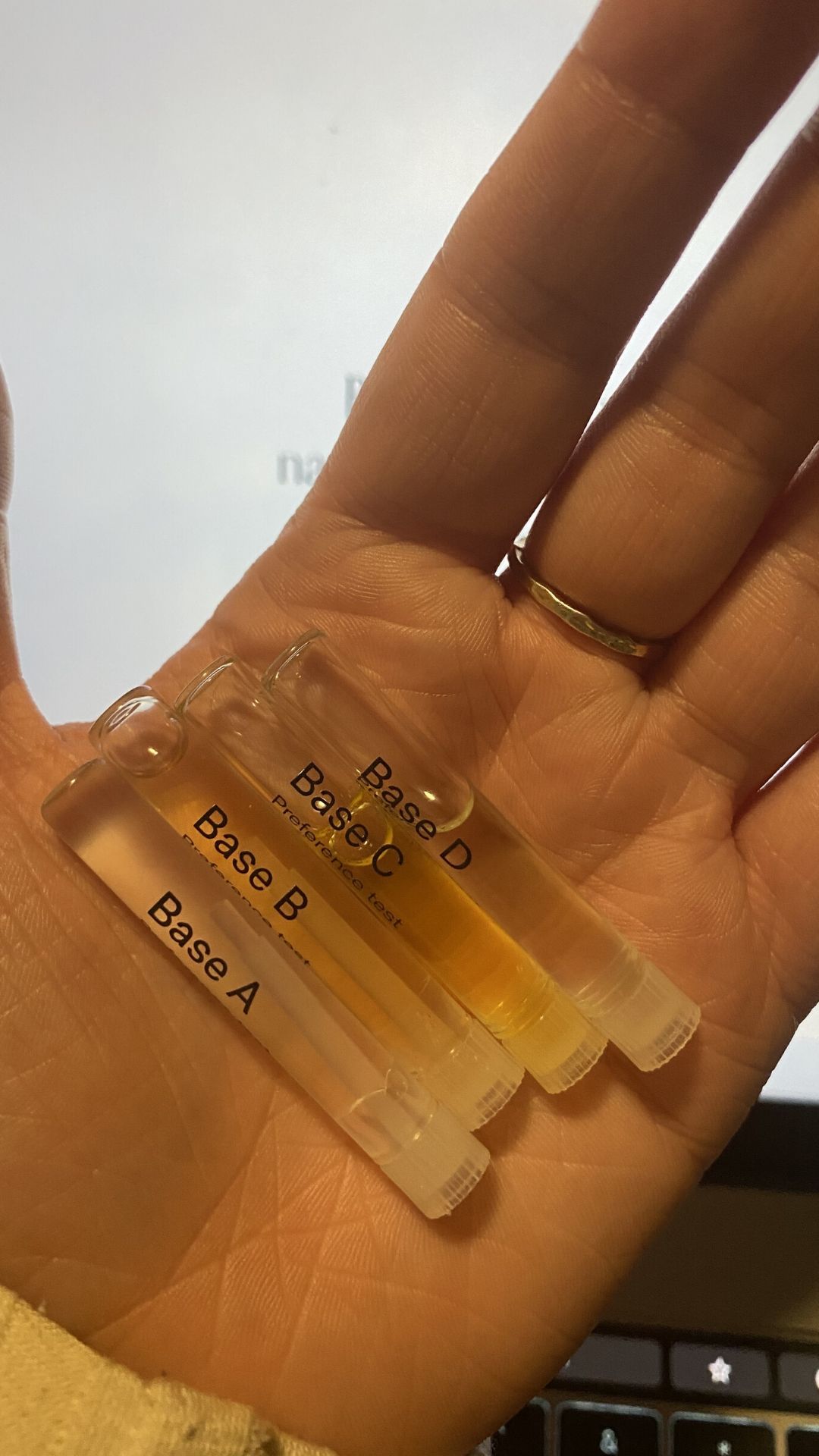 After finishing each test, you go ahead and upload your results into your Atolla profile. You then also upload three selfies on yourself so Atolla can see what your skin looks like currently, and so they can track your progress along the way. You also have the ability to search and upload products within your current routine so Atolla can cross-check and make sure nothing in your custom serum would interfere with the other products you're using.
This process may seem extensive at first glance, but the details matter! It also makes your formulation more personal to you. Bonus: all the extra "packaging" required for your skin assessment is 100% recyclable. I was pretty relieved when I saw that!
Within a few days, your first serum is formulated and mailed to you. Included will also be another skin health kit for next month's formula.
Ingredients
Before your serum is made, you're able to preview your ingredient list and know what to expect. For the base, my first formula contained:
– 3% coconut extract
– Jojoba oil
– Marula oil
WHAT?! Other ingredients included avocado oil, rosehip oil, pumpkin seed oil, squalane, and vitamin E. LOTS of oils. I was crazy surprised, but it turns out, my very oily/acne-prone skin was showing signs of low moisture levels and I needed the coconut extract, jojoba oil, and marula oil for nourishing purposes. Still, I was nervous that my skin would hate the consistency. I understand my skin might be craving the benefits of these oils, but I wasn't sure it would react well. More importantly, would it even seep in, or would I go to sleep looking like a grease ball?
Final thoughts
So far, I've used my Atolla serums for a total of three months and I've seen great results. Quarantine has brought up a lot of things I haven't known about my skin type, and Atolla has helped me understand more about it.
My skin has since forgiven me for depriving it of the ingredients it's apparently always wanted. While my skin type is still oily by nature, I have seen really positive results. My skin is visibly more balanced, and I can go long periods without having to whip out a blotting sheet. After the first month of the serum, I decided to complete the skin health kit again to see if my formula needed to be switched up. On the outside, my skin was looking wayyy better than before I started Atolla. I looked more matte and I had fewer breakouts that month.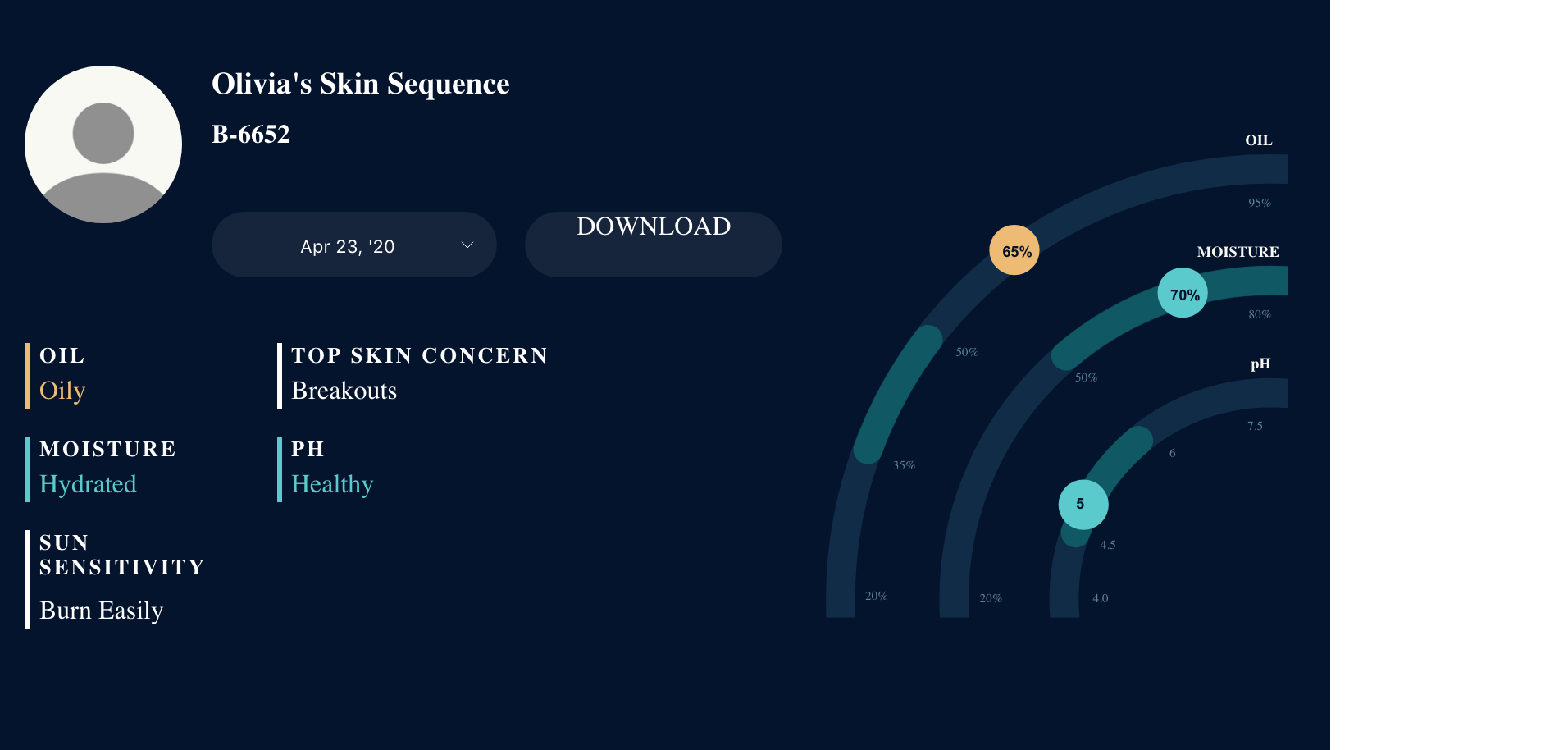 In the second month, my formula changed, and the coconut extract increased from 3 percent to 6 percent. For my next two months, I was going entire days without needing a blotting sheet or a mid-day face cleanse. My cystic acne was also having a much shorter lifespan. Those suckers were healing faster than ever.
Atolla checks off a lot of my skincare brand boxes. They're 100% vegan, cruelty-free, sulfate-free, gluten-free, and they do not use any added fragrance. It's clear their ingredient library is selective and effective, and their blog shows just how passionate they are about skincare education. They truly want to help people understand their skin better and tackle their top concerns through science.
While completely tailored to your skin, the serums can be a little pricy at $45 a month. Each bottle is 15mL, and I didn't finish my entire serum each month, but I was only using it at night.
I think as a skincare consumer, I can be captivated by a lot of active ingredients promising to do wonders for anti-aging and hydration. I've never looked to a serum to help to balance my skin or decrease oil production. I also never looked at my skin as dehydrated and needing more moisture. Atolla helped me understand my skin in a way I never had before. Don't get me wrong, I still haven't pushed my serums from The Ordinary and Versed aside, but I think I'll stick with my Atolla serum for a bit to give my skin what it needs.
TLDR;
Atolla is an innovative custom serum company aiming to help you define and aid in your top skin concerns
Each month you complete an at-home skin assessment
100% vegan. Cruelty, sulfate, gluten, and fragrance-free
Balanced the heck outta my oily skin
Buy or BYE?
A definite buy if you're looking to know more about your skin type and address your top skincare concerns.
Buy HERE, $45 a month.