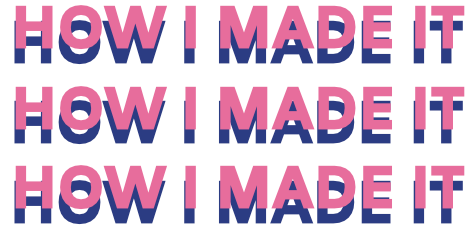 Welcome to our series, How I Made It, where we talk to beauty brand founders about their come ups, their origin stories, and how they finally, well, made it. The recurring series talks to beauty founders from all walks of life to uncover what inspires them, what pushes them, and the secret to their success.
For as long as Amy Liu can remember, she's been in love with the way beauty products have the ability to make people feel something.
Amy started her career in the beauty industry working at some of the fastest-growing companies like Kate Somerville, Smashbox, and Josie Maran Cosmetics. Obviously, one of the perks of working in the beauty industry is trying all the products. However, as an eczema sufferer, she often missed out as it was nearly impossible for her to find color cosmetics with clean ingredients that didn't trigger her eczema.
SEE ALSO: How I Made It: Coloured Raine's Founder, Loraine R. Dowdy on being a Black pioneer in the beauty industry
Amy went on to create Tower 28, an inclusive beauty company developing non-toxic makeup for sensitive skin. Tower 28 is actually the first beauty brand that's 100% clean, vegan, AND free of known skin irritants. Amy knew everything needed to be dermatologist and allergy tested—no if's, and's, or but's—in order to fill the blank space she saw in the industry. The formulas even adhere to the National Eczema Association's ingredient guidelines and EU ingredient standards.
Tower 28 is named after a lifeguard tower in Santa Monica, California. The brand believes Tower 28 is a place where two iconic LA worlds come together, the Santa Monica Pier and Venice Beach. Tower 28 stands as a symbol for everything the brand hopes to create: community, healthy fun, and clean living.
Launched in April 2019, the brand has cultivated a cult following ever since. One quick look at their Instagram or website and you immediately feel a part of something. Their products are beloved by many of our own editors, from their absolute must-have ShineOn Lip Jelly's ($14) to their BeachPlease Luminous Tinted Balms ($20), and of course, their SOS Daily Rescue Facial Spray ($28) which helps calm acne, eczema, and irritation.
Basically, this brand is *chefs kiss* and so much more. Amy herself sat down with Very Good Light to discuss all things clean beauty, how a home remodel helped give her the courage to launch Tower 28, and the future of sustainability in the beauty industry.
Besides your personal skin struggles, what made you want to get into the beauty industry?
I've always loved the way beauty products make people feel. The swipe of your favorite lip gloss has the power to change how you walk through this world. The idea that beauty can help boost someone's confidence was, and still is, a huge part of why I wanted to get into this industry.
Back in college, I went to a USC event during my first year of business school and fortuitously sat next to beauty legend Michelle Taylor (previously the CEO of Kate Somerville Skincare and President at Kiehl's). She accepted my offer to be her intern, and the rest is history!
What does it mean to you to be an Asian-American beauty entrepreneur?
I'm so proud of my Chinese heritage, and it's a huge part of who I am. I grew up in Claremont, California, where I definitely felt like the minority; people that looked like me weren't well-represented or seen as the standard of beauty. As a second-generation Chinese-American entrepreneur, it's important that I'm building a brand truly based on inclusivity.
What was it like launching Tower 28?
Right before I started Tower 28, we bought our first home and I led the entire remodel. We took the house down to the studs, tearing down almost every internal wall and three out of the four external walls. Even after working in the beauty industry for over 15 years, it was that experience that really gave me the confidence to start Tower 28. I had taken on a task that I had never done before, with limited time, money, resources, and knowledge—and completed it successfully!
Launching a brand is very much the same. You are building something to last and there are so many things you don't know about but you figure it out along the way. It takes a lot of hard work, but if it's something you care about, and you can find people to do it with you that you enjoy, it is so much fun.
What were some of the first steps you needed to take and possibly some challenges you had to overcome? In other words, how did you take your vision from ideation to execution?
One thing I realized very early on is that you can't do it all. I have always worked in teams and I definitely do not consider myself a genius in isolation. I need other people to help me work through ideas, challenge me, and make the idea grow stronger. I'm grateful to have built a team to do just that. I've always had the vision for what I wanted Tower 28 to be in terms of mission (clean beauty, accessible price point, cool/fun, and designed for sensitive skin) but I didn't always know how that would execute. Hiring the right people early on means everything because those opinions have so much weight. You are making a million little decisions that add up to the overall brand, message, product assortment, etc.
Like remodeling a house, you have to start at the beginning and be very clear about your goal. And if you're not an architect, you hire someone to help you manifest that vision. But you have to know what you want. Then you figure out what you can do within your constraints. For example, I always knew I wanted Tower 28 to be at an accessible price point, so I never even considered custom tooling any packaging because of the expense.
What has been your biggest accomplishment along the way? Has anything surprised you during your time as an entrepreneur?
After working in the beauty industry and wearing lots of different hats for such a long time, I really thought I knew more about all the different facets of building a beauty brand and have honestly been surprised by how much I didn't know! I'm so grateful I have friends who have helped – the answer to a lot of my questions is often just a text away!
My biggest accomplishment is honestly just trying. I wanted to do this for so long and I am proud that I was able to move the fear aside and give myself a real shot. My son recently graduated from elementary school and each student had to answer a set of questions. One of them was to name someone you admire; my son said, "I admire my Mom because not many people are brave enough to start their own company." To think I spent so much of my life afraid and worried but now that's how he sees me… well, that's an accomplishment.
How has launching Tower 28 and seeing its success inspired and encouraged you in your daily life?
I would be lying if I didn't say it's been huge for my confidence and identity as a woman. I have always been career-driven, with my job being a big part of my identity. My first real executive role coincided with my first pregnancy. Just as my career was taking off, I was becoming a mom. At times I felt like I was failing at both. I was burned out and wanted to be a good mom, so I decided to take some time off and reset while my two kids were still in preschool.
I had a third baby and consulted part-time, but really my main job was taking care of my kids. Being a mom is one of the hardest and most important jobs I will ever have (and I love it!). But not making much of a financial contribution to my family and feeling like I didn't have my own identity outside of being a mom was really hard for me. Now, I'm grateful because I feel like I don't have to choose between a career and being a mom. I can have both and on my own terms and that's really encouraging.
Where do you see the future of sustainability and beauty heading towards?
Making clean and sustainable beauty available to everyone! For a long time, many of the clean brands available came with a hefty price tag – they weren't truly inclusive and accessible. Our products are super affordable (everything is $28 and under) and available at retailers like Sephora, Credo, and Revolve, which have a huge reach. My hope is that as time goes on, larger companies will follow suit. I know it takes a lot to turn those massive ships around, but they have the power to make big changes in this world.
Who is your inspiration within the beauty industry?
I love seeing Asian-Americans like Michelle Lee, Eva Chen, Vicky Tsai, Sara Tan, and Patrick Ta really make it, proving that you can be creative AND smart without losing your cultural identity, but instead being proud of it.
Lastly, what advice would you give to aspiring individuals in the beauty industry/community?
It's a small industry so make sure to be good to people. It's the right thing to do and it will come back to you. Also, get some experience. Learn on someone else's dime.