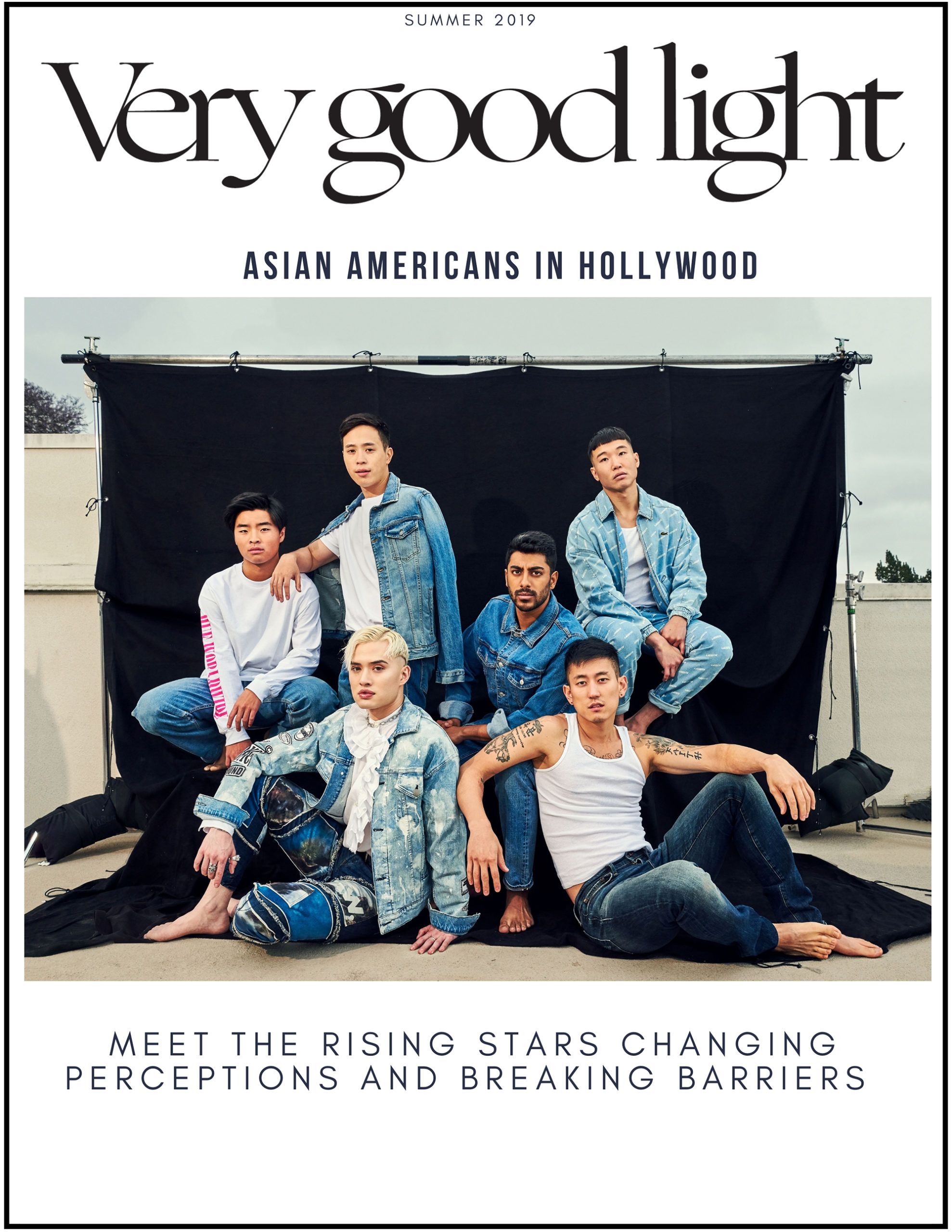 LOS ANGELES – "I love being Asian," says the teen actor, Dallas Liu, at our photoshoot in Echo Park.
It's a Thursday afternoon and a dozen Asian Americans are gathered on a rooftop to commemorate May's Asian Pacific American Heritage Month for Very Good Light's Asians in Hollywood cover stars. We're highlighting six rising Asian American stars who are changing perceptions and visibility around Asian America. Each is diverse as they are beautiful, bringing their own flavor to tinseltown. In their own powerful ways, each is leading the charge when it comes to representation onscreen – and off – in Hollywood, an industry that has traditionally closed its doors on those who've looked like them.
But things are changing. It's a golden time for diversity and Asians seem to finally be breaking through.
It means something to see oneself onscreen and have their experiences validated. This, especially when it comes to marginalized or disenfranchised communities who've rarely seen their stories represented in pop culture. Representation is vital to a person's lived experience, psyche, and self-worth. When one can share culture with someone onscreen, it makes them feel as if they, too, belong. Historically, it's long been a pain point for Asian Americans to have not only a lack of portrayals onscreen but to see themselves painted in a negative light when they do.
After all, Asian Americans, especially men, have long been depicted as emasculated, asexual or lampooned foreign caricatures. There's been a clear message when it comes to Hollywood: Asians are the "other." It's impossible to sift through Hollywood history without coming across films that have degraded Asians. Women are hypersexualized and dangerously fetishized while men are the opposite. The latter comes in the form of stereotypical characters like Long Duk Dong in Sixteen Candles or Mickey Rooney's yellow face in Breakfast At Tiffany's.
Such racist portrayals are still alive and well today, with media taking cheap shots at Asian American male masculinity or poking fun at how undesirable they are. This has trickled into the small towns across the country to big cities, where these stereotypes are weaponized to the detriments of so many Asian Americans. But this idea of the "unsexy Asian male" didn't happen overnight.
"We've been here."
For that, we look back at American history, which created a direct campaign to neuter Asian American male identity. This is called Yellow Peril (also known as Yellow Terror), an existential psycho-cultural fear that the Eastern World would takeover the Western predominantly white culture. It's the xenophobic idea that white colonialism and power would somehow be trumped by the influx of Asians – specifically men and their rise in the United States.
This fear of mixing cultures, or having white American women fall for Asian men – aka interracial sexual intercourse that could "dilute whiteness" – led to America's direct campaign against Asian masculinity. This painted Asian men as dangerous, sexless, emasculated and neutered while hyper-sexualizing Asian women. These propaganda films came in the form of 1915's The Cheat, which tells the story of a Japanese American as a sexual predator and rapist, 1932's Shanghai Express, which portrays a Chinese American lead as an asexual man, to a television series with an Asian villain named Fu Man Chu, the evil Chinese doctor with the comical facial hair. While these portrayals are laughable, the propaganda has been extremely successful – in 2019, Asian men are still perceived in these ways.
And it has real repercussions.
While culture may be shifting, Yellow Peril still colors our collective American lens. In our present day, this comes in the form of Asian American men being perceived as unattractive, unsexy, weak or invisible – all, of course, internalized, "learned" racism. In a study by OKCupid, Asian American men (along with African American women) were less likely to be "Swiped right" or messaged than any other demographic. It's this idea of being "least desirable," this propaganda of Asian American males as asexual that has had major psychological and emotional impact on the way these men perceive themselves.
In an article by Psychology Today, this leads Asian American men to have either a lower sense of self-worth. It leads to self-harm or harm to others. Alternatively, this also does the opposite effect, creating hyper-masculine qualities within this group as a form of overcompensation. One only needs to look at incel culture to see how devastating this effect can be. It doesn't help that according to this 2011 study from the National Institute for Mental Health, Asian Americans are less likely to reach out for help all other ethnic groups. "Only 17% of all Asian Americans have sought professional help, and only 6% sought this help from a mental health provider," the article explains.
It means something to see yourself onscreen and have your experiences validated.
But tides are shifting and Asians are not only reclaiming their space, they're rewriting history. This, thanks to mega successful films like Crazy Rich Asians directed by Jon Chu, which cast sexy Asian leads in a compelling story that eventually set box office records. The film Searching, starring John Cho, was another hit, proving that success when it comes to Asian American leads, wasn't a fluke. Recent films like the Netflix hit, To All the Boys I've Loved Before and The Sun is Also A Star are showing that Asian leads are bankable.
Their success led to the greenlighting of upcoming films from the likes of Marvel, which is developing its first all-Asian American action movie to television shows with networks like NBC and HBO, developing Asian American-centric shows. No wonder then, that it's an era that Variety calls a "Golden Time for Diversity." Movie-goers are demanding that they seem themselves, especially Asian and Latinx consumers. According to a report from the Motion Picture Association of America, Latinx and Asian communities had the highest rates of moviegoing in the United States.
But with success come skepticism. For all Asian Americans have done in their fight for representation, comes an uphill battle with critics saying that this "golden era" for Asian Americans could be none but a trend. Though, whether or not Hollywood comes to accept Asians is irrelevant.
We didn't need Variety to call our collective Asian American experience compelling. We didn't need Hollywood or the rest of the world to discover us. We didn't need mass culture to deem us cool.
We've been here.
To celebrate us, Very Good Light is launching #unabashedlyAsian, an initiative that promotes pride in our Asian American culture. Our six cover stories are examples of how diverse, beautiful, powerful – and unabashedly Asian – we have always been. This sentiment is personified by the likes of these six actors making strides in Hollywood.
Without further ado, read about our six separate cover stars by clicking on them below:
The Queens-native is now seen regularly on ABC's "Single Parents," portraying a non-stereotypically Asian character who's loveably clueless.
The gender-nonconforming actor/performer/dancer/artist/stylist and more … just starred in the CW's powerful pilot, "Glamorous." Their career is just getting started.
The handsome Indian American actor, made a huge splash on Netflix's hit series, "Russian Doll."
The Canadian actor in the upcoming Alan Yang film, Tigertail, proves that a Chinese Canadian man can become the new American boy next door.
The queer comedian is redefining what funny can look like from a bold Asian voice with humor that's provocative as it is sexy. He'll further prove his acting talents starring in NBC's upcoming comedy, "Sunnyside."
The Gen Z star, who made his unforgettable debut in the uproarious Hulu show, "PEN15," is the future of Asian America.
Photographer: Jessica Chou Assisted by: Se Collier Editor: David Yi Stylist: Christopher Kim Producer: Akemi Look Assistant Director: Tara Aquino Makeup artist: Christina Roberson Hairstylist: Joelis Vallejo