Blush is not "one-size-fits-all."
Like most makeup products, achieving that perfect flush is all about accentuating your undertones and playing off of your personal color palette. Every person has a unique palette that caters to their one-of-a-kind skin tone and understanding how to personalize your products to maximize your natural hues is the key to an enlivened complexion.
In the cosmetic world, blush is usually displayed in primarily delicate pink and fuchsia tones. But as of late, beauty TikTok and makeup artists far and wide are ditching those in favor of rusty, citrine, or even sunset-inspired colors. Going into the colder months, orange blushes will definitely be making their way into the mainstream, as the shade is perfect for the colder days where a bit of warmth is much needed.

Not only is orange the ideal shade for this time of year — but the popularization of bolder, divergent shades represents a significant moment in beauty representation as orange blush is brown skin-friendly. These shades are extremely flattering for those with more melanated skin since their vivid nature complements richer, deeper undertones. But no matter what your skin tone may be, there are orange blushes out there for every adventurer. Below, we have compiled some of our favorite orange blushes — in a broad spectrum of intensities — for those who want to stray from the norm, if just for a day.

Freck Beauty Cheekslime in Orange Wine
Freck Beauty's Cheekslime in Orange Wine is for all of the wine lovers out there, and it is most definitely for all of the olive, brown, or dark-skinned individuals out there as well. The buildable tint is packed with liquid plant collagen to boost the skin from the inside out, and its soft rust shade adjusts harmoniously with a wide range of skin tones. Olive skin tones make for a more intense flush, while Orange Wine on darker skin brings out the wearer's inner warmth.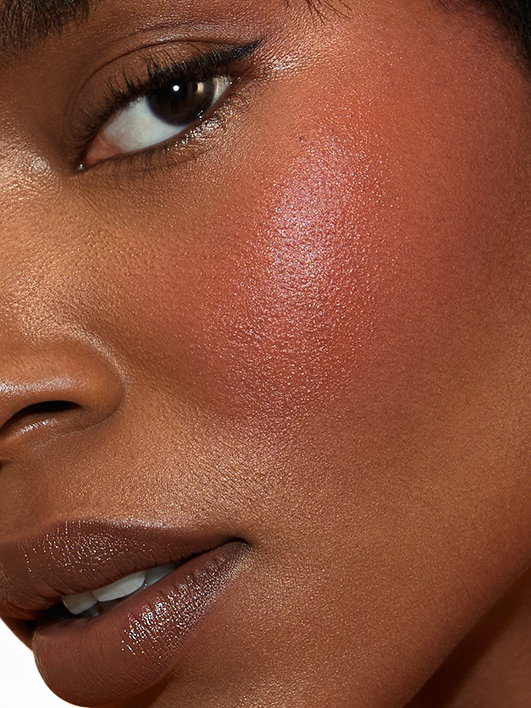 About Face Cheek Freak Blush Balm in Cowgirl

About Face won over the internet with its quirky, alternative shade ranges — the brand boasts blushes in various hues, from technicolor purple to potent red. Among that range is Cowgirl — a rich earthen terracotta. The Cheek Freak Blush Balm in Cowgirl is a super creamy, lightweight balm that slips easily across the skin and can be layered for color depth.


Rare Beauty Soft Pinch Liquid Blush in Joy
Rare Beauty has become widely known for its Soft Liquid Blush, which glides onto the skin, providing a healthy, natural glow that is user-friendly enough to be applied with fingertips. Joy is a muted peach color that makes more pigmented skin tones shine. This shade comes in a dewy finish for a just-applied moisturizer finish during the driest months of the year.

Glossier Cloud Paint is a gel-cream blush for any makeup enthusiast, whether you are a pro or a beginner. The formula's unique blurring pigments mattify pores and texture while simultaneously giving the skin a radiance miming a picturesque golden hour sunset. Dawn is a bright coral, so it may be more intense for fairer skin shades, but the formulation's light, airy qualities make it a match for truly any and everyone.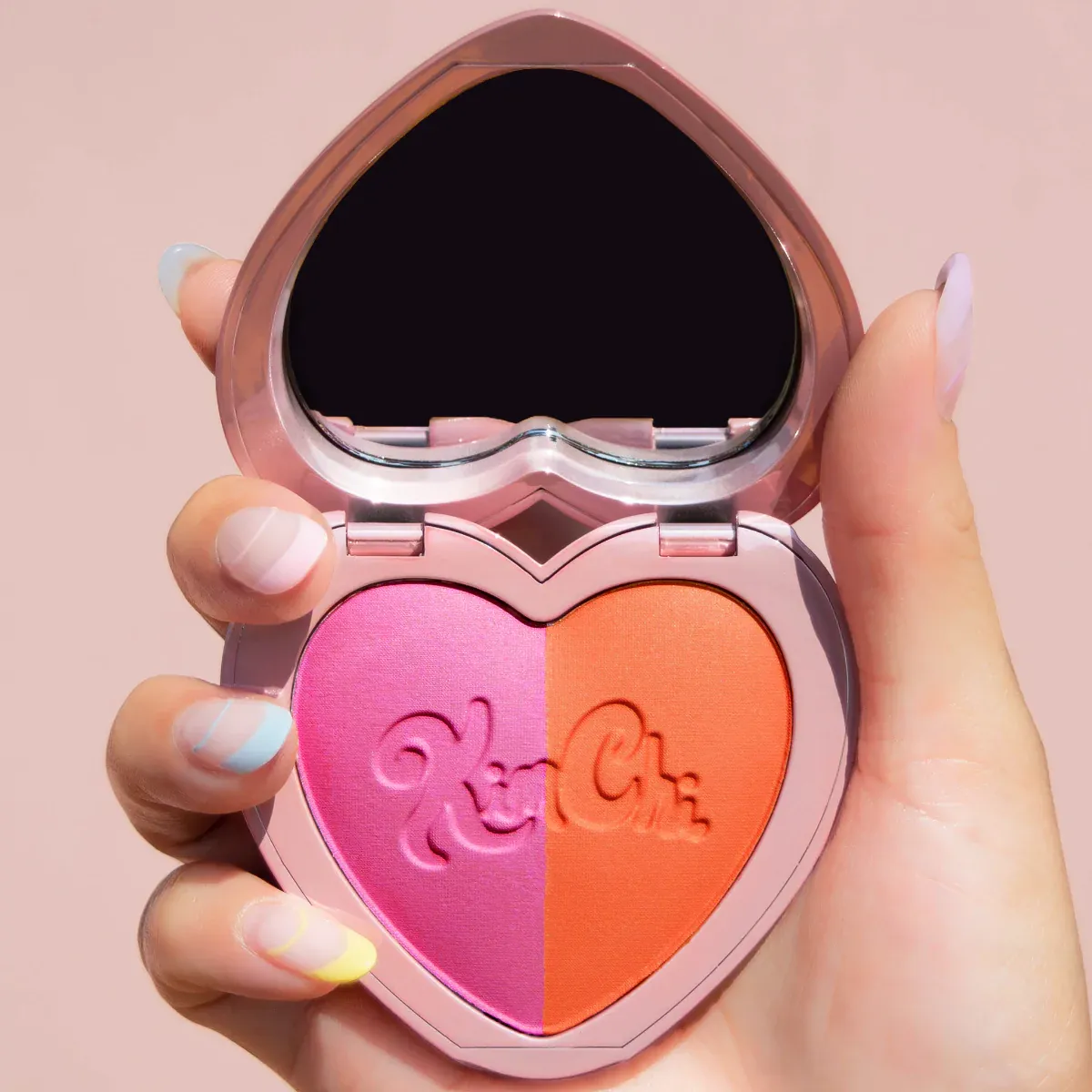 KimChi Chic Beauty Blush Duo Palette in 02 MERCEDES R
KimChi Chic Beauty is an LGBTQIA+ and AAPI-founded beauty brand created and inspired by the bubbly and colorful personality of drag queen Kim Chi. Kim Chi is no stranger to playful makeup looks, so each product is infused with vibrance and fun. The Beauty Blush Duo Palette in 02 MERCEDES R is a two-blush palette, which is perfect for orange blush novices as the pan comes equipped with both a sunkissed orange as well as a more familiar hot pink, so you can choose to blend both or debut a novel pop of color. The brand is cruelty-free, and the packaging is whimsical as ever — what's not to love?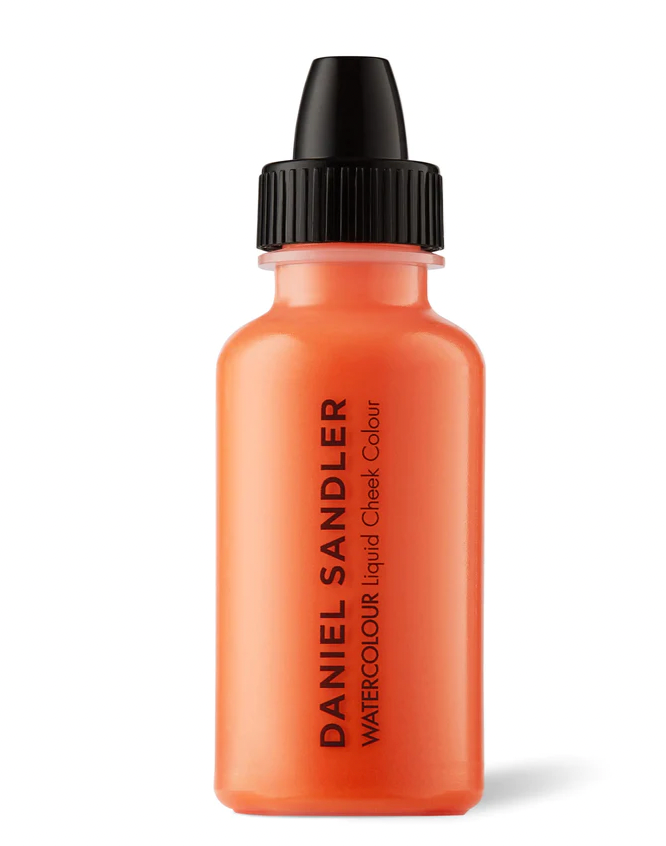 Daniel Sandler Watercolor Liquid Blush in Trip
Daniel Sandler Watercolor Liquid Blush is water-resistant, rub-proof, and dynamic (it can be used on eyes and lips as well!), so it checks off all of the boxes for practicality. The oil-free liquid in Trip is a fierce shade of orange, making it most suitable for darker skin tones. A satiny finish infused with subtle shimmer doubles as a soft highlight as well.
---
READ MORE LIKE THIS