Our culture owes so much to Black trans women. Their legacy in all spaces — but particularly within the beauty community — is everlasting and extensive. From the enduring Marsha P. Johnson, a Black trans woman who started the Stonewall Riot and paved the way for the trans community, to the activists of today, trans people have had an indelible impact on our world.
Despite having a massive impact on beauty trends — the popularization of contouring, baking, everyday lashes, and lace front wigs are all owed in some part to Black women and drag queens — and our culture in general, the LGBTQIA community is often overlooked by beauty brands. This is especially true for trans women.
Today, this is changing. Brands are (slowly) shifting their directions regarding diversity. And even better, brands founded by Black LGBTQIA folx are finding spaces in the mainstream.
Junior Mintt, founder and CEO of Mintty Makeup, makes up an integral part of this change.
Starting a business is never an easy task for anyone. Figuring out every detail requires time, patience, and loads of commitment. "There's no guide to creating a business, and then when you add the fact that I'm Black, trans, and a drag queen, it was even more difficult," Mintt says.  
It's common to feel alone when you're starting something new. Large endeavors like opening your first business can be especially intimidating and isolating. For Junior Mintt, guidance from her community marked the key to success. "It can feel like you're in it alone, especially when it's your first business, but you're not," she says. "Let those who love you and have knowledge help!"
Mintty Makeup is sold at Thirteen Lune, a retailer dedicated to representing Black- and Brown-owned brands that launched back in December 2020. Their mission makes them a significant retailer for many new brands, in that they uplift those who are disenfranchised and may otherwise have a much more difficult time getting picked up by retailers.
Beyond that, Mintt says, "they allow the business owners they work with to bring their full selves to the table."
She'd been apprehensive about the next steps for building Mintty Makeup as a brand, because she'd heard that many business owners have negative experiences with their retailers. Many are asked to leave parts of their identity or personality out of the process, and Mintt hadn't been sure if she'd be comfortable leaving herself out of the brand's story.
"Thirteen Lune has been phenomenal and has only encouraged me to bring ALL of me to the table," she says.
Mintty Makeup is perfect for anyone who appreciates the self-discovery makeup can provide. However, Mintty Makeup's focus during the design process was putting Black trans people first.
"It's common that we're second, third, or fourth thoughts when makeup is created, or not even thought of at all," Mintt says. "So Black trans people are at the center of everything I create."
In creating Mintty Makeup, she wanted to create something that uplifted, focused on, and supported the community to which she has dedicated so much of herself. This goes beyond a mission statement, though. From models, makeup artists, and all the way back to her customers, she wanted to make sure that not only were they reflected in the brand but a part of it.
The support from her community has been everything. She owes a lot of her success to the people who helped her come into herself. Whenever she needs them, they're there supporting her. "I never could have anticipated it, but the fact that I know that I'm not alone in my journey is very comforting," she says.
Mintt feels the most beautiful after a performance. When she gets home, she looks in the mirror, full beat intact, and sees her own beauty. And then, when she takes it off, she still feels beautiful.
"[The] same power and beauty that you feel are accessible to you when you don't have the makeup on," she says. "So that's not only when I feel my most beautiful, but also my most powerful."
Putting on makeup had been a defining part of discovering her own identity as a trans woman. While makeup can be transformative, it can also be a place for finding your own beauty (sans mascara). "I believe that makeup and beauty are about discovering and loving new pieces of yourself while also being able to appreciate and love your beauty after you take it off," she says.
Because of the way beauty products are often marketed, she'd thought makeup would be a way of accessing the beauty displayed by campaign models and in makeup tutorials — the way many young people getting into makeup do. Eventually, though, she learned it was all about loving your own beauty. "That's what I hope to spread to anyone who picks up a Mintty Makeup product," she says.
"It isn't about changing who you are. It's about finding who you are."
Shop Junior Mintt's Mintty Makeup recommendations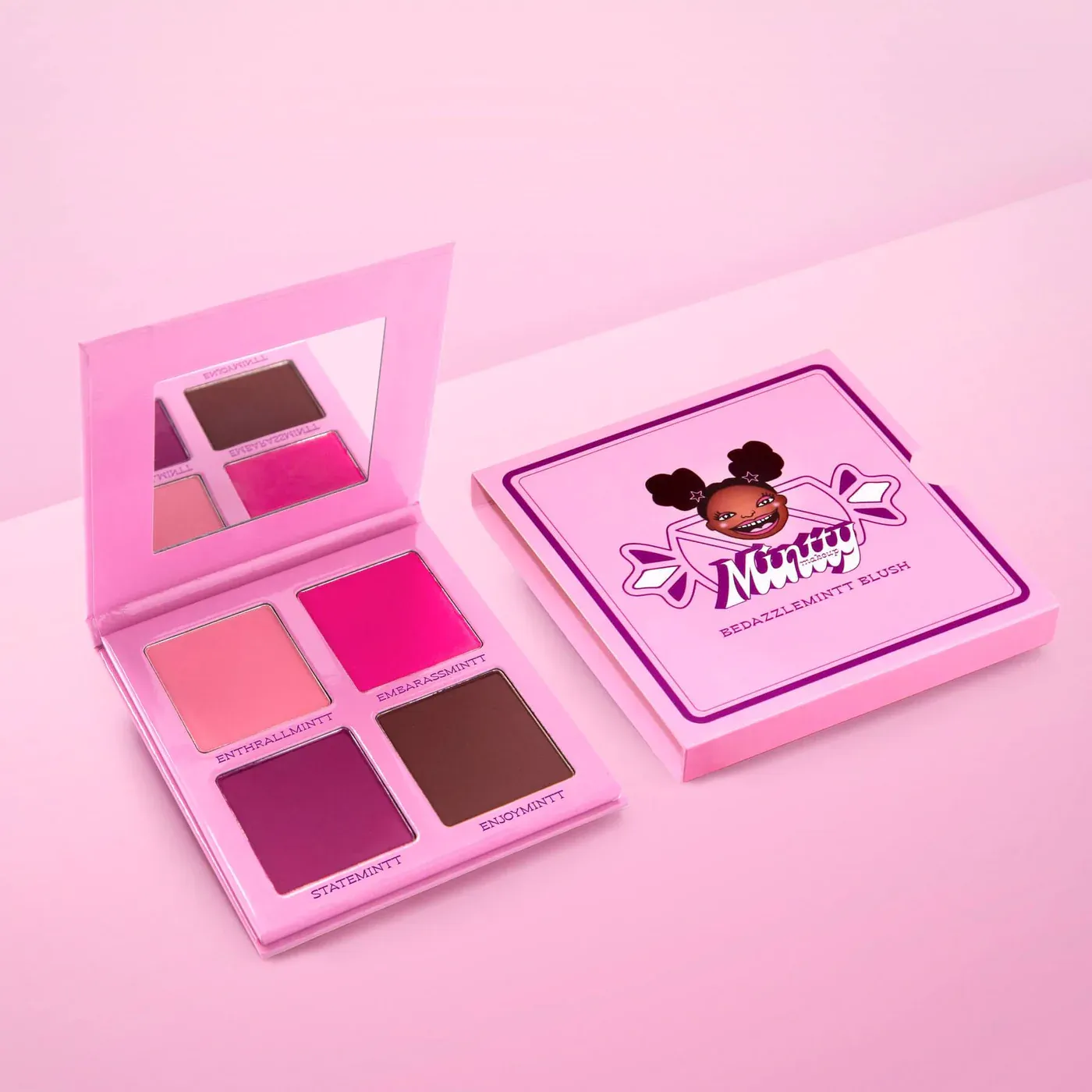 For a lowkey day
BedazzleMintt blush palette, $28
"Some blush on the cheeks just adds the perfect touch to a chill day. If I'm feely feisty, I'll take the EmbarassMintt Shade and add It to my eye's inner corner and have an extra pop of color!"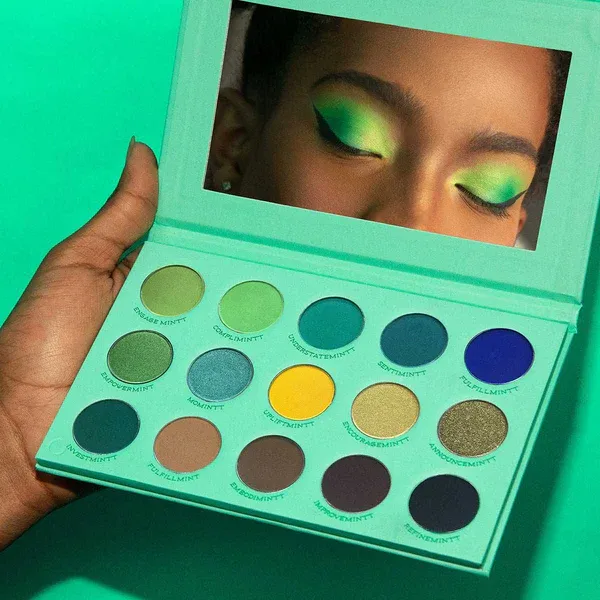 For a full beat
EmpowerMintt Eyeshadow Palette, $30
"The colors are so versatile I can do a subtle eye or a bright, eye-catching design. Plus, the brown shades are perfect to help punch up a contour or highlight. So I can leave the house with one palette and know I can touch up my highlight, eyes, or contour."
Pro tip: "The EncourageMintt and AnnounceMintt shades also work perfectly for a cheek highlight also!"
---
READ MORE LIKE THIS