It's time to start embracing winter weather like we've done Westworld.
Because it's here and we have no other choice than to hold on until Game of Thrones comes back. That means hanging by the every cliffhanger with nothing but dry, scratchy skin, which can make pores and wrinkles stand out. Not a cute look, no matter how oversized your sweater is, or if your name is James Marsden. Don't want to wake up looking like a scaly monster? Incorporating sheet masks into your routine can give you that extra boost of hydration to survive the winter months ahead. Yes, Ed Harris, it can even save you.

SEE ALSO: How to use sheet masks as Halloween costumes
Maybe you've heard of sheet masks or have seen them on someone's Instagram or Snapchat. Perhaps you've even contemplated being a villain in your own movie by wearing one around town. Whatever the case, there's no doubt that sheet masks and their hydration powers have all kinds of benefits. Our friends at Glow Recipe sent us a few sheet mask to try out, ranging from simple masks for beginners, to double wrapping it, er, masking for the pros out there. So next time you're up for a Netflix and Chill, or Hulu and Existing, or Amazon Prime and Just Being, here are three masks you absolutely need.
Before sheet masking got you like
Hydrogel, ya'll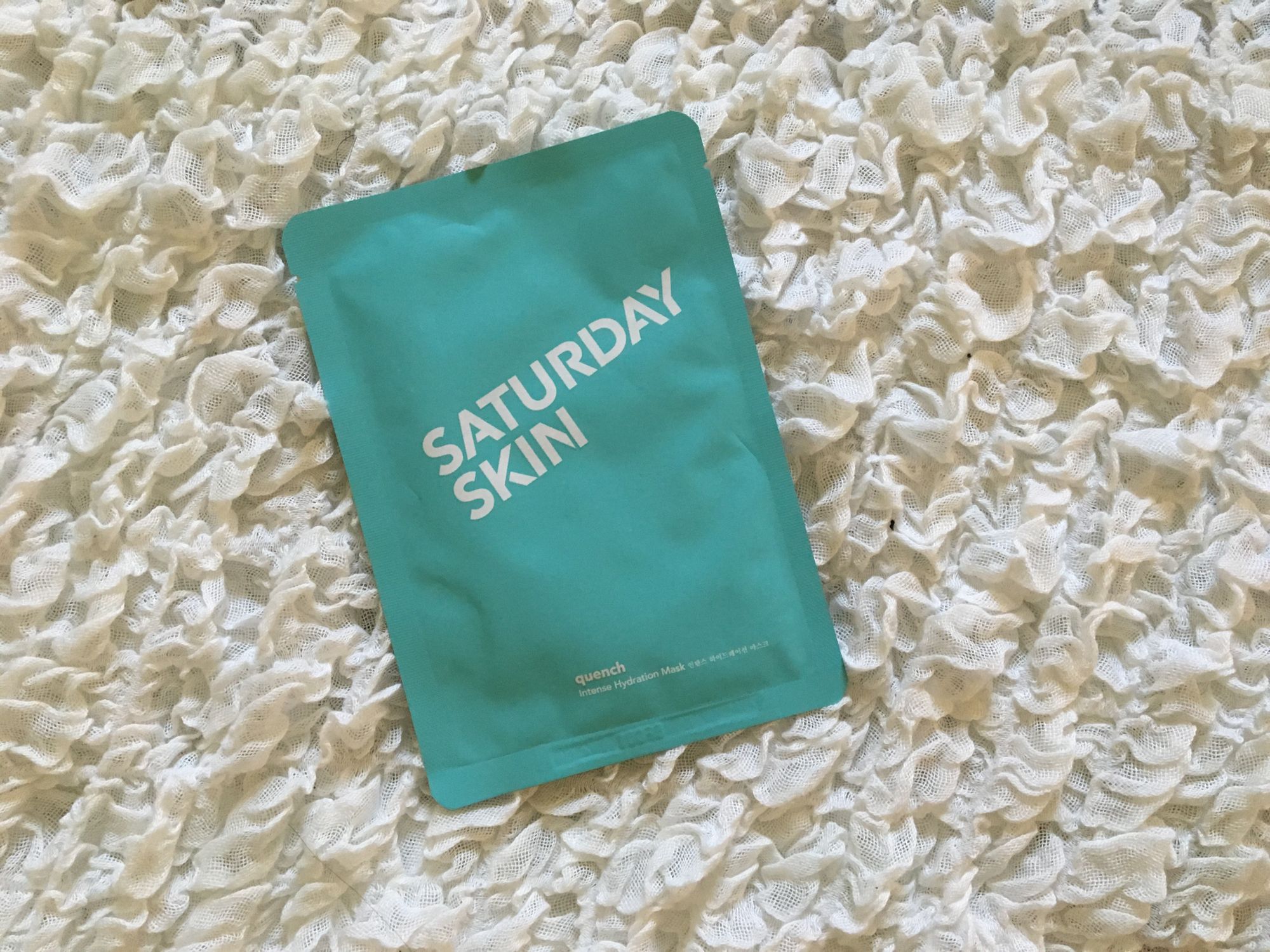 The Saturday Skin Quench Intense Hydration Mask ($6) is a slight twist on the classic. It's made out of hydrogel material, a gel that can hold serum and is really good at adhering to the skin. This mask has a lot of calming and moisturizing ingredients including aloe, watermelon extract, and hyaluronic acid to both sooth and hydrate irritated skin.
Hydrogel masks are great because they retain a lot of moisture and do a better job at clinging to the curve of a face than a cotton mask. Another advantage: it isn't too juicy, meaning, serum won't be dripping everywhere, possibly the worst part of sheet masking. When taken out of the package, the mask has a mesh cover on both sides to prevent the mask from sticking to itself. The easiest way to apply this mask is to remove the mesh on one side, lining it up to your face, and removing the mesh on the opposite side.
Once on, this mask clung tightly to my face, and because of the material, was very cooling. I used it after shaving and it calmed down the irritated spots on my face. My skin was left hydrated and I also noticed a boost in radiance from this mask as well. I can see myself using this mask before a date night to give my face a little pick me up.
Soy you love me
The Blossom Jeju Nourishing Soy Essence Petal sheet mask ($6) comes in two steps; a face oil and an serum drenched sheet mask. If you've never used a face oil, don't be scared! They are great at supplying nutrients to the skin. The concept of this mask is that the sheet mask allows for the oils to be fully absorbed, effectively "pushing" it into your skin.
The oil portion of the mask is camellia oil, which contains a handful of vitamins and fatty acids that the skin absorbs quickly . It's a very luxurious feeling to use the oil for a mini face massage before slapping on the mask.
The mask itself is very thin, clinging to every curve and contour of the face. It contains hyaluronic acid, which is an amazing moisture binding ingredient that occurs naturally in the skin, and a handful of natural extracts that help soothe and brighten the complexion.
Twenty minutes later, I peeled the mask off for my reveal. I was really surprised at how well the oil and sheet mask combination worked. My skin was plump, the oil was completely absorbed, and I had the infamous "glow."
Double trouble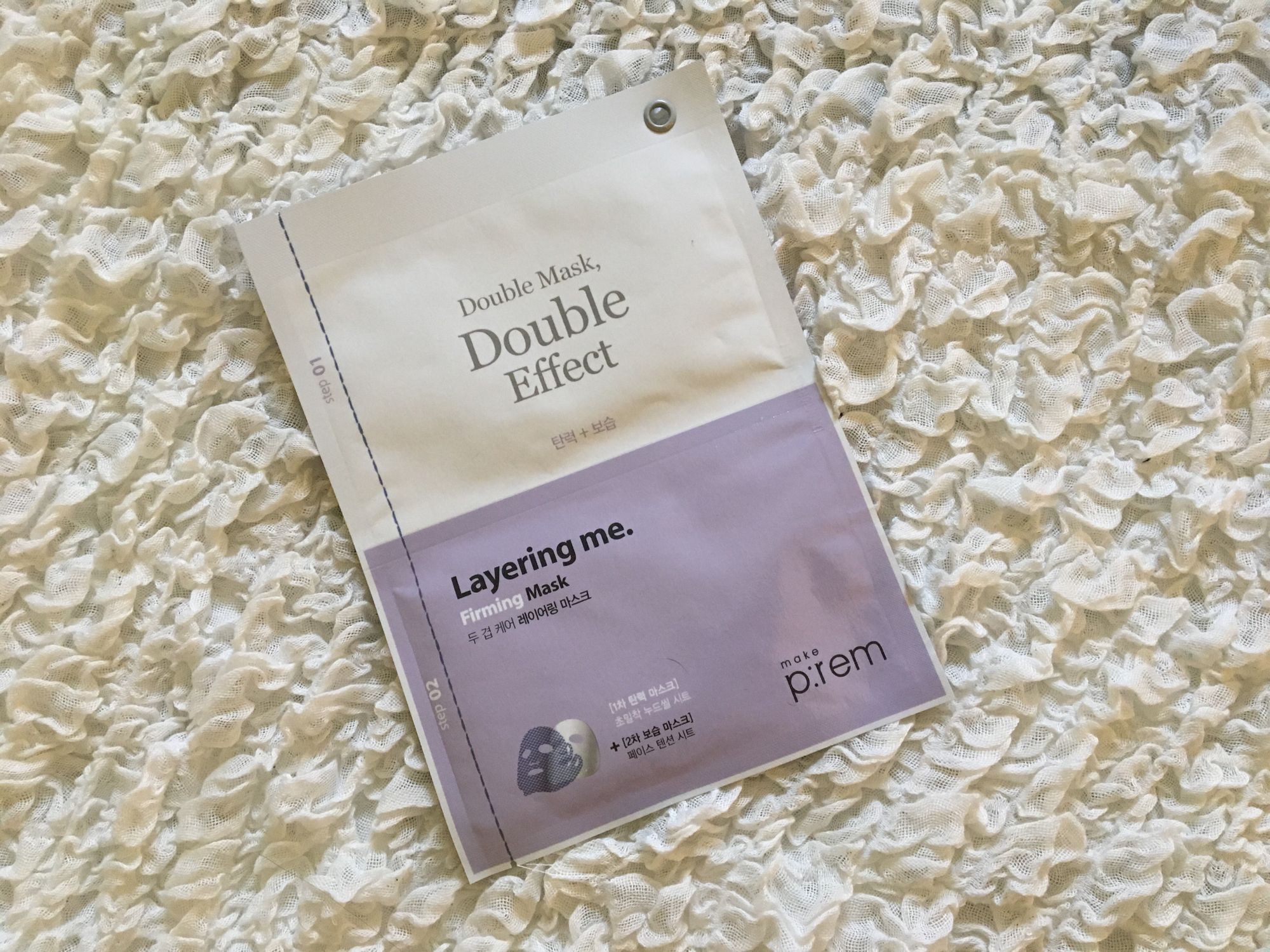 Make P:rem's Firming Layer Double Mask ($9) is a double sheet masking experience for pros. The two masks work in tandem to saturate the face in serum while slimming the face.
The first mask is a thin sheet mask that's pretty typical, but the second sheet mask is thicker and has two hooks that attach to each ears to wrap around and anchor everything in place. This mask is pretty intense, it looked I was wrapped up in gauze after a face lift. I initially thought the straps weren't long enough to hook onto my ears, but they stretched enough to get the job done.
Layering one mask on top of the other borrows from the concept of layering on skincare. It allows for the mask to stay wet longer, meaning your face has more time to soak in the beneficial ingredients. This mask contains ginger, royal jelly, and licorice extracts, which are all known the help give the complexion a radiant glow. The pressure of the mask being pressed against the face, plus the coolness of the mask helps to depuff the face, giving the firming and lifting effect touted by the mask.
After removing the mask, I was in awe. My skin was smooth and glowing. I looked like I had gotten the recommended 8 hours of sleep, for once. And all it took was looking like a mummy for 30 minutes.
Quick sheet mask tips
Sheet mask are most effective when used as your next to last step in your routine. Use them after you cleanse and apply serums, but before you use your heavy cream or lotions.
Many times there is extra serum in the sheet mask packet. Use this excess to coat your neck, chest, and arms!
Don't let a sheet mask completely dry out on your face. It'll end up sticking to your face like a band-aid, which can cause irritation when you try to rip it off.
Eugene is a native to the suburbs of Georgia with a penchant for writing and skin care. A Korean mother and Puerto Rican fathered offered Eugene a wide world view that drove an inquisitive mind to write about the perception of race, both externally and internally, while living in the bible belt.
READ MORE LIKE THIS