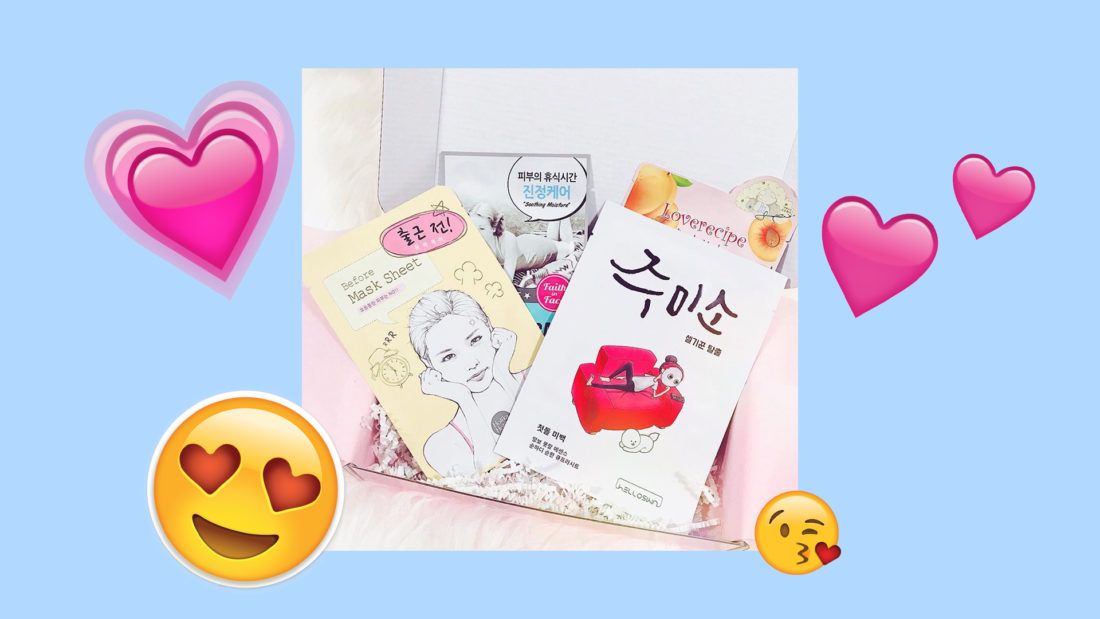 The worst part of Korean sheet masks (other than essence dripping into your mouth)?
Knowing which ones to use. With hundreds of sheet masks out there, where do you even start? From snail mucin, brightening, rubber to firming masks, Korean sheet masks now target every specific need. Which means there are so may offerings (maybe too many?) that it becomes confusing as to what to buy and for which occasion.
SEE ALSO: Can you actually practice Korean beauty without using any Korean products?
Enter Ko Skin Beauty, a genius subscription service that solves this very problems. We recently discovered the service while browsing Instagram and were instantly intrigued. The entire business revolves around offering dozens upon dozens of sheet masks. There's some like Meg, a two-step jelly mask to JM Solution's golden cocoon mask. There are popular brands from CosRX to Son & Park and even KLAVUU, to indie brands like PACKage and Thank You Farmer. You can certainly purchase the masks ranging from $2.20- $6 or you can get subscribe to your own box. There's a 4 mask option for $15 or a 7 mask option for $25.
https://www.instagram.com/p/BgFY1YqHN41/?taken-by=koskinbeauty
Possibly the coolest aspect of the business is that it's curated seasonally, meaning, you're getting targeted sheet masks that go with the changing seasons. We spoke to Ko Skin Beauty's founder, Tida Pin, who went from working at financial and civil engineering firms to beauty, to get the details of her burgeoning business – it's one you'll want to sign up for ASAP.
What is Ko Skin?
Ko Skin Beauty is your go-to monthly subscription and non-subscription beauty box and mask marketplace specializing in premium quality Korean sheet masks. Our boxes are curated every season and shipped out every month. Ko Skin Beauty was inspired by Korean skincare which is based on achieving soft, bright, and glowing skin. We focus on the importance of taking care of the skin by introducing our favorite sheet masks to add to everyone's normal skincare regimen to help improve the skin overtime.
Where did your subscription service idea come from?
I'm very selective when it comes to skincare brands and products due to battling with hormonal acne and scars while growing up. I remember researching for sheet masks to see which brands and products will work for my skin. It took a lot of time especially when there are so many Korean skincare brands out there. The subscription idea helps people save time so they won't have to go through that trouble of knowing which products to choose from since there are so many different brands and types of masks out there. It also gives our customers a chance to try out and discover new products and maybe even fall in love with them! A monthly subscription ensures that people will be consistent in using their masks each month to prepare for their new box the following month. Not only is it important to be consistent with your skincare regimen but it's also important to have fun while doing it!
What is your background? How did you get into beauty?
Beauty has always been a hobby of mine. My professional background actually involves Real Estate, Civil Engineering, Financial Services, and Project Management. I started Ko Skin Beauty as a passion project and currently working on growing the company into a company that people can trust when it comes to face masks and Korean skincare.
What's the benefits of masking every day? How about once a week? What's the minimum you need to mask?
Like most skincare products, it's all about consistency. You can't expect miracles trying out products only once and same goes for sheet masks. Sheet masks will provide you with that immediate hydration and glow but to actually have it start benefiting your skin long-term you have to be consistent with sheet masking. In Korea, sheet masking is part of most people's daily lifestyle. Everyone's skin is different but I recommend sheet masking 3-4 times a week. Sheet masking every day can be beneficial for the skin too but people with sensitive skin might react to that since sheet masks contain essences that are highly concentrated with certain ingredients that people with sensitive skin might react to. There's also nothing wrong with sheet masking once a week especially if you're new to sheet masking. It makes a great pampering session especially when you need some time to yourself. Sheet masks are an essential part of everyone's daily lifestyle especially for those who highly believe in the importance of self-care.
Why in your opinion, have sheet masks become SO popular? Why are they so good for you?
I think that sheet masks slowly became popular as people started to learn more about Korean skincare and the reason why skincare plays such a big role in Korea. Skincare in Korea is mainly used for preventative purposes while people here are used to using skincare only to treat. Also, when Korean entertainment such as Korean Dramas and K-Pop became more popular here in the US, I feel that people's idols played a big influence in Korean skincare especially sheet masks since they're used in many dramas and also in music videos. Sheet masks are good for you because they contain highly concentrated essences that will immediately treat your skin with hydration, brightening, plumping, you name it!
To get your own subscription box, go to KoSkinBeauty.com