On the ground floor level of the Korean luxury retailer known as Shinsegae – where Gucci, Dior, Prada, among other brands live – is … Lab Series.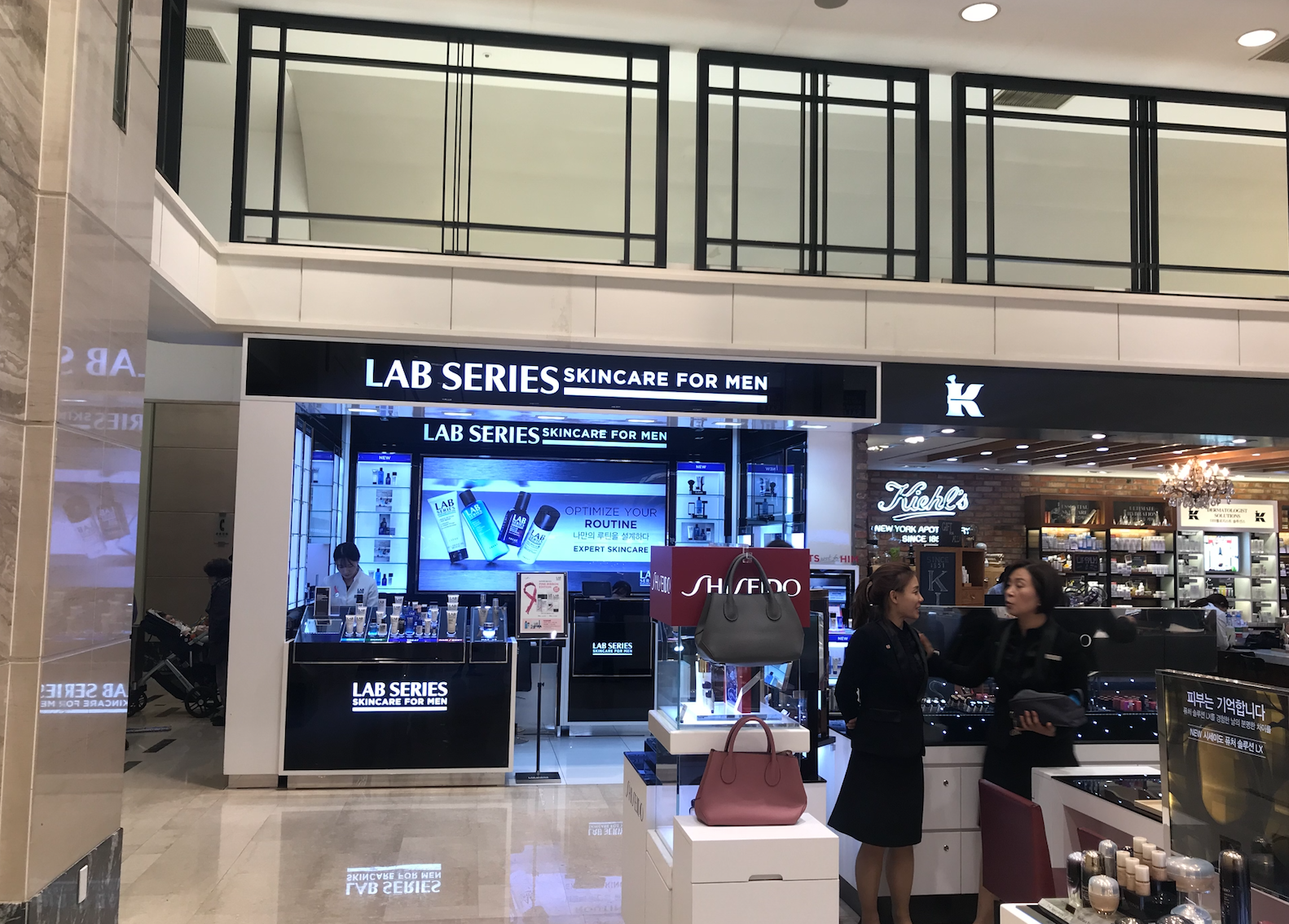 I'm shopping at the high-end mall in Gangnam, one of the most affluent neighborhoods of Seoul, the same that's now become synonymous with a certain tuxedoed rapper named Psy. For the entire month, I've been on the hunt to find beauty products that Koreans are obsessed with. It's 8 p.m., the perfect time to shop in this city, one that never sleeps.
If you thought New York City was nocturnal, you haven't been to Seoul. The city's known for its many night markets, some which open at 10 p.m., and go into the wee hours of the morning. Neon city lights illuminate the street corners, creating an artificial sun, one that seems futuristic, if not from an upcoming episode of Black Mirror.
Gangnam is also known as "The Improvement Quarter," where visitors from all over the world flock in hopes of enhancing their beauty. I was a little taken aback by how normal it is to walk around and find foreign women with their entire faces bandaged like mummies, their eyelids bruised, noses covered with a special metal plate. Prominent dermatology and cosmetology clinics fill the high rises here and you can't go mere footsteps without running into their advertisements. "You, too, can look beautiful!" they say in bold hangul.
It's not much of a surprise as Seoul has become synonymous with beauty. In the past decade, it's become the international epicenter, the birthplace of such things like: sheet masks, essences, snail mucin, the 10-step Korean beauty regimen, all gaining steam within the Western hemispheres. So big in fact, Western publications are smitten. Fashionista, for one, has made KBeauty into its own beat, and even recently wrote how Korean beauty isn't a trend, but here to stay.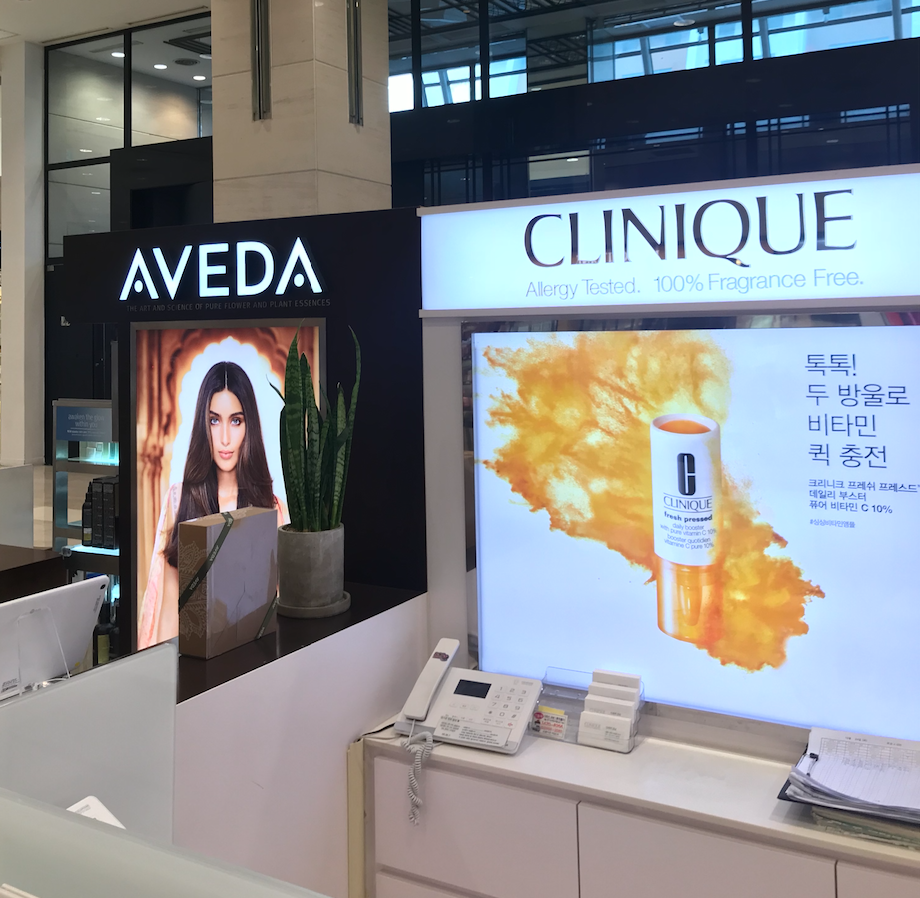 But browsing through the beauty section at Shinsegae today, I'm having a difficult time. For being a luxury retailer, I'm having issues with locating many Korean products. In front of me is a kiosk for Bobbi Brown, its product range offering everything from foundations to contour sticks. Next door is Clinique, Shu Uemura, Chanel, Dior, Yves Saint Laurent. Interestingly enough, there's even Kiehl's, a Clarisonic kiosk and one from Glam Glow, the pricey mud mask that Estee Lauder recently acquired.
Lab Series, it turns out, is the number one bestselling men's beauty brand for South Korean men. "Men love it because there's no women's sub-brand," explains one of the Lab Series employees. "There's an entire line just for them."
SEE ALSO: Can you practice Kbeauty without actually using Korean beauty products?
Walking throughout the maze, I finally find all of four Korean beauty brands represented. Of course there's representation from the luxe Amore Pacific. Another is Sum:37, the brand best known for its cleansing sticks. Diagonally to the right is Hera, known for the brand's cushion compacts (they also sponsor Seoul Fashion Week) and OHui a mid-tier skincare brand. I'm a little miffed if not confused. It lead me to this very question: With so much emphasis on Korean beauty in the west, do Koreans actually care about homegrown brands?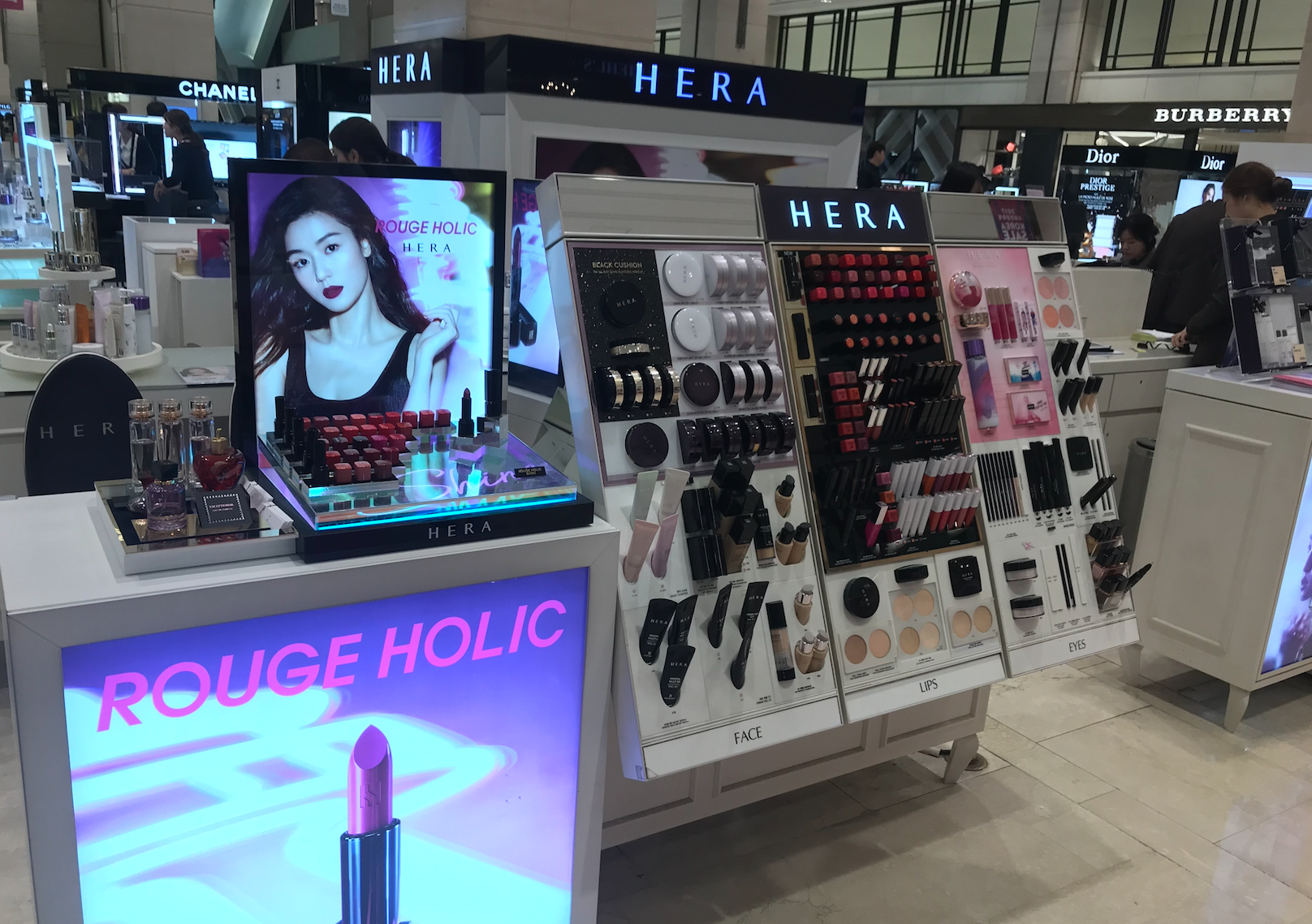 In the States, beauty editors are going gaga over the likes of InnisFree, Tony Moly, SkinFood, Too Cool For School, among a hoard of others. It's why beauty e-commerce sites like Glow Recipe, Soko Glam, Meme Box, among others, are doing so well. Kbeauty's cutesy packaging and inexpensive formulas make them an easy sell along with the fact that they're effective skincare products. But I'm starting to question if women and men here in Seoul, those who are ~serious~ about their beauty, actually perceive their homegrown products as positively.
"Those are cheap products and young people use them," one woman inside Shinsegae named Nayoung, told me. Chicly dressed with a Balenciaga hat and matching boots, she wore colored contacts, which contrasted against her porcelain skin. "I actually don't use any Korean skincare products at all." What she does use? "French or American."
To most Koreans, Western culture still has major social cache. Koreans still perceive Gucci and Prada as the pinnacle of fashion. On the streets of Seoul, the streetwear brand Supreme has become as pervasive as Nike. In terms of beauty, using anything Western immediately makes you seem like you're a part of a higher social class.
"I guess it's because Korea used to be such a poor country and we became wealthy almost over night," explained a Korean man I met named Mr. Choi. It's a reason why Koreans still perceive Western products as superior, he thinks. "There's still this thought that if it's from the West, it must be really good."
A hairstylist I met at a beauty store in Apgujung called Orang, who goes by Jennifer, echoed Mr. Choi. She went so far to tell me she doesn't own any Korean skincare products. "It's Estee Lauder, Clinique or I'll use French pharmacy brands if I don't want to spend too much. But Darphin, that's what all Korean women want to use."
This sentiment was iterated when I walked into drugstores like Olive Young and its rival, LOHBs, the equivalent of CVS or Walgreens. There, in big displays throughout weren't Korean brands, rather, European ones like Avene with big signs that say: "Europe's No. 1!" in Korean. That's not to say these stores don't sell Korean products, they have many of them but aren't prominently displayed in the middle shelves.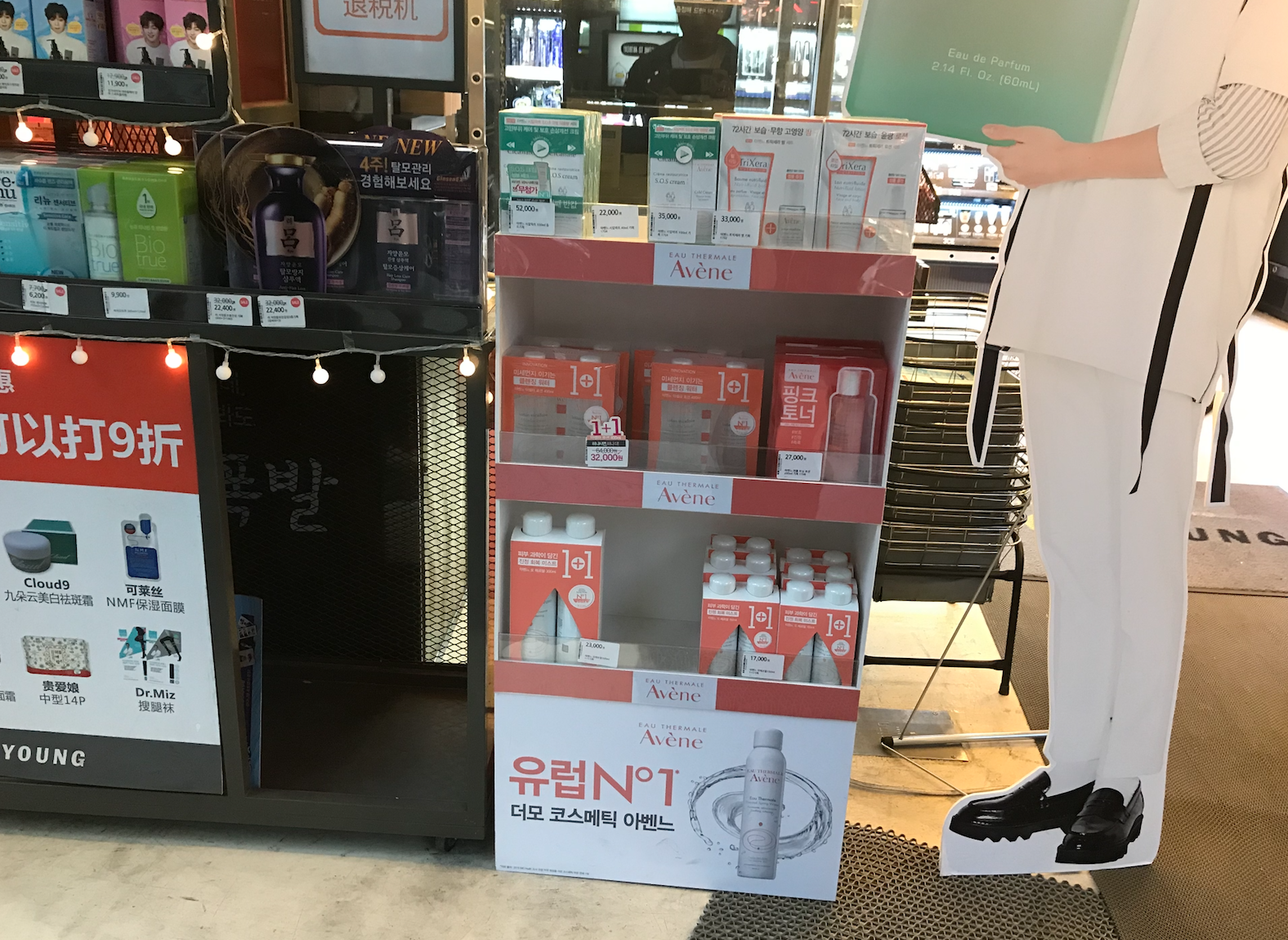 The other brands that have the biggest real estate aren't sexy at all in the States. These are brands we'd expect in our older aunt's medicine cabinets: Eucerin, Bioderma and Vichy. Classic products, yes. Sexy? not so much. But in Seoul, these brands look super luxe and come at a higher price point. To intrigue Korean consumers, the displays look luxurious. A beautifully styled wall full of Burt's Bees, for instance, almost made me want to buy one of its lip balms.
Walking towards the men's grooming section, among items like eyebrow markers and razors that thin out leg hair, lies the British grooming brand, Bull Dog. It's surprising – and peculiar – that Bull Dog has so much real estate on these shelves. After all, the product is still considered indie in the U.S. If the amount of Bull Dog in these stores is any indication, it's a clear hit for men in Seoul.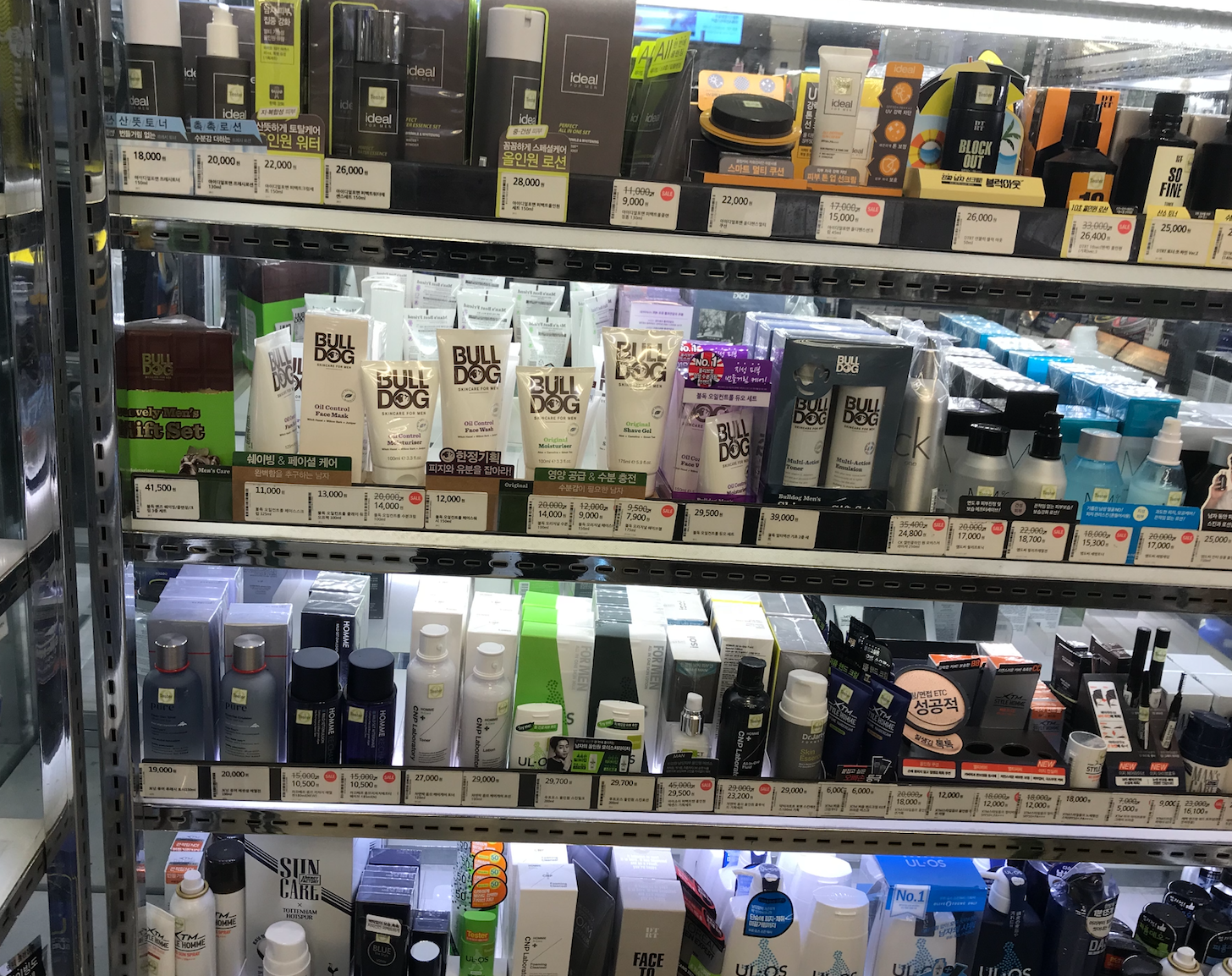 What's beginning to become clear to me is that Koreans aren't as into Korean beauty as we are in the West. In the U.S., Korean beauty is still relatively new and the practices are exotic. To Koreans, snail mucin and sheet masks are a normal part of life. What's exciting for them isn't 10-step beauty, rather, a makeup palette with outre colors from the likes of Urban Decay.
That's not to say Koreans don't use Korean beauty products at all. There are countless free-standing brick and mortar stores on every other block in Seoul from the likes of Missha, Innisfree, Belif, It's Skin, Laneige, among many others. You can't walk out of a subway station without being bombarded by these brand's many advertisements. They're still selling well. Just not as revered as I, an American, had assumed.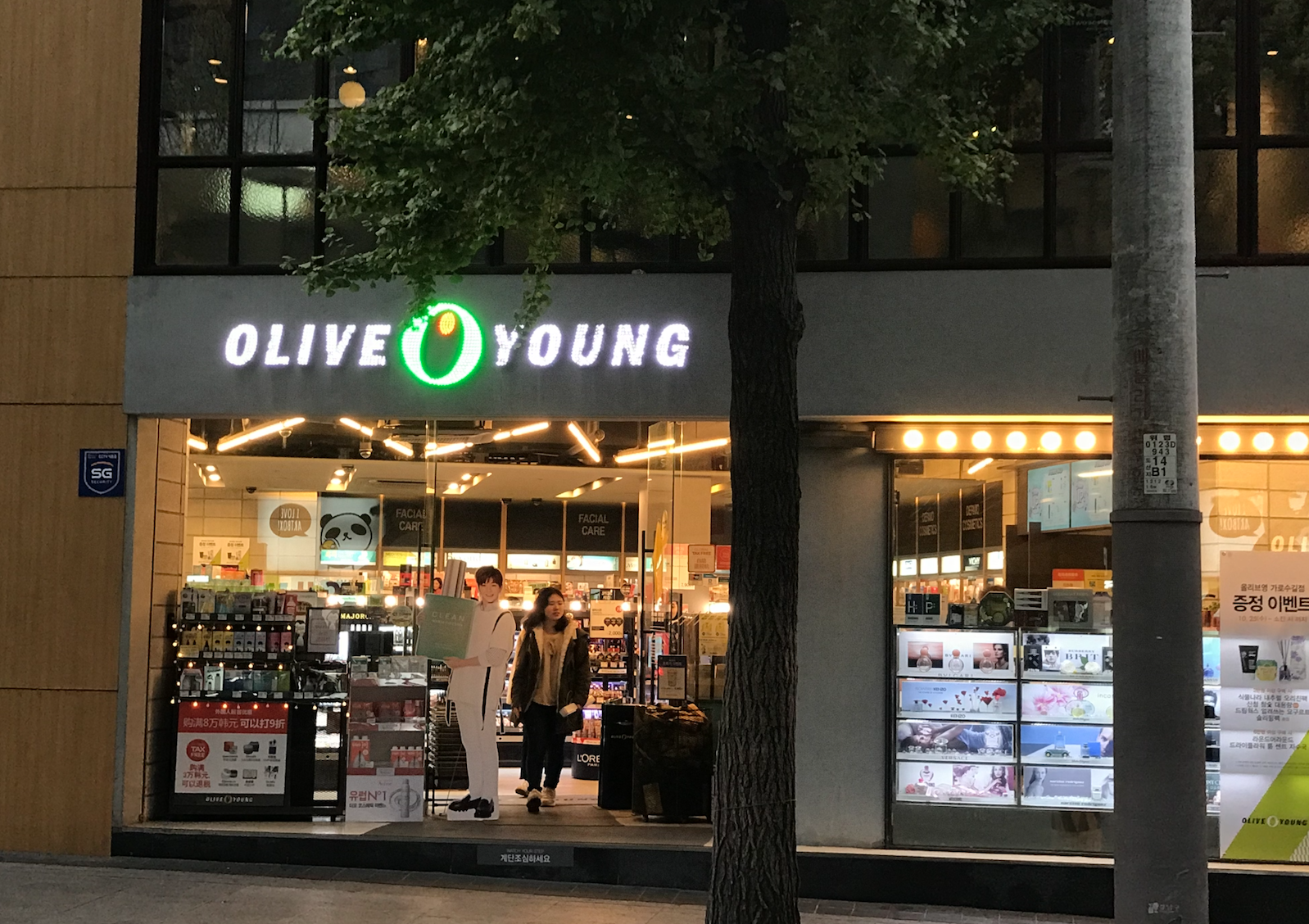 On my way back from Shinsegae, I take a bus back to my cousin's residence, in the Northeast part of the city. After rinsing off my face, I decide to peep a look at her beauty shelf in her bathroom. There, lined next to her Kerastase shampoo, Pantene Pro-V conditioner, Lush leave in conditioner, is her skincare products. There's micellar water from Bioderma, foundation from Giorgio Armani, face cream from Clinique.
But then I spot a cleanser in a white bottle with blue font. It's called Youth Formula. When I ask her about it she tells me it's the only cleanser she swears by. "My aesthetician gave it to me and you massage it in for 10-minutes." I'm relieved to see that there's at least one product she uses that's from her home country.
I scrutinize the minimalistic bottle to read more about it. There, at the bottom, clearly written in black serif font is this: Made in New York. It's clearer than a Kpop star's complexion that that's the  only approval she could ever need.