Welcome to Groom Raider, a weekly series where we go into the grooming closets of guys we admire to see what products they use. While we browse through their moisturizers, creams, fragrances and more, we get a glimpse into their past lives and the stories behind how they came to be. Check out Nicola Formichetti's from last week, here.
Benjy Hansen-Bundy, GQ Assistant Editor, @bhbundy
"To call my own morning routine a 'regimen,' is a stretch," says Benjy Hansen-Bundy, the 27 year-old assistant editor at GQ, with a smirk. We're sitting inside one of Conde Nast's brightly lit conference rooms talking about the style bible's second annual Grooming Awards, which launches online today. "It's really about speed and efficiency from getting out of bed and out the door."
Ironic, coming from GQ's very own Grooming Lord, whose very job is to thoroughly test hundreds of grooming products and determine which are worthy of ending up in its pages. As the guard of the brand's sacred grooming closet, Benjy takes products very seriously. "At GQ, the real question is how guys take care of themselves and how much time they want to put into their regimens," he says. If any brand wants to get past the iron doors of this magazine, they'll have to go through Benjy's rigorous tests.
For the Grooming Awards, it took Benjy and team hours upon hours of research and methodical testing to eventually crown winners in each respective category. "We're going to do the research for you and then tell you real reviews on which products are best for you and how to apply them," he says. "What's great is that we'll have high-end options, affordable and boutique options. It's a large scale operation and many people are involved."
After going through so many variations of soaps, deodorants, shampoos, brow gels, you name it, it makes a lot of sense that that he'd opt for more of a minimal approach when it comes to his own routine. After all, everyone needs a well-deserved detox or cleanse from the constant grind of work. In Benjy's case, introducing foreign new products onto his face and body on the daily has become a process he's had to endure. Yes, there's actually a dream job out there that involves testing products for a living.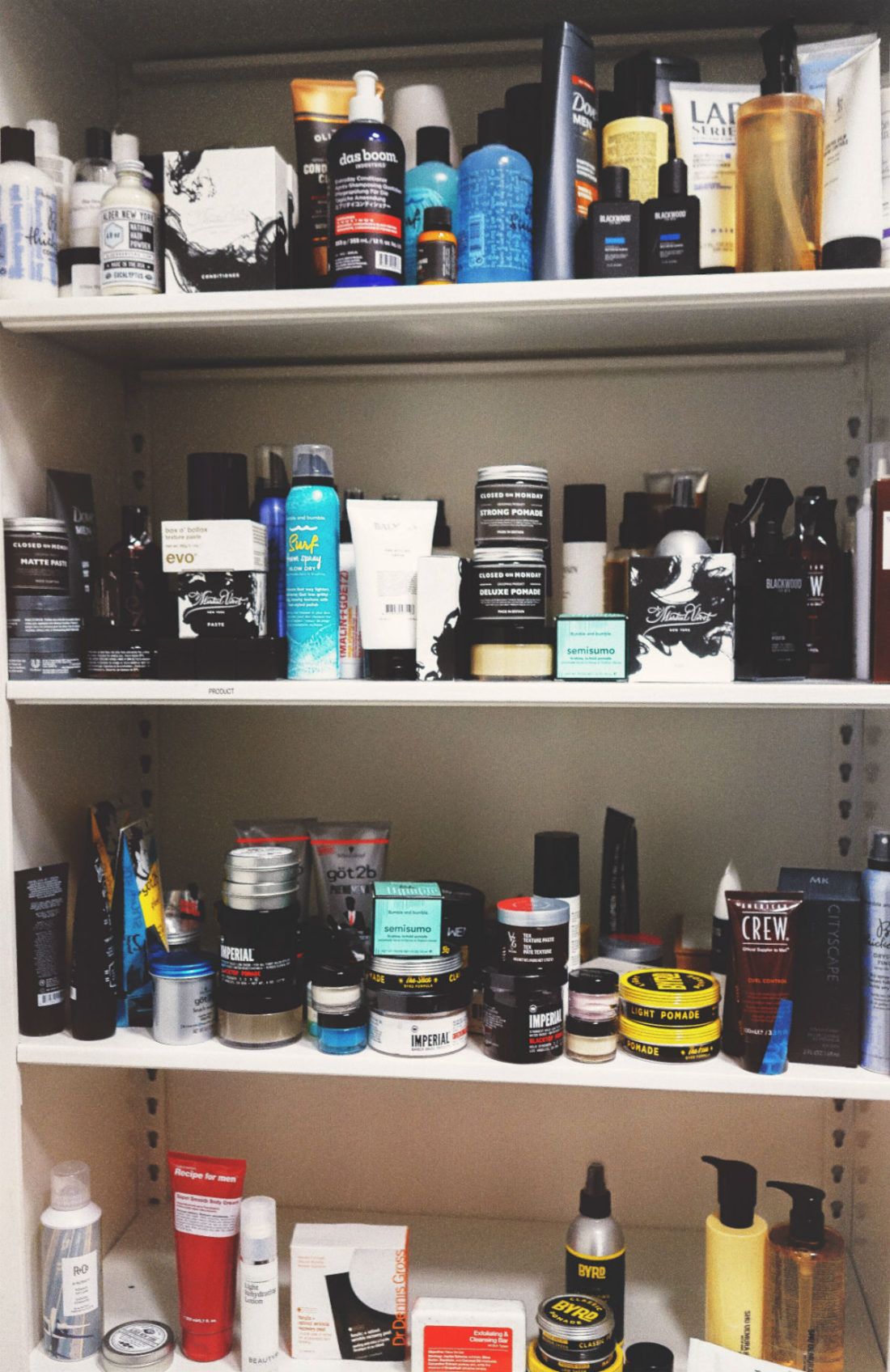 "I wash my face just with water sometimes and don't use a cleanser before bed, but I do moisturize." He'll shower with Dr. Bronners and lather that from head-to-toe, but doesn't dare use shampoo. "I'm suspicious with shampoo, actually," he says. "It makes my hair fluffy and stringy and hard to style. I was looking into shampoos and thought they were a lie. There's a happy medium with clean hair and using it to deplete your scalp of its oils. So I'm very wary."
It's this minimal – and skeptical – approach that's served Benjy well. On this warm fall morning, Benjy's face is matte but seems moisturized. His hair is coiffed back, tidy and imperfect, with a Dove Men + Care defining pomade, a brand he says is "no fuss" and affordable. He's clean-shaven, his face symmetrical like a movie star's, which means even in a plaid shirt, knit tie and jeans, he looks sartorial. If there ever was a quintessential GQ editor, this is him, personified. Which has taken some time to achieve, Benjy admits. Before he started at the magazine as its editor-in-chief, Jim Nelson's assistant, he worked at the independent news publication, Mother Jones.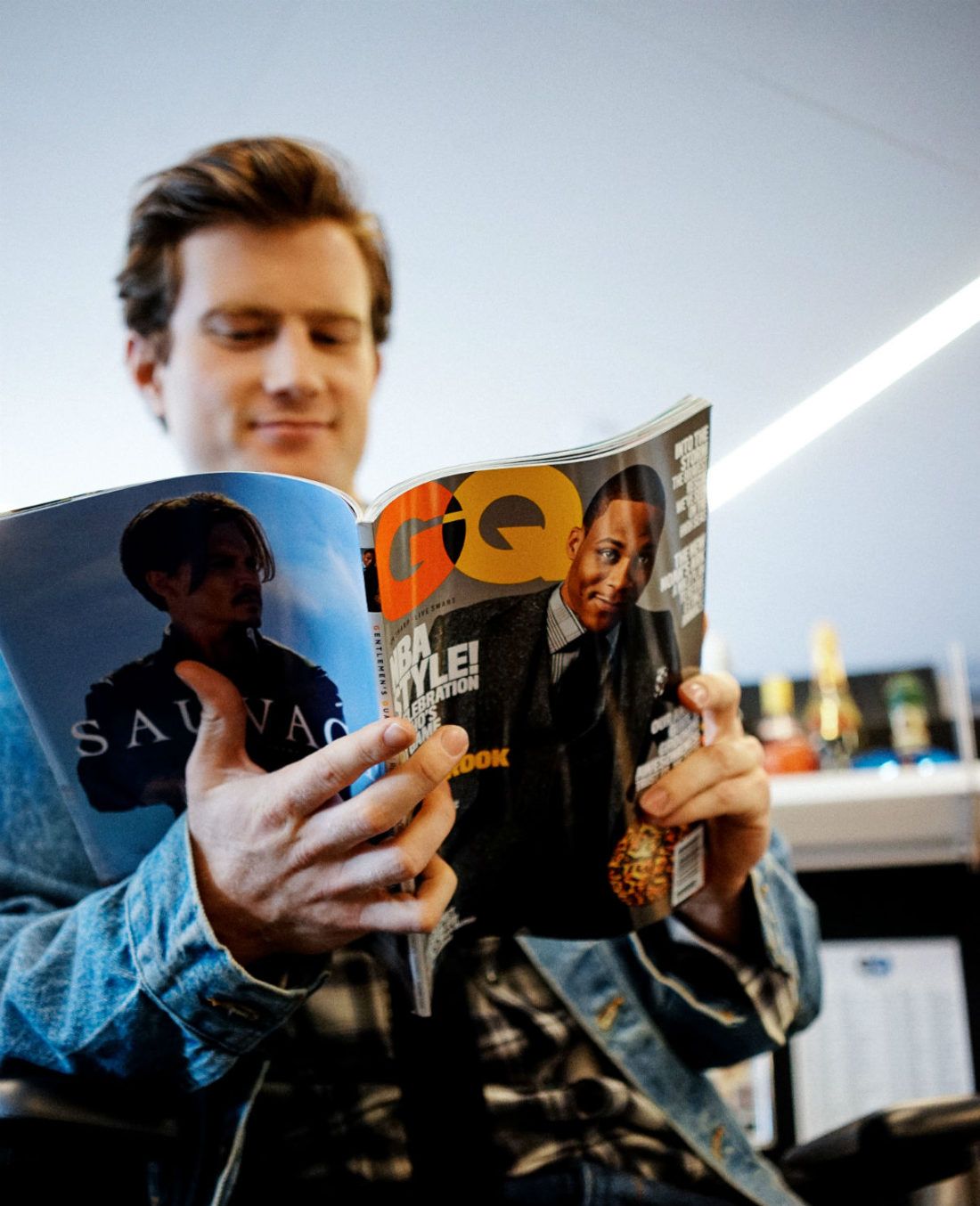 "I remember getting the call to interview for the job and I was super nervous," he recalls. He jetted to the interview, he says, in a charcoal Banana Republic suit, a fitted shirt and tie with secondhand Italian shoes. He cut his hair high and tight, a style that was trendy but safe enough. "I had seen Devil Wears Prada so I knew a little of what this life could be like," he says. The interview turned out to be fruitful, and Benjy eventually became the assistant to one of the most important men in men's media for two years.
A huge transition, if ever there was, coming from a young guy who used to pluck his unibrow since the seventh grade. "I worked on my brows a lot more than I do now," he recalls. "They were very much plucked like the underground hip hop rappers I used to listen to." He names a couple but then asks that we not actually write them in this article. "It's so embarrassing now that I think about it but I wanted these eyebrows to be perfect lines. So I plucked and groomed them, maybe a little too much."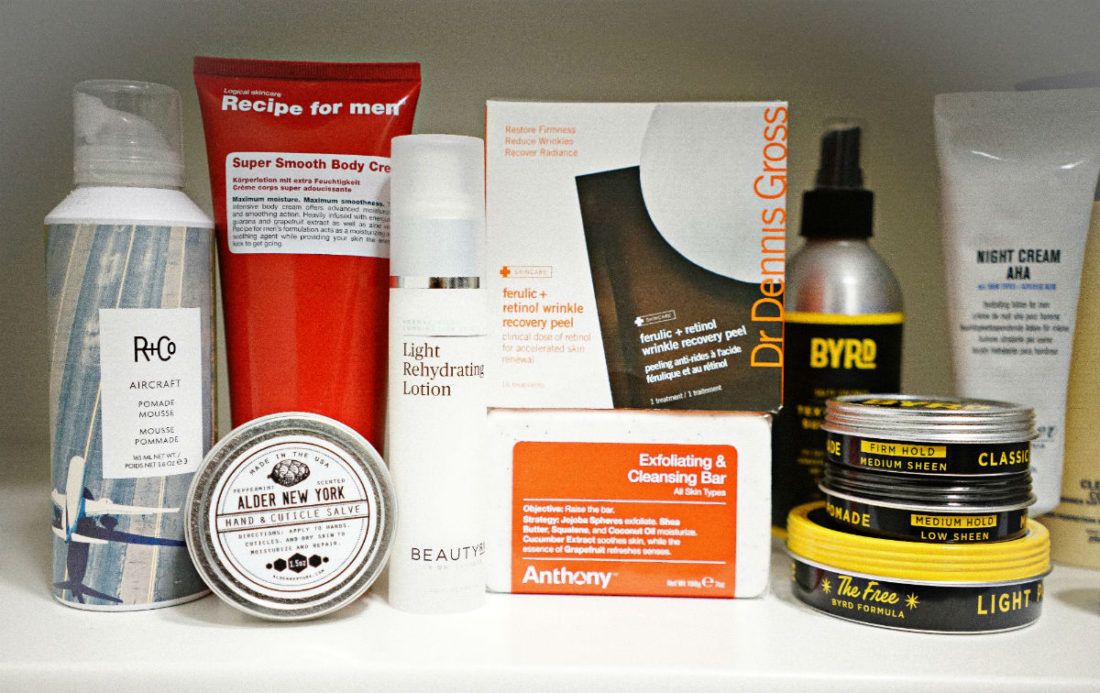 Those overplucked eyebrows grew out just as he had from his childhood fantasies of becoming a professional baseball player. After traveling the world post-college at Vanderbilt, Benjy found that his calling was writing and editing. Now it's all about grooming at GQ. So how does one land such a dream job? Benjy suggests a couple of things.
"Read a lot," he says. "And get your voice out there online. Write for places, you probably won't get paid at first, but keep getting your name out there. Then, try to get social followings. If you're looking at place like GQ, I'd suggest getting to know the masthead and having the people on the bottom getting to know you. Then, start emailing people and ask them about their jobs. This job requires tenacity." And expertise around pomades, apparently.
All photos by Bukunmi Grace
READ MORE LIKE THIS