Eyes up here.
That might as well have been the theme for Tom Ford's fall/winter 2018 men's collection Tuesday, where a bevy of men strutted down the catwalk in silky, slinky and sexy underwear. There they walked, self-assuredly half-naked, in hip-hugging boxers in every shade of nude – with a playful splash of tiger, leopard and zebra print in between. But while the brand's new gossamer underwear was the main attraction – celebrating the brand's 10-years in menswear – it was the models' glowing complexions, their scintillating torsos and glossy pectorals that made the biggest of impressions.
Grooming considered of peak importance? You don't say. After all, this is Fucking Fabulous Tom Ford, a designer known for his designs as he now is for his men's grooming brand. Which was apparent in the front rows at Tuesday's show where each celebrity guests seemed to have gotten the memo, their faces as handsome as the suits they wore.
There was Russell Wilson, the NFL star aka Mr. Ciara, whose own face seemed incredibly hydrated despite New York City's harsh winter chill. And Comedy Central's Trevor Noah, who sat front row, his face even-toned, supple, healthy. Even Cameron Dallas was on his best grooming behavior, revealing his freshly shaven face for the show after having grown a beard for the past couple of weeks.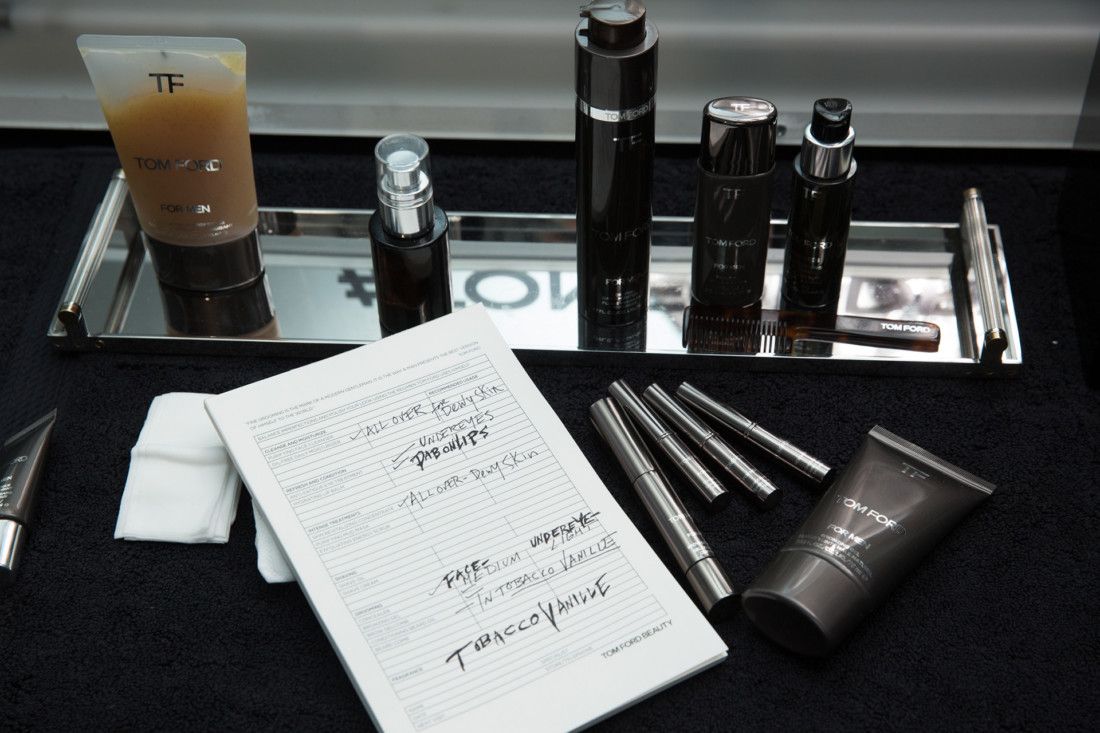 "I have sensitive skin so razors tear it up," he told Very Good Light before the show began. "Which is why I use an electric shaver. It has three circle blades that's gentle for my face."
The sentiment of serious grooming followed backstage with all 38 models. It's obvious that the show's casting was aimed towards guys who cared deeply about skincare as each had near-flawless complexions,  with radiant, bouncy skin.
One of them was a model named Joey Kim, whose skin was even-toned and completely soaked with moisture. He came prepped for his first Tom Ford show. "I usually use a face wash in morning and night and after each time I always apply a facial toner," he explained to us. "I also use an emulsion, some eye cream or serum before I go to sleep." His skincare regimen was aligned with the word of the night.
[aesop_image imgwidth="40%" img="/content/images/wp-content/uploads/2018/02/18-02-06-Tom-Ford-Mens-FW18-8937.jpg" alt="Tom ford grooming" align="center" lightbox="on" captionposition="left" revealfx="off" overlay_revealfx="off"]
"Dewy," said Tom Ford groomer Losi. The groomer, who's been with Tom Ford since his days at Gucci, explained that it was all about drenched skin. "Tom wants to create a nice dewy look that's healthy for the boys. We're moisturizing the skin first and covering up any blemish, but that's as far as makeup goes."
To get that healthy glow, Losi says she cleansed the skin and used Tom Ford's own moisturizer. And for those who needed something extra, Losi revealed the secret: adding beard oil. "If moisturizer isn't enough, we'll use beard oil for some sheen, that's the key. It gives the skin a nice glow."
At a time when masculinity and its definition is being questioned, where men are no longer subscribing to antiquated notions that caring too much may make you seem less than, where being a man means giving a damn, the show seemed modern. But then again, Tom Ford has always been playing beyond the zeitgeist, pushing culture forward. Finally, it seems, the world's caught up.
Reporting by Ian Michael Crumm