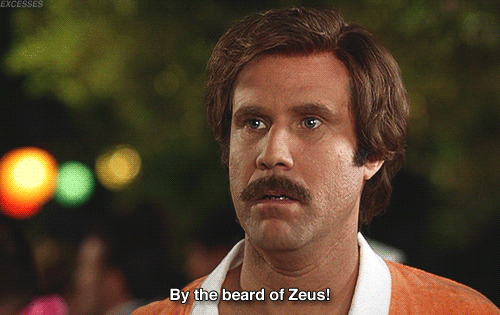 November is that time of year when your bro decides he has to grow out his beard.
Like, he's been waiting ALL. YEAR. LONG. to join his officemates in a brotastic bonding ritual that requires one to throw their dopp kits into a communal fire.
Yes, among sipping on pumpkin spiced tea and football or something, it's peak beard season. That means every other furry man crawls out of of his cave to sit, wait, and grow, while patting himself on the back for "doing good for mankind." We know better. This is a classic excuse for being lazy AF and foregoing grooming altogether. That's unacceptable and also a crime to humanity. There's absolutely no reason why others should be forced to bask in the presence of Sasquatches who revel in their own musk.
SEE ALSO: Why mental health conversations with men have to change
While they might be using the month of November as an excuse for their poor hygiene, men who are showing off their beards in hordes are actually promoting a conversation for good. Turns out, beards are actually promoting men's health and awareness. Specifically, through social movements through two organizations: No-Shave November and Movember.
You may have heard of one, both, or thought they were one in the same. They're actually two separate organizations for very different causes, lumped together in the same exact month.
First came Movember, an international movement started in Australia in 2003 and attempts to brings awareness to men's health. The organization asks people to donate to the Movember Foundation, a top nongovernmental funder of prostate and testicular cancer research. Since it began, the organization has raised over $837 million across more than 20 countries. Pretty impressive. This year, the organization expects more than 400,000 "Mo Bros" (mustaches are called a uh, mo in Australia) and "Most Sistas" to participate. They expect to raise over $100 million this year alone. They're also partnering locally, with places like NYC's The Assemblage, a co-working and living space. For the entire month starting from Nov 1 – Dec 31, $5 from each room booked will go back to the organization.
Then, there's No-Shave November, which started in the fall of 2009 by two Americans. Instead of prostate cancer or research, this one asks men to donate to the American Cancer Society, the Prevent Cancer Foundation and Fight Colorectal Cancer. The organization encourages men to stop shaving and instead, using that money they'd use for grooming supplies for cancer associations. The organization hopes to spark conversations around men's health and overall well-being.
Which is more popular? Well, if Instagram has any say, #movember has about 1.8 million photos where as #noshavenovember has around 1.03 million posts. Which is for you? Well, depends on which causes resonate with you the most. Either or, they're two valiant causes that are indeed, important. At a time when men's health is vastly overlooked, we see that men need more help than ever. After all, men are now dying by suicide at a rampant pace. Studies show that out of all suicides, 4 out of 5 are by men. And with mental health illnesses on the rise, namely anxiety, it's a good time to reflect on men and their need to reach out for help when they need. It's completely sobering, and these two initiatives are really great attempts at opening up conversations around men's health.
That being said, November is not (repeat: NOT!) a month for you to become a lazy oaf. That means that yes, you need to shower. Yes, you need to trim your nose hairs, and YES, wash your f***ing face – every day. While we're cool with you growing out your face fur this month (or whenever, really), make sure you still use all hygiene as well. Like any cause, take care of yourself first before attempting to do anything for anyone else.
To learn more about Movember head here and to learn about No-Shave November, here.