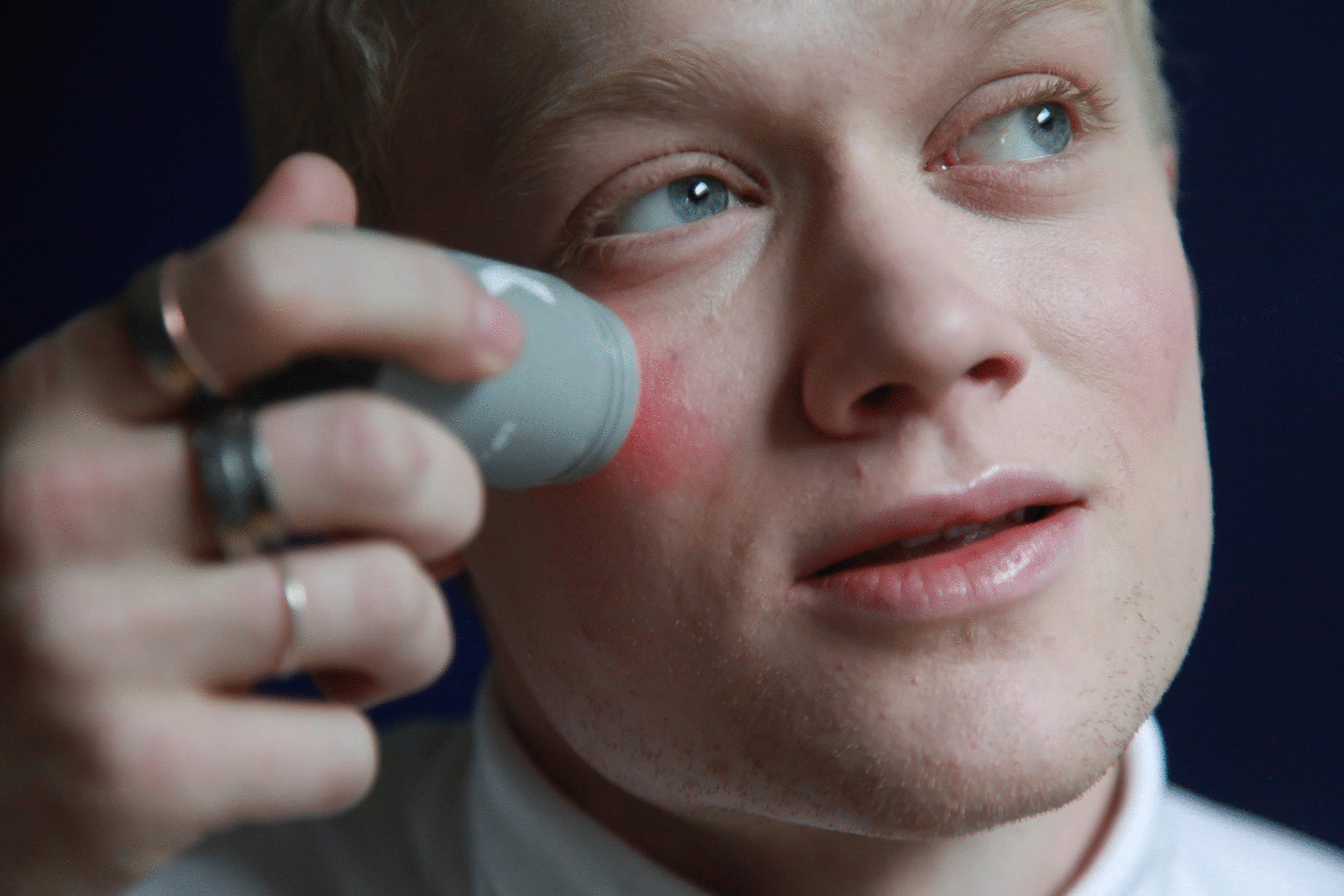 Flushed, sanguine, rosy cheeks.
For the longest time, I felt this was only for those who wanted to look like Stuart from the late MAD TV, sunburned guys who were keen on looking like a lobster, or for Asians who may have popped a little too much bubbly.
SEE ALSO: 5 ~real~ guys and how they use blush
That is, until I began actually seeing how beautiful, seamless – and dare I say sexy – a little crimson could do. It also adds dimension to a face, a natural way of contouring. The color gives any guy an instant sunkissed alive look, as if they'd been out lounging on some fancy beach all day. A little rouge gives the illusion of health, vibrancy, while giving a natural glow. It's supposed to provide that natural face flush, one that gives a youthful illusion.
"It's kind of like that feeling when someone you like notices you and you get a little hot and warm," says Joseph Carrillo, makeup artist to the likes of Paris Hilton, Teyana Taylor, among others, to Very Good Light. "It's sexy as it imitates arousal."
That's right. Arousal.
The entire creation of the cosmetic is said to have originated in ancient Egypt. Both men and women wore lipstick as a symbol of regality and power. It's said that some even pinched their cheeks or bit their lips to force this blood to flow in these areas. Substances such as red amaranth, red beet juice, mulberries, among others were used as a good stain.
In today's modern era, these come in the form of powders or creams. The former is used with a brush and usually needs a primer or foundation to cling onto. Some like it better because it's light, good for matte skin, and more natural. Cream-based blushes give you that natural dewy look but are definitely not as natural. You'll have to definitely find your shade and blend, blend, blend so that it looks pretty seamless.
How to apply:
Creams-
For creams, a little dab on your finger goes a long way. If you're using a stick, like the Milk Makeup Lip + Cheek in our GIF above, slide it along you cheekbones upwards. The easiest way is to smile, find your "apple," that is, the highest point of your cheekbone, and start blending. Start blending upwards until you get a subtly blushed look. Add some more as needed. Pro tip: use your ring finger, the weakest of your fingers, to dab. The subtle taps of your finger will be awesome for blending.
We're into:
Glossier's Cloud Paint– Named VGL's Lightning Award winner, this one goes on ~super~ subtly. We're into the paint-like packaging and the very smooth product. Mix and match with other colors to get your ~perfect~ shade. BUY here, $
Milk Makeup's Lip and Cheek– This formula comes in a stick, which is totally easy for application. The best part of this product is that it's multi-use. Use it for flushed cheeks and sexy, bold lips. BUY here
, $39.99
Powders-
For powders, we suggest using a primer before use. This allows the product to cling onto your face. Take a blush brush and, with a circular motion, swab the product. Afterwards, tap the excess product onto a paper towel or back into the pan. Take the brush and then swipe along your cheekbones. Do so subtly – a little truly goes a long way so be careful!
We're into:
MAC powder blush– MAC is a classic and for good reason. This powder blush goes for many applications and stays on for hours. BUY here
, $35
Urban Decay 8-hour blush– This 8-hour blush lasts more than its name. It also isn't over drying, blendable, and gives you that G-L-O-W.  BUY here
, $24.99