I bought my first blush in high school — up until then, I hadn't seen the point of putting blush on top of my already red cheeks. It was the NARS Liquid Blush in the shade Orgasm, which, at the time, my friends and I couldn't say out loud without breaking into loud laughter in the Sephora aisle. I finally bought it partly for the joke, partly because someone on YouTube had made it seem worth it. Either way, my love affair with blush began.
Nowadays, I consider myself something of a blush expert. Despite the amount of blush I've tried over the past seven or so years, I still felt like something was missing. I maintain the goal for my makeup to feel and look as if I'm not wearing it. No blush ever seemed to achieve that unfeasible goal.
That is until Youthforia came along and did the impossible.
Makeup you can sleep in
Youthforia launched in 2021 to create makeup that "acts like skincare." Over the past year, they've cemented their place as leaders in bio-based beauty. All of their ingredients are completely plant-based — even the synthetics. Their products don't use fossil fuels, making them better for your skin and the planet.
Everything they use is so safe — they say you can sleep in it. This may seem entirely counterintuitive to every lesson we're taught when we start wearing makeup, but they're not kidding. Founder and CEO Fiona Co Chan even goes so far as to test every product by sleeping in them. According to her, not only will they not harm your skin if you sleep in them, but you'll wake up with better (?!) skin.
Beyond that, their products are certified by the USDA BioPreferred Program. Everything's made with at least 90% renewable ingredients. And they follow the Green Chemistry principles, which outline a guide to promote greener chemicals, processes, and products.
Basically, they're just a really cool beauty brand that's doing their part to protect our planet.
(Note: I believe this level of care and consideration should be expected from most beauty brands, but that's a topic for another day. For now, we're just happy to see someone putting in the effort.)
Youthforia's more than just super cool and eco-friendly, though. They've got some killer products that really work.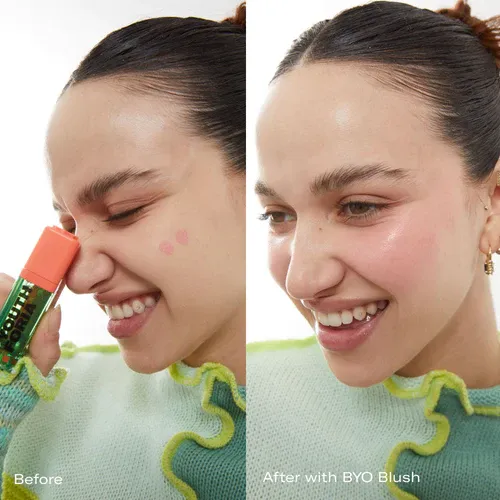 When my FYP blew up with reviews of this green blush, I knew I had to try it. BYO Blush is a color-changing blush oil that starts out green in the bottle, but morphs into your perfect shade depending on your skin tone. The blush achieves this little act of magic by reacting to your skin's pH levels. This means it might take on a slightly different tone from person to person, but that's a good thing! It's a universal shade that gives everyone a perfect natural flush.
Their site recommends dabbing the applicator onto a clean brush before buffing it into your cheeks. I've found dotting a couple spots on the tops of my cheeks and blending out with my finger works best for me. If I'm putting it on top of my foundation, I'll apply it to my fingertips and then blend it onto my face. (If you're applying on top of other makeup, they note that you shouldn't use the applicator directly on your face.)
I find that beyond giving me a lovely, natural flush, BYO Blush leaves my cheeks glowing. It doesn't feel heavy, and it looks like my skin. It's a wonder product.
BYO Blush, $36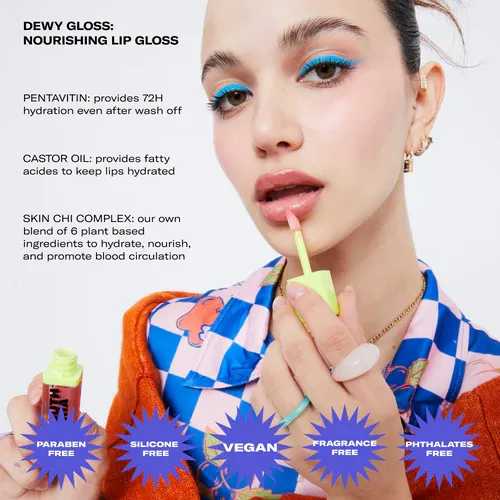 Dewy Gloss
Youthforia's lip gloss is made with a hydrating and nourishing formula. It's not sticky like typical glosses and feels like something between a lip oil and lip balm to me.
Dewy Gloss is made with plant-based oils, to hydrate your lips and leave them softer than they were pre-gloss. I own two of the five shades: 01 Sound Stage and 09 Play With Fire. (Sound Stage is a berry shade with iridescent blue sparkles that are very obvious in the bottle, but less discernible when being worn. Play with Fire is a shimmery copper-ish peach shade.)
I'm not a fan of lip glosses usually, because I don't like the tacky feeling on my lips. I also drink an average of two iced coffees per day, so glosses are mostly just inconvenient anyway.
But, because Dewy Gloss is more akin to a lip oil in texture, I don't get irritated when I wear it. Instead, I feel like I've worn a somewhat thick lip balm or treatment, and the results are honestly about the same. After a few hours of wearing the Dewy Gloss, my lips feel soft and smooth, which is a result I can't say I've gotten out of any other lip gloss before.
Dewy Gloss, $26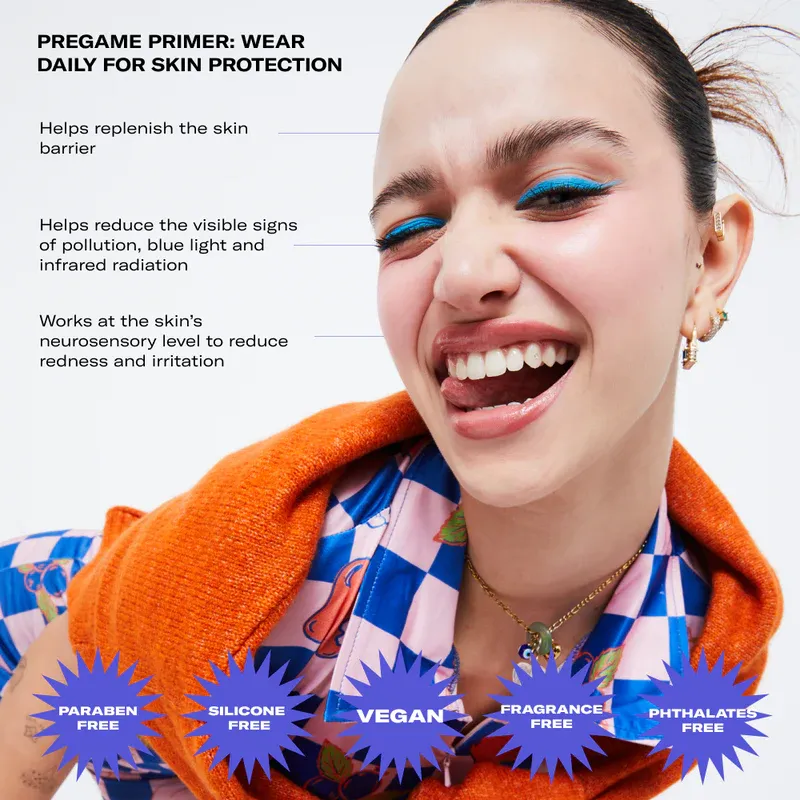 Pregame Primer
While I haven't tried the Pregame Primer myself — I've never been a primer person; I just prefer prepping with a moisturizer and SPF — if I were ever to try a primer, this would be the one I'd go for.
Made to hold your makeup in place, and keep your skin feeling fresh and hydrated all day, Pregame Primer can be worn alone, as the first step in your makeup routine, or even as a glowy highlight. Its ingredients include skincare actives, so just like all of the other Youthforia products, it's made to improve your skin over time, while protecting on a daily basis.
Pregame Primer, $38
---
READ MORE LIKE THIS