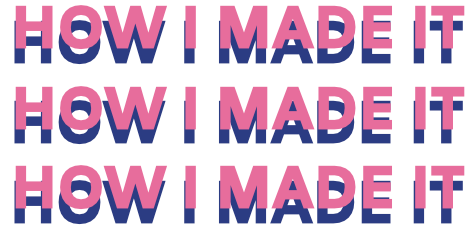 Welcome to our series, How I Made It, where we talk to beauty brand founders about their come ups, their origin stories, and how they finally, well, made it. The recurring series talks to beauty founders from all walks of life to uncover what inspires them, what pushes them, and the secret to their success.
You should take every introduction that comes your way–you might just find your business partner.
At least, that's what Alison Haljun and Christin Powell say. After working for almost two decades in the beauty industry, the two finally met after an introduction through a mutual friend. What was supposed to be a coffee date ended with pages and pages of notes about what they love most about beauty, their favorite products, and what they felt the industry was missing. It wasn't long before they became each other's "guru," and the rest is Kinship history.
SEE ALSO: How I Made It: Soko Glam and Then I Met You's Co-Founder, Charlotte Cho, was told K-Beauty would never make it in America
Quality ingredients shouldn't come with a luxury price tag. Kinship aims to make effective, clean skincare available to the masses. They believe everyone deserves healthy skin that they feel GOOD in.
Alison and Christin have always felt beauty holds deeper meanings for everyone. They wanted their brand to speak to the power of connection; connection to the self, one another, and the planet. They often talk about the meaning of the word "kinship," a sharing of characteristics or origins. All of their campaigns feature close family members, loved ones, and friends.
When creating content for their launch, Alison said it was important to photograph "real people that were somehow connected to Kinship, like Claudia's (VP, Digital & Brand Marketing at Kinship) son, Aiden."
"Using our Kinship—our family, friends, and real people—to represent our brand has always been important. From day one, our goal has been gender inclusivity, to show that range of diversity, show neurodiversity, and ethnic diversity," says Alison.
Kinship also believes in the importance of sustainability. They have helped remove 2 TONS of ocean waste plastic (OWP) from our oceans. All of Kinship's jars are made with OWP, while their tubes and paper cartons are made with post-consumer recycled plastic and paper. Kinship recognizes that there is an undeniable connection between the health of our planet and our personal health.
But still, how do two strangers go from getting coffee to building a company? We asked Alison and Christin to give us all the deets on how they built one of Gen Z's most beloved brands. We even got some insight from Claudia Allwood, their VP of Digital and Branding. Read on to see how Kinship came to life, and for Alison and Christin's best advice for breaking into the beauty industry.
What did you do before launching Kinship?
Alison: I spent 16 years at Benefit Cosmetics running marketing and PR both on a global and US basis. Getting to work with female entrepreneurs was an incredible experience that I had never had before. My passion at Benefit was about building community, storytelling, and finding ways to share a brand's DNA with its consumer and create that connection.
Christin: I came from the research and product development side. I spent my first years at Juice Beauty. I co-founded that company when there wasn't any organic skincare out there, and then after that, I went to the clinical side. I headed up R&D for Perricone MD, developing a lot of the hard-hitting anti-aging products, and just learned so much about clinical formulations, how to run a clinical trial, and work for more of a luxury brand.
In my twenties, I was fascinated with plants and their power to heal our skin. I had really bad acne in my teens and early adulthood, and I couldn't find a product that worked without a lot of side effects. I'm not in my twenties anymore, but I have a daughter who's thirteen and struggling with acne, and there's still nothing. There still hasn't been a reinvention in thirty years. There's still the Proactivs of the world, and the Burt's Bees of the world, but there's nothing that is clean, that reflects their values, and that works. Not to mention, nothing that really has that lens for sustainability and transparency and is future-focused.
Tell us what clicked for you two at that initial coffee date.
Alison: We knew were too many brands already in the market. It became this idea of how can there not be a brand out there that's actually not toxic and that actually works.  A brand that really captured our values and the values that we saw growing within this new generation of people. Christin and I looked at each other and we were like – well, we could do it! From the start, we knew we didn't have all the answers, and there was no way we could be successful if we didn't involve the community that we're building this for.
Our first investor was an 18-year-old who we took to lunch because she had just started her own company to provide data insights on Gen Z for brands. We thought, well, we can't hire her, but maybe we can hire her down the road, and at least we can learn a little bit. She literally heard our story and was like "I'm going to be your first investor. Who do I make the check out to?" We were like, you invest? You write checks? It was amazing. I think that was a very pivotal moment, just the fact that it was the next generation believing in us, and investing in us, and basically validating the vision that we had.
Christin: Our inspiration is truly this group of 18 to 30-year-olds who see things differently than previous generations. This generation has different lenses on everything from gender to diversity to the environment to technology. It's inspiring for us to take our experience and wisdom and be able to serve the wellness of this generation because that emotional, physical wellness is going to be really important for all generations given the environment we're in. We just love being around that progressive energy – we could use more of that in the leadership in our county. We're really inspired and fueled by the ideas and creativity and activism of this generation.
You've talked about how Gen Z and young millennials served as the inspiration for Kinship, but are there any brands that have inspired Kinship?
Claudia: I'll take that one! There's a couple. And there's "people brands" too. For me, from a personality, expression, and inspo point, I look at Tyler the Creator a lot as a brand, as his own entity, and Jaden Smith too. To me, what I love about them is that it's never boring, always something fresh, but you know it's THEM, so there's a brand consistency that is *chef's kiss*.
I love Youth to the People. They do a phenomenal job with content, their ingredients are sophisticated, and they put their values front and center. They're very much unisex, we're very much unisex.
So, brands that have a pretty clear personality are pretty near and dear to us. Kinship is playful, It's fun, it's not serious – but you know you're getting something that doesn't sacrifice aesthetics for what's inside, which is really special and is super important for Gen Z, who are all about aesthetics.
Where do you see the future of sustainability in beauty?
Christin: Clean and sustainable will become the standard. Having that efficacy is going to be extremely important to stand out because Gen Z and millennials really want that efficacy first. I think that consumer demand is going to lead to more sustainable packaging and ingredient technology, which is going to drive the supply to be cheaper and more available, and then more brands are going to be able to come into it.
Alison: The definition of sustainability is pretty narrow right now. It's just referring to packaging and what something is made of. At Kinship, we talk about sustainability as a much broader idea of living. It's about taking care of each other and ourselves and the earth. And I think that it's really hard. It's so much easier to not be sustainable. It's an active choice that we make every day, and we're trying to make it better and smarter.
Usually, you would develop the product because of a need, and you create the perfect formula for the solution. But then we have to think about the packaging, and making sure it's compatible. It's the intersection of packaging, making sure the product actually works, and how the product acts.
Claudia: I think the circle will be tighter too – like fewer products. People are getting really smart about not putting out massive drops of like, ten SKUs. People are getting smarter about launching, being thoughtful, and mindful about how they launch. There's a lot of consumer pushback on wasteful launches, just newness for the sake of newness versus newness for the sake of innovation. I think sustainability is putting pressure on actual innovation – packaged mindfully, of course.
Do you have any advice for inspiring individuals in the beauty industry?
Alison: Go for it! I know that seems basic, but what's stopping you? I think it's hard sometimes for people to get their foot in the door, but if it's something you really want to do, don't stop. Rejection can be hard in general when you're looking for a job. You need to just keep going and not give up. Don't be afraid to reach out to people, cold call people, or DM people. When someone offers to make an introduction, take it because you never know where it might lead.
Christin: Get a thought partner, someone that has done what you want to do, and use them as an advisor. We all need thought partners because we're all stuck in our own little vacuums, but it's important to have someone you can bounce ideas off. Have a really strong reason for doing it beyond money because the money thing will not keep you going. Either you have to do it, you're called to it, or you're doing it for some greater good. You need a way to remind yourself why you're doing it.
Claudia: Trust your gut. When I was at Benefit, we were going through a lot of different challenges with shade extensions, so it was hard to look at that collection and feel represented in it at that time. They've changed a lot since then, but I did a lot of questioning. Trust your intuition, because it's probably spot on.
Beauty is personal. When you work in the beauty space, it's going to get personal no matter what you do because you want to see yourself represented. I think that looking for yourself in what you do is super special and makes your work really meaningful, and makes your insight valuable no matter what level of a company you're in.
If you're going into beauty, you have to be a little brave. There's a lot of "this is how it's always been done," especially in the old school organizations that have been around forever. Being able to push the envelope is always a special thing to have.