I've come to a point in my beauty editor career where I take everything with a grain of salt.
Even reviews from my esteemed colleagues.
That's because usually when there's hype around a product, it usually turns out to be highly disappointing.
SEE ALSO: I tried CBD products for an entire year. Here's what actually works.
Case in point several brands I've come across throughout the years. Remember Summer Friday and how the entire Instagram world and their mothers raved about how amazing the Jet Lag Mask was? I hated it. Recall how every writer claimed Renee Rouleau's anti-cyst treatment (now called Anti Bump Solution) shrinks your cystic acne overnight? It didn't for me. And how the world loves Glossier but some of the products are just okay?
And so I approached Blume, the new Gen Z brand aimed at hormones and teens, with a grain of salt. I came across the brand after seeing its ads across my Facebook feed. There, it claimed that is Meltdown, a blend of oils, guaranteed a shrink of blemishes by the next day. Highly suspect, I muttered to myself. Like any responsible editor, I called the product in to try my luck. Already, the brand has a cult following – and rave reviews. Pop Sugar goes so far as to write that it not only shrank cystic bumps but allowed the writer to go out without makeup for an entire week.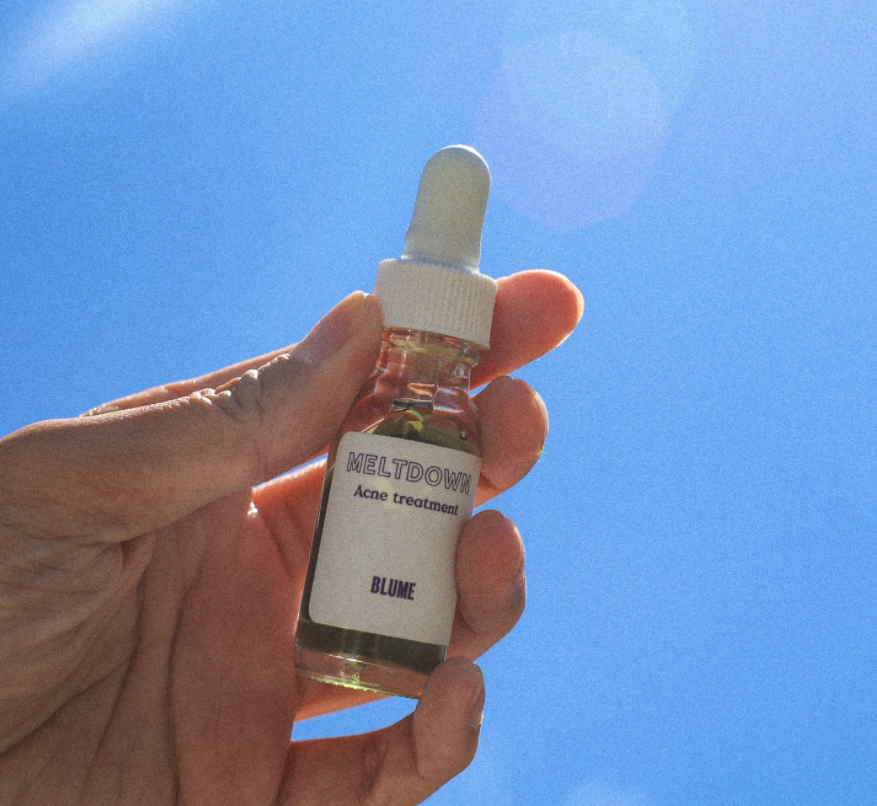 SHOP Meltdown, $26, HERE.
Ingredients
By the time Meltdown arrived at my desk, I was intrigued. The tincture comes in the form of a sea green oil that beautifully changes to a dark blue or lighter depending on how it hits sunlight. The formula is a mix between acne fighting essential oils including: Black cumin seed oil, chamomile flower oil, blue tansy and more. Together, they reduce inflammation, which in turns allows your angry cysts to chill TF out.
Backstory
The entire Blume brand launched from two Canadian sisters, Taran and Bunny Ghatrora, who launched to address Gen Z girls as they navigate into puberty. "When we surveyed our community, 60% of women said they could pinpoint that their self-esteem plummeted when they went through puberty," says Taran, to Very Good Light. "Blume is changing this statistic through education, community and safe, effective products." The two launched the company with four products including: Meltdown ($28), Hug Me ($14), a natural deodorant, Cloud 9 Cramp Oil ($18), and Daydreamer ($12.80), a creaming cleanser. The entire product line is affordable and allows for young people feel their bests.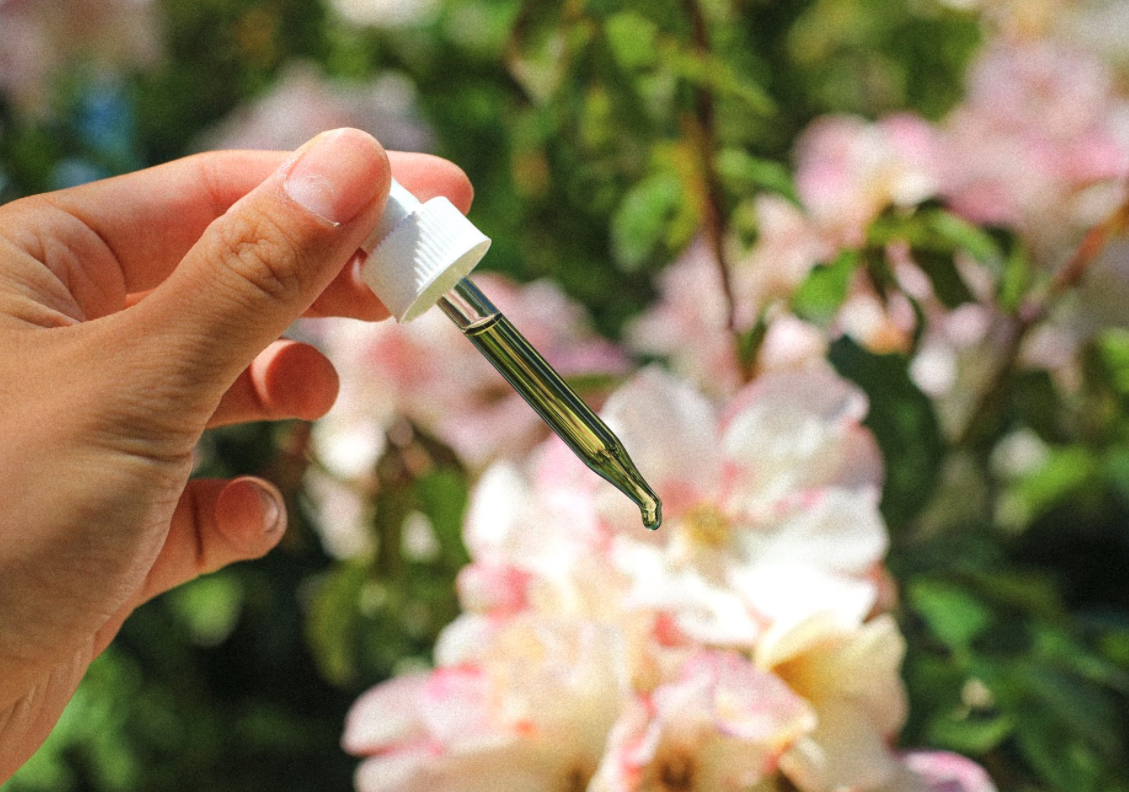 Review
Meltdown's arrival at our offices was perfect timing. A day before it came, I actually broke out in one cystic bump on my right cheek. It was small, but I knew that in a couple of days, it would inflame. I added one drop of the product onto my skin to see what magic it could – or couldn't – do.
The consistency of Meltdown is not unlike many essential oils on the market. It's viscous but non-sticky, and blends into your skin with a, well, oily finish. It almost feels counterintuitive to treat your acne with oil, but we went with it anyway. The three main ingredients really target inflammation, the leading cause of cystic acne, and allows your skin to recalibrate in the most natural of ways. What the product doesn't have is benzoyl peroxide or salicylic acids, two BHAs that are the most popular acne-fighting ingredients.
"Meltdown is our all natural blemish oil treatment," Taran explains. "It doesn't contain harsh ingredients such as benzoyl peroxide and salicylic acid, which is found in other conventional acne treatments. Instead it's formulated with essential oils to reduce inflammation and repair damaged skin."
The next day, I didn't expect anything. But lo and behold, my cystic bump … vanished. Like, completely. There wasn't even a smaller bump. Meltdown completely sucked this pimple dry and decimated its existence. I was actually left speechless. Thinking this could have been a fluke, I waited for my skin to breakout again. This time, it was on my brow line where I felt a huge cyst sprouting. Again, I doused a drop of Meltdown onto it and the next day, the bump was less angry and it was almost completely … gone. What?!
I immediately had to email Taran and tell her my Meltdown oil review. She wasn't surprised. "We tried many natural skincare products and both Bunny and I found our skin cleared up and improved when we switched to paraben-free skincare with fewer, and more natural ingredients," she said. Well, the results are INSANE, ya'll!
Literally, I feel as if this is probably the best acne-fighting solution I've come across. Our Meltdown oil review? It works, and everyone should get this IMMEDIATELY. I've never endorsed something so much and so happy that I found Blume. It's something that really works and I'm still taken aback by the results. Wow.
Try out the other products we mentioned by Blume!
Hug Me Deodorant
Cloud 9 PMS Cramp Oil
Daydreamer Face Wash