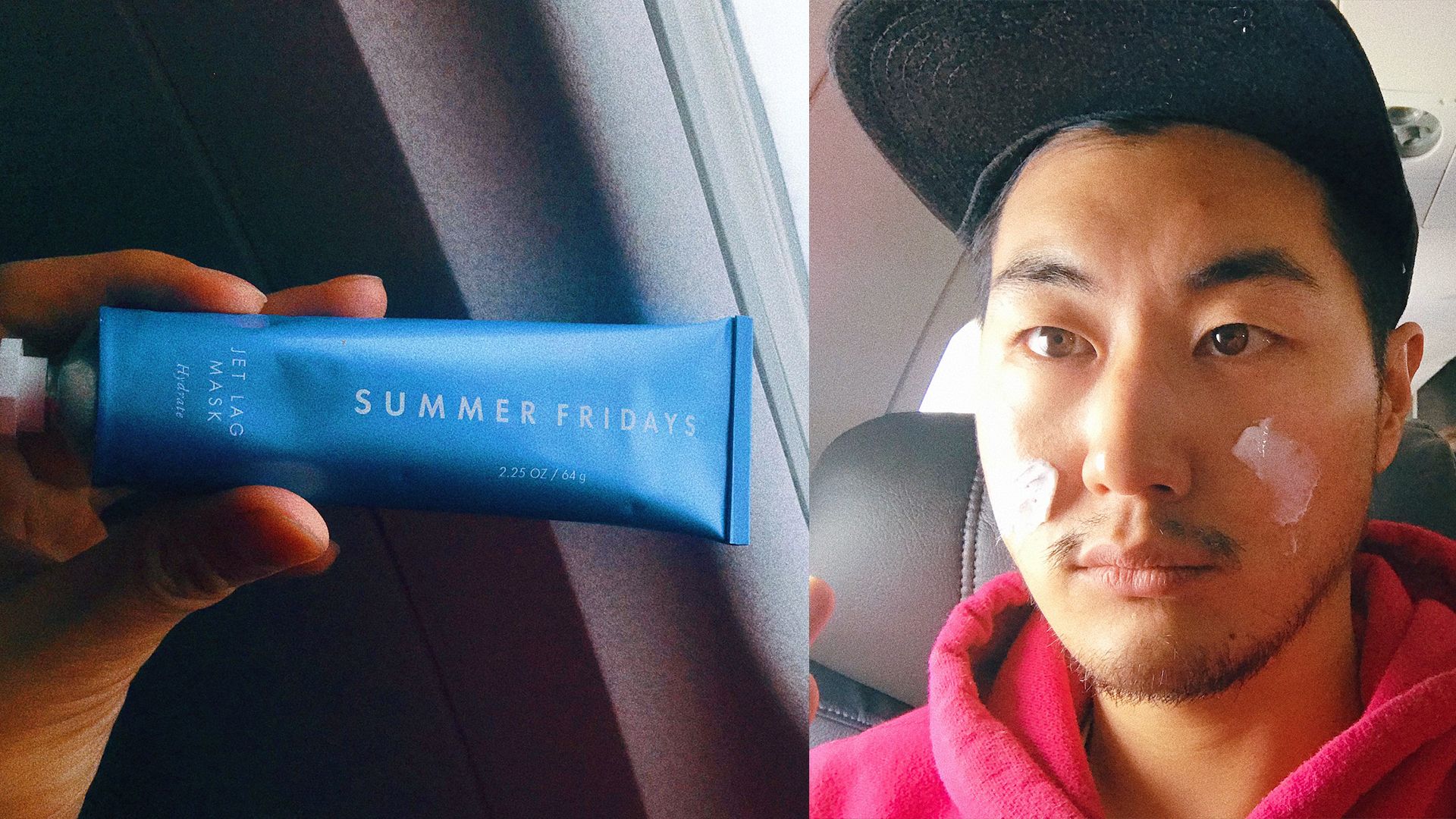 If you're reading this it's too late.
Er, I'm late.
Meaning, you've probably already seen multiple reviews on Instagram or Internetz re: the Jet Lag Mask , $48, by influencer Marianna Hewitt and Lauren Gore. The two entrepreneurs came together to launch their first brand, Summer Fridays and its first-ever product, a mask that's supposed to instantly refresh and hydrate your dull, dead complexion. It comes in a beautiful powder blue packaging that resembles shaving cream from the 1960's.
By now, practically everyone including Jessica Alba to Kim Kardashian West has come out to endorse the product. Which means, duh, I had to try it as well. The product, now sold-out at all Sephora stores with a massive waitlist, is already on the retailer's bestseller page. It's supposed to be one that revitalizes the skin's surface and gives you the glow up of your dreams. "Upgrade your skin to a business-class complexion – no matter what time your red-eye gets in" says Sephora. The product has Vitamins C, E and A, with sodium hyaluronate to boost moisture and defend against water loss. Meaning, it's supposed to cool down your skin, soothe it, while giving you that major dew.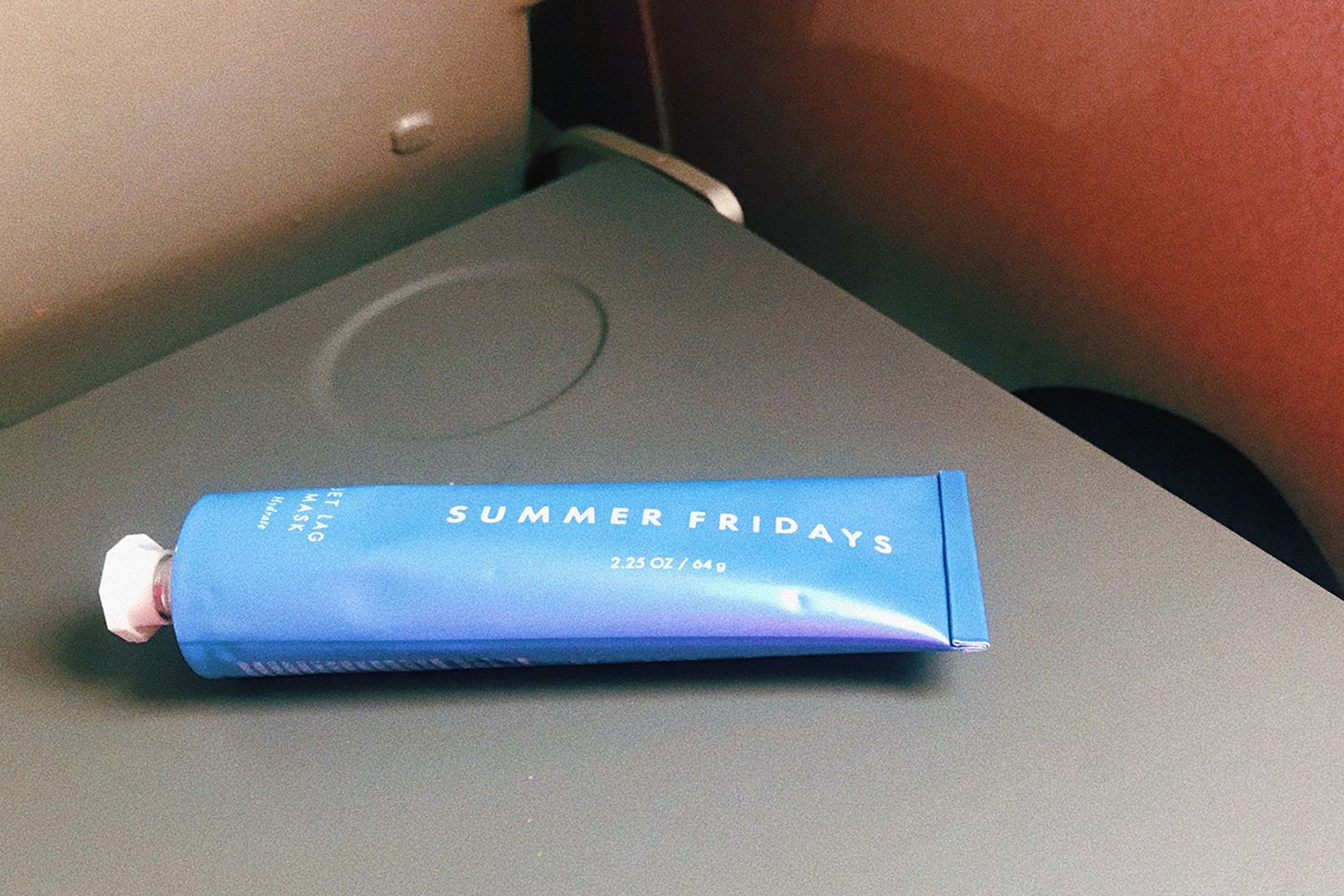 Already, every website including New York to W Magazine to Travel and Leisure have given it a huge, whopping two delicate thumbs up. So I was super excited (and secretly honored, because, #exclusive) when the brand gave me the product to try. It so happened that they gave me the mask when I was about to board a flight from New York City to South Carolina. Can someone please say perfect timing?
In my cramped economy class – window seat, always – I carefully took out the luxurious product while trying not to elbow my curious neighbor who was staring at me suspiciously. I was totally tempted to wear my sheet mask to scare TF out of the guy, but for the purposes of this review, gently showed him the powder blue package. See? It's safe. It's pretty. It's sold-out everywhere. He raised his eyebrow and went back to watching Moana. Yes, said neighbor was 5-years old.
In any case, I rushed to the cramped (not business class) bathroom while asking said neighbor if I could interrupt his movie. He kindly obliged but told me not to abuse this privilege again (true story). I traipsed off the bathroom where I wiped my face dry, while proudly staring back at my dewy complexion (Korean beauty FTW!)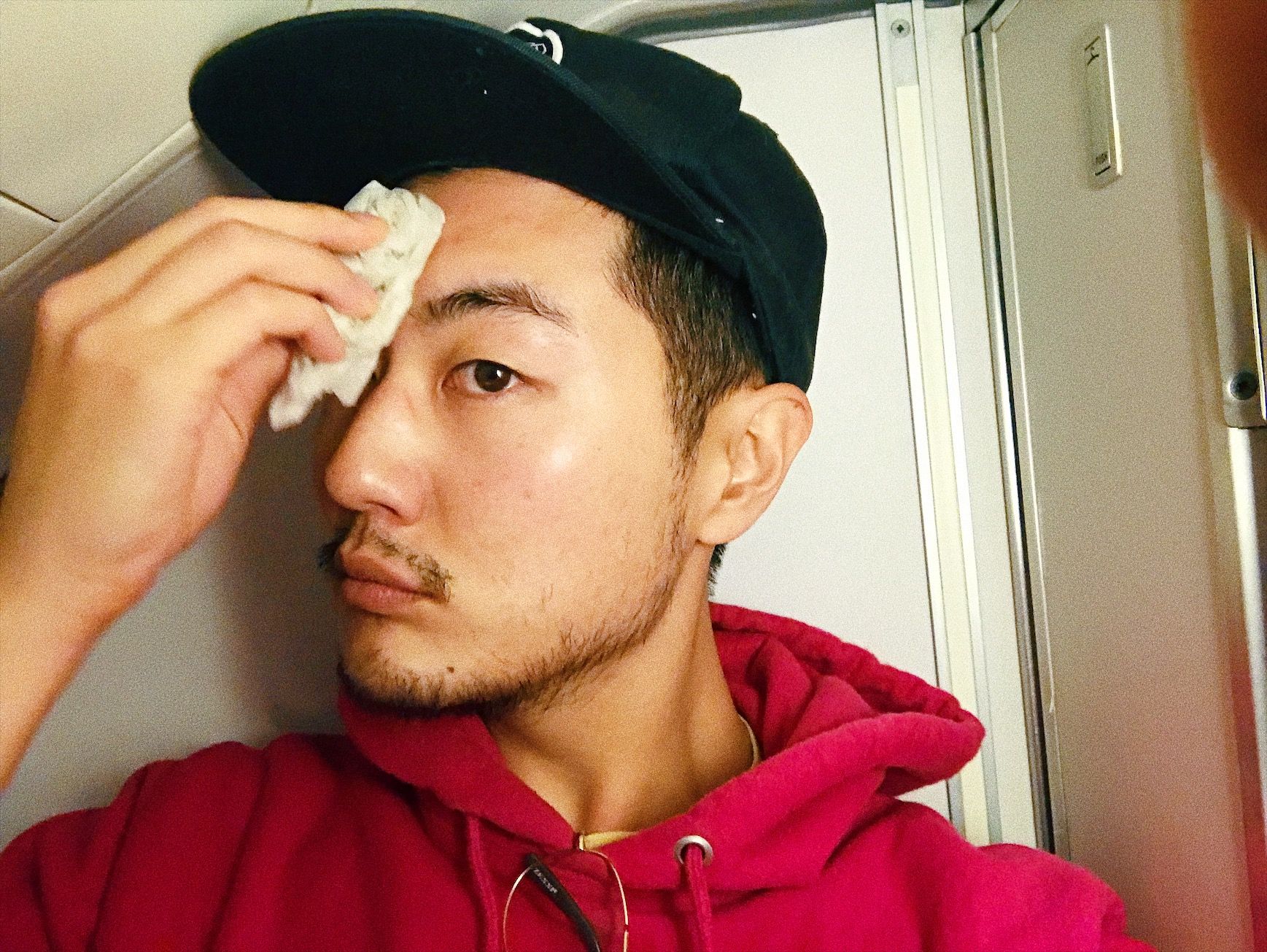 Walking back to my seat, I jumped over neighbor to my seat to finally test the product, which came spewing out like Colgate toothpaste straight from your carry on. The smell was a sweet, minty fragrance. The texture? Luxuriously, velvety smooth. As I massaged it into my pores I felt like – for a lack of better words – a rich, caucasian lady. Was this how all these Instagram gals felt while putting this on? Was I finally living my Kim Kardashian West fantasies?
As the plane started to go into turbulence, the pilot asking us to strap on our seatbelts, I was smacked back into reality. After a few minutes, my face felt uncomfortable – as if there was a layer of thick, oily goop placed on top. No longer was it a dream of a mask. Rather, a heavy, gloppy, viscous film. When I gently touched my face, the product started to pill. Thick pieces started to form and fall like dried Elmer's glue onto my lap. What was going on?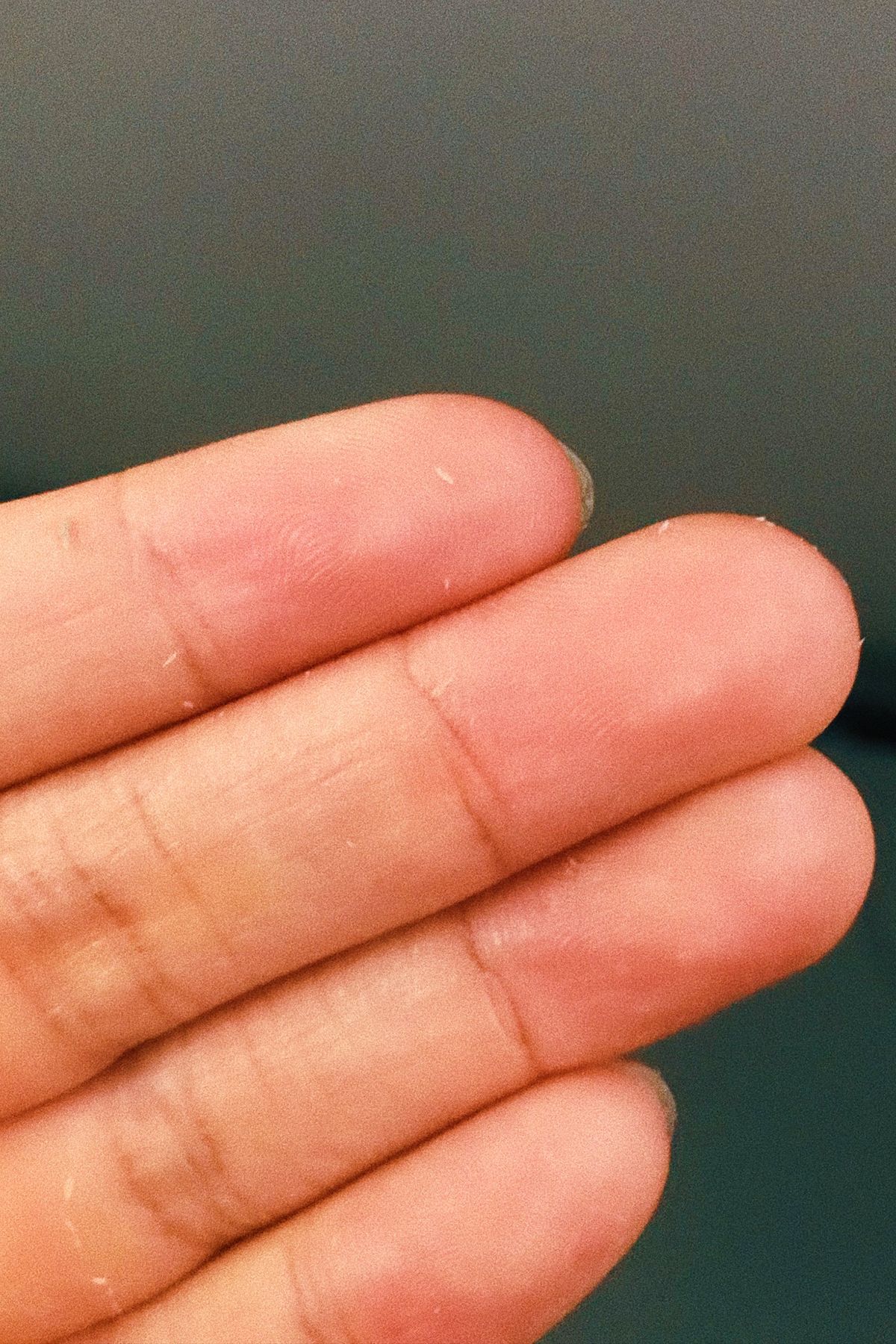 Later, my friend and beauty chemist, Stephen Alain Ko, would explain it's because of the use of the product's thickener or "film former"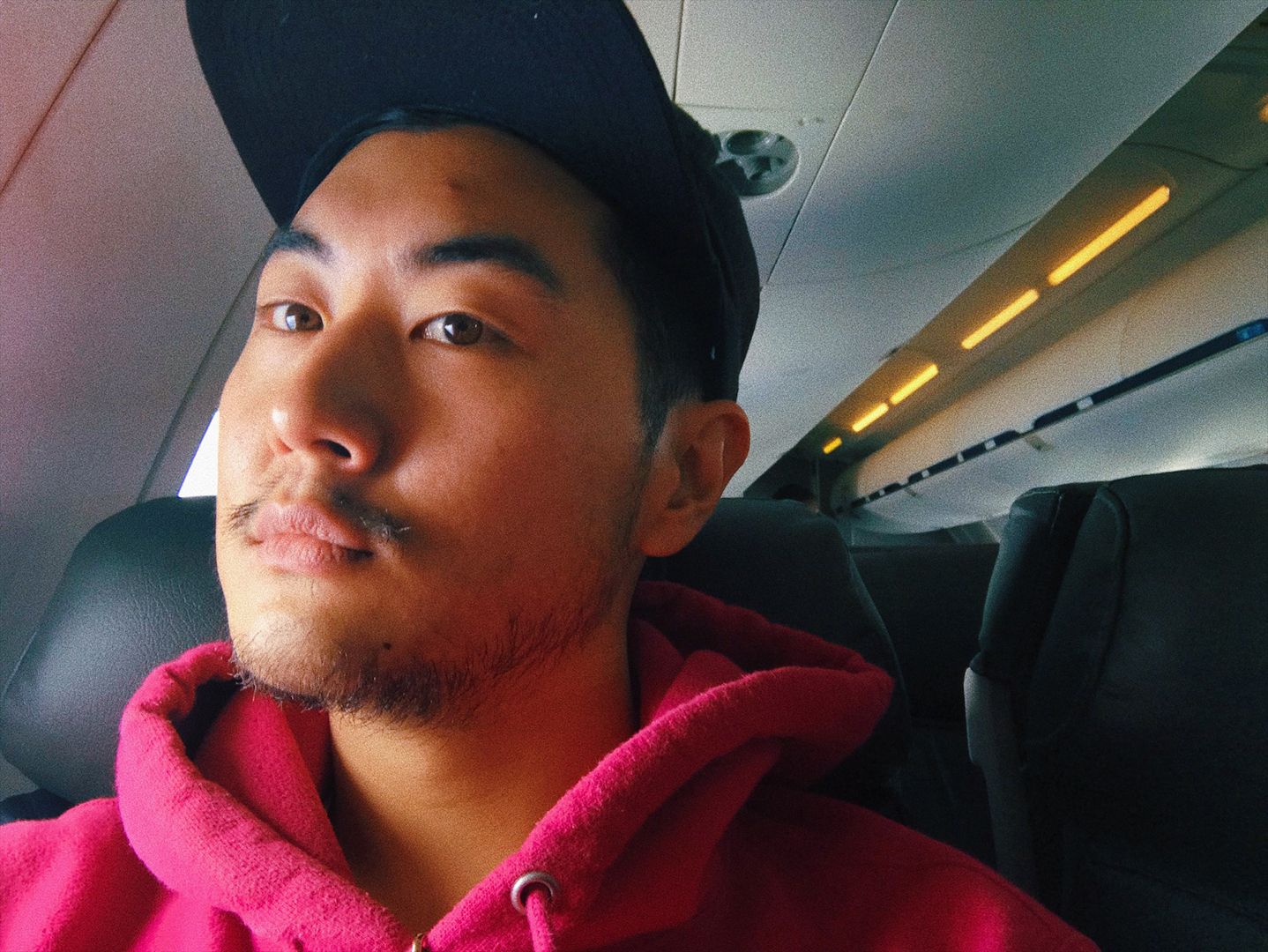 "It's a polymer and usually forms a sheet on the skin," he explained to me. "Sometimes it can dry to itself especially when rubbed. Think of it like wall paint and why you don't really mess with it until it dries."
Thing is, this product isn't like any other mask – clay or otherwise. It's more like a really thick moisturizer. I was told to test it for 10 minutes before wiping it off. Other directions say that it can also be used as a primer before putting on makeup, something that I really couldn't imagine anyone doing unless they wanted their products to fall right off?
In any case, after wiping the product off, my face was far from the rich caucasian lady of my dreams. My face didn't feel dewier or look any more elegant like said claims. My dark circles were still there and there were no instant facial-like results. In fact, my face was glowier before I wiped my face.
Instead, it was a cruel reminder that I was still very much stuck in economy class, my legs crunched into the seat in front of me, with a judge-y 5-year old inquiring why I was taking multiple selfies … on a plane. Basically, still me.
After walking off the plane, I couldn't help but realize that there was something new to my face. Just not something I had expected. Thanks to the germ-infested plane, I had just formed a big, fat, pimple in the middle of my forehead.
EFF.