Have you ever wished upon bird feces?
I have. Yes, it's super strange but hear me out. For years, I'ver heard of the superstition that being a target of flying poultry poo was a sign of good luck. This, especially on your wedding day. Even athletes like Dwyane Wade swear by it, going so far as to saying his success was because of fowl play. More than luck, bird s*** is supposedly really good for your skin. I've researched how for years, men and women in the Eastern hemisphere have sworn by feathered fecal matter when it comes to their beauty regimen. It's a newly discovered secret that Japanese Geishas used Nightingale droppings to brighten their skin and to make it younger. Some say that it's even better than botox. Asian don't raisin, they say, but dung keeps you young, apparently.
Asian don't raisin, but dung keeps you young.
Ever since, I've walked under everything from a flock of seagulls in San Francisco's Fisherman Warf, Flying V of ducks in Colorado, to sitting next to vermin of the sky on benches (solo) in NYC's Union Square, just so I could get a better chance of being freshly shatted upon. No luck, apparently birds don't think I'm a worthy enough toilet for them.
SEE ALSO: I used alien sludge to abduct my pores
But it was one day not too long ago that I came across a product from that I swear was sent from the beauty gods. It was a cleanser that claimed to contain "real" bird droppings. It's from the teen-centric Korean brand, Tony Moly, called Bird's Dropping Foam Cleanser ($20),
one that's sold everywhere from your nearest Koreatown beauty store to Urban Outfitters. Could this product be the one cleanser that could bring luck to my skin? I tried it out for a week and this is what happened.
Initial thoughts
The bottle comes in simple packaging that's pretty straightforward. But it's completely adorable. I mean, for one, it has a Twitter-like bird sitting on top of what seems like a sweet puddle of diarrhea. If diarrhea was ever accepted as art (which, it never should be, ew) this would be it. The plastic bottle is a clear champagne color and comes in a foam dispenser.
Background
Tony Moly Cosmetics launched ten years ago in Seoul under the brand, Tae Sung Industry. Soon enough, the brand became uber popular and opened dozens upon dozens of brick and mortar stores throughout South Korea. By 2009, its popularity of products ranging from lotions, skincare, makeup, to face masks, spread to other Asian countries like Japan, Taiwan, China, among others. It's 0nly in the past two years that Tony Moly became a sensation here stateside, thanks to Urban Outfitters picking up the brand for all of its U.S. stores.
Ingredients
A close investigation of this product made me realize that I'd been tricked all along. The bird droppings in question came down to the one ingredient, guanine, that's also found in fowl fecal matter. While technically this makes it correct, it's very misleading. That's literally like me saying that I'm Zac Efron on Tinder because we both happen to have the same organs.
That's literally like me saying that I'm Zac Efron on Tinder because we both happen to have the same organs.
Not to get too boring, but guanine was first obtained from excrement of sea birds in 1844 by German chemist Julius Bodo Unger and then used as fertilizer. Of course, Eastern cultures had been using guanine and bird droppings for hundreds of years prior. As per mentioned, Japanese Geishas, used bird poo to brighten their skin and make it translucent. Apparently, these Geishas were onto something. The New York Times reported that guanine has these "shimmering" properties that also are used as anti-aging agents,
The guanine in this product from Tony Moly comes from fruit. So while yes, this contains ingredients also found in bird excrement, this actually doesn't contain any actual poop at all.
Test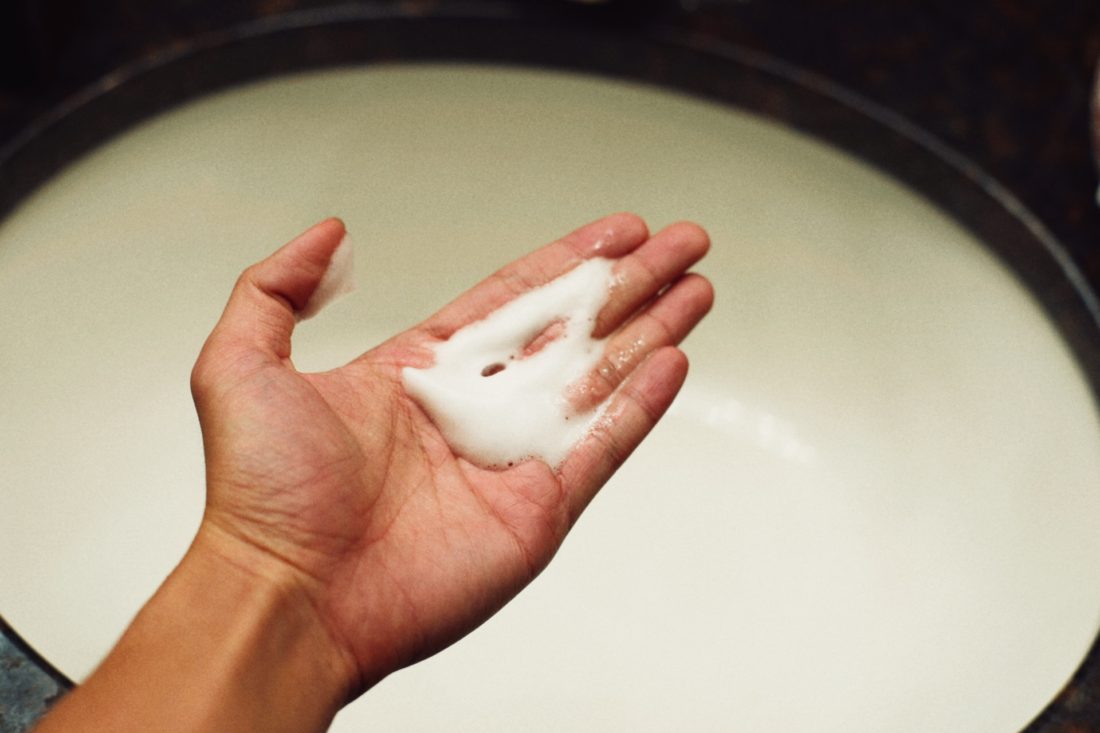 I decided to test this product for an entire week even though I was completely mortified that real bird poo wasn't being soaked into my orifices. After I got over that cruel fact (smart marketing ploy by Tony Moly), I realized that this product did a solid job in cleansing my skin. The foam was gentle enough so that my skin felt no irritation but still was able to help with my oil production in my forehead and chin areas. The smell is pretty pleasant and well, fruity, given that the compounds are from fruit extracts. I'd say that it's a little harsher than Cetaphil, though I'd still prefer the former, just because it's one of the most gentle in the market.
That being said, if you're looking for an exfoliator as well or one that melts makeup, this is not for you. After wearing a light BB cream or concealer, this product alone was not able to extract all of it. For that, I defer to cleansing oils from the likes of Boscia
, or Glossier's Milky Jelly cleanser. This is definitely not any of those. It's a pretty straightforward cleanser that will get the job done but will only get that one job done. I'd still recommend it for anyone who wants a solid product with packaging that will mortify any bathroom visitors, to boot, or a product that's easily tout-able on Snapchat. LOOK AT ME I'M USING BIRD S*** ON MY FACE your caption can say.
TLDR:
At $20, it's a little pricey, especially given it's half the price in Korea. That's $20 more than standing outside, looking up in the sky with your arms spread wide, a duck caller in your mouth, hoping for it to rain. You could also go to a local pet store, I suppose, and ask if you could clean out the bird cages. Though that's very suspect (and just, you know, weird).
Contains no "real" bird droppings, rather the compound, guanine.
Does a great job at cleansing skin and getting rid of excess oil.
Has a pleasant fruity fragrance thanks to its fruit extracts.
Though it cleanses the face, you'll want to get a makeup remover before or after.
Get it here: Tony Moly Bird's Dropping Foam Cleanser
READ MORE LIKE THIS