Friday Night Light is a series that shines a spotlight on that end-of-week calm. This week, we have creator of some of the most adorable things I have ever set eyes on — Sebastian Sochan. He makes wobbly resin sculptures and puddly tufted clouds in serene, pastel tones. I want one of everything.
(He is based in London, so I retained all the alternative British spellings of words for authenticity's sake!)
Sebastian Sochan (he/him)
Artist and designer, pastel enthusiast, dessert lover
@imnotu
"I'm an artist based in London, and my week is usually filled with making dreamy interior objects and sculptures. From drawing designs to resin casting, tufting, sewing, and packing, I do it all in my home studio, surrounded by pastel colours and lots of plants. I've recently launched my new cloud collection of tufted rugs and cushions inspired by lilac skies and made a batch of mirrors I like to call "floating clouds." The mirror slots inside the base, and your face magically looks like it's floating in the sky.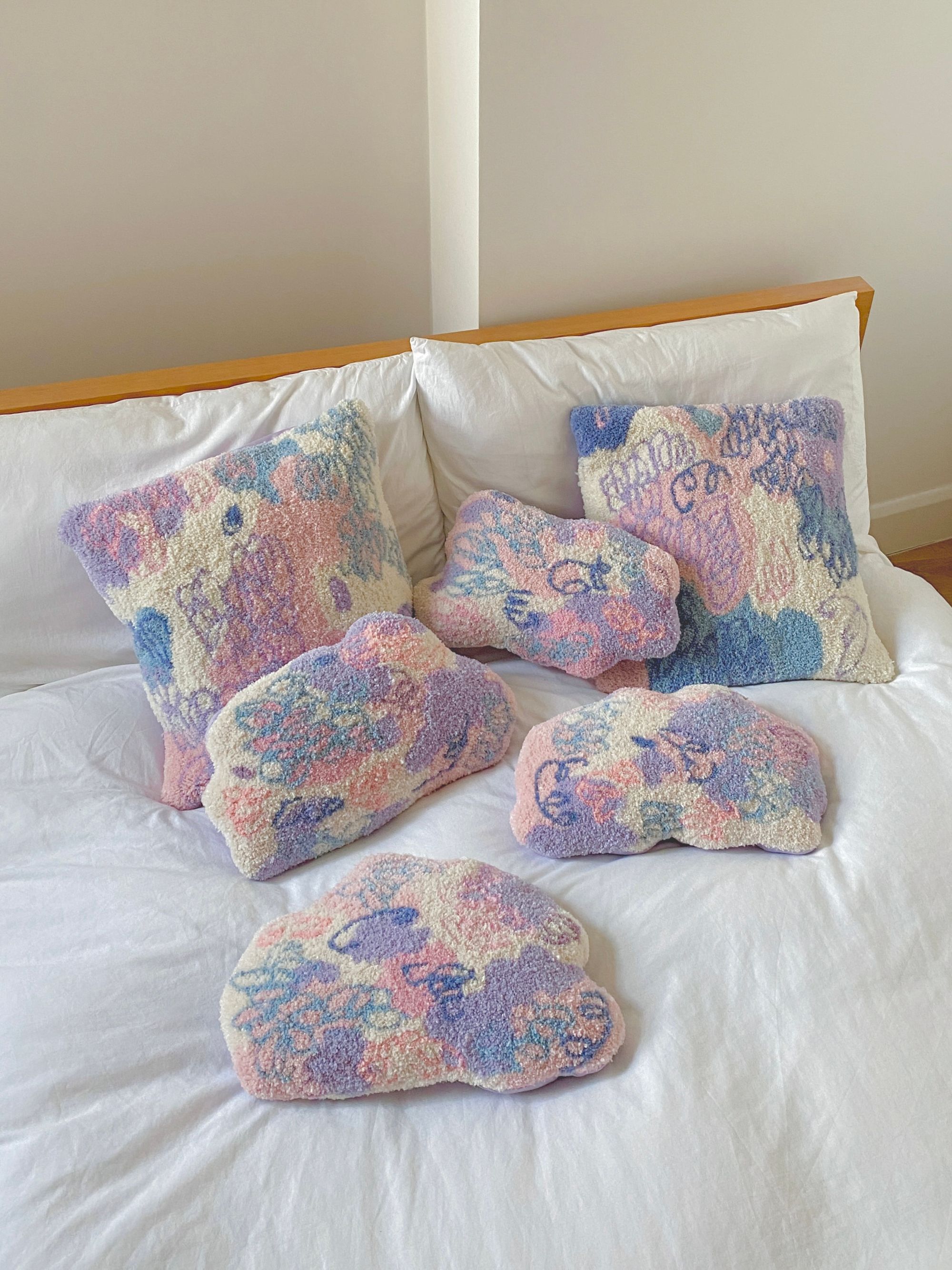 Besides my studio time, I take lots of trips to the post office to fulfill orders, meet my friends for coffees and wine, browse galleries and exhibitions to get inspiration, try to cook adventurous meals and run around London to find the best places to fulfil my sweet tooth cravings — I even have a candy tattoo that's how much I value pretty aesthetic desserts!  
Most of my Friday evenings start with a warm cup of tea and an art book or magazine. I like fruity sweet teas with a hint of flowery scent so my favourite teas are Peach and Cherry Blossom Green Tea and Marco Polo by Mariage Frères. I burn an incense stick to fill the room with a warm aroma and wind down on my large vintage leather chair. It's so soft and smooth, it feels like receiving a hug.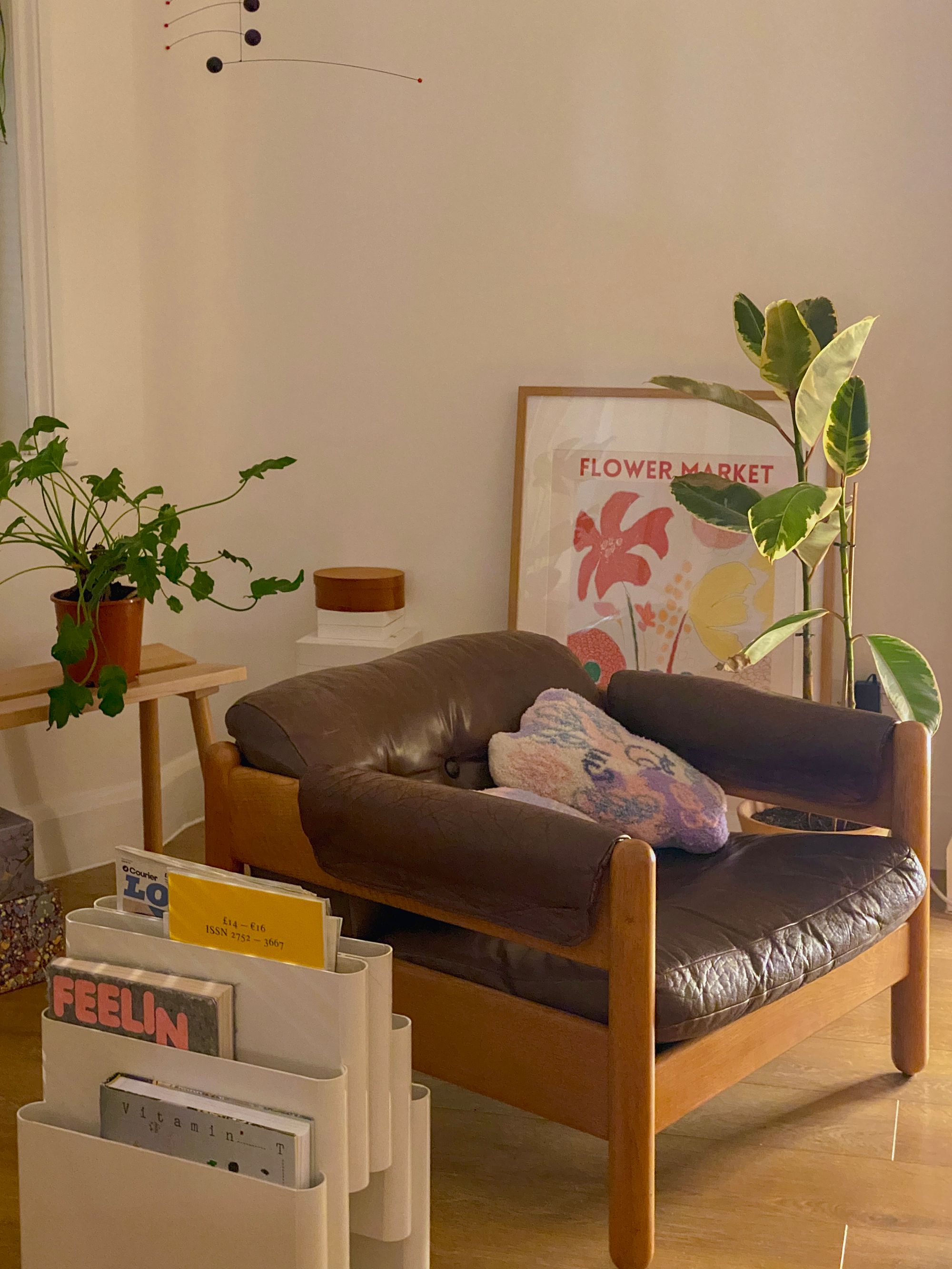 At around 7:30, I start cooking dinner, which is usually some kind of soul food to make me feel good. My specialty is mushroom and spinach truffle pasta with a hint of oregano and a dose of parmesan. It's so delicious and nourishing. Everyone that has ever tried it loved it!
My typical wind-down activity is watching episodes of Drag Race from all over the world. Drag Race has become a juggernaut in recent years, but I LOVE IT. I'm so happy that there is finally a show where queer people from all types of cultures are praised and celebrated. My favourite is Drag Race España (Team Juriji and Onyx) and of course, Drag Race UK because I relate to the British humour and references. Dragula has also caught my attention for their non-conforming drag and is just as brilliant, if not better. I recently found out that there is a local pub that has drag nights every Friday, so I can't wait to go and support the drag talent in my area! (My favourite queen of all time is Aquaria.)
According to the MBTI personality test, I'm actually an extrovert (ENFJ), so I love socialising and going out with people. My favourite Friday nights are hands down spent with my friends going out to gay bars and clubs in London. We usually pre-drink at home and blast out bops after bops while we do it. My playlist consists of club classics, gay pop anthems, and K-pop girl groups — SUNMI, IVE, STAYC, Red Velvet, etc.
As much as I love socialising, I enjoy my own company. For artists, it's crucial to find time to be with yourself to avoid creative burnout. I want to be able to keep making for a long time and still enjoy what I do, so I try to slow down and leave the rest of the tasks for next week. I worry about everything, so little things like unfinished to-do lists really play in my head, but as I become older, I realise it's important to live in the moment and relax a bit.
I'm a simple person, and most of the time, I just want to go to bed, so I wash my face with the Innisfree Blueberry Cleanser, followed by Innisfree Blueberry Toner and sometimes I finish it with a sheet mask.
I end my day with a hot bath with loads of bubbles. I use my favourite Matcha Roll Bubble Bar from Lush which smells divine and helps release the tension from my body. I listen to chilled-out music — HONNE, V. Cartier, or Cosmo's Midnight. I'm actually seeing HONNE in concert next week, so I'm excited for that!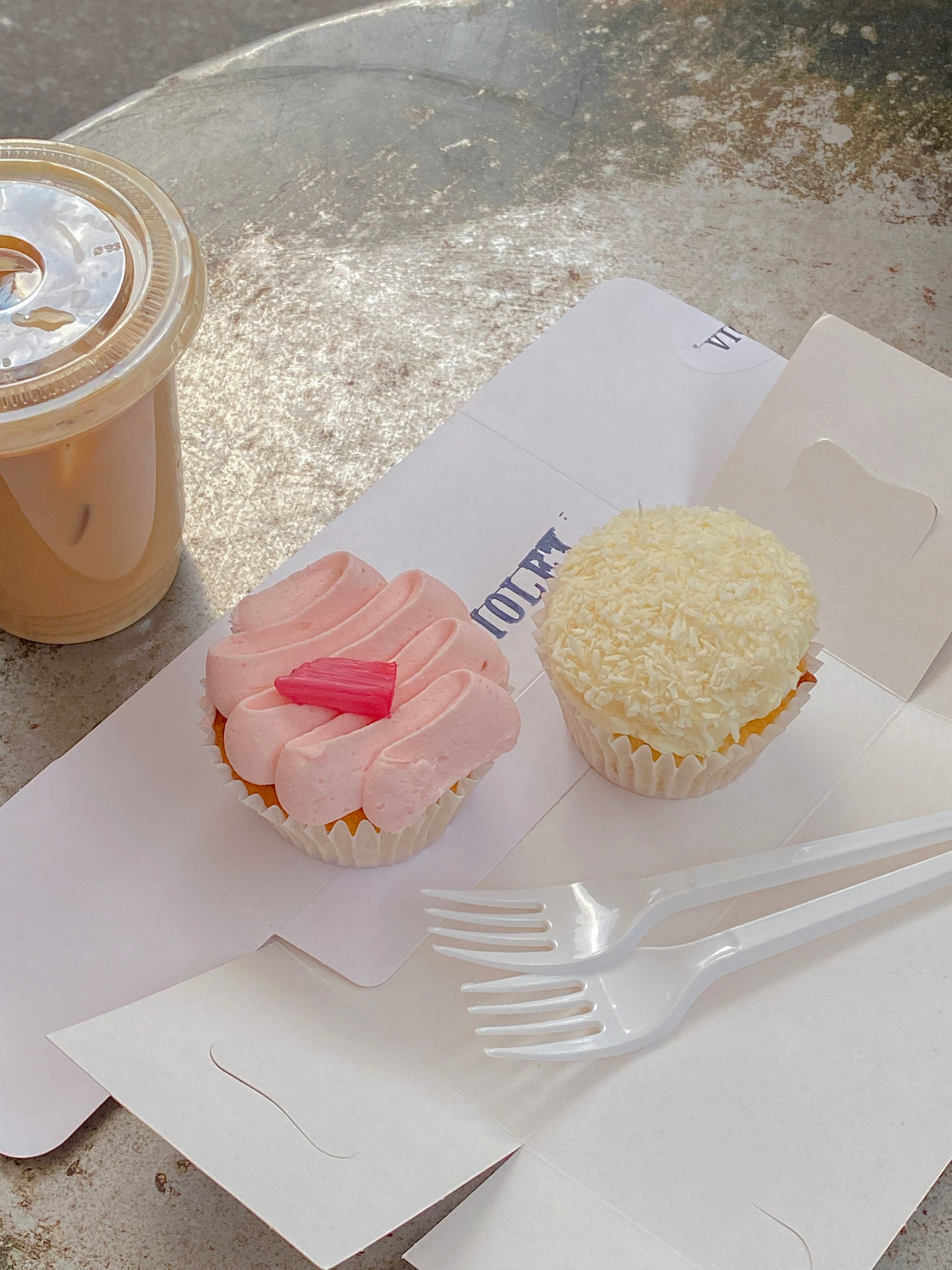 On Saturdays, I wake up early and make breakfast. When I'm feeling fancy, I'll make fluffy pancakes with a vanilla iced latte or make banana bread. I meet up with my friends and go to see some art exhibitions followed by a visit to a coffee shop for coffee and cake! You can never have enough cake."
Support Sebastian's shop here!
---
READ MORE LIKE THIS