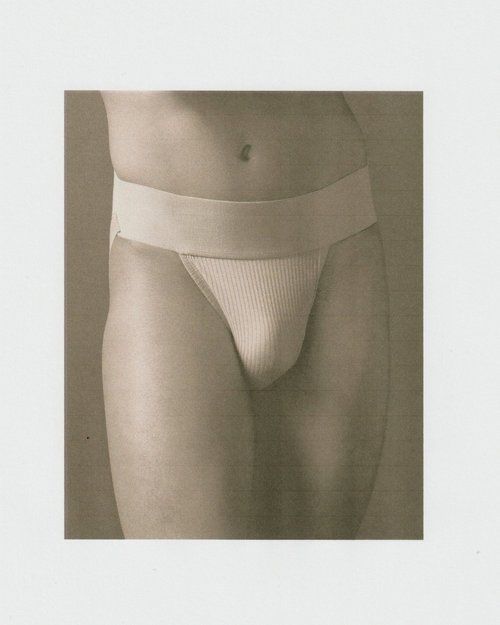 For such a sex-positive brand, I couldn't find the word "sex" in Ruxwood's branding. This queer-owned company, founded by friends Bronze Avery and Jussy Gilbert, does use the word "sensual" though — a distinction they're happy to make.
"Sensuality is more about the exploration of yourself and senses — spraying a fragrance can be a sensual experience, putting on a piece of clothing that makes you feel sexy can be sensual. It doesn't have to be about the sex." Jussy adds, "Sensuality can last all day, 24/7. Sexuality is more of a match."
I've followed Ruxwood since before their launch. I couldn't actually get anything, though, because they have been pretty steadily selling out during their just-over-a-year run. (That's a good thing.) Largely in part, I suspect to the aspiration they offer up like an unattended candy bowl on Halloween.
A stroll through their Instagram feed displays many different body types. Several are bare-assed. Amongst them is some amalgamation of mine. The models sprawl out languidly, giving flashes of their waistband (or more) in California's warm light. The more sparsely-dressed folx seem actively naked — like they've opted for their skin's negative space rather than accidentally leaving the bathroom door unlocked at a restaurant.
Ruxwood launched in 2021 with one product (JOCK 01) in four colorways —Moon, Sand, Sienna, Umber (a cool off-white, a biscuit shade, a terracotta, and a 75% cacao chocolate color, respectively). They act as a comforting palette that mimics toast being cooked and a rough approximation of the spectrum of skin tones. No matter your shade, you could find a color within arm's reach of it within the four SKUs.  And that's largely the point. Even while wearing the JOCK 01, you still feel naked — your Johnson carefully smoothed over like a dance belt and your butt cheeks hoisted up a few inches. It's like, naked plus. Jussy describes wearing Ruxwood as "dressing your sculpture."

After launching JOCK 01, selling out the restocks, and garnering dozens of five-star reviews, it was time for their second launch. Any guesses as to what it would be? A thong, perhaps?
Last spring, Ruxwood released an app — BLACKBOOK — created out of their own necessity. Some people might think it's a surprising move. This app (available on iOS) is a highly minimal, private journal to help anyone record their interpersonal interactions. Those interactions can be romantic, sensual, sexual, or platonic. Their philosophy is that by remembering our interactions with others, we're able to reflect on them and grow.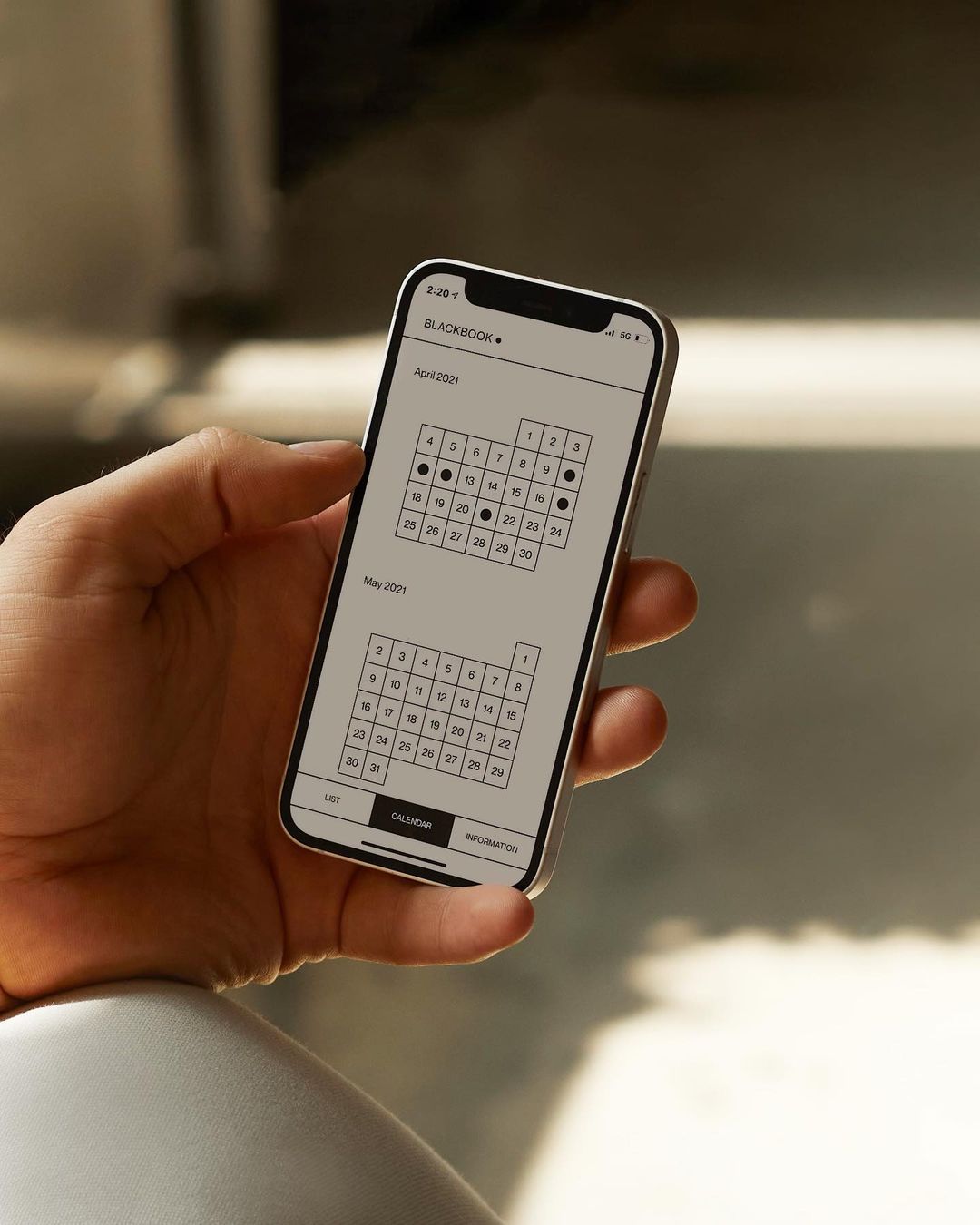 That invite for growth is extended to anyone. "One of my biggest fears launching Ruxwood is that people would think it was men-only because we were launching with JOCK 01," says Bronze. They let me into an informal guide they created on who the Ruxwood customer is, organized by interests and including FKA Twigs, Black Lives Matter, and conscious beverages. Above all, Ruxwood is for "anyone who wants to wants to grow and learn more about their sensuality."
Pre-launch, they already had their second product in the trajectory. BRIEF 01, is a high-waisted, gender-inclusive undergarment that can be worn as underwear or swimwear. This particular garment has a vintage-inspired cut that creeps past the navel. Climbing into the BRIEF 01 made me wonder if this is what wearing Skims felt like — compressing, supportive, and smoothing.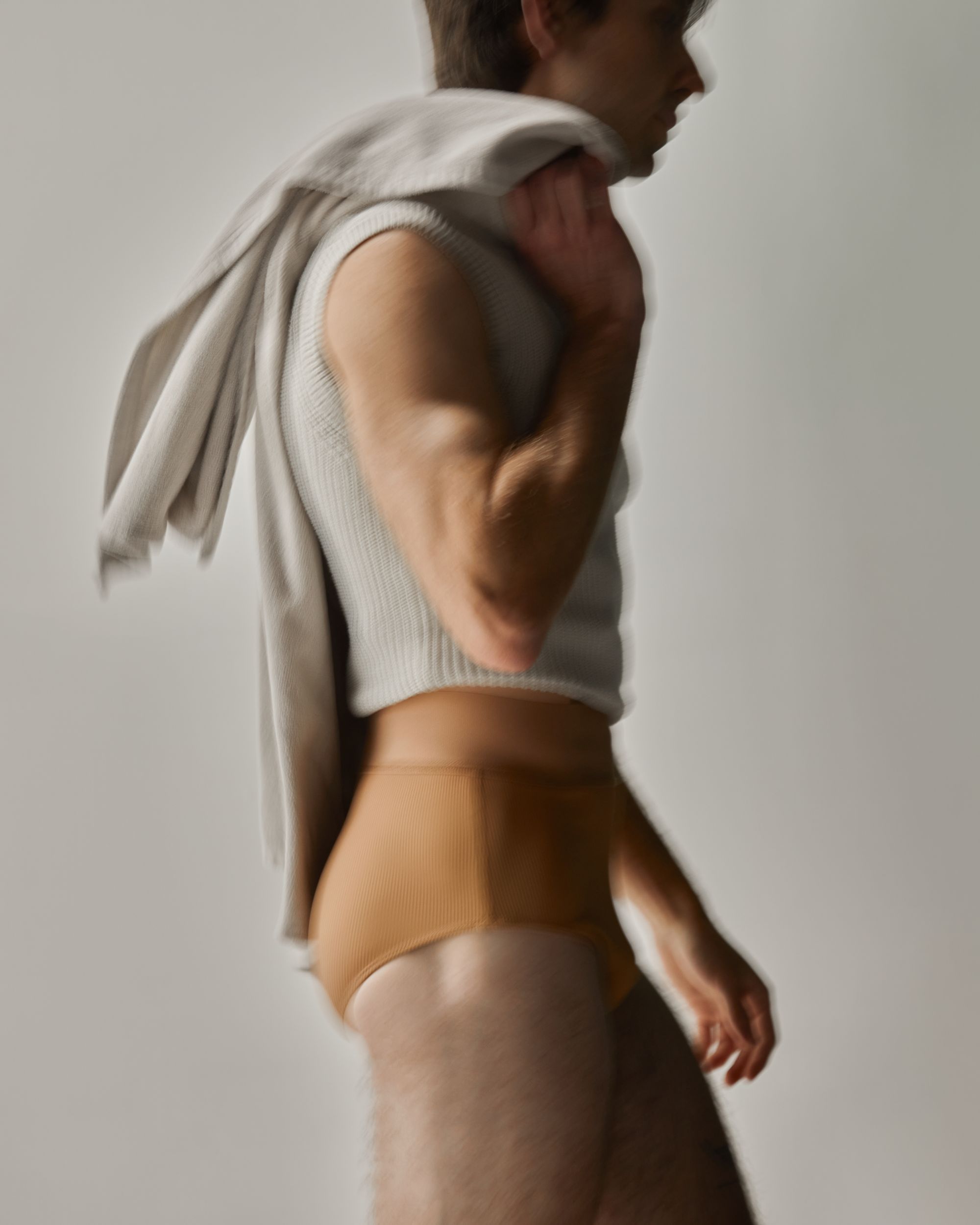 Maybe it's just because I'm used to buying my drawers from Marshalls, but wearing Ruxwood under my jeans feels like a secret gesture — like walking around with large sums of cash. I usually think of that layer of clothing as a utilitarian fuss. Something to wear to conceal my anatomy from the draping of my trousers. Something to sometimes catch pee dribbles. I've rarely embraced the idea that this hidden element could somehow vibrate through me and make me feel any different, let alone help me reach some sort of internal enlightenment. Can your boxers do that?
---
READ MORE LIKE THIS