Three significant things happened this past week.
(Listed here in no particular order.)
It was David Yi's birthday! He in no way implied that I couldn't share his age, but I will still do nothing of the sort. He is somewhere between 18 and 50.
I flew to and from California.
Very Good Light hosted a dinner in partnership with Sulwhasoo, an iconic Korean skincare brand founded nearly 60 years ago, and Act to Change, a non-profit that addresses bullying within the Asian American and Pacific Islander community.
The theme of this partnership is "Proclaim Your Name": an open call to the AAPI community to celebrate your heritage, ancestors, and history while giving yourself permission to take up space. This event had been in motion long before I started at Very Good Light. Months of planning and probably quite a few long nights made this dinner possible.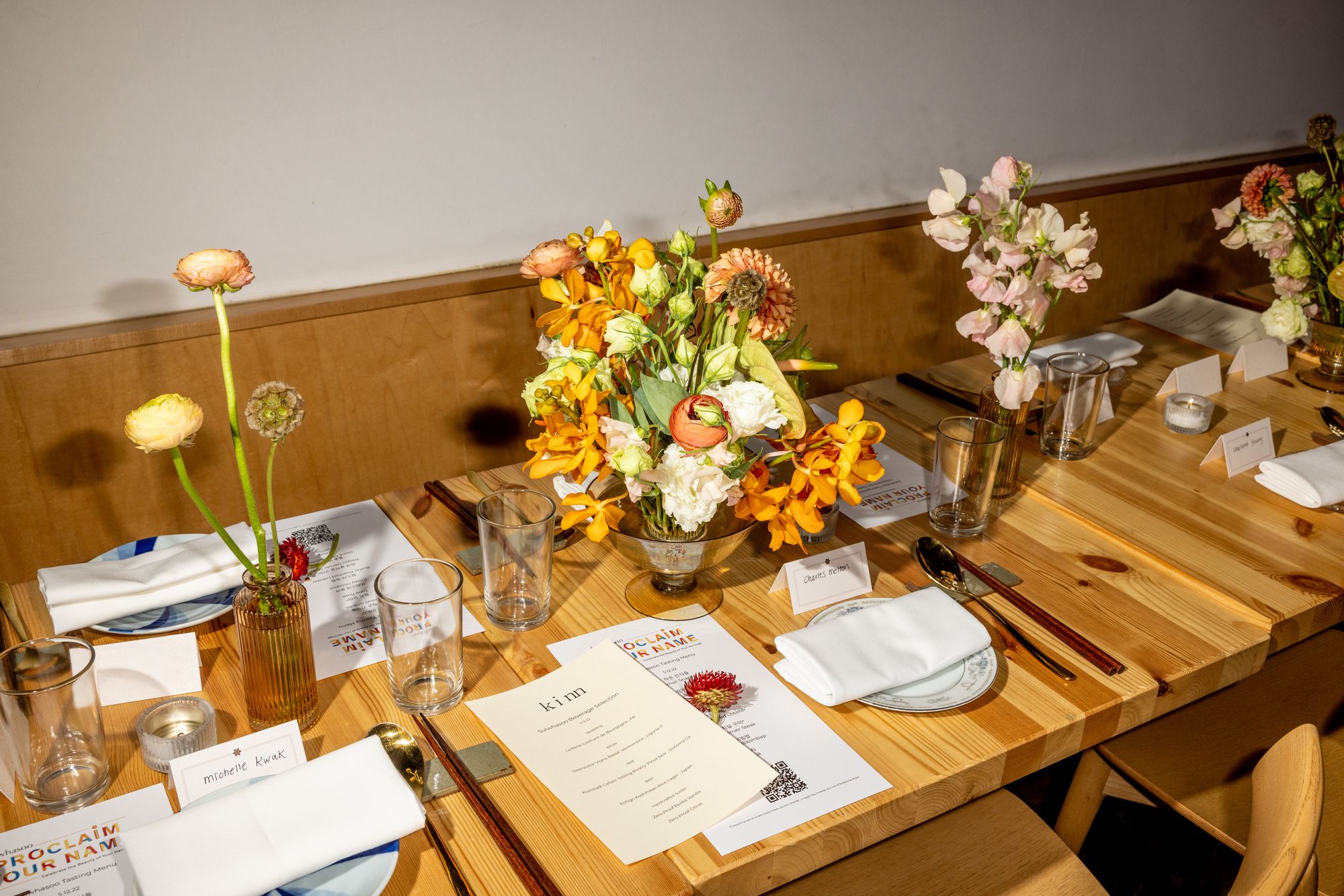 The celebration took place in Los Angeles's Koreatown, at a restaurant called Kinn. It was founded by Korean-American Ki Kim — a soft-spoken chef whose tremendous pride in their work fills the room. The invite list was a veritable Who's Who of AAPI heavyweights. Abraham Lim (whose Korean name, 임승일, means "victorious one") was the first to arrive. He smelled like he bathed in a meadow and dried off in the sun. We immediately fell into a 20-minute conversation where he seemed unimpressed by his own success, despite making his Broadway debut in the forthcoming musical KPOP this fall, where I hope to watch him from the front row. If not, I will also settle for the nosebleeds.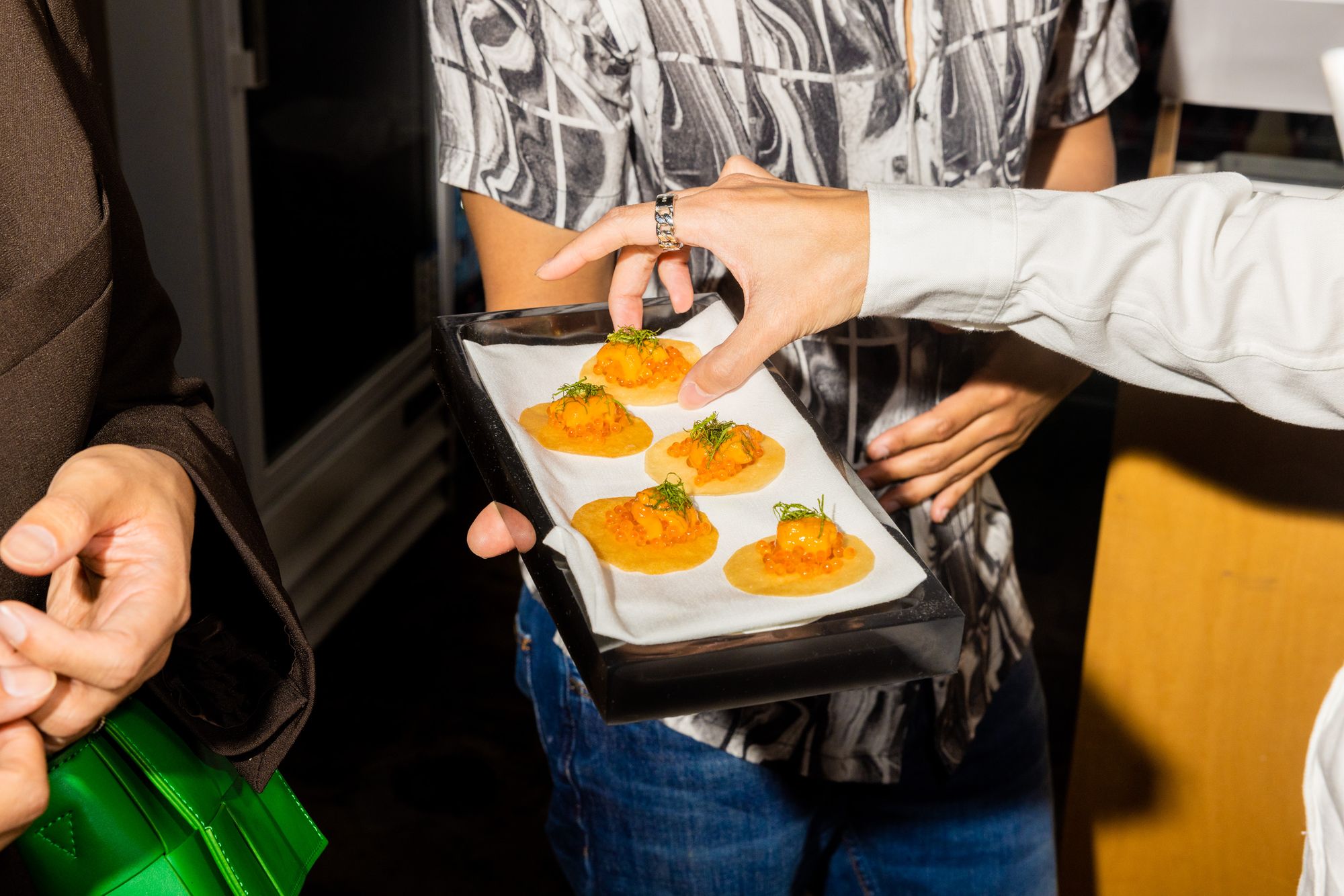 "We're our ancestors' wildest dreams." –David Yi
Over the next half-hour or so, the guests continued to mosey in, including Korean-American Charles Melton, who despite his grand stature, carried himself like a easygoing jokester, rather than a prom king. Three years ago, Charles made history as the first Asian-American to have a lead in a major teen romance film. It only takes a single look at him to wonder what took Hollywood so long.
More smiling faces entered to me taking on the role of a butler, opening the door for them, and offering them hors d'oeuvres as if I made them. ("Would you like some beef tartare?") I almost offered to take someone's coat before realizing I didn't know what I would even do with it. It was then time to be seated.
My tablemates included several actors. The classically handsome Ritesh Rajan (who was named after the god of seasons in Hinduism), Sujata Day (whose smile and warmth are contagious), Nicky Endres (who I believe was born to be a star), and Nicole Kang (whose Korean name, 강미혜 means "beautiful blessing"). Nicole played the first and only Asian Poison Ivy on Batwoman. I considered taking off my blazer to show her the Batman tattoo on my left "bicep." I decided against it.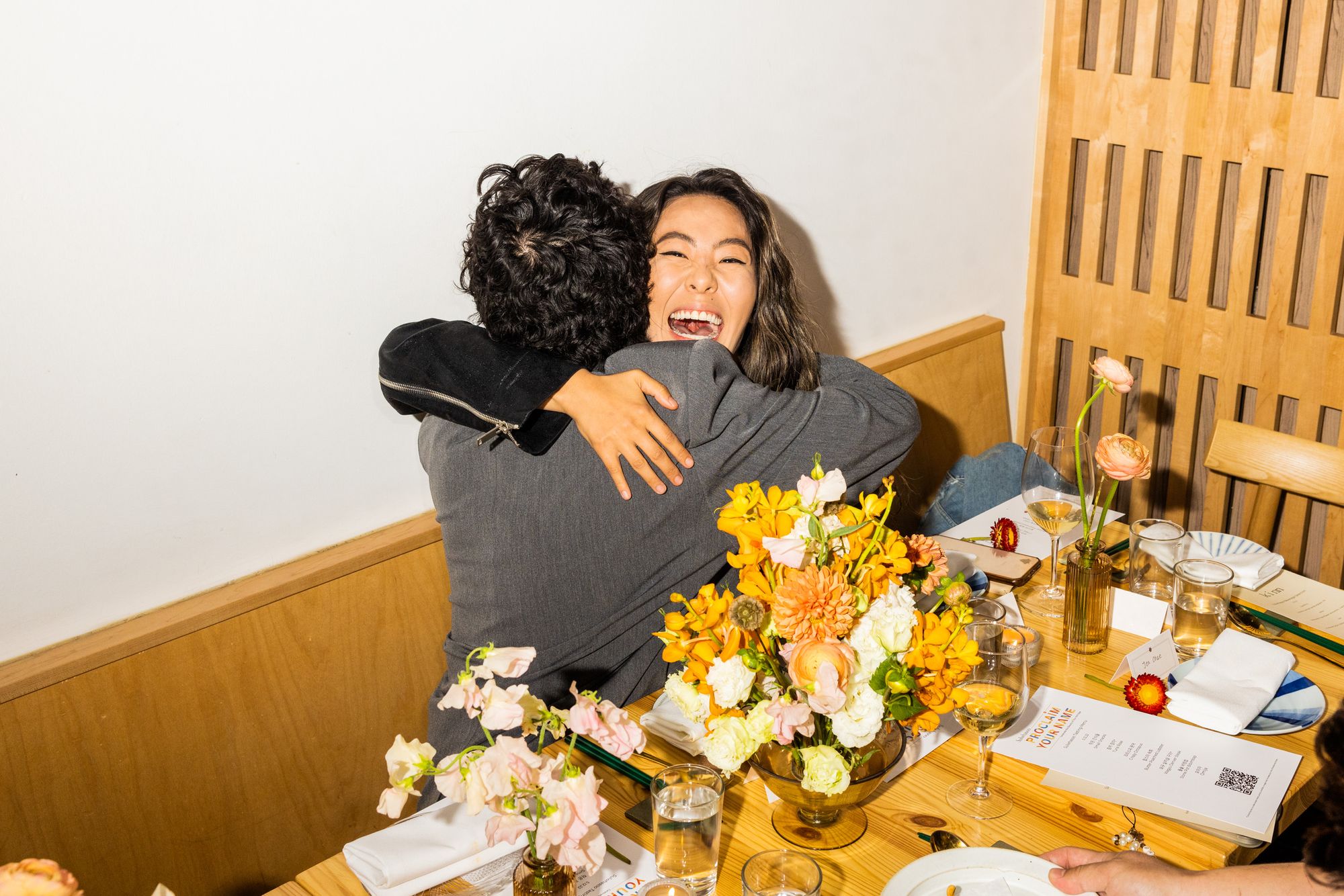 Over our first course, Sujata told me that her name means "good birth" and shared the lore of Sujata — a supporter of Buddha. The story goes: after a six-year meditative fast, Sujata offered Buddha a bowl of rice, assuring him, "You don't have to starve to be enlightened." Ritesh, vibrant and affable like a student body president, asked me how I was doing. I told him I was "great, if not a bit scatterbrained." I just wanted the night to go off without a hitch. He soothed me, "Don't worry. You have a great jawline. Everything's going to be okay," an impish grin making its way across his face. Nicky and I did our Elizabeth Holmes impressions as we ordered drinks.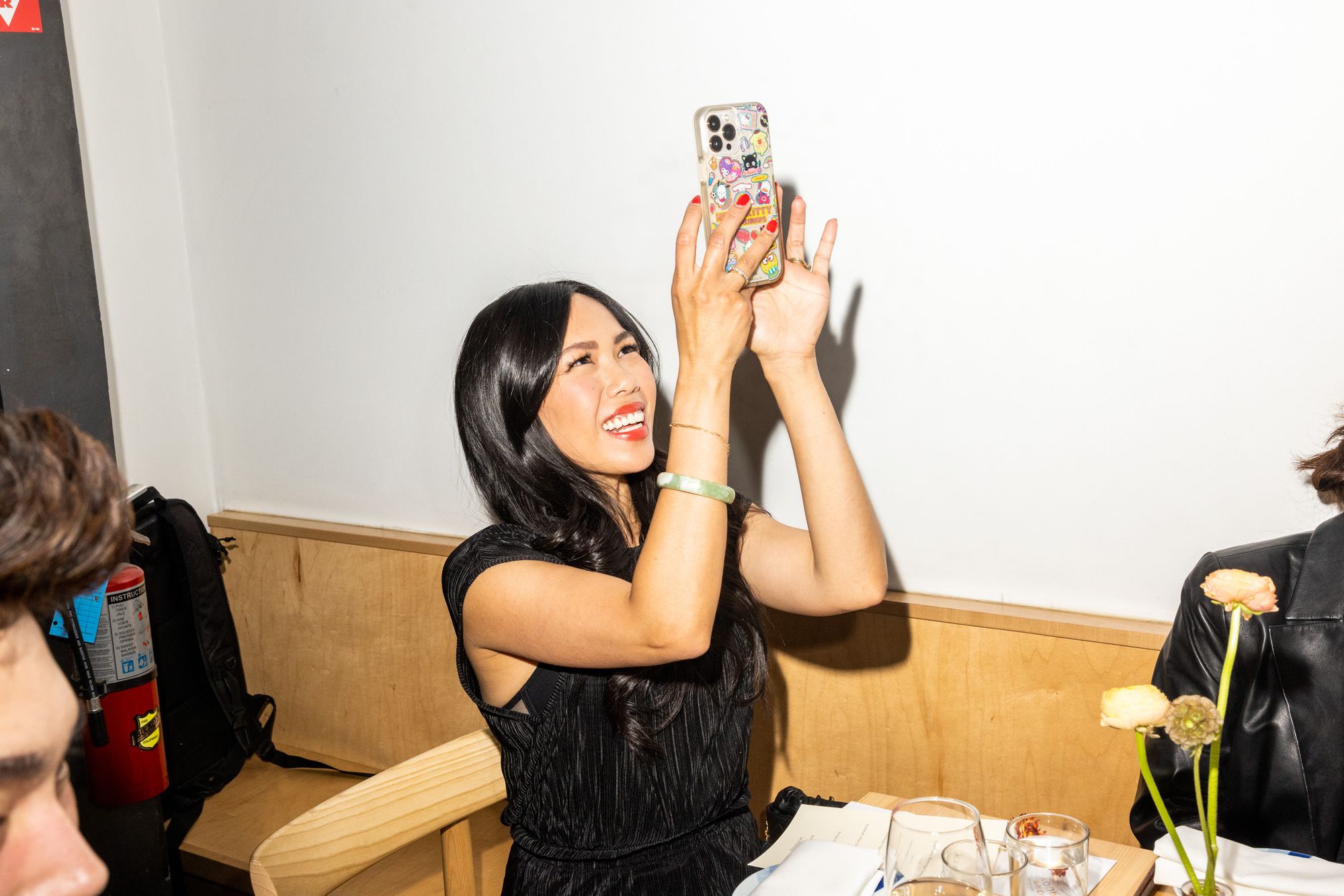 We all turned to face Jess Fang and Chinae Kim (from the Sulwhasoo team), and David, who were giving speeches to commemorate the evening. Chinae kicked it off, telling us, "Korean culture is a big part of the Sulwhasoo brand. I know it's really difficult to pronounce, but we are not shy about keeping our Korean brand name." She explained the meaning of the brand's name. "Sul means snow, wha means flower, and soo means phenomenal." I turned to see the room smile in unison.
"I didn't know soo meant phenomenal. I have a friend named Soo," said Sujata.
"Do you think they're phenomenal?" I asked.
"Well, she made Panchinko." she quipped.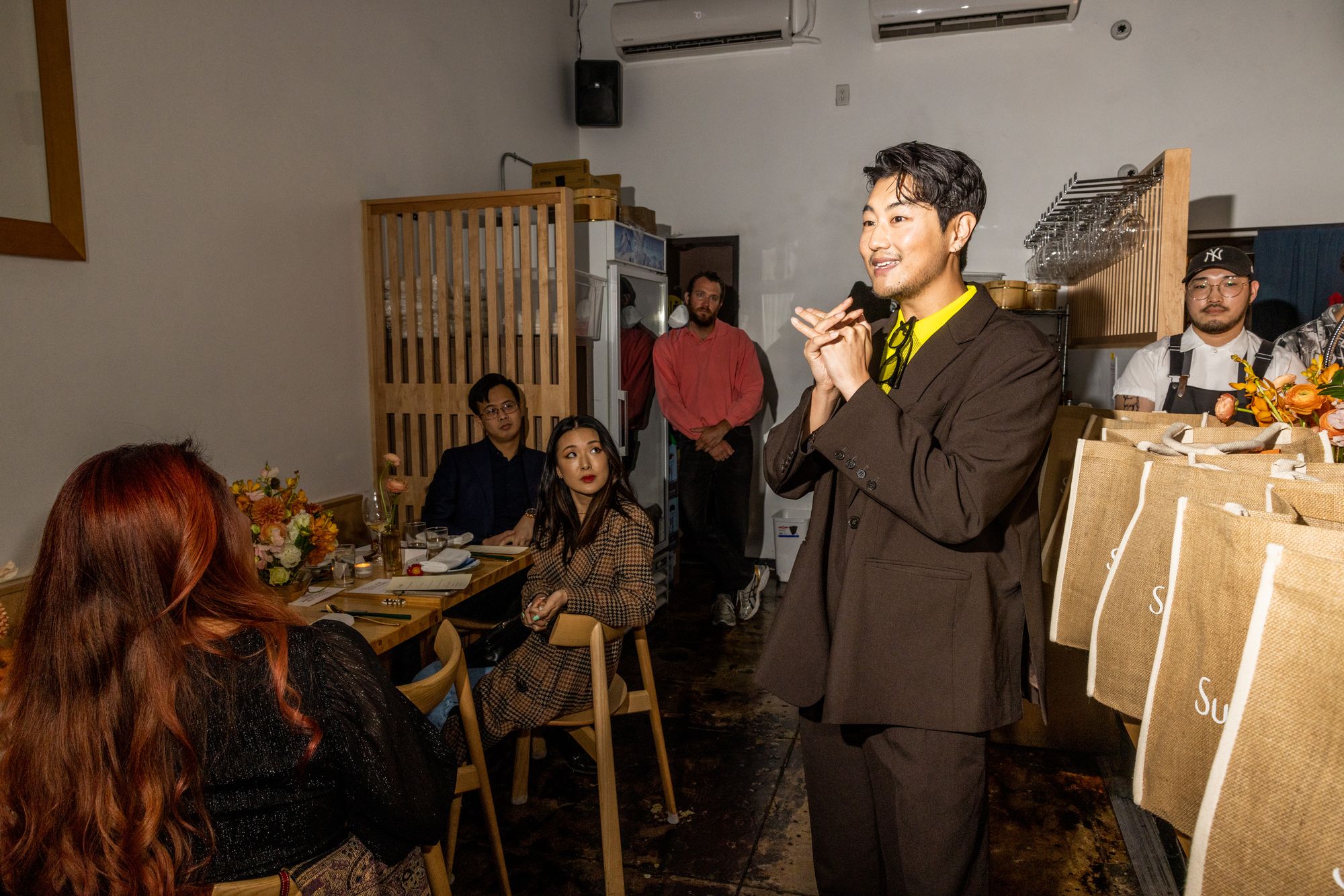 It was then time for David's speech. David is a natural orator. He talks to a room full of people like they're an old friend. "When you're Asian American in a small town, you deviate towards two halves: one is you want so desperately to be the majority, to slough away your beautiful Asian heritage and just belong and be accepted. You don't want to say your name. You don't want to eat your foods. You're just so ashamed of who you are. I was never like that. I was like, I'm Korean. I'm Slaysian. My name is 이준영!" (Which translates to "handsome and prosperous" in Korean.) The room erupted in laughter, which was a common theme throughout the night.
He continued. "For me, I felt as if I was never alone because of my Korean ancestors and all of our ancestors. They survived plagues and wars and famine, and we're all miracles here at the end of the day, sitting at these tables. We're our ancestors' wildest dreams."
Before he ended, he left the room with an affirmation: "There's power in our stories. When you proclaim your name, you reclaim your space. When you're AAPI, you're told it's not your turn, it's not your time. You're invisibilized. That time is now, that is today. Our community uplifts each other. We stand together."
I had a few minutes with Refinery29's beauty director Sara Tan, who also has Filipino lineage. We couldn't help but talk about our favorite Filipino foods. "Food is such an important part of our culture — hold on," she said, reaching into the drawstring bucket bag I had complimented earlier in the evening. "I'll show you." She pulled up a Notes app list of Filipino recipes (starting with "Evelyn Tan's World Famous Adobo") that she uses to keep her culture alive for her kids. I performed mano on her — an honoring gesture in Filipino culture where you greet an elder by lightly touching their hand to your forehead. Mano dates back to the pre-colonial Philippines, with roots in neighboring regions such as Indonesia and Malaysia. "I'm usually the one who does that to my elders!" We both fell into big, toothy giggles.
For such a group of successful people, there was no gatekeeping. Whether it was Ritesh's cologne (Spicebomb), Sara's shoes (Zara), Nicky's lipstick that lasted through seven courses (a stain from Sally's), Ally Maki's manicure (an LA-based home service), Edward Zo's glow (from the Fiji sun) — everyone was so eager to share with one another. It is through sharing that our AAPI beauty rituals, new and old, have permeated and sometimes defined the beauty space. I was watching it happen in real-time.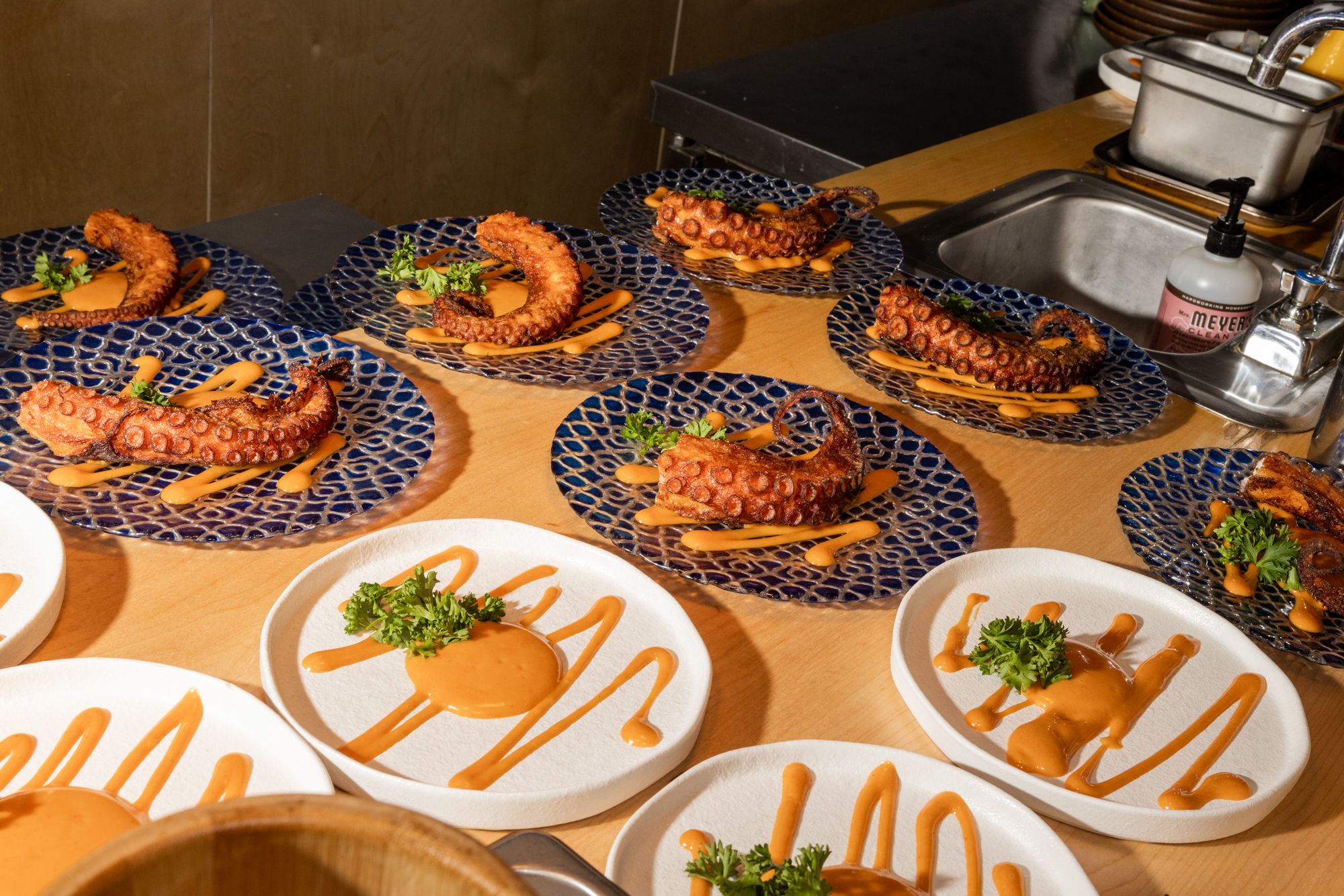 I later found myself sitting with Em Cosmetics founder Michelle Phan. When I told her my name, she asked about its roots. (Or comes from the Spanish oro — the word for "gold." In Hebrew, it means "light.") She reacted with a gush of warmth, eyes softening like she had suddenly seen a labrador retriever rather than a jetlagged goblin wearing a Hanes tank top as eveningwear. "That's beautiful. Gold is the most stable element. In Egyptian hieroglyphics, the symbol for gold and the Sun are the same — a circle with a dot in the center — because the Sun is the center of everything."
"You're making me feel so mystical!" I replied, giddy.
"You are mystical," she affirmed, eyes twinkling. She spoke with such calm conviction that I believed her.
"Can you tell me about your name?" I asked of her Vietnamese name, Vũ Thanh Tâm.
"It means avalanche." A lightbulb went off in my head.
"Do you know BoA?" (A pop star who is often considered the Britney Spears of South Korea.)
"Of course," she said, grinning ear to ear. "I love BoA."
"'Avalanche' reminds me of her song 'Hurricane Venus.' A force of feminine energy." I didn't ask, but I think she was wearing Baccarat Rouge 540.
At the start of Act III of the evening, three birthday cakes were brought out for David. The entire room sang to him and, in that moment, he reminded me of a bashful child. Grateful. Overcome with joy. I wondered what he wished for. The cakes were delicious, by the way. Ally let me have a bite of hers, and Nicky went in for seconds.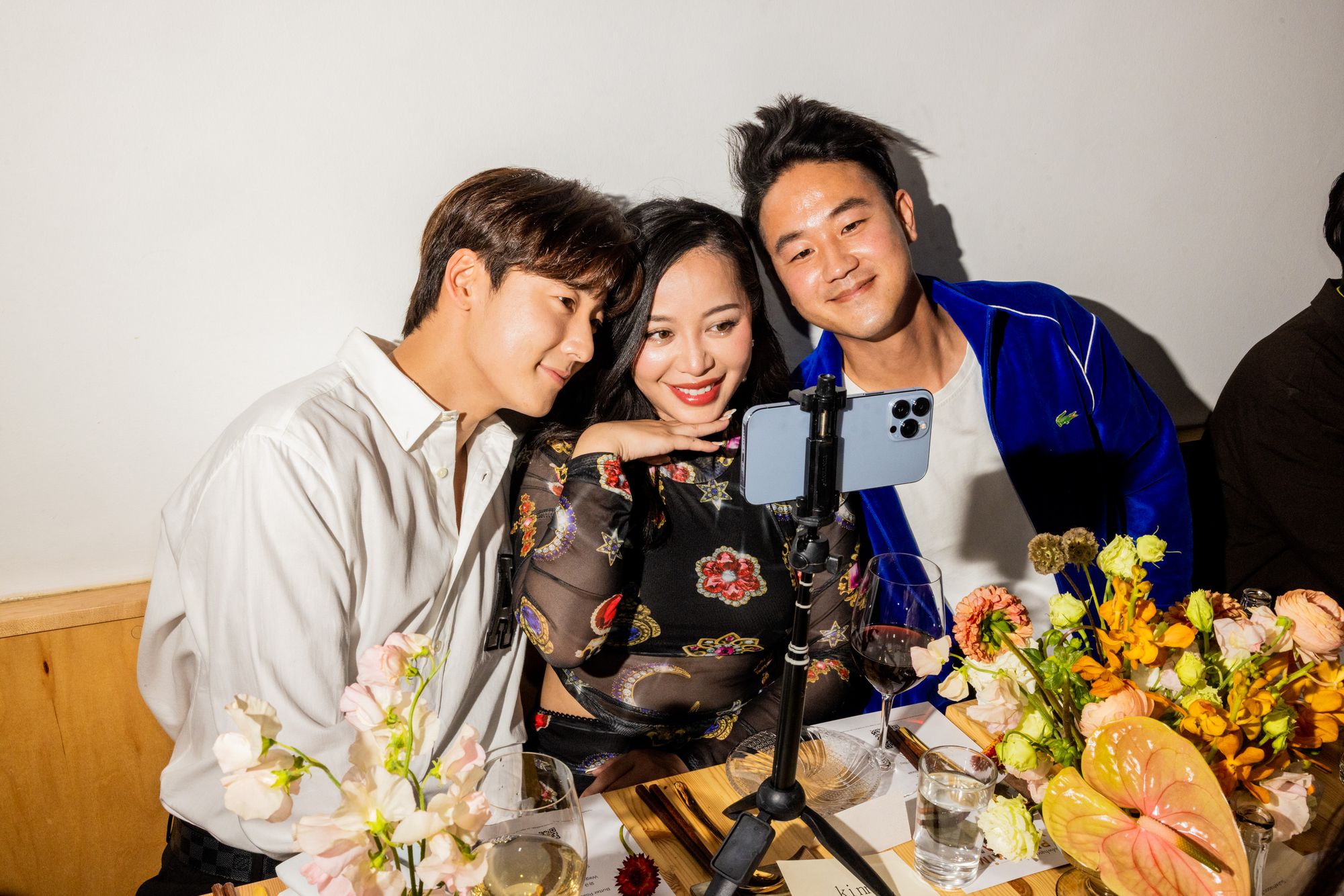 At some point, I popped a squat (literally, I was squatting) next to a board member of Act to Change Richard Leong and Jen Chae — one of the first beauty gurus — whose Korean name, 채수경, translates to "waterscape." In many ways, Jen was like water. A tender and robust spirit, adapting to the space she is in before spilling out. "When I started in this industry, there wasn't even makeup for people like me." Jen grew up in Kansas, and on some level, I believe she started her career to be a role model she didn't have. I also admired her manicure, which resembled mint chip ice cream, with a 3-D gummy bear affixed to her thumbnail.
Richard's Chinese name, 梁雨健, translates to "healthy rain." The day he was born, there was a rainstorm in Los Angeles. His parents named him after the storm and added a touch of good health in the future. I asked Richard to tell me about this year's AAPI Day Against Bullying and Hate — held on Vincent Chin's birthday, May 18. Vincent Chin was a Chinese-American who was the victim of a hate crime 40 years ago. Act to Change honors Vincent every year with a day of education and storytelling. This year has a focus on AAPI mental health. "For someone who deals with navigating bullying for a living — " I stopped there to briefly apologize if I was oversimplifying the importance of the work he does, then continued. "What do you do when you don't feel tough?"
He told me to think about my confidence, safety, and wholeness as a reserve. Our daily lives withdraw from that reserve. "People who experience marginalization based on their identities or how they look — straight up, just walking across the street is a withdrawal. It's an expense." He then ended authoritatively. "Figure out what recharges you. For me, I think about community and the people I want to be around. I want to be around people who lift me up."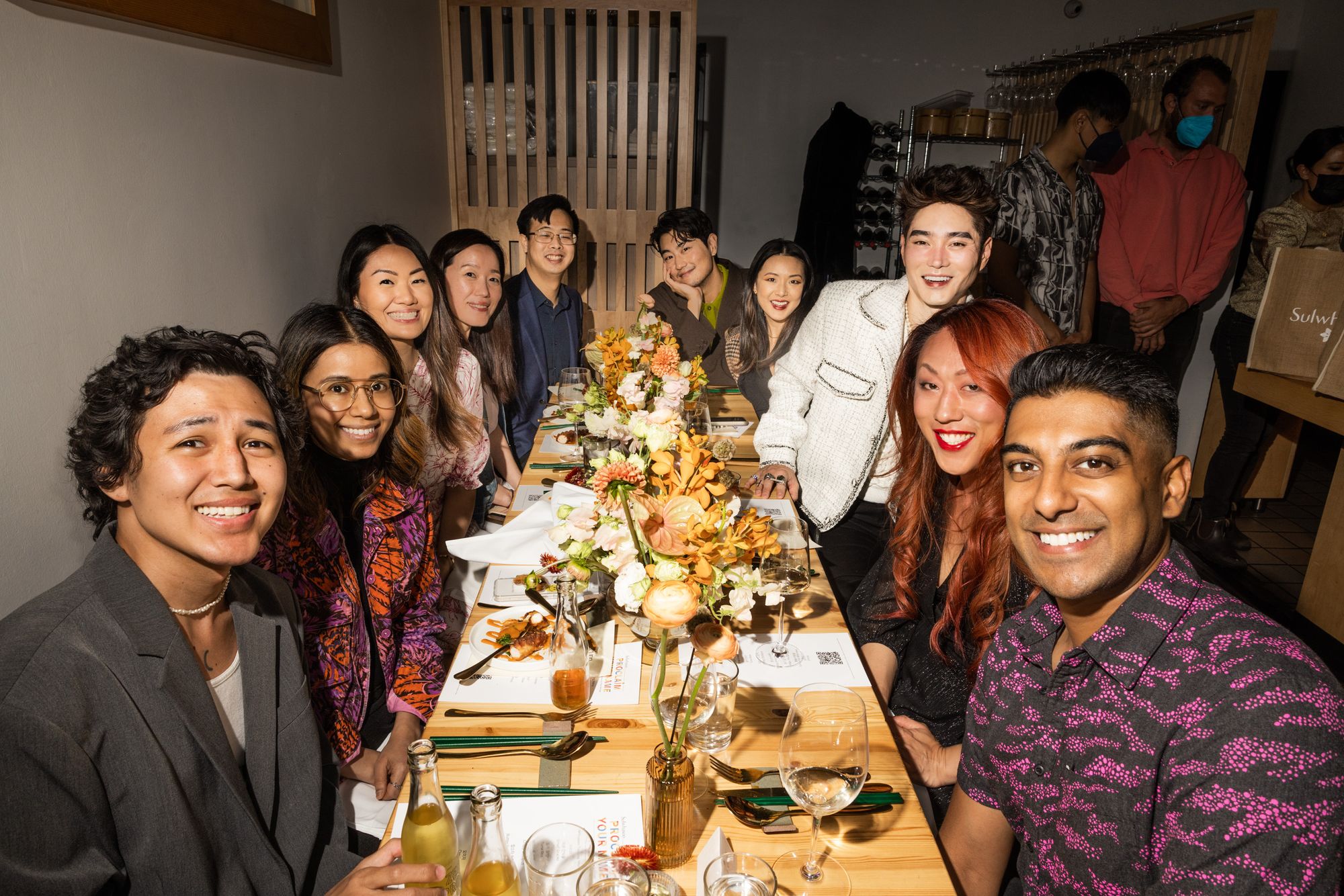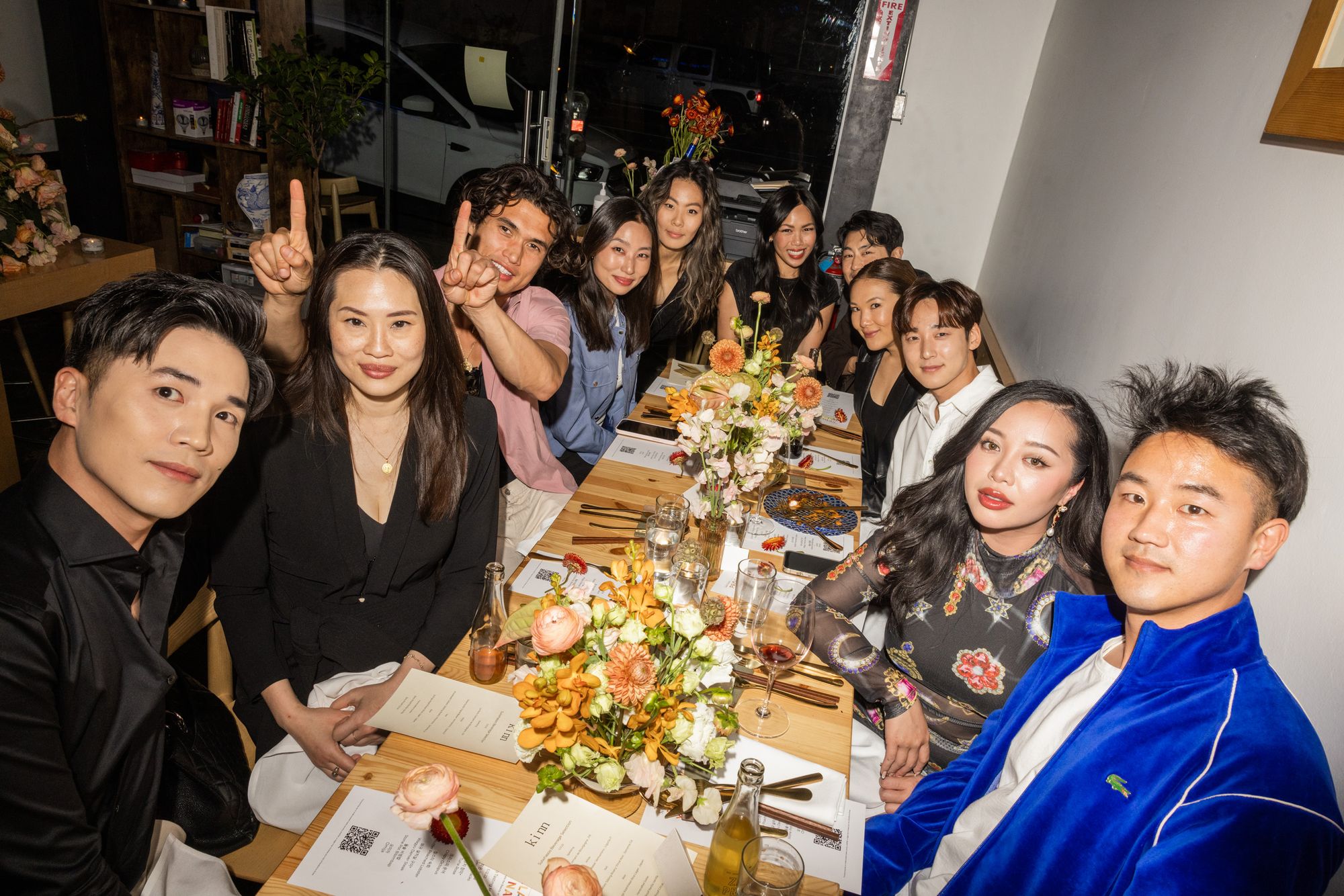 And that's exactly who I was surrounded by that night. Everyone in that room played a role in bringing Asian American representation to the masses. Kevin Woo is melding east and west with his leading role on Broadway's KPOP alongside Abraham. Ally runs a brand to uplift and celebrate Asian American girls — something we would have never seen ten years ago. Charles Melton and Joe Seo play strong characters when strength is seldomly attributed to Asian men. Nicky Endres plays a trans character who does the right thing when trans folx are usually relegated to being morally dubious punchlines. These are the people who are moving the needle for this community. They are the people to look towards when you don't feel tough.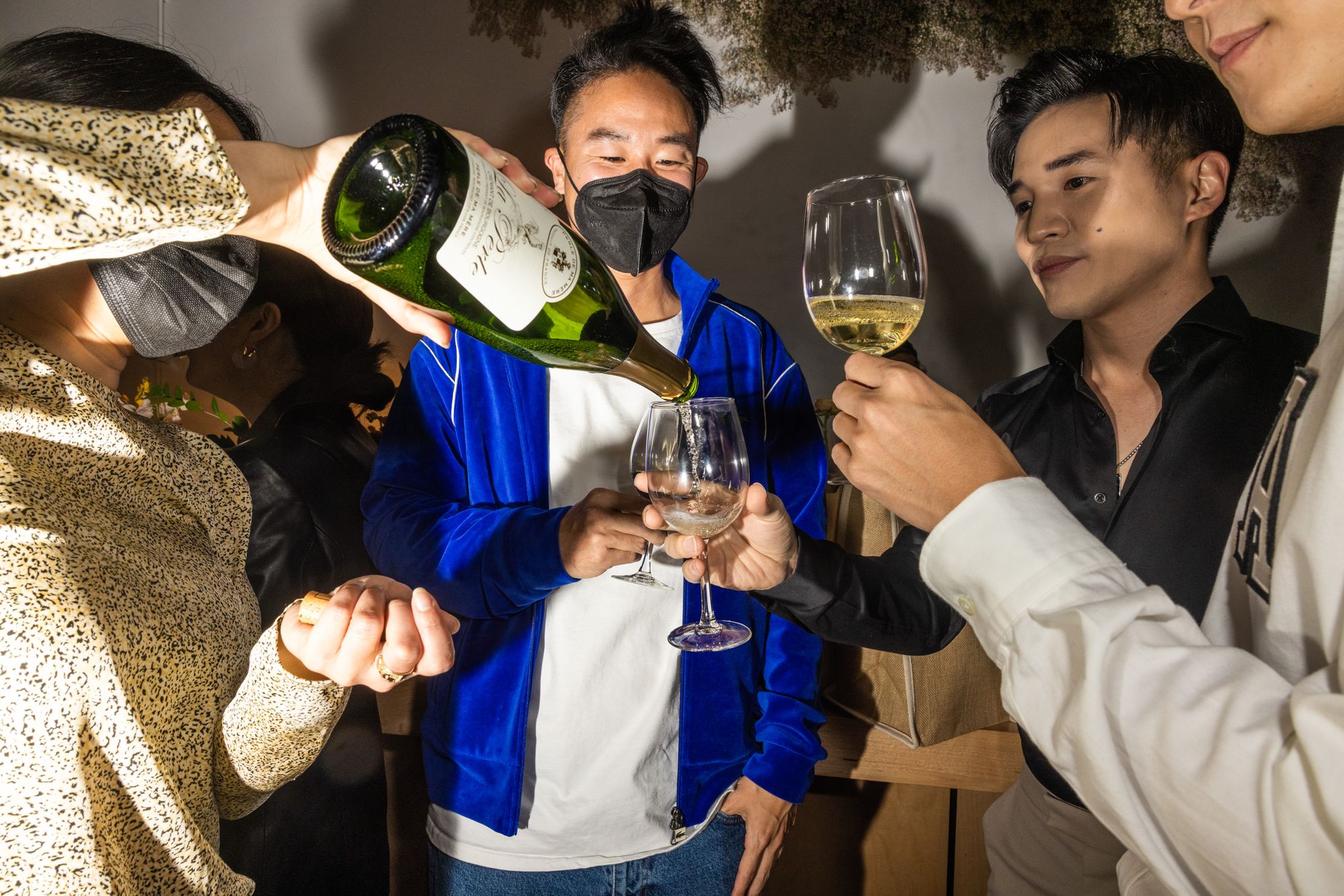 At some point in the evening, Jen pulled out a six-pack of Lactaid from her bag. She tore off a packet and handed it to Richard. If you've never needed to take one, Lactaid is an enzyme tablet that you take to help you digest dairy. It's fairly common for those from cultures that don't traditionally use cow milk in their cuisines to be lactose intolerant. Many east Asians fall into that category. I told Jen, "I'm sure they can get you a dairy-free version!" She declined. "It's maybe an Asian thing," she laughed. "We just take the pill and don't make a situation out of it!"
I thought about that moment of generosity and humility on my Uber ride home with David when we basked in the glow of being surrounded by so many people responsible for pushing culture forward. I thought about it on my plane ride home. I thought about it when I woke up the next morning, not knowing what day it was.
Jen keeping her bag stocked for complete strangers (and hopefully soon-to-be lifelong friends) just in case reminds me: In a world that maybe wasn't designed for us to take up space, we will always keep each other in mind. We are generous of heart. We have each other's backs.
Proclaim your name on Instagram, and Sulwhasoo will donate $1 to Act to Change for every post during the month of May.
Thank you to Kinn, the Sulwhasoo team, and all the guests for making the night a true celebration.
Photos (except for the last) by Roger Kisby.
---
READ MORE LIKE THIS