"This is the Girls Generation of my time."

TWICE — the nine-member girl group composed of Nayeon, Jeongyeon, Momo, Sana, Jihyo, Mina, Dahyun, Chaeyoung, and Tzuyu came to America for their fourth world tour and are coming back to LA for their encore show this Saturday, May 14.  Writer Isis Gutierrez recounts her experience seeing TWICE on February 26th, 2022.
Ah, my beginning with K-pop — it was with the power ballad "Because I Am a Girl" by one-hit-wonder KISS, after finding it on YouTube under the title "Saddest video in the world." I know, simpler times. I recall exhausting my mom with what started as a cute song obsession progressing to being the only song I would listen to for 24 hours straight. This led me to discover PSY, Hyuna, Girls Generation, and other second-wave K-pop artists. Somehow all these events led me to spend my adult money on tickets to see the group that watched me grow up, TWICE.
As someone who has been attending concerts— my earliest being at 6 years old with Styx — music festivals, raves, theater shows, and orchestras, it's safe to say I've had a range of experiences. However, a K-pop concert remains unmatched.
The preparation begins months ahead before the date of purchase is announced. So many thoughts cross my head: "What am I wearing? What will be my era aesthetic? How will my hair be done? Which makeup am I using? Am I imitating a member's makeup?" And as someone who has danced her entire life: "Who was the choreographer? I need to memorize the choreographies."
The time to purchase tickets arrives. I make sure to clock out on time from my shift, with the credit card details saved to my Ticketmaster account. A déjà vu sensation like that of BTS' Map of the Soul Tour that never happened appears, and once again, I secure the tickets regardless of what the dumb little figure walking on the waitlist suggested.
Months go by, and my Virgo placements seem to be the only thing tormenting me. Of course, I want this to be perfect, and yet I can't decide on an outfit. The result of consulting my friends was a pink outfit imitating their DTNA era. Cute right? Except it didn't arrive. It worked out with a baby blue outfit that earned me many compliments paired with a clear bag, pigtails, and VGL butterfly clips.
Most, if not all, passengers on the train to Long Island were there to see TWICE. A group of girls on my train hold up a sign that says "IN DUBU WE TRUST!!", "I FREAKING LOVE YOU KIM DAHYUN". It's probably the first time in two years I don't feel scared being approached by a man because we had a common denominator.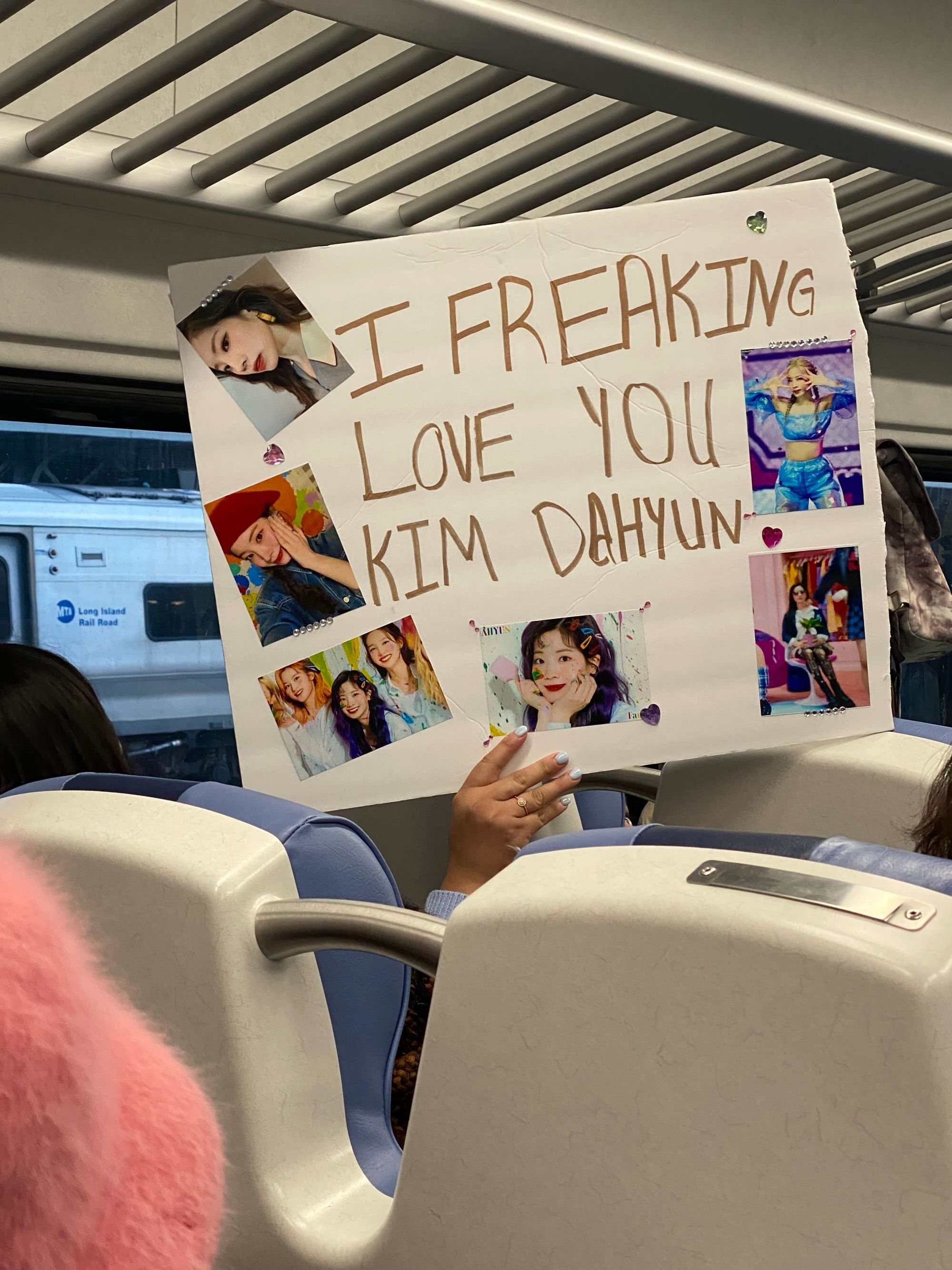 I could see in the distance "UBS ARENA." As far as I know, it looks like an AMC theater. I made sure to log into Discord and contact my friends. It felt weird being the first one there. When I finally saw them, we decided to take some pictures. As I'm writing this, I realize this is an occasion like a birthday; I have all my friends from different places and interests together just because we all have nine girls in common.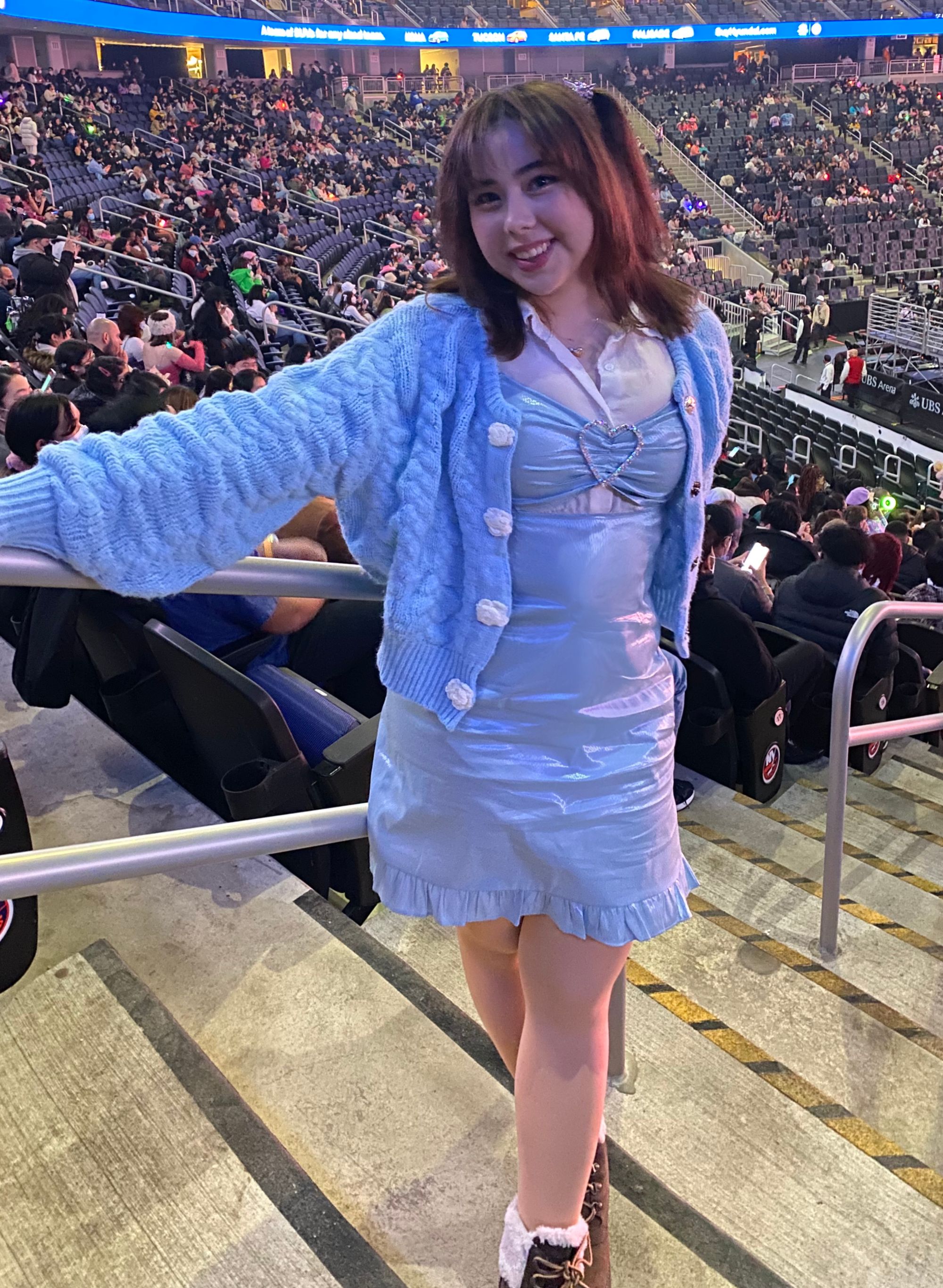 As we part ways to enter the stadium, the ambiance shifts to purple and pink colors, with green, red, and blue light dots from the Candybongs — a light-up stick unique to TWICE and their fandom, Onces.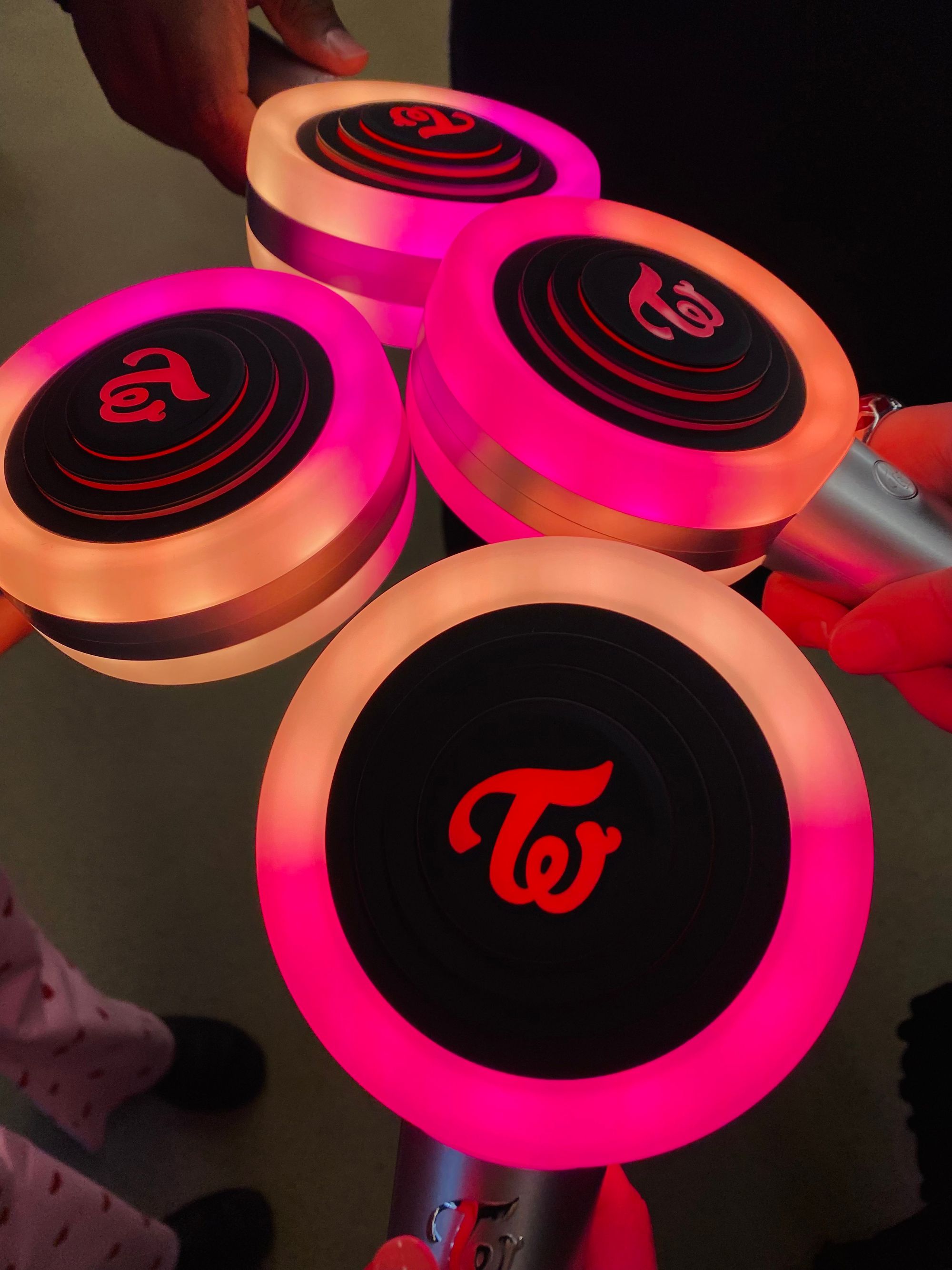 The concert starts with some techno-pop music until everything turns black, with bright colored clips of them on screen, prompting people to scream. They rise from below, and you can hear The Feels start playing, followed by Feel Special, just two of their most iconic songs, no biggie. All the outfits were perfectly made for each member.
During Up No More, a breeze of realization hits me: this wouldn't make sense if they were less than nine members. That's what makes them TWICE. This thought is always present, but at that moment it pieced it all together.
Jeongyeon was received with cheers from the crowd, rightfully so, after being on hiatus for over a year due to an injury.
During the first break of the concert, Nayeon and Chaeyoung asked Onces to sing Empire State of Mind by Alicia Keys to welcome them back. Queen was performed live for the first time, transitioning smoothly to Fancy. The setlist continued with Turn it up, and I must admit, it's hard to dance and record videos as a devoted Once.
The most drastic change came at this point, with black and red colors dominating the stage, leading me to believe they would perform Perfect World, their most recent Japanese comeback. The thought was exciting because I would be able to understand and sing the lyrics fluently. Shot Clock, Get Loud, and I Can't Stop Me played instead with the last one motivating a rise in dancing amongst the attendees, thanks to the genius of Kiel Tutin — UK-born choreographer Kiel Tutin has worked with several pop and K-pop artists, including BLACKPINK, TWICE, J.Lo, and many more.
It was Dahyun's turn to speak, her crowd work and stage presence did not go unnoticed with waves of people shouting and barking for her — something terrifying for outsiders, I can imagine — making her think people were calling for her nickname "Dubu" (which translates to "excited tofu"). This nickname was given to her by fans for her fair complexion and extroverted personality.
One of the most expected moments of the night was Espresso, the choreography was everything you could ask for, again by Kiel Tutin. Having my background in dance, the most enjoyable part is researching who makes their dances. The lightwork was reaching every corner of the stage changing from red to white. Jihyo's voice was heard loud and clear thanks to the projection and richness of her voice, with Nayeon's high notes as a contrast. This could be taken as a response to say "I am here, my mic is on," for all the haters who say they lip-sync. It is not an easy job to sing and dance at the same time, and yet they manage to do it all. Mina and Momo's dance portion during Iconic, was (full pun intended) iconic. I could immediately recognize the violin strings for Cry For Me, without thinking twice, I sprinted out of my seat to dance on the steps while belting out the lyrics.
A third outfit change later, Scientist plays. Sana and Momo once again were shining on stage. I'm J-line biased, if you didn't notice, with Sana stealing my heart. (J-line refers to the members of TWICE that are from Japan, including Mina, Sana, and Momo.) Mina, on the other hand, looked like an absolute princess.
Real You and Moonlight, led to cute fan interactions and camera work from the shyest members of the group, and Jongyeon's hilarious attempt to reach the tall mic.
At the next intermission, Tzuyu, the group's maknae — a title given to the youngest of a group — spoke for the first time about how happy she was to be there. Then Momo explained the meaning of the tour name ,"III":
"One is for the love Once gives TWICE and two is for the love TWICE gives Once" — a cute reciprocating moment, where Momo does a heart bite, a motion where you put your hands in front of your mouth in the shape of a heart and bite it as if the heart was a burger — "and this makes a perfect love on three. This is the meaning behind today's performance".
Chaeyoung's sassiness was one of the best parts of the night. Tired of explaining the meaning of the songs throughout the tour, she passed the responsibility to Mina. Then the sentimental, yet hilarious, Cactus started, which was later revealed to be about Jihyo's dead pet plant.
TWICE's Rewind started as a dramatic and sentimental ballad, where each member would showcase their vocal abilities, with a dark background and nine spotlights respective to each member. This would later become a funny moment on TikTok, due to Momo's seductive dancing to a sad song.
As Nayeon said "the next song will depict the lovely aspects of TWICE", the camera panned to Jeongyeon's extroverted self, coming back to stage, dramatically shaking her head no, proceeding to reluctantly do aegyo (any playful, cute gesture) to the intro of What Is Love?
At this very instant, the realization hit me: this is my Girls Generation. (A second-wave K-pop girl group dubbed "The Nation's Girl Group" in the 2010s.) Having grown up listening to both groups, it felt like an interesting transition into adulthood. TWICE's evolution from a girly concept to a more mature concept, mirrored my growing up from my teenage years to my twenties. They helped me embrace my femininity when it wasn't the most comfortable space for me.
Knock Knock, brought the most colors to the stage, from the screens, outfits, and lights, brightening everyone's moods. I could recognize this formation anywhere. More and More had started. My phone was on life support at this point, the lights wouldn't turn down and it would react slowly. The formations and coordination of the girls are unmatched.
Before proceeding with the next song, Dance The Night Away, it was explained we would go under the sea, and we did, under a sea of confetti.
Finally, something for us 21+ Onces — Alcohol-free. It was my chance to shout MiMoSa (an amalgamation of Mina, Momo, and Sana). It made me remember how despite it being a fun song, it marked my first friend-breakup, so you can only imagine how it is to go to a dance studio with tears in your eyes. Heart Shaker came on, and my phone wouldn't film anymore, because I forgot to upload my Eric Nam concert videos to the cloud. It was at this moment I had to ask my friends across the stadium to film.
Subunit time. This meant all members would go to the stage down-center.
First, Jihyo, Sana, and Dahyun's Push & Pull with clean movement lines. Their stylist deserves a raise because the gold outfits made them look like goddesses. Second, Momo, Nayeon, and Chaeyoung, with Hello, my most anticipated song of the night, so of course, my phone decided to shut down. However, that didn't stop me from enjoying myself since I had memorized the choreography and was dancing with them… all the way from my seat. (And yes, I am a Hello defender. That song deserves justice since its release.) The last subunit performance is 1,3,2 by Jeongyeon, Mina, and Tzuyu, which resulted in eloquent and elegant dance moves, having the princesses of TWICE with some Latino sounds to it that I enjoy.
Then one of the sweetest songs came on: Candy. I couldn't help but get emotional from the lyrics, while the song reminded me of one of my friends and former coworker, Purumi.
We could see TWICE wearing their merch at this point, which after a long debate with myself, I didn't purchase — not like I could anyway. They sold out in size small. At this point I focused on the center stage, where TWICE was being showered in confetti, and Jeongyeon was following Chaeyoung as if it was snowing, Dahyun and Sana joining in.
Likey's trumpets were blown. This is my skincare and makeup song— BB Cream 파파파—. The one I sing when teasing my friends, or to myself while studying, so it was inevitable to sing along with Sana.
A sisterly hug was shared between Dahyun and Tzuyu as if they were saying, "we've made it this far."  Then the wrap-up for the show started, with most members thanking us for waiting for them. Dahyun seemed the most animated, throwing us a finger heart, while taking pictures with the fans.
Tzuyu, came on screen to say how she is happy even if she tends to be shy. As she says goodbye, she mistakes Korean for English, and begins saying "감사합니다 — ah, thank you"
It was then time for their encore songs. The first one being TT (an emoticon that resembles a crying face). Firework, where Momo showed her salsa dancing skills with Nayeon and Jeongyeon, later rolling on the floor, and Mina joining them. Yes, or Yes, a song I love to hate. Then their debut song came on, Like Ooh Aah with Momo's dance break. Signal came on, as their last goodbye leaving them to hide between the stage's three I's.
I do wish I had gone both days, just one to film, and the other to just experience TWICE, however, it is a core memory that'll stick with me forever. As a Once, I loved seeing my favorite girl group in concert, it still feels surreal to this day. These are girls that have trained for so long, and have amazing stage presence and talent; they were born to perform, so seeing the encore stage with their most popular songs is definitely something worth doing, plus the energy from the crowd will certainly Cheer Up your mood.
TWICE is performing their encore performance at Banc of California Stadium on May 14, 2022. Get your tickets here.
---
READ MORE LIKE THIS