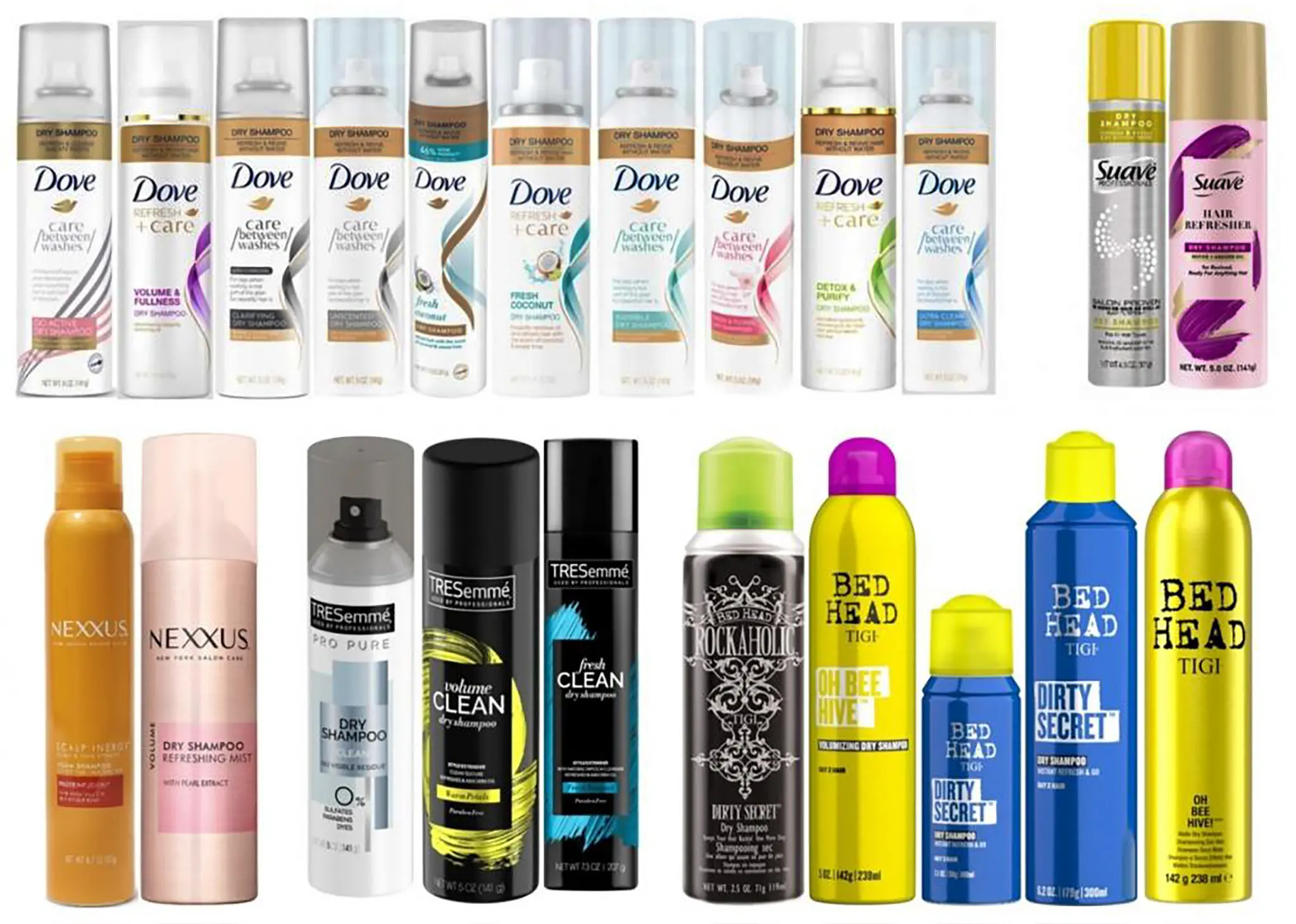 Beauty big-dog Unilever has voluntarily recalled several of their dry shampoos across their portfolio in the United States and Canada for containing "potentially elevated levels" of the carcinogen benzene. The brands affected include Dove, Nexxus, Suave, TIGI, and TRESemmé.
Unilever identified the 19 SKUs by their batch codes and released a statement on the issue. According to the statement, "Based on an independent health hazard evaluation, daily exposure to benzene in the recalled products at the levels detected in testing would not be expected to cause adverse health consequences. Unilever U.S. is recalling these products out of an abundance of caution."
What products were recalled?
Dove Dry Shampoo (Volume and Fullness, Fresh Coconut, Fresh and Floral, Ultra Clean, Invisible, Detox and Purify, Clarifying Charcoal, Go Active) Nexus Dry Shampoo Refreshing Mist, Inergy Foam Shampoo, Suave Dry Shampoo Hair Refresher, Suave Professionals Dry Shampoo Refresh and Revive, TRESemmé Dry Shampoo (Volumizing, Fresh and Clean) TRESemmé Pro Pure Dry Shampoo, Bed Head Oh Bee Hive Dry Shampoo, Bed Head Oh Bee Hive Volumizing Dry Shampoo, Bed Head Dirty Secret Dry Shampoo, and Bed Head Rockaholic Dirty Secret Dry Shampoo. The full list with batch codes may be found here.
What is benzene?
Benzene is a petroleum-based gas. It is known to cause cancer in humans and lab animals — namely leukemia and other disorders that affect red blood cells.
According to a toxicity assessment by the Centers for Disease Control and Prevention, benzene may also damage the central nervous system and reproductive organs.
What is the safe limit of benzene in cosmetics?
In most cases, the FDA recommends avoiding benzene completely.
Why is there even benzene in cosmetics, then?
Benzene isn't directly added to cosmetics but rather a byproduct of other ingredients. "FDA scientists hypothesize that contamination may come from inactive petroleum-derived ingredients, such as carbomers, a thickening agent, or isobutane, a spray propellant." They also add that benzene could come from "ethanol produced without adequate purity control."
What do you do if you've purchased or used any of the recalled products?
Unilever is offering reimbursement to those who have purchased products affected in this recall. You can head to unileverrecall.com to learn more.
---
READ MORE LIKE THIS