Growing up I was never interested in trucks and tools.
I was, as far as I can remember, an artsy boy, obsessed with reading and not a fan of being outside. I hid my queer feelings even from myself, living in disguise as best I could, repressing my more feminine side. With two years under my belt as a BTS fan, I ventured further into K-pop in 2019 and discovered girl groups in all their glitzy, glamorous, and effervescent energy. It was a big deal to realize I wasn't attracted to them — I wanted to be them.
SEE ALSO: AAPI communities deserve mental health support. Here's how to start
I remember teaching myself to walk "straight," one foot in front of the other, because I was told I walked "gay." I compromised on who I was, and who I could have been, to fit in — the textbook childhood for anyone who is different. Watching ITZY chant "I don't wanna be somebody, just wanna be me" and "I love myself, cause I'm so 달라, 달라" makes me feel like the baddest bitch alive. If their songs come on shuffle, you'd best believe I will "walk gay" and zero part of me will care about what you think.
Indigenous Māori, my ancestors, believed we possess both feminine and masculine qualities because we come from a mother and a father. The only way to find equilibrium is to embrace both. I don't resent the compromises I made in my youth, but girl groups are continuously helping me reclaim the feminine energy that I was never given permission to nurture. With the power of ITZY and their 'take no shit' attitude, I grant myself that now. I also wondered if this experience was more universal than unique, so I spoke to four other K-pop fans to hear how they've also embraced their femme.
Waves, 19-years-old from New Zealand (they/them, he/him)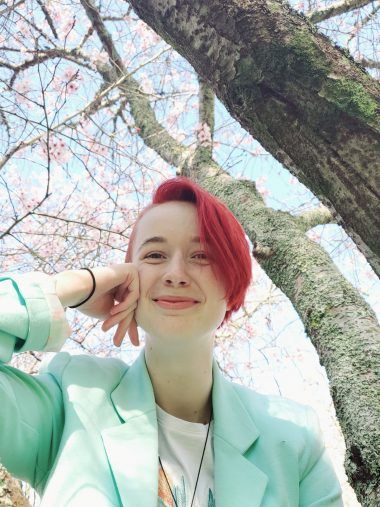 Watching Mamamoo reach for the stars has been rewarding for Waves, who was "super uncomfortable with being feminine at all," only wearing baggy clothing. When they joined New Zealand's premier K-pop dance crew, KDA, they learned more girl group choreography like Mamamoo.
"I'm more comfortable with accepting my feminine side," Waves says. "Although I still hate people assuming I'm a girl, I'm much more comfortable in how I present now, rather than just hiding myself."
Waves could wax poetic endlessly about their love for Mamamoo. "They are so genuine and they don't seem as 'cookie cutter' as other groups," they say. Of course, they are referring to Mamamoo's unpredictability and incredible musical output. "They are comfortable being very sexy and girly, but also being in suits and showing a masculine side." It's this aspect that has pushed Waves to embrace their duality.
To simplify any labels, Waves refers to themself as 'queer.' With the example set by girl groups like Mamamoo, Waves has found clarity and pride in their identity. "Connecting more with my feminine side helped me because I am made up of both femininity and masculinity, like everyone. And I was denying a whole part of myself and it made me super unhappy."
JËVA, 25-years-old from Australia (he/him)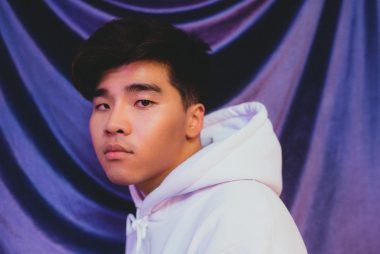 Australia's breakout pop artist JËVA was influenced from a young age by Girls' Generation, also known as SNSD. He would separate their K-pop concepts from that of boy groups, which revolve around "appearing masculine, cool, tough, and suave," he says. "I wasn't really interested in that because as a closeted gay teenager I already had to think about consciously acting more masculine."
Girl groups for JËVA were "freeing, bold, brash, confident, and sassy," he says – like a form of escapism. "When I was dancing or listening to my favorite girl groups, I felt free. I felt like I was one of the members. It felt like an escape where I could let loose and embrace my femininity in the music and not worry about appearing 'not masculine enough.'"
It was widely known across JËVA's old high school that he was obsessed with SNSD— an all-boys school, no less. He watched every variety show, knew every song and choreography, and printed his own custom laptop case with them on it. "The fact that everyone knew of my fanatic obsession almost made it widely accepted. I think even just being able to do their 'genie leg flick' dance in the school canteen let me have an outlet of self-expression and embracing feminine energy." Growing up, they felt like family to him.
Beyond this, JËVA reminds himself that the true reason he listens to music that is foreign to him is because of the feeling it gives him. "There is a genuine euphoria that runs through my veins when I'm really feeling a girl group song." He notes that men are "discouraged from exploring empowerment through a female lens as it's seen as not manly." By listening to girl groups and imbuing ourselves with its power, he says, "we translate this energy into a form of self-acceptance and empowerment for the feminine aspects of ourselves as queer men."
He's not as obsessed with them nowadays, but you can bet that anytime the K-pop's girl group songs play in public, JËVA will "unapologetically embrace [his] feminine energy and give the dance attempt [his] all."
Salinger, 31-years-old from California (he/him)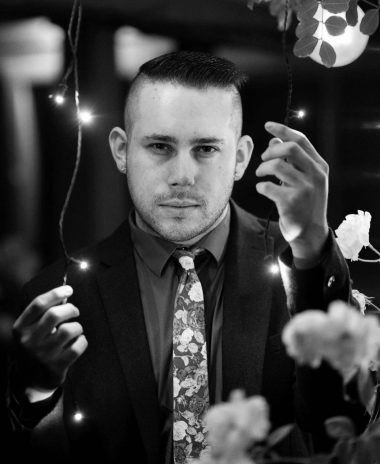 "Unapologetically feminine" is the way Salinger describes the girl groups that he admires so much, citing their confidence and prowess in "doing their thing." Having been in the closet for most of his life, he finds real strength in JYP's TWICE, whose music releases tend to bookend significant moments of his journey towards self-acceptance.
"I feel as though femininity comes in many shapes, sizes, and in K-pop — concepts." Twice's concepts are the soundtrack to his life, from childhood to adulthood. Their 2016 track 'TT' gave him the youthful femininity he was always denied. "I felt young and actualized."  Twice's 2018 hit 'What Is Love' represented a romantic love he was denied through adolescence and well into his college years. "It was as if I was asking myself the question, what is love, and continuing to learn what that may entail."
But it was their 2020 viral song 'I Can't Stop Me' that filled him with simultaneous power and vulnerability. "It's a remarkable type of feminine shape. It feels complete," he says. "I was always denied my identity growing up but during that time I never knew the complexities of how far that runs deep within me and other gay men."
"Girl groups help me feel at home with myself, and no one can stop me when I am most connected to my inner self," Salinger says, admitting the indelible impact of TWICE. "And when my feminine side is embraced and loved, I feel the most in love with me."
Stephan Lee, 30s from New York City (he/him)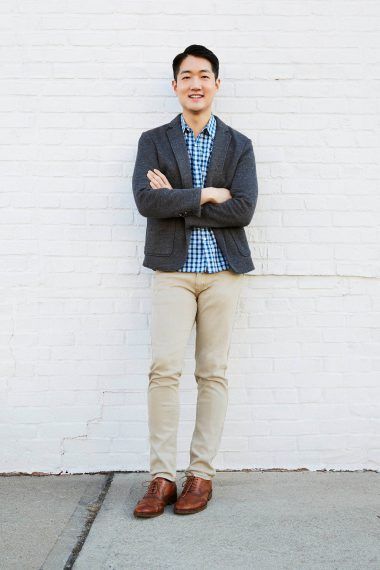 "I've always been obsessed with female pop stars in general," Stephan says. "Ever since I was a very young kid, I was always drawn to female singers. I was obsessed with Judy Garland in Wizard of Oz and even Minnie Mouse performing at Disney World."
It comes as no surprise that years later, Stephan is now the author of Scholastic's "K-pop Confidential,"($10) a coming-of-age novel that follows Candace, a young Korean-American girl who trains to become a K-pop star.
"There's a unique blend of vulnerability, strength, and glamour about female pop stars that always appealed to me as a young queer Asian kid growing up in Atlanta, Georgia. I loved the power they possessed to command a stage and be at the center of the spectacle around them – it always seemed like a very different type of power from typical male power."
Growing up, Stephan was obsessed with Spice Girls and Destiny's Child, but later became a massive K-pop fan. "I was obsessed with 2NE1, Girls' Generation, Red Velvet, BLACKPINK, Twice, and so many others," he says. "I love both the 'girl crush' and 'cute' concepts in K-pop, which I see as equally powerful, although of course groups are not limited to that dichotomy." It's a stark contrast, he notes, to the presentation of Western male artists. "[They] often have to do certain types of dance choreography to stay within masculine standards, and fewer wear bright colors and eye-catching costumes and makeup."
"I remember when I was young, I was always sad that I didn't have any posters that I wanted to put up on my walls in my bedroom," Stephan says. "I had an older brother who conformed to more standard gender identity—loved sports, country music—and I felt I couldn't put up the posters I wanted because I didn't want to incur his judgment or wrath." Now that he's an adult, his New York City apartment is decorated exactly the way he wants it – yes, with posters of female artists.
If you asked Stephan for concrete proof of the impact that K-pop's girl groups have had on his life and in embracing his feminine energy, there is no answer more beautiful than the pages of "K-pop Confidential," which besides its immersive fan-candy world-building, feels like a tribute to the groups he adores.
Girl groups possess power that is changing the world. For all their well-rehearsed choreography, for all their blood, sweat, and tears, by expressing the full spectrum of femininity, they have allowed us as fans to reclaim even a small part of that energy for ourselves. Girl groups like BLACKPINK may be the revolution, but we are leading the charge.