Who knew affordable minimalist beauty and the new luxury Brooklyn-based fashion brand would pair so well together?
Together, Undone Beauty and Connor McKnight were the duo we didn't know we needed at New York Fashion Week and proved that affordable makeup can be high fashion.
SEE ALSO: What it's really like to be a Black and gender non-conforming model in New York City
Getting that glowy base with Undone Beauty
Backstage, head makeup artist Tomomi Gonzalez walked me through the makeup applied on the models for the show. It wasn't long until I realized Undone Beauty was an affordable dupe for many of my fav Glossier products.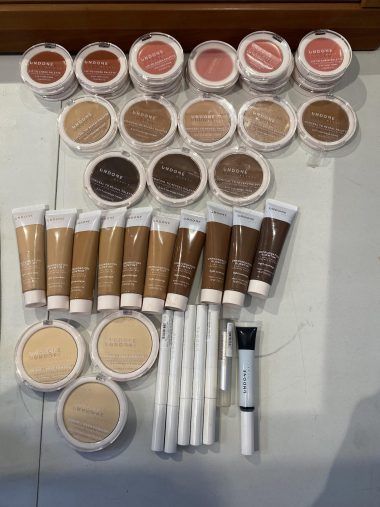 This was Tomomi's first time using Undone Beauty, though the brand was perfect for the look on the models she was going for. Tomomi describes her preferred style as a makeup artist as "clean, simple, light, and natural makeup," and opted to follow suit for the show so that the focus would be kept on the clothing being presented. Along with a focus on simplicity, neutral matte lips, feathered brows, and glowy skin were planned for the show.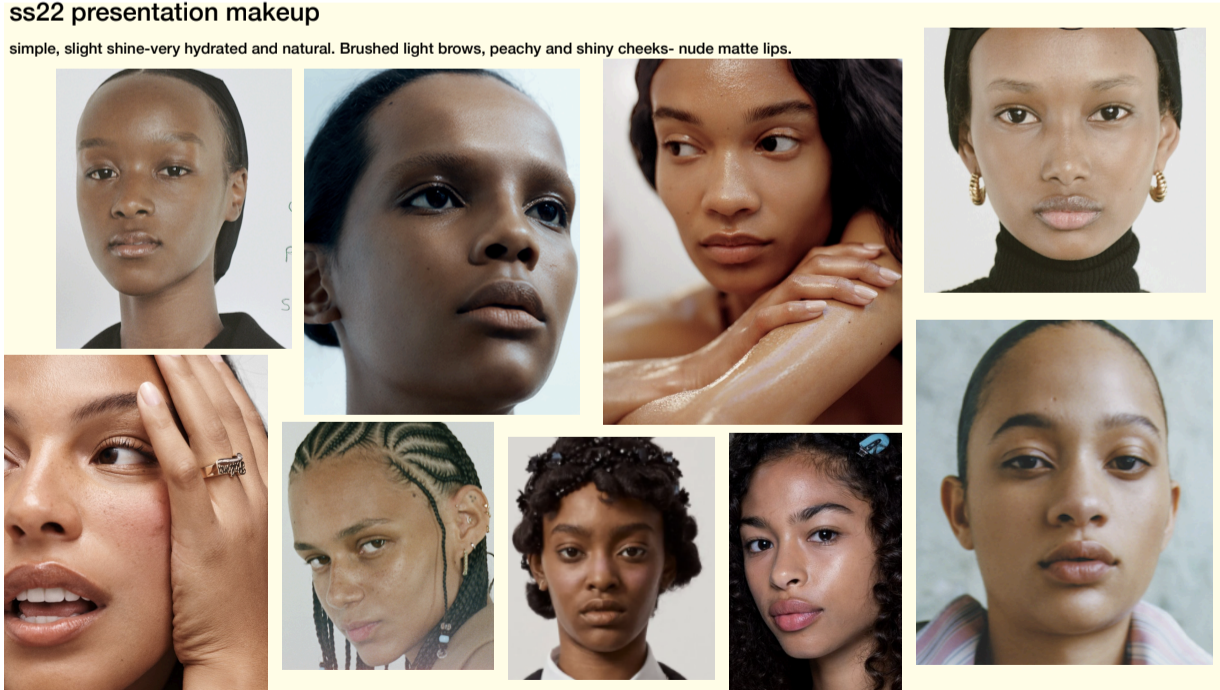 As a foundation or skin tint, Tomomi used Unfoundation Glow Tint ($14) — a very fitting name. We both marveled at the diverse shade range the product had to offer. Rather than using a highlighter, Tomomi opted to use the light coverage tint to create a lit-from-within complexion on the models. Glow hard or go home.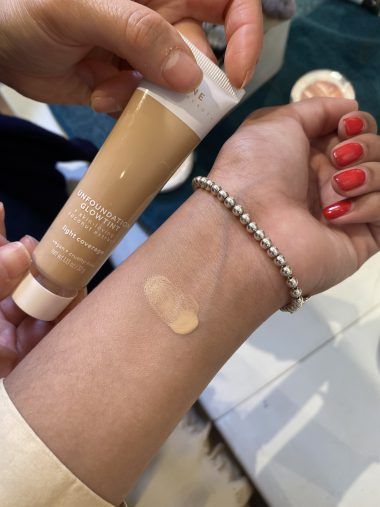 3-in-1 concealer and blush
While Undone Beauty could be considered a dupe for your favorite minimalist beauty brands, their product offerings are unique in their own right. When Tomomi brought up how she was building up coverage as needed, I assumed she meant she was doing so by applying more of the same product. I'm glad I guessed wrong.
She brought out Undone's concealers and multi-use blushes, respectively called Conceal to Reveal 3-in-1 Coverage Palette ($12) and Lip to Cheek 3-in-1 Cream Palette ($14). They both come in identical retro compacts, but get this — each compact has three sections of the same shade, divided by varying coverage. So for instance, one small concealer compact would have sheer, medium, and opaque formulas to choose from. Just one compact has something for everyone.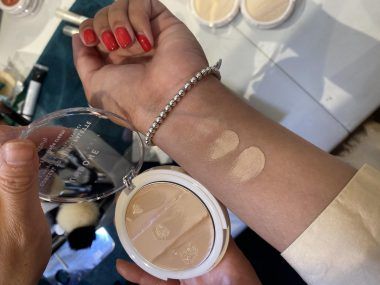 The same goes for the cream blushes she used. The shades used were Rosewood, a peachy red with warm undertones, and Blazen, a sunny coral with warm undertones.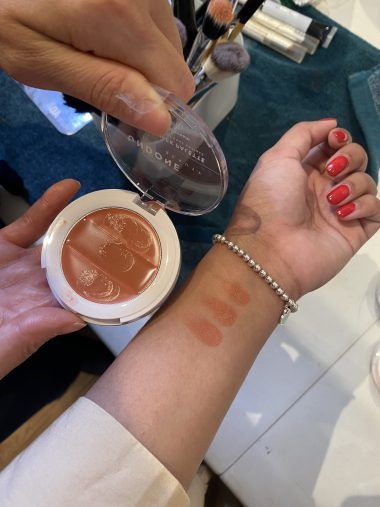 Tomomi says her favorite is Rosewood (pictured above), which she lightly tapped onto the models' eyelids as well. "It's not too pink, it's not too orange. It's the perfect neutral."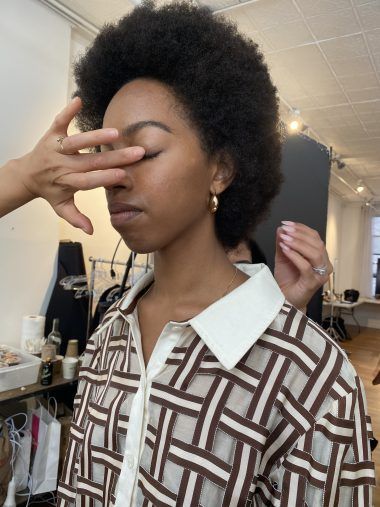 Finishing touches
Tomomi says she only needed around 15 to 25 minutes to finish makeup on each model. To set the base, she would then powder a model's t-zone with Over/Under Prime + Set Powder ($12). "It has a very light finish," she says. "It makes the skin not too shiny but not too matte."
Instead of traditional contouring, she added subtle dimension by using deeper shades of Unfoundation Glow Tint around the edges of the models' faces.
For brows, Tomomi says she wanted them to appear "dramatic" so she used Flawlush Brow ($12). She showed me how it's double-sided, with a gel-wielding spoolie on one end and a precision felt tip on the other.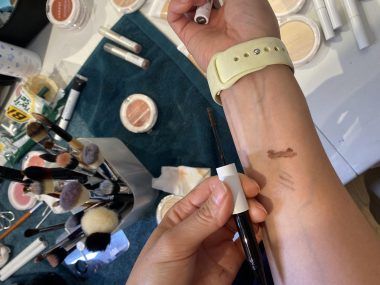 Tomomi raves about the Laze Lash Glaze Mascara ($10), which she says made the eyelashes, "not too dry, not too clumpy," and she further describes it as "volumizing."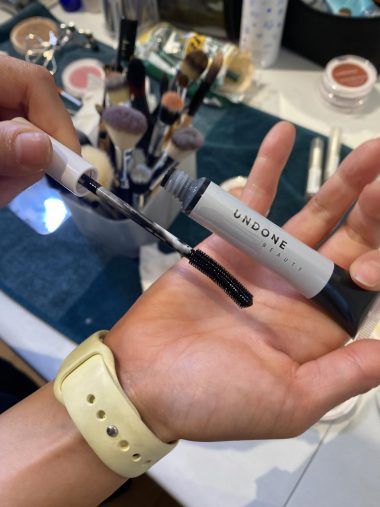 Last but certainly not least, the lips. She used Matte Talk Lip ($10), a vegan lipstick, in shades Baby Beige and Velveteen.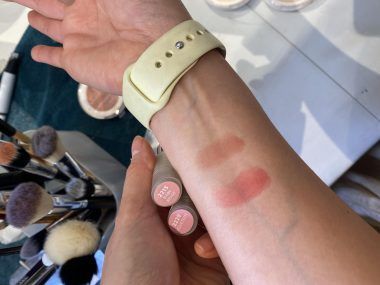 ---
READ MORE LIKE THIS