I have an incredibly cluttered makeup collection.
Lipsticks I refuse to give up (but never use?), impulse buys still in packages, and I have enough highlighters to make a small city glow. I don't think we can call this hoarding, perhaps mindful collecting.
I think it's an issue we all face if you love beauty and have a passion for it, we're not accustomed to just buying the essentials. For as long as new products launch, we'll always be eager to try; thus leaving us with an ever-growing collection.
SEE ALSO: The 5 lip products these male K-pop idols can't live without
But as the pandemic caused me to take a hiatus from wearing makeup, I found myself wondering if I would ever use half the sh*t I own ever again. I was surprised at how easy it was to throw away or recycle the products I deemed unworthy of holding onto. I didn't even have to ask myself the Marie Kondo saying, "Does it spark joy?" I went for it and started anew.
I challenged myself with only the essentials. This included not only reorganizing my entire beauty stash, but my everyday makeup bag. It only needed to hold a few multipurpose products, which ultimately lead me to a makeup brand called Minori.
Minori Beauty
In case you're unfamiliar, Minori is a makeup brand completely rooted in minimalism. And as the conversation around "skin-minimalism" and pairing down our routines intensified, I heard about Minori more and more. The brand was launched by Anastasia Bezrukova, (who is no stranger to Marie Kondo's methods of tidying up and decluttering) when she realized her impulse shopping habits were fueling a lot of anxiety.
Eventually, Anastasia became a certified KonMari Consultant in her spare time and was tidying up the homes and vanities of others. Many of her clients were struggling to get through their beauty and skincare purchases, and overall it was a source of stress and clutter. These conversations sparked Anastasia's idea to launch Minori, a brand that is consciously made to provide everyday essentials to everyone.
Minori has three products, a lip gloss, a cream blush, and a cream highlighter. All of the products come in universal shades that compliment many skin tones and moods. It definitely takes out the deliberation and guesswork we go through wondering if makeup products will suit us.
And no need to stress about what to do with your products long after they're gone. They'll send you a prepaid return label and recycle all of your packaging for you.
Minori's community
I can't think of a makeup brand that really sticks out when it comes to community. Sure, lots of brands feature fun blogs and showcase their customers but Minori goes beyond your typical customer shout-outs on social.
Not only do they have a blog that uplifts members and writers from their own community, but they also have an ongoing program for makeup artists from all over the states as well as Canada. These makeup artists distribute educational content to the Minori community, inform product development, and you can even find one in your area if you're looking to book a makeup artist for a special event. Plus, if you're a makeup artist yourself you can sign up to work with Minori too.
Minori review
This was the first product I tried because I am seriously picky about lip glosses. I'm so over the sticky products. My favorite formula is Tower 28's, a high shine gloss that nourishes and feels like a balm on your lips.
I tried on the Minori Lip Gloss and I instantly felt like I was cheating on Tower 28. With one swipe, I was in love. I threw it in my bag for good. I was surprised how long it lasted before I needed to reapply.
It's vegan, hydrates with jojoba oil and shea butter, and I feel it's a good price. Blossom and Juneberry are very similar shades and have a slight berry tone, while Cozy looks more rose gold pink. Don't sleep on the Cloudy clear shade – it's a must.
I always prefer cream blush to powder because it looks more natural on my skin. This formula was easy to blend, and while you certainly can use a beauty blender, I preferred using my fingers and working it into my skin that way. It's not too dewy and it also doesn't dry skin out. It just lives on your skin like a natural flush would.
I've used this both on it's own and on top of foundation, and it looks perfect either way. Personally, I prefer Scarlet, as it's a red with poppy undertones, while Orchid is a bit of a deeper mauve color. For how little you need each application, the price of this pot is well justified.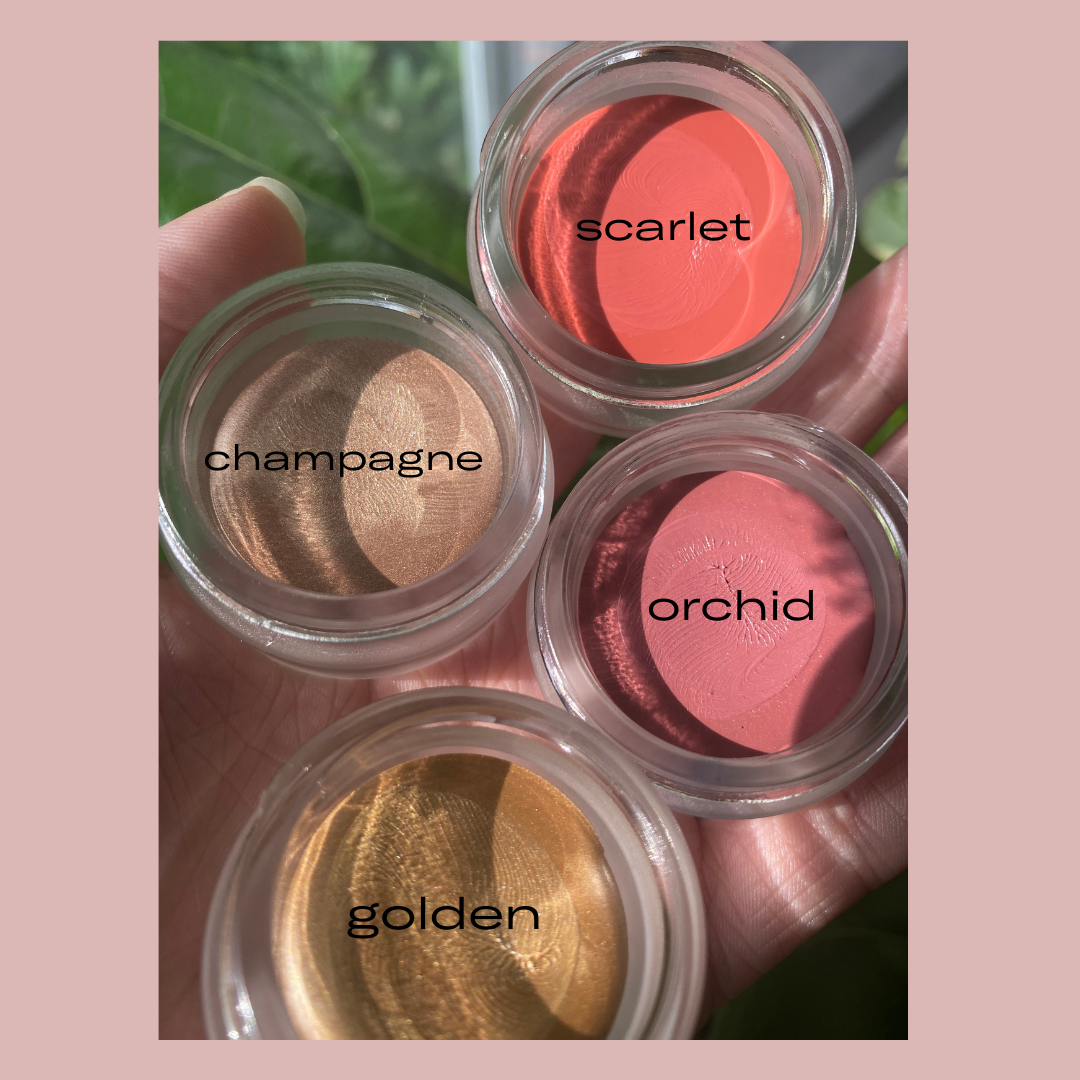 If you have really enlarged pores, acne, or any other kind of texture on your skin; cream highlighters can be a bit of a challenge to use. No matter how much I blend, you can alway see the swipe pattern of how I put the product on my skin. So, cream highlighters I haven't had much success with. I usually opt for light liquid formula.
I was pleasantly surprised when I tried Minori's though. It did have some sort of dry down so those swipes I mentioned weren't as visible as I've experienced before.
But as much as I love using it as a highlighter, the real gem in this product is that it looks amazing on the eyes. I like to blend both golden and champagne together for the perfect bright eyed and cheeked look.