The greatest scientific innovation of recent years isn't the development of multiple effective COVID vaccines, although that's a close second.
The real cutting-edge technology is that they finally managed to bottle hairstyling legend and "Queer Eye" star Jonathan Van Ness' infectious positivity, bubbly passion, and innate talent into an incredible 10-product haircare brand. Can you believe?!
SEE ALSO: Here's what you need to know about the lawsuit against OGX
Coming to JVNHair.com and Sephora.com on August 31, 2021, JVN "encourages everyone and anyone to come as you are."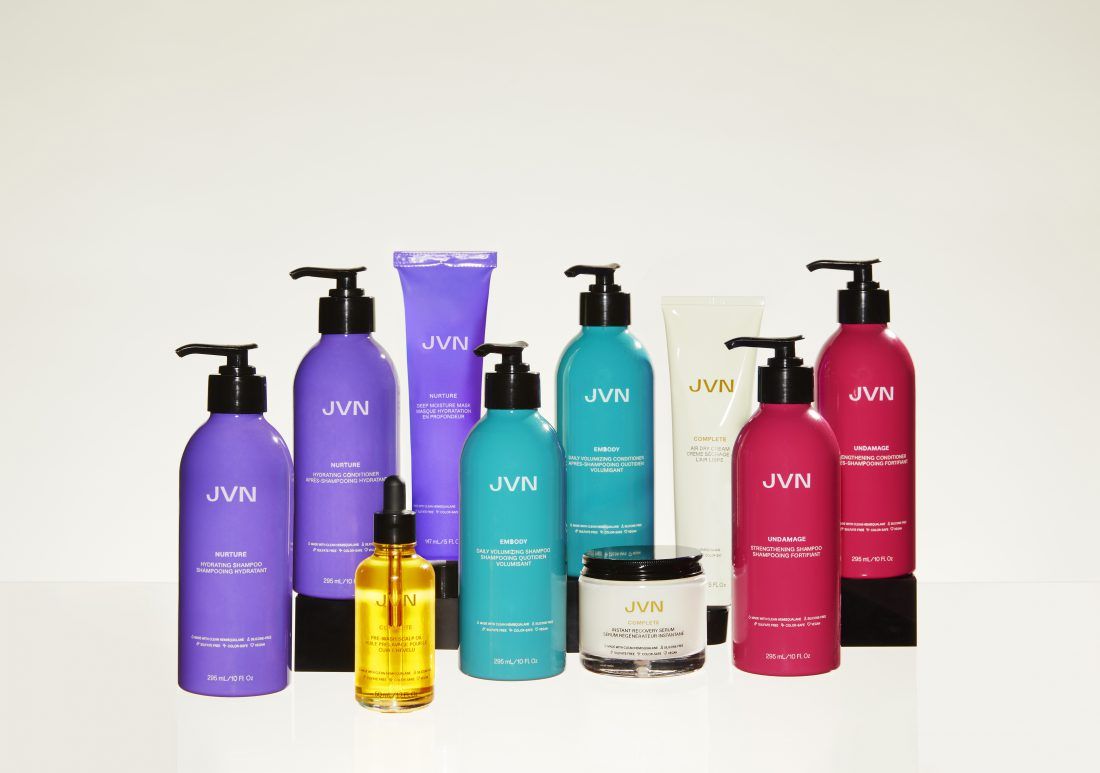 JVN Hair launch
JVN is launching with four collections: the Complete Collection, featuring three treatment and styling products for all hair types; the Embody Collection, a volumizing shampoo and conditioner; the Undamage Collection, a strengthening shampoo and conditioner; and the Nurture Collection, a hydrating trio of shampoo, conditioner, and hair mask.
Jonathan spent the last year and a half formulating the products in partnership with skincare brand Biossance's parent company, Amyris. Jonathan and Biossance have been working together since 2019, when the brand named the grooming guru as its first-ever celebrity ambassador.
"I'm so full of gratitude to share with you that after years in the making I'm launching my very own haircare brand!" Jonathan wrote in the announcement post on Instagram earlier this year. "@biossance has earned my trust in skincare over the years and we're ready to take our relationship to a whole new level. GAME CHANGER ALERT 🚨 I'm teaming up with their parent company Amyris to develop their, and my, first ever haircare line!"
In creating this new line of products, sustainability and inclusivity were top priorities for Jonathan and Biossance/Amyris. All products are made of either recyclable aluminum or glass and feature post-consumer-recycled caps and pumps. The products are silicone-free, color-safe, vegan, and sulfate-free. They're designed to be used by everyone and anyone – regardless of gender.
"Hair doesn't have a gender," said Jonathan. "We want to empower everyone with the ingredients."
According to Jonathan, the products are carbon-neutral once shipped, and the brand promised to be plastic-free by 2025. Many hair and skincare brands only tick one or two of these boxes, but JVN is clearly thinking towards the future in its sustainability initiatives.
JVN Hair ingredients
All formulas feature patented sugarcane-derived hemisqualane, which is a clinically proven, sustainable, and superior alternative to silicone. Hemisqualane safely works to protect hair from color fade; reduces damage; prevents breakage; smooths frizz; and strengthens hair without product build-up or environmental harm.
If you're a fan of skincare, you'll probably recognize a few of the ingredients in the new line. The Complete Instant Recovery Serum ($28) features niacinamide to help support keratin repair, while the Air Dry Cream ($24) features moringa seed oil to add softness, shine and luster. Caffeine, camellia seed oil, panthenol, and ceramides also play supporting roles in the formulation.
While beauty conglomerates like L'Oreal certainly develop skincare and haircare under the same roof, JVN is the first instance where a smaller brand has made the leap across categories. It's obvious that Amyris's commitment to sustainably produced squalane and clean ingredients has made it into the ethos at JVN.
In a pre-launch press event, Jonathan gushed about the four collections, claiming he couldn't pick a favorite… but if he had to, the pre-wash scalp oil (part of the Complete collection) might be his favorite product of the entire line. Made with basil root extract to help minimize hair loss, the nutrient-dense golden oil works as a pre-shampoo treatment to promote stronger, shinier, longer and healthier-looking hair.

In addition to the launch on August 31, 2021, JVN himself is also going on tour to promote the new line. He'll make stops in Austin, New York, Miami, and Los Angeles where he'll be giving attendees the inside scoop on how the products were developed, how to use them, and if you're lucky, you might even be styled by Jonathan himself. RSVP here on JVNHair.com.
JVN is available at JVNHair.com & Sephora.com on August 31st and Sephora Stores on September 17th.
---
READ MORE LIKE THIS