Consumer expectations for the Glossier empire are high.
All eyes are on Glossier; it's not an indie brand anymore. The brand just raised $80 million in Series E funding and has big plans to scale its online and offline channels globally. Glossier launched their much-anticipated line of bronzers today, and unsurprisingly, the internet has some thoughts.
SEE ALSO: An in-depth investigation into why Glossier quietly discontinued its Play line
Glossier Solar Paint Bronzers
Last night Glossier cryptically teased a drop via Instagram.
And this morning they delivered. Or did they?
In the post, Glossier described the brand new "luminous bronzer crème" as "designed to capture that warm glow you get from spending a day in the sunshine. It's about that *feeling*, you know? Like you just had the perfect day and you're all glowy and bronzed as a bonus."
Solar Paint ($20) comes in four shades: Flair, "a light, neutral bronze with gold pearl for fair-light skin tones," Ray, "a medium, warm bronze with gold pearl for light-medium skin," Heat, "a rich, brown bronze with gold pearl for tan-deep skin tones," and Volt, "deep, red bronze with copper pearl for deep-rich skin tones."
But is a shade range of four products enough to satisfy Glossier's diverse audience?
Are Glossier bronzers inclusive?
In a post-Fenty world, people expect brands to deliver on expansive shade ranges that drive inclusivity, especially if said brands are making such claims. On their website, Glossier says the following about the shades: "We community tested our shades until we landed on ones that were flattering and true to life—each tint was formulated with different color pearls and pigments to realistically capture how the sun warms each range of skin tones."
While the Solar Paint campaign features a diverse set of models across complexions and backgrounds, some are skeptical about how much the bronzers actually appear on deeper skin tones.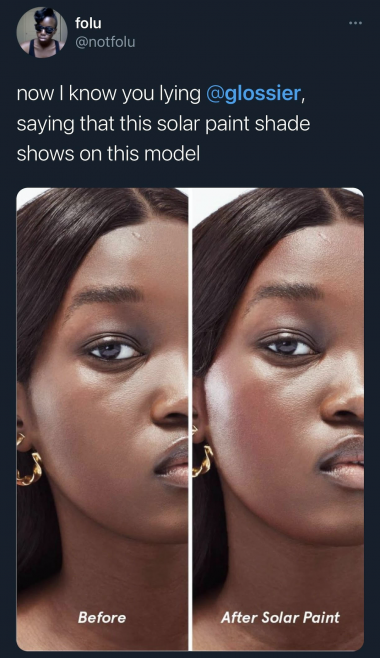 A recent job posting suggests that Glossier may possibly be taking steps to correct and expand its shade ranges. Recently, the brand shared (now closed) job listing on LinkedIn for a Freelance Product Development Associate. The position responsibilities include "supporting the Color Product Development team on the day-to-day development process – specifically for the Complexion category. This person will be the liaison for internal and external panelist testing and support the team with shade development and evaluation."
Luminous vs. matte bronzers
In an Instagram story post, beauty writer Tynan Sinks shared their thoughts on Solar Paint after receiving the product prior to launch. They also pointed out how they felt the shade range was limited and then suggested what work could be done to improve it. Tynan also shared in the post just how much they enjoy the bronzing crème.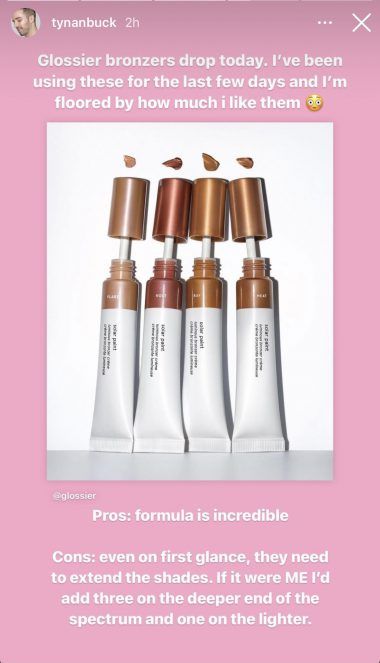 The luminous bronzer crème does, of course, carry a slight sheen, with what Glossier's website refers to as "a touch of luminosity from light-reflecting pearls and a thoughtful balance of warmth and dimension (so your bronzer looks just as natural in broad daylight as it does in your bathroom mirror)."
While many are excited about the luminous finish, others are apprehensive. Under a post about the bronzer drop on Trendmood's Instagram page, one user comments "No, not shimmery bronzers 😭😭😭." Another writes, "Shimmery bronzers are my mortal enemy. These literally look like highlighters…I hope they release matte ones eventually."

For fans of Glossier's Cloud Paint blush, you may be interested in the Solar Paint formula's similar gel-cream consistency. Because Solar Paint comes with a doe-foot applicator, it could be easier to apply as well. With this helpful addition and the new mysterious job posting, it begs the question: Could Glossier be listening?
---
READ MORE LIKE THIS