By now, your Instagram feed has been flooded with photos of the new Glossier makeup bag.
It is, of course, in signature pink and red Glossier colors, and super cute. Plus, it features measurements, giving it a spunky design and utilitarian feel. This kind of launch was expected from Glossier, and might I add, long overdue. From the moment it launched, influencers were screaming at the thought of scoring this for their shelfies. But, did you happen to catch the REAL star of this launch?
SEE ALSO: An in-depth investigation into why Glossier quietly discontinued its Play line
ICYMI—like, literally missed it—Glossier's launch post of the bag featured AN EAR OF CORN. Yup, an ear of corn. As in, of the vegetable variety. The cob, the husk, it's all there. The photo was somewhat hidden as the sixth photo in a carousel post of the bag. I'll admit, I missed this the first few times I scrolled through the post, but once I laid eyes on it, I couldn't unsee it.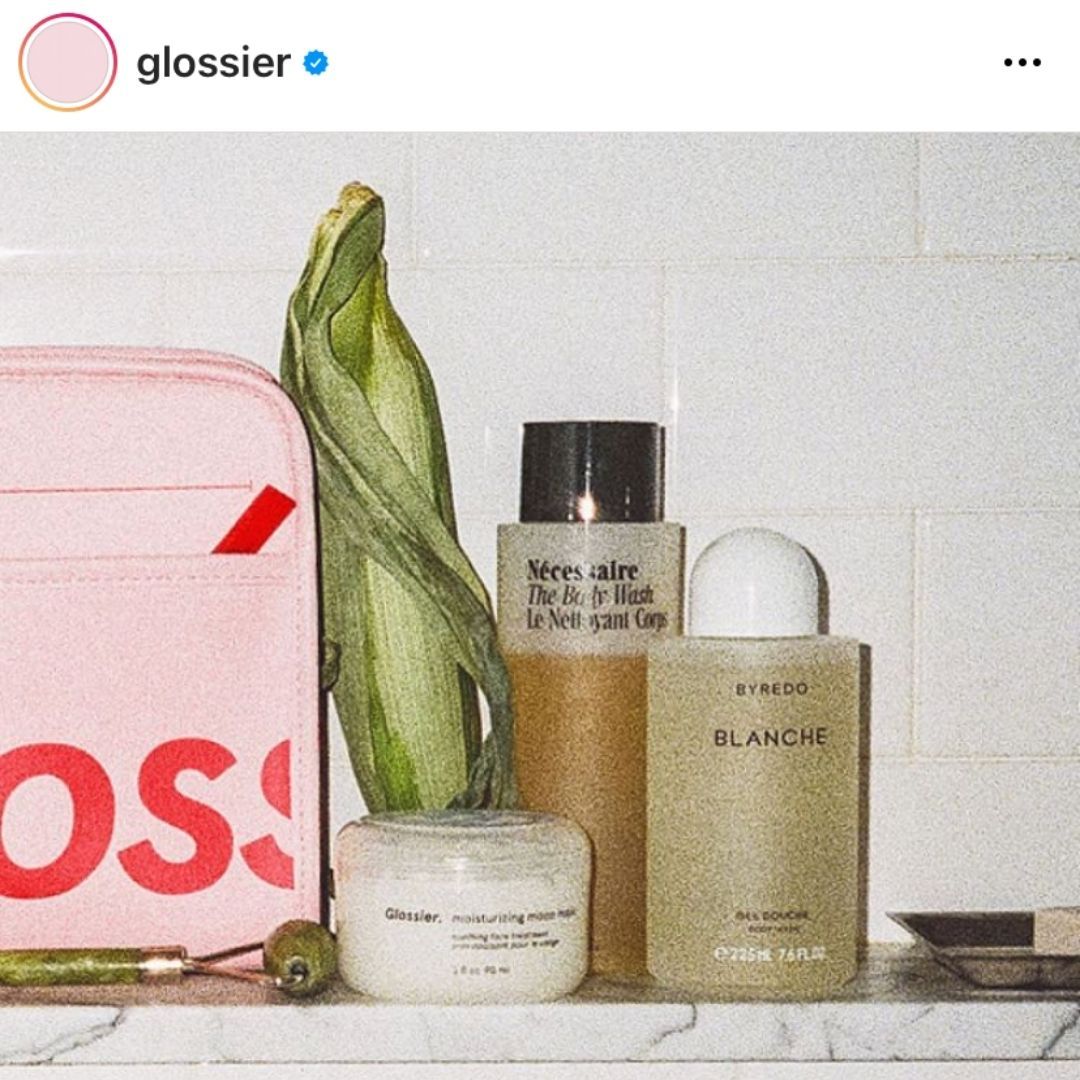 What surprised me the most was that few comments questioned the bathroom corn. People were more concerned with what products were stashed away. It seems Glossier lovers were trying to determine if there were any hidden Easter eggs in the makeup bag. Nope, just corn.
It's obvious these photos weren't your typical Glossier campaign images. For one, it looks like these pictures were taken on a film camera. Secondly, the bag is wedged between Chanel, Necessaire, and Byredo products in a bathroom setting. Not that Glossier doesn't ever showcase photos including other brands, but it's an odd flex for a launch post.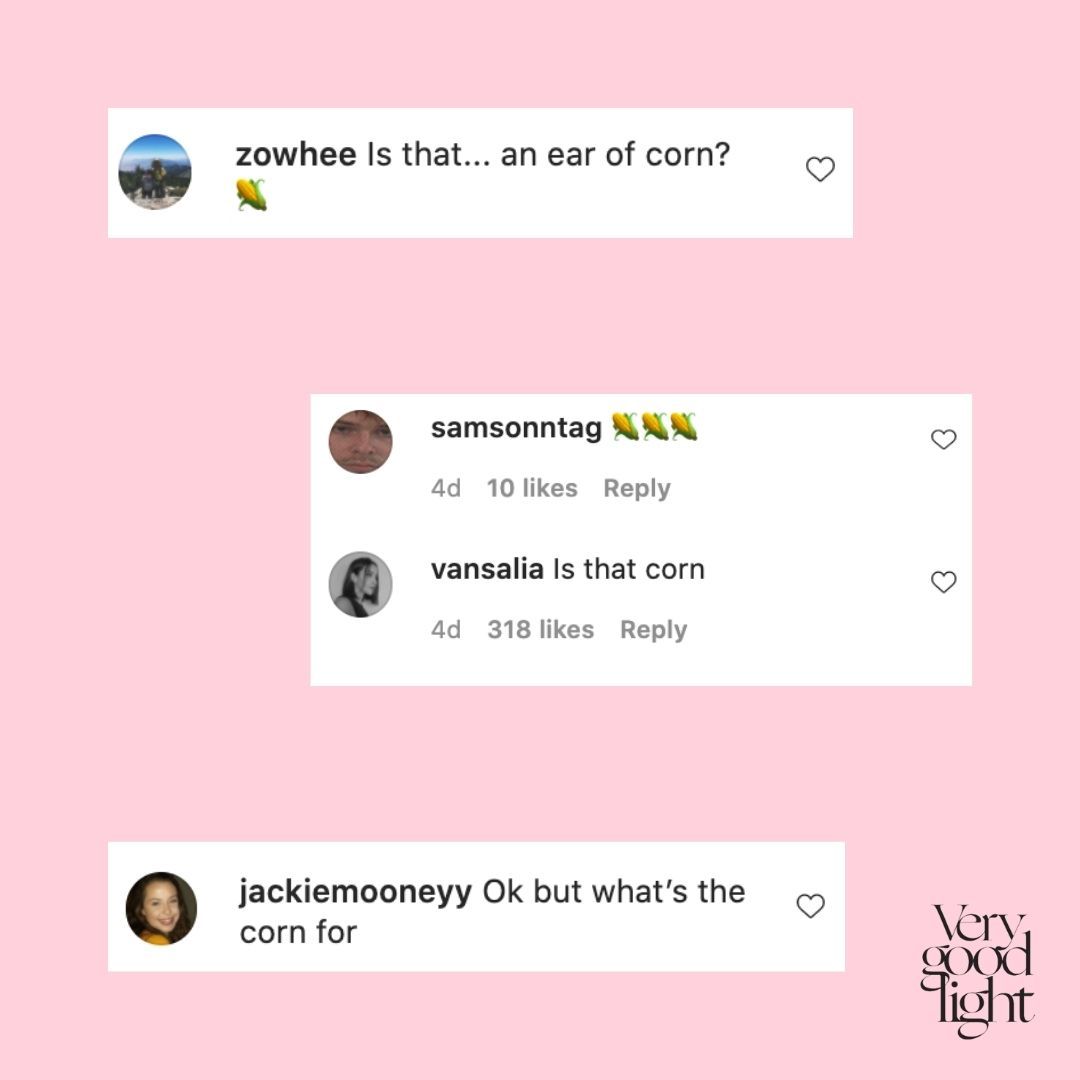 After some digging, I traced back these photos to photographer Jun Lu. He's taken photos in the past for Glossier, with his main subject being people. However, several of his photos feature people holding interesting produce like crazy-shaped green peppers, oranges, and pears. And, I think he has an obsession with corn. Just take a look at the below.
Jun Lu never got back to me about the mysterious Glossier corn, but I did snag a cheeky quote from Sam Sonntag, Senior Designer at Glossier. Sam designs all kinds of packaging (including your favorite monthly stickers) for the brand. He can be spotted on Glossier's TikTok taking viewers behind-the-scenes at the NYC HQ.
"You mean you don't keep an ear of corn in your shower?" he DMed back to me. He followed up with, "You know, I don't think anyone was prepared for the overnight star the corn would become," which makes me think Team Glossier is just as confused as I am.
But none of these findings answer the questions I have about this corn. The obvious being just WHY. Why was this corn even given an audition to be in this campaign? Is corn the new shower snack? I once tried eating an orange in the shower when everyone was talking about the sensorial experience of consuming citrus in the shower, and I didn't feel the hype.
Is this the last of the Glossier corn? I feel like we may see her again, or at least I kinda want to. I feel we'll get some answers if she becomes a well-known member of team Glossier. At the very least, this corn needs its own top-shelf right? Or is this corn THE top shelf? If I start seeing influencers with ears of corn in their top shelves, I'm not sure what my reaction will be.
I think it's safe to say that we might be in the very early stages of 'the dress' debate or 'the perfect egg' Instagram takeover. Only time will tell for the Glossier corn and her stardom, but for now, she's just another mystery of the internet.
READ MORE LIKE THIS