Meet Andrew Sotomayor, one of the makeup artists behind some of your favorite TV shows and musical productions including "Saturday Night Live" and "Pose."
Between being an Emmy award-winning makeup artist for cult classic and culture-pushing TV shows to some of the biggest shows on Broadway, this makeup artist has done it all.
SEE ALSO: Ryan Murphy's go-to wig stylist Chris Clark on his favorite Hollywood hair transformations
Andrew Sotomayor was born in Dallas, Texas, but grew up in Long Island New York. He discovered the beautiful and transformative powers of makeup during high school theater. "I saw that makeup had the power to transform somebody, and I learned how makeup can say something about you, whether you're playing a character or whether you're playing yourself, and that always inspired me."
With dreams of pursuing a career in front of an audience on Broadway, Andrew also dabbled in makeup by studying the works from masters like Kevin Aucoin, whose books he would read from cover to cover. "I would stare at the pictures of Christy Turlington and Naomi Campbell and Julia Roberts for hours and examine the makeup with a microscope," says Andrew.
Working on "Saturday Night Live" and Broadway
When he first landed in New York City, Andrew started picking up jobs at fashion week and making connections in the industry, all of which ultimately lead to landing a coveted role on the makeup team at "Saturday Night Live." In 2019 Andrew won an Emmy award for his work on "Saturday Night Live."
Fast forward to 2019, and Andrew's Broadway dreams finally came full circle when he was hired to design the makeup and the tattoos for "West Side Story" on Broadway. "It felt like every part of my life was coming together," he says. In this production, the cast wears over 100 hand drawn tattoos, all designed by Andrew and his associate designer Michael Clifton. The tattoos represented the two different cultures that the show portrays; American and Puerto Rican.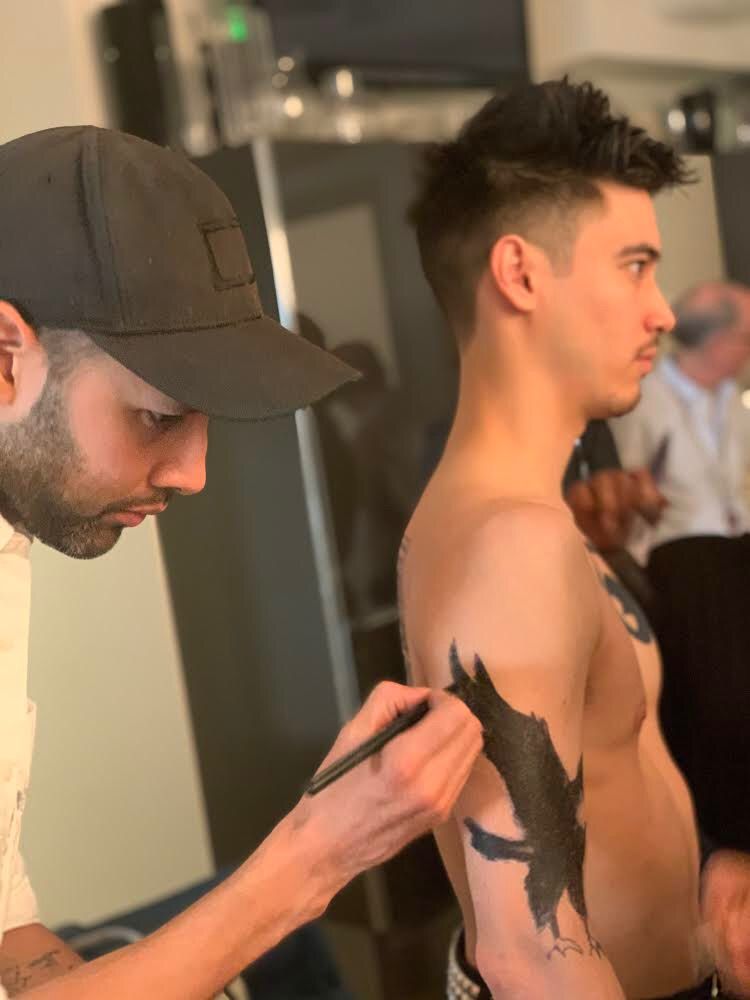 (Andrew on the set of West Side Story)
The evolution of beauty
Andrew began his makeup career with the idea of celebrating whoever is in your chair. However, he believes that we are living in very strange times in terms of beauty equality. "From the beginning, I have been aware that it's not been an equal playing field for all genders and skin tones."
When Andrew first started in beauty, MAC Cosmetics was the only place where makeup artists could find a diverse array of colors for every skin tone. "What's changed now is that when you look back 20 years ago, you kind of had to win the lottery to be considered beautiful based on beauty trends. Now, you have to pay to put a lot of stuff into your face."
Andrew has dedicated his practice to uplifting his clients and accentuating the features his clients love the most about themselves. Shifting away from the idea of covering and concealing everything, Andrew believes that everything should be brought into balance. "I want to see everything. I want all of it to feel beautiful," he says.
When asked by makeup department head Sherri Laurence to work on her makeup team for the pilot of "Pose," Andrew went back in time and got to take a deep dive into what life was like 35 years ago for the trans community. He had the unique opportunity to connect with queer folks from various generations and became immersed in the different and uniques experiences of queer people.
"It was so exciting and you could feel the energy in the room and just knowing that it was going to be a show told on their terms," Andrew says. "[There were] queer people at every level, from the makeup department to the writers to the cast to the crew members."
Oracle Jayne Station
Andrew is the founder, creator, and formulator for his own clean, vegan, and cruelty-free beauty line: Oracle Jayne Station.
"I wanted perfumes that smelled like they came from nature," Andrew says. The brand's scents and philosophy are inspired by Andrew's background and his grandparent's ranch in Arizona. The brand offers luxury perfume, hand soaps, body butter, scrubs, and more. All products are completely handmade from scratch by Andrew himself.
"I wanted to launch products that were made from scratch, that brought in my artistry, but that I knew were going to be newer, better, and different than what's out there." For his collection, Andrew sources the highest quality natural ingredients that support communities in need. His shea butter unrefined, organic, sourced from Ghana and supports a women-owned collective.
The Whipped Shea Butter ($38) is a rich and creamy body butter that hugs the skin providing a comforting, nourishing, and replenishing effect. It soothes inflamed and irritated skin on contact, while keeping skin moisturized until the next application. The brand also offers beautiful and vibrant colored Hand & Body Scrubs ($28) formulated with essential oils, Himalayan pink salt, and sugar, to buff away dead skin cells revealing brighter and softer skin.
📘
Read these stories next...
1) The best eczema creams for dry, itchy skin
2) Here's how to tell if your skin is dry or dehydrated
3) This is the one magical sleeping mask that banishes dry winter skin forever
4) Topicals treats serious skin conditions and rejects beauty norms in true Gen Z style