Your face is always out there.
It's the first thing people can see, and everyone wants to feel confident and comfortable with it. Painful acne, eczema patches, and visible texture can shake this confidence and cause both physical and emotional pain. A trip to the pharmacy to snag your clindamycin prescription to treat your painful cystic acne isn't fun. And being photographed alongside seemingly perfect-complexioned friends is a self-esteem killer.
SEE ALSO: What's the difference between prebiotic, probiotic, and postbiotic skincare?
For beauty lovers and even beauty beginners, the act of buying skincare sparks intense joy. As soon as you unbox or pick out the product everyone is talking about on TikTok, you want to mimic your favorite YouTuber and say, 'Welcome back to my channel,' and hold your hand behind the product to show it off to friends or your IG stories. But most often, if you suffer from a severe skin condition you don't get that fun unboxing moment.
But that's about to change. Two kickass WOC created Topicals, a brand dedicated to "funner flareups." Olamide Olowe and Claudia Teng wanted to make medicated skincare cool because they never saw people like themselves represented in beauty. Olamide has post-barbae folliculitis and Claudia has severe eczema. They founded Topicals to squash the idea of perfect skin.
As someone who struggles to control both cystic acne and eczema, I was incredibly eager to try Topicals. And after almost three months of using, I'm so ready to spill the tea on this interesting brand. Read on, Lighters!
The brand
Gen Z, all the way. It's a crazy cute brand, I must say. Their IG is curated with neon colors, cute icons, aesthetic product flat lays, and so many individuals we fail to represent in beauty. Well done, Topicals. Besides having a killer cute online presence, their products themselves fit right in. Both Like Butter and Faded come in aluminum tubes (there's something so chic about that!) and feature a bubbly font and adorable icons. It's like if Glossier, Everyday Humans, AOL Instant Messenger, and Tower 28 aesthetics had a child together.
There's something so refreshing to me in seeing someone with cystic acne absolutely beaming under sunlight. It feels amazing to see someone make something I hate about my own skin look incredibly beautiful and NORMAL.
"We were told people would think our products don't work if we decided to feature people with skin conditions," Olamide told Very Good Light. She and Claudia stood their ground when getting advice from industry professionals. This was one thing they were very passionate about, having felt underrepresented themselves in many ways within the industry. For Topicals, it's important to show real and true stories. This is what has made their community thrive since day one. The brand even SOLD OUT just days after launch – both on their direct to consumer site and Nordstrom.
In October, Topicals launched their version of 'The Burn Book" from the popular 2000s movie "Mean Girls." On their website, you can flip through pages of beautiful people and their skin stories. The last question they always ask everyone: "Beauty standard you wish would die?" It's so fetch.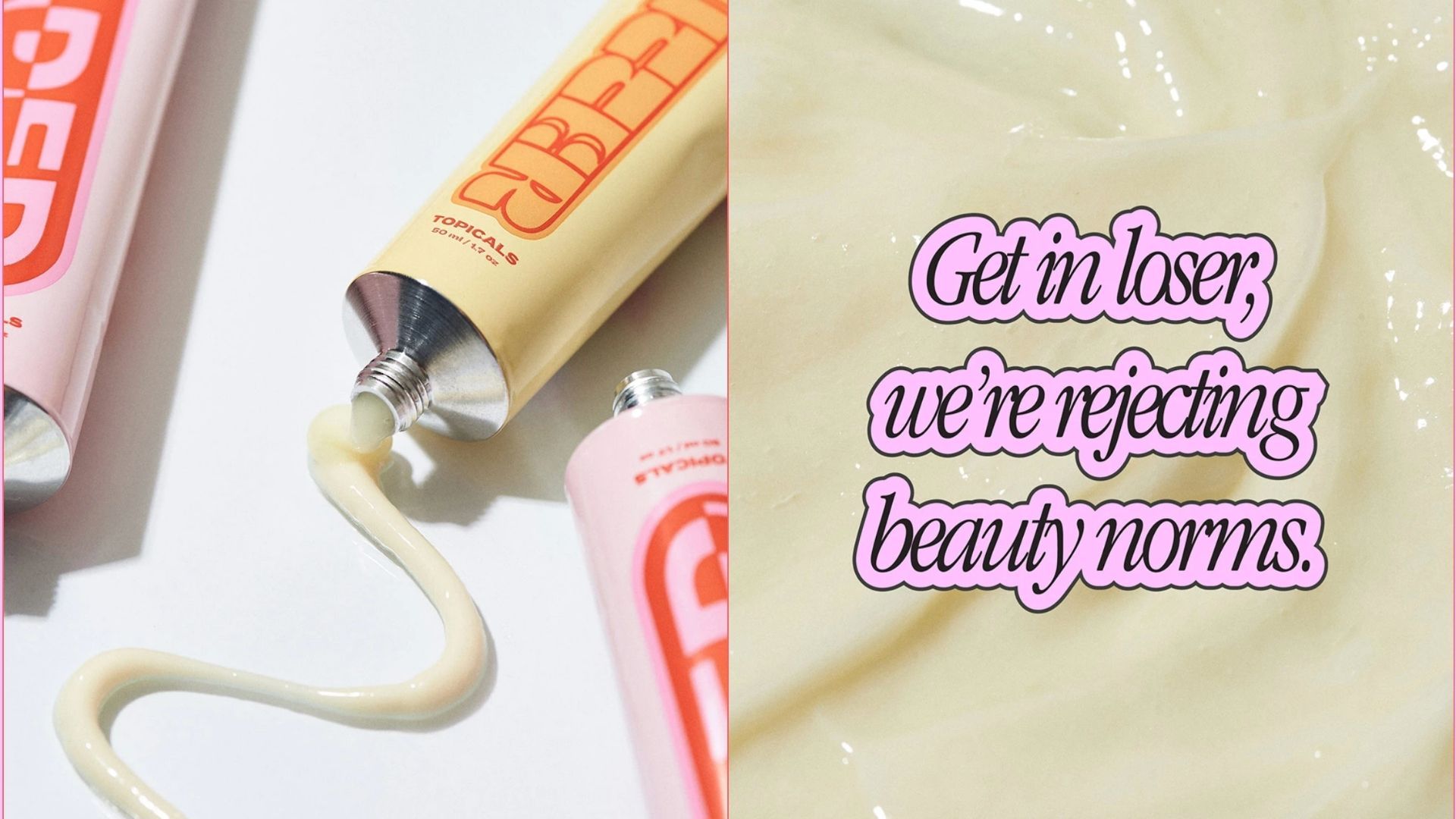 The brand is dedicated to giving back to mental health organizations. They report on their site that people with skin conditions are two to six times more likely to experience anxiety and depression. Currently, they donate 1% of profits to help raise awareness between mental health and skin health. Before launch, they donated $10K to Black Girl Therapy, Fearless Femmes, and Sad Girls Club. Now, they direct donations to the JED Foundation.
Ingredients
Topicals has two products, Faded ($36) and Like Butter ($32). You can buy them together in a duo for $56.
Faded is a brightening and clearing gel. It's meant to even skin tone, brighten and revive dull or stressed skin, and it works on smoothing texture. The main ingredients are tranexamic acid, azelaic acid, niacinamide, kojic acid, licorice root, centella asiatica leaf extract, and melatonin. So, lots of anti-inflammatory ingredients, protectors against environmental stressors, and brightening actives.
Since launching Faded in August, the formula has since been tweaked. Basically, the smell of Faded is FUNKY. Like Kombucha gone bad funky. The actives within the formula give off this scent. The formula has been tweaked to include more of a natural deodorizer to minimize the funk.
Like Butter is a hydrating mask. It's here to help dry and flaky skin recover, soothe sensitive and irritated areas, and improve damaged parts of your moisture barrier. Key ingredients feature tumeric, centella asiatella, colloidal oatmeal, green tea extract, Chinese rhubarb, and ginseng. Tumeric and colloidal oatmeal are two of our favorite ingredients that work hard to tackle inflammation, speed up healing processes, and soothe any itchiness.
Both products are vegan, cruelty, dye, and fragrance-free.
The review
Faded:
Faded has helped me so much overtime. It's not a quick fix, but I saw great results within two weeks. I first noticed the life span of my pimples decrease. I was still having breakouts at first, but they were very controlled. Everything was healing faster and faster. It's a great product if you have sun damage or acne scars, it can truly fade marks like crazy (hence the name). Most often, cystic acne haunts you for longer than the pimple existed thanks to hyperpigmentation. I felt this attacked and started fading before the pimple even left my face.
Fair warning. Your skin may purge. At least, that was my experience, and the website notes it as well. The blend of niacinamide and the exfoliating acids make this happen. You get through it and it's all apart of the process of finding the source of your breakouts and KILLING them. Use this just like any other treatment, a thin layer over cleansed skin before your moisturizer. I even recommend doing it directly after toning and before your serums so you can receive maximum benefits.
My only complaint was the smell, but I'm so happy they took feedback from the community and revamped the formula.
Like Butter:
A hydration savior, Like Butter is to give you the juiciest and most plump skin of your life. I LOVE colloidal oatmeal. I primarily get eczema on my body and my neck. I rarely get it on my face, but if I do, it's around my eyes. I'm used to using colloidal oatmeal body lotion.
This isn't just for eczema, though. If you're prone to dry skin or even have sensitive skin, this hydrating mask is a must-have in your skincare arsenal. It's THICC. You just need a thin layer and then let your skin sit back and absorb all the botanical goodness.
As much as I loved using this on its own, I started doing it over my night creams and going to bed. It makes my skin really glowy, crazy hydrated, and plump. It looks like I have actually been drinking as much water as I should on a daily basis. It helps reduce redness, and no surprise, pairs extremely well with Faded.
TLDR;
Topicals is a new skincare brand aiming to shed light on individuals with skin conditions
They have two products, Faded and Like Butter
Super cute Gen Z branding
Vegan, fragrance, dye, and cruelty-free
My Topicals gives back to mental health organizations with every sale
BUY or BYE?
If you struggle with painful acne and need to curb inflammation and get rid of scarring, Faded is the product for you. If you have eczema or have trouble keeping your skin nourished and hydrated, Like Butter will be your BFF.
Topicals is a total BUY. I've spent less time being in pain from cystic acne and inflamed skin over the last few months. Buy HERE on Topicals' site or HERE on Nordstrom.
(Featured illustration by Alicia O'Brien)