Top-shelf skincare that's all results with zero plastic? It's about time.
While you were busy doomscrolling and binging Netflix, Cary Lin and Angela Ubias, founders of the newly launched skincare brand Common Heir, built a zero plastic, low-impact 10% vitamin C serum during the pandemic.
SEE ALSO: Dermatologists on TikTok warn about the dangers of over-the-counter skin-lightening treatments
With Angela's extensive background in the product development space and Cary's experience working at the award-winning Japanese beauty brand Tatcha, the duo is taking the beauty industry's problem with sustainability head-on. Their goal to create top-shelf products that will benefit your skin and the planet.
Sustainability without the legwork
Common Heir focuses on honoring what is passed down to us, "whether it's our skin that we are inheriting or the earth, we want to be really intentional with what we want to leave behind with our legacies," Cary tells Very Good Light.
A shared destiny pushed the founders of Common Heir to take a look at why the beauty industry was falling behind with regard to sustainable packaging. Cary and Angela found consumers were willing to purchase sustainably made products, but had less will to do the dirty work when it came to actually recycling the product's packaging.
"So it's not about sustainability as a way to stress people out, but to be the ones to do all the legwork on the back end and to figure out where the chain is breaking," says Cary.
Common Heir's zero plastic outer packaging and biodegradable capsules that encase their silky-smooth, 10% vitamin C serum puts no burden on the consumer to recycle the product properly. It doesn't matter if the product ends up in your trash can or recycling bin; either way, it will do no harm to the environment.
Why a vitamin C serum?
Vitamin C serums are easy to find in anyone's skincare cabinet, which is why Common Heir decided to launch with their 10% vitamin C capsule serum.
"We wanted to start with a product that would be universal to as many people as possible," says Cary.
Power, potency, and freshness were at the forefront of Angela and Cary's mind when creating this vitamin C serum. Vitamin C is highly unstable when in the presence of sunlight and oxygen, which is why you have to store your vitamin C products in a dark, closed-off space. Common Heir solves the common oxidation problem vitamin C users run into by harboring the serum in a specialized, biodegradable capsule that blocks out oxygen and light exposure.
Vitamin C minus the irritation
Through her past vitamin C experience, Angela ran into constant burning and stinging.
"What I found was I had, what I like to call, the Listerine effect," Angela tells Very Good Light. The 'Listerine effect' is the constant stinging and irritation from the use of vitamin C products, be it a cream, serum, or you name it.
This is where tetrahexyldecyl ascorbate (THD) comes in. THD is a vitamin C derivative that outdoes your traditional L-ascorbic acid in terms of pairing well with sensitive skin. Most Vitamin C derivatives need to be at low pH levels and high concentrations to properly penetrate the skin and deliver results, creating room for irritation and sensitivity.
With THD, this derivative can be used at a slightly higher pH, closer to the skin's natural level, with lower concentrations, while penetrating the skin at a deeper level without the irritation factor.
Shifting the industry
Sustainability can be a tricky topic. For the consumer, there is a lot of work that goes into recycling products properly, and if a mistake is made, it could ruin the entire process and end up doing more harm than good. Common Heir is making a shift in the beauty industry by taking the guesswork out of sustainability and making the right decision for you.

"We are making conscious beauty and a conscious lifestyle just that much easier," says Angela.
By launching with a single serum and building their brand with sustainability at the forefront of their product development process, Common Heir is a trailblazer in the skincare industry.
The review
Common Heir Vitamin C Serum (60 capsules) ($88)
Not only is this silky formulation luxurious to apply to the skin, but the beautiful packaging pushes me to keep the product right at the front of my skincare shelf.
After cleansing and applying toner, I applied this serum to the skin every night for 4 weeks. The texture of the serum felt like a silk blanket gliding across the skin, quickly absorbing without leaving a sticky residue behind.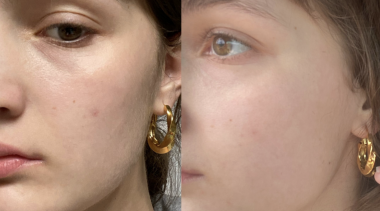 Not only was this serum successfully applied over my eczema breakouts without any irritation or sensitivity, but it reduced the dull, textured appearance of my damaged skin. After one month of usage, my post-inflammatory hyperpigmentation spot was significantly lightened, the texture of my skin was smooth, and my overall complexion was brightened from its original dull state.
Final thoughts
Repurchasing isn't even a question – once I run out of my last 30 capsules, I will be repurchasing this silky goddess of a vitamin C serum.
READ MORE LIKE THIS