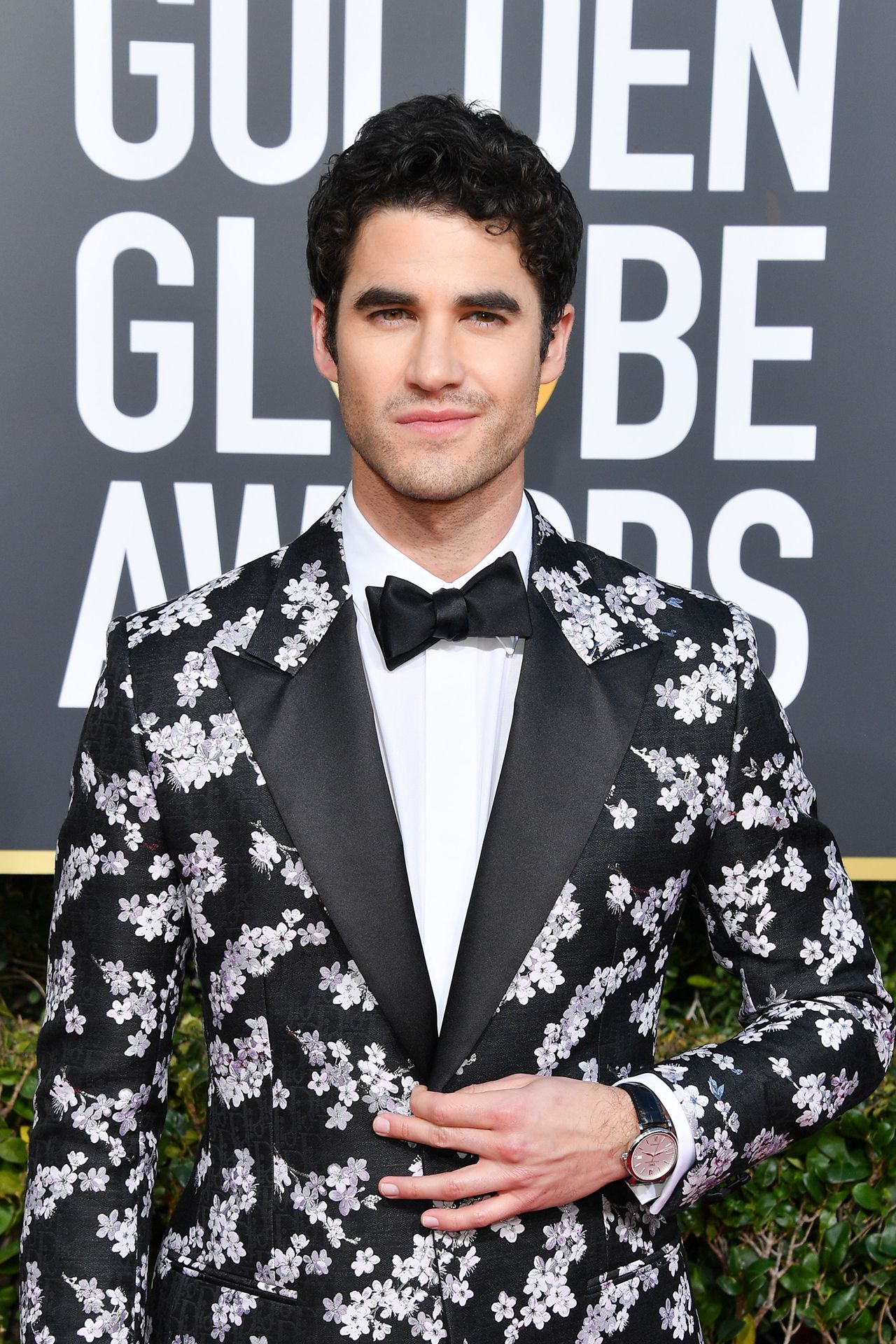 On Sunday, Hollywood celebrated one of its glitziest and most glamorous nights, a night that is literally golden in name. Yep, we're talking the Golden Globes.
One of the biggest standouts was Darren Criss, who took home one of the night's top awards for his portrayal of Andrew Cunanan in "American Crime Story: The Assassination of Gianni Versace." While he looked every bit the winner in his sparkly floral Dior Homme dinner jacket that shined, it was his skin that made us quiver. With its beautiful dew, naturally hydrated look, he looked both healthy and sexy.
SEE ALSO: How to get Ryan Reynolds' hair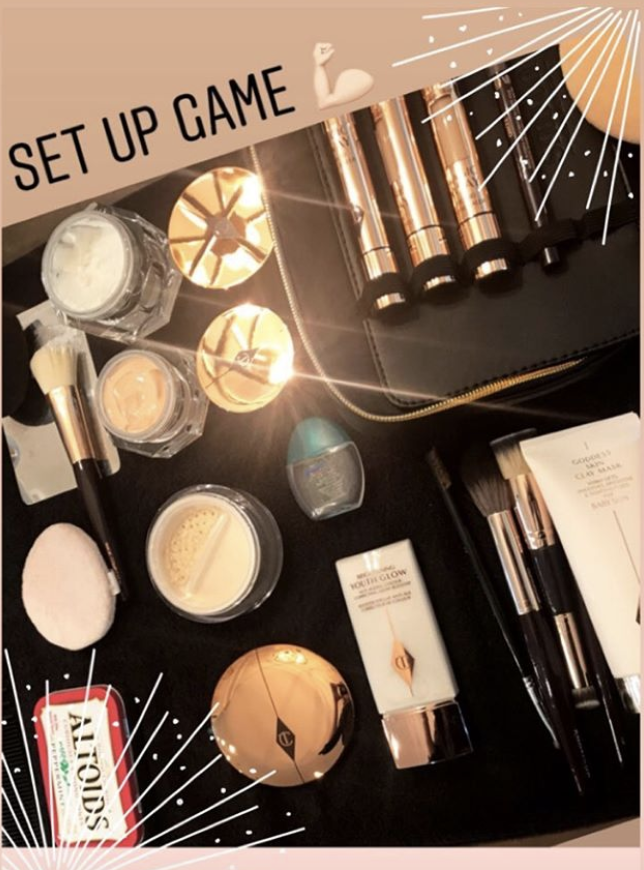 The credit, at least when it comes to his hair and skin, can be given to his groomer Kindra Mann, who used something unexpected to give Criss his golden glow. The skin routine she used? Entirely from British makeup artist Charlotte Tilbury's eponymous brand (one that also just won a Lightning Award!).
Most of us, especially Very Good Light readers, know that compartmentalizing products by gender is old-fashioned and just plain boring. And we're glad – and delightfully surprised! – to know that Darren went with this beauty brand to get that dewy glow for the night. To get into award-winning shape, we spoke to Kindra to get all the tea about how she keeps Darren looking so flawless on and off the red carpet.
Very Good Light: Lots of Charlotte Tilbury's products are geared to women, so is it different using them on a man?
Kindra Mann: I think there are certain products in Charlotte's line that can cater more toward a man's skincare. Men and women vary on how much product they want on their skin, but I think that the great thing about some of the products is that they can be for both. Like the Unisex Healthy Glow: It just gives a super soft tint that warms up the skin and doesn't look like anything's on it. It's the same with the Light Wonder Foundation.
At the end of the day, men still want to look good and feel confident but they don't always want anyone to know that they have anything on, so products that deliver results and give those benefits are really valuable.
VGL: What did you use on Darren for the Golden Globes?
KM: I started with the
Magic Cream
and the Magic Eye Rescue Cream which was great since he just go back from traveling from where it was cold. I love that moisturizer. I put it on everyone's skin. you never have to worry about it reacting and it's great for sensitive skin. Then I used some of the Unisex Healthy Glow to warm it up. After that I went in with the Magic Awake concealer a little bit under his eyes. At the end I used a little bit of the Light Wonder Foundation in Number 5 to sheer everything out a little bit more.
I used the Loose Powder to set it and act as an extra layer to combat shine since there were going to be a lot of lights and it was going to be hot on the carpet. Then I went in with the Airbrush Flawless Finish powder in Number 2 because those powders are like a magic eraser. Whenever I put that on anyone, it creates an airbrushed look without looking heavy. I also sometimes use the Number 3 powder on men as a bronzer because it's matte. It's a great trick for men because it's only a little bit darker.
Oh! And I groomed his brows with the Legendary Brows gel.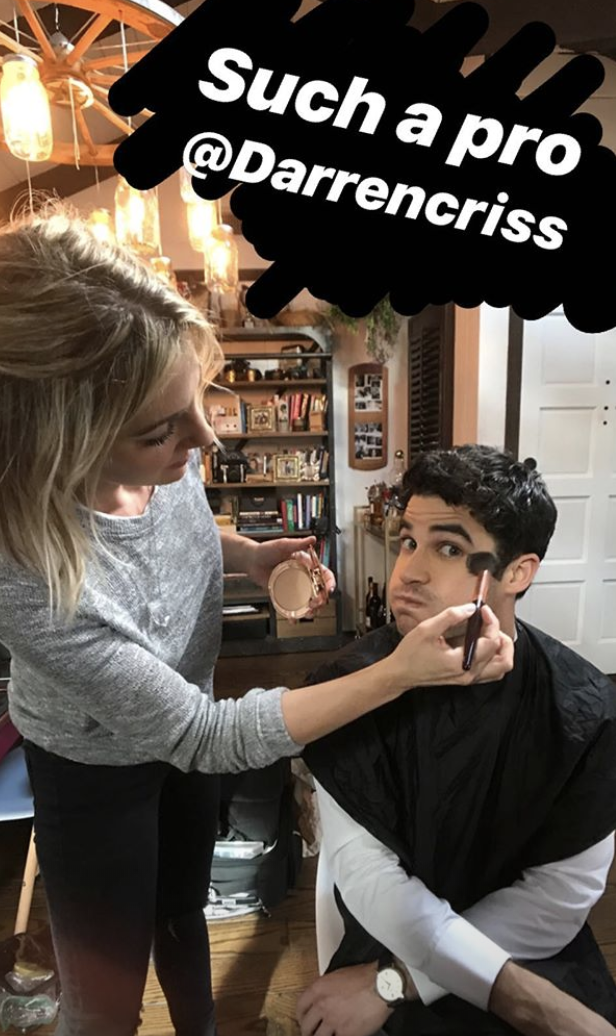 VGL: Of course this routine was for a red carpet, but is it something you could wear every day?
KM: Yes! The only big difference is that on a red carpet you have to watch out for shine more. You have to make things more matte in the beginning so they can stand up to the longevity of the carpet. So you would just put a little more powder than you normally would for every day. Even if it's every day, I'd want it to look as natural as possible.
VGL: Do you have to use certain products differently because he has facial hair?
KM: You have to navigate and work around the beard area differently depending on how long it is. If the product is light enough, you can still use it in the beard area and it's fine. Treat the skin on the face and beard the same. There's nothing wrong with using Magic Cream on your face and working any leftover product down into the beard to condition it.
You definitely want to stay away from powder on the beard or applying any foundation in that area because it will change the color of the beard and it will look heavy. It's more about working it into the line where it's growing. When it's short, I do lightly dust a little powder around it. You want to make sure there's no razor burn or stray hairs. You want to make sure you cover everything.
I love Legendary Brows for the beard area. If someone is missing some hair or their facial hair isn't super even or for some guys whose facial hair grows in different colors, the brow gel is a really great way to even it all out. It doesn't run and it stays in place. It looks really light, so you can't tell it's there.
VGL: His hair looked great! What did you use?
KM: On the red carpet, guys with curly hair can sometimes look too shellacked or shiny and gels and heavier products can give too much of a wet look. His hair looked pretty good when he sat down, so I didn't use a lot. I used the Oribe Flash Form Finishing Spray and it was awesome. I applied a little bit of that and worked my hands in so the curl wouldn't get too frizzy over time. Then I used a little bit of the Oribe Superfine hairspray to finish it.
VGL: Wow, that's it?
The one thing about guys is that they know how to do their hair better than anyone else. Depending on their hair cut, they know where they like pieces to fall and things like that. Even if i do a structured style on a guy, I always tell them to feel free to mess with it if they want so it gets to where they want it to look.
With Darren, I make sure nothing needs to be cleaned up on the back of the neck. I use a comb to lay it all in place and then go through and make sure there's not seperation or gaps in it. Dark curly hair on men can tend to get piecey and you can see more of their scalp in places. I spray some down with the hairspray afterward as a precautionary measure to make sure it stays in place.
VGL: What other products to you like for curly hair like Darren's?
KM: I love the old fashioned Tancho Lavender Stick for the back of the head. You can't have long curly hair because that stick is too heavy. So if the hair is curly but short, I'll use that to tame down any curls that may be out of place. I like the Leonor Greyl Eclat Naturel Styling Cream to help define curl. I don't like a too-wet look and the styling cream is a nice light product so you can still move your fingers through your hair and it's not hard.
VGL: What's in the go bag you give to your male clients?
KM: I try to give my clients as much preparation beforehand, but I do give them a little bag to take with them. Depending on how long the night is going to be, I'll do a pressed powder and a brush to powder the forehead and t-zone area. I'll als send guys with blotting papers (I love the Tatcha ones), individual packs of Tylenol, a flosser, a couple pieces of double stick tape and a lip balm.