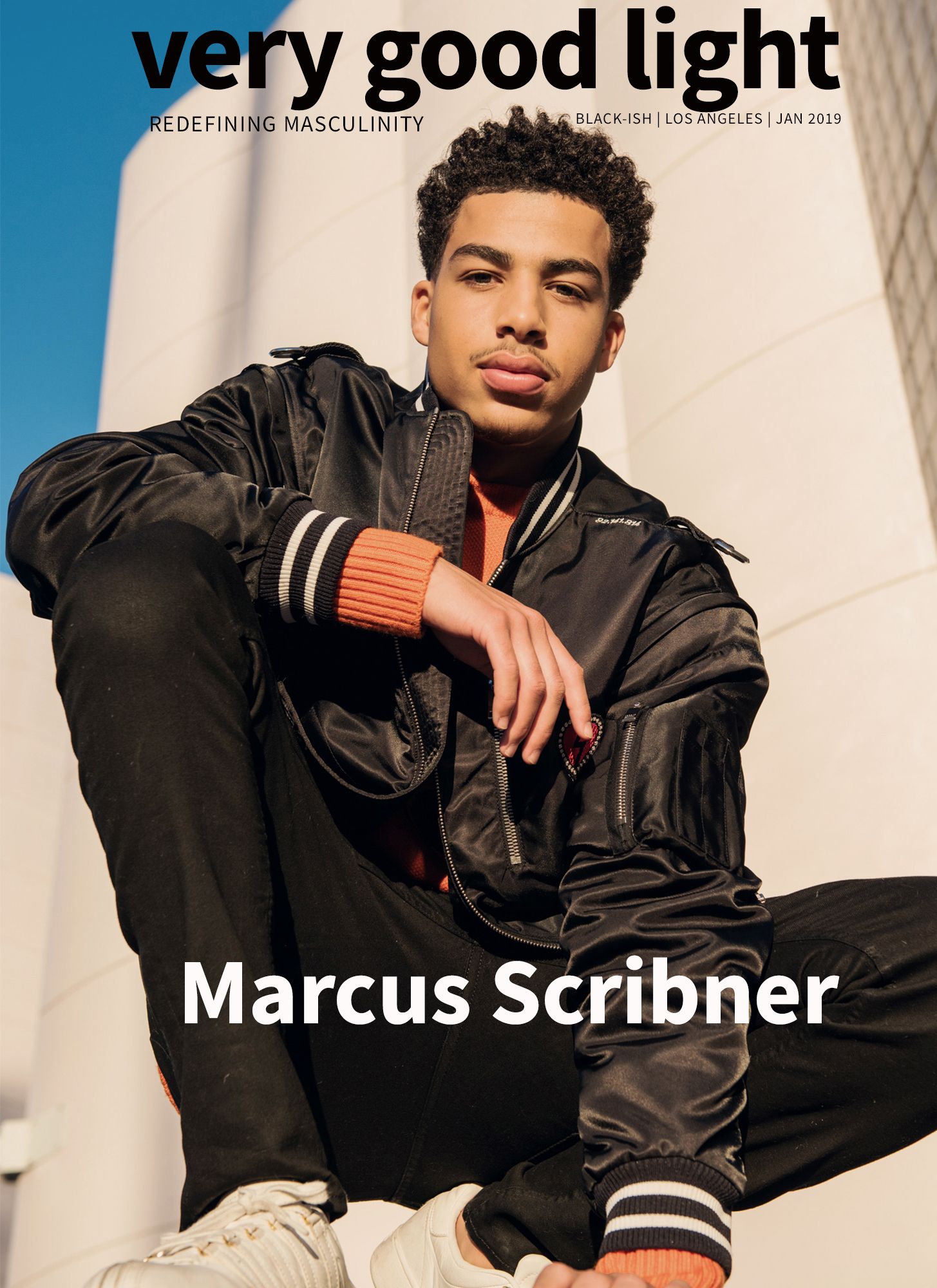 Today is "black-ish" star Marcus Scribner's birthday. But, truth be told, he's a little underwhelmed.
"I feel like 19 is possibly the most insignificant birthday you can have," he jokingly laments to Very Good Light over the phone from Los Angeles. "18 just sounds cooler, and 20 – double digits is dope. At 21, you can drink, but 19 is sitting in limbo."
SEE ALSO: You're either an LA person or you're not.
Despite his lack of an age-related milestone this year, Marcus is enjoying a career that most teens can only dream of. As the goofy-but-earnest Junior on the Golden Globe-winning hit – returning on ABC tomorrow – Marcus has cemented his place in television history as an integral part of a show that proudly celebrates a modern black family.
Like his small-screen alter ego, Marcus is enjoying a gap year before starting school in the fall semester at the University of Southern California — but he's going full-speed ahead with work.
"There's definitely a black renaissance and I think 'black-ish' started something for younger generations," he says. "It's been a life-changing experience. I'm so proud to be a black man."
A native Angeleno, Marcus started acting at 7 and quickly landed the part of Junior after nailing his audition. It certainly helped that the guy he was auditioning for, his onscreen father Anthony Anderson, was also from Los Angeles (in his case, Compton). Landing the part was Marcus's first role and it also helped him come into his own.
After five seasons on the hit show, he's gone from prepubescent teen to a young man proud to showcase diversity in an industry that continues to struggle with inclusivity.
"We always help each other out," he tells Very Good Light of Hollywood's tight-knit black community. "We go to the Emmys and it's fun, but it's not the same feeling you get at the (NAACP) Image Awards where you see people who look like you getting honored for doing things that are important."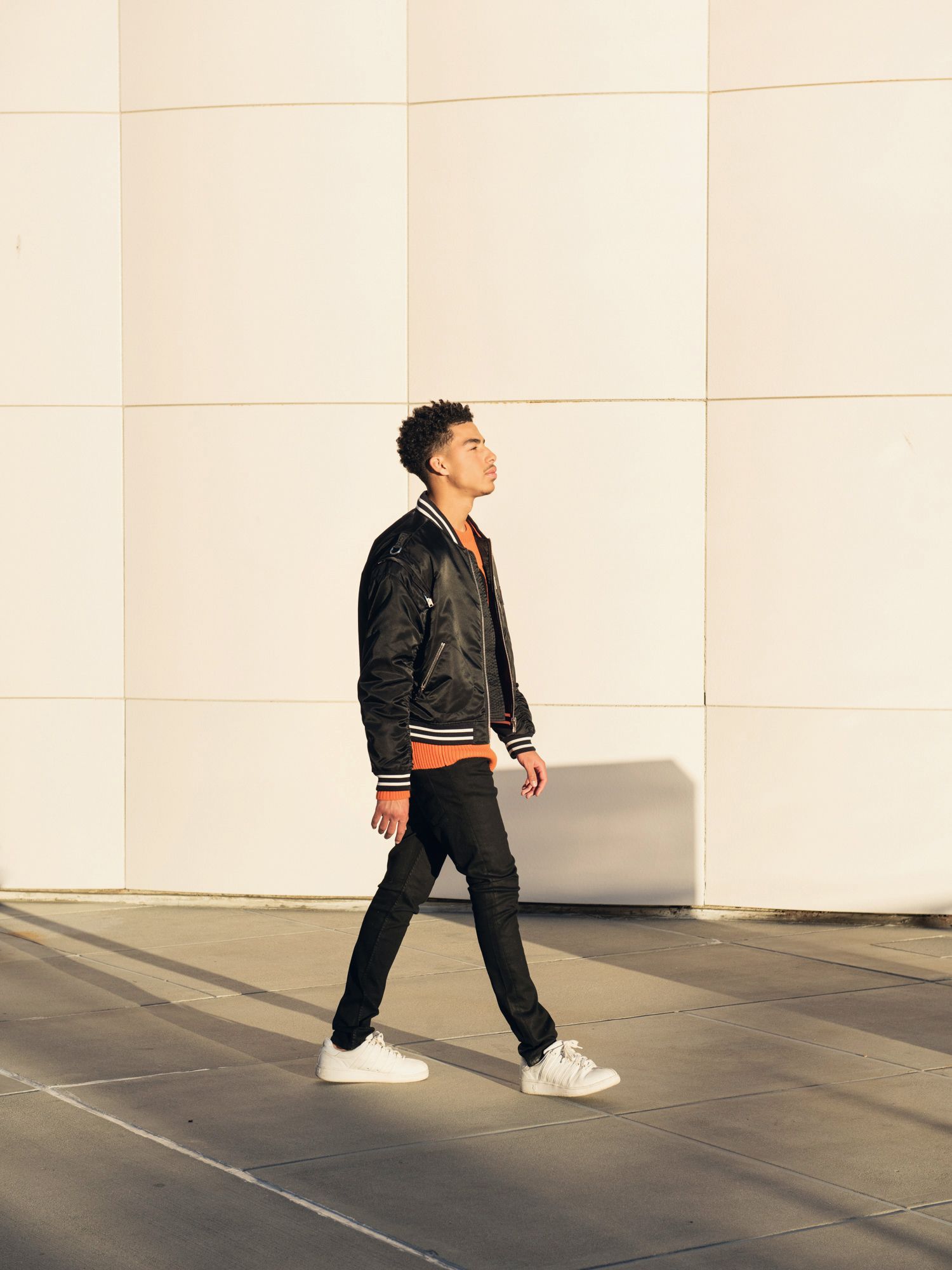 Plus, he's been known to get a style tip or two from his elders in the biz, namely, his fashion icon onscreen mom Tracee Ellis Ross. When she and co-star Anthony started rocking the designer "Dad sneakers" trend, Marcus paid extra close attention to his TV parents' Gucci and Balenciaga kicks thinking to himself, "I gotta catch that wave!"
"(Tracee's) shoe game is crazy," he says. "Her gifts are stupendous and we get super-cool clothing from her."
When it comes to beauty and grooming tips, however, Marcus goes straight to the source: the hair and makeup trailer on the "black-ish" set.
"Here's a tip that I learned: after getting out of the shower and washing your face, use one ice cube to seal your pores. Rub it on your face and seal the whole deal up with an ice cube," he tells us. "Then I put on Kiehl's oil-free moisturizer, because you can't have the pores clogged when you're falling asleep."
It's now his go-to solution for the recurring acne he gets from having to wear makeup every day while filming.
"It works so well because I was getting acne and not able to do things (to get rid of it). The ice cube thing has really, really, helped; it's completely changed the game. After you get out of the shower, your pores are left open so there's room for dirt, dust and things in the air to get in, so you want to seal it up."
After a holiday hiatus, Scribner is "super pumped" to jump back into character, hinting that change is afoot for Junior.
"It's been a very hilarious season for Junior," he says. "He's taking his gap year, but doing well. So far, he's been complacent and chilling, but watch out – Junior's about to make some big moves!"
Marcus also has other projects in the mix, including "The F* It List" (in post-production) and has his sights set on doing more work behind the camera, including writing, creating and producing.
"My dad has obviously been a huge inspiration and a driving force with these things," he says, also giving credit to "black-ish "creator Kenya Barris for helping show him the Hollywood ropes. "(He's) a huge inspiration; the man is a genius."
Credits:
Photographed by Jessica Chou; Grooming and hair by Brie Horshaw; Styled by Brandon Ho