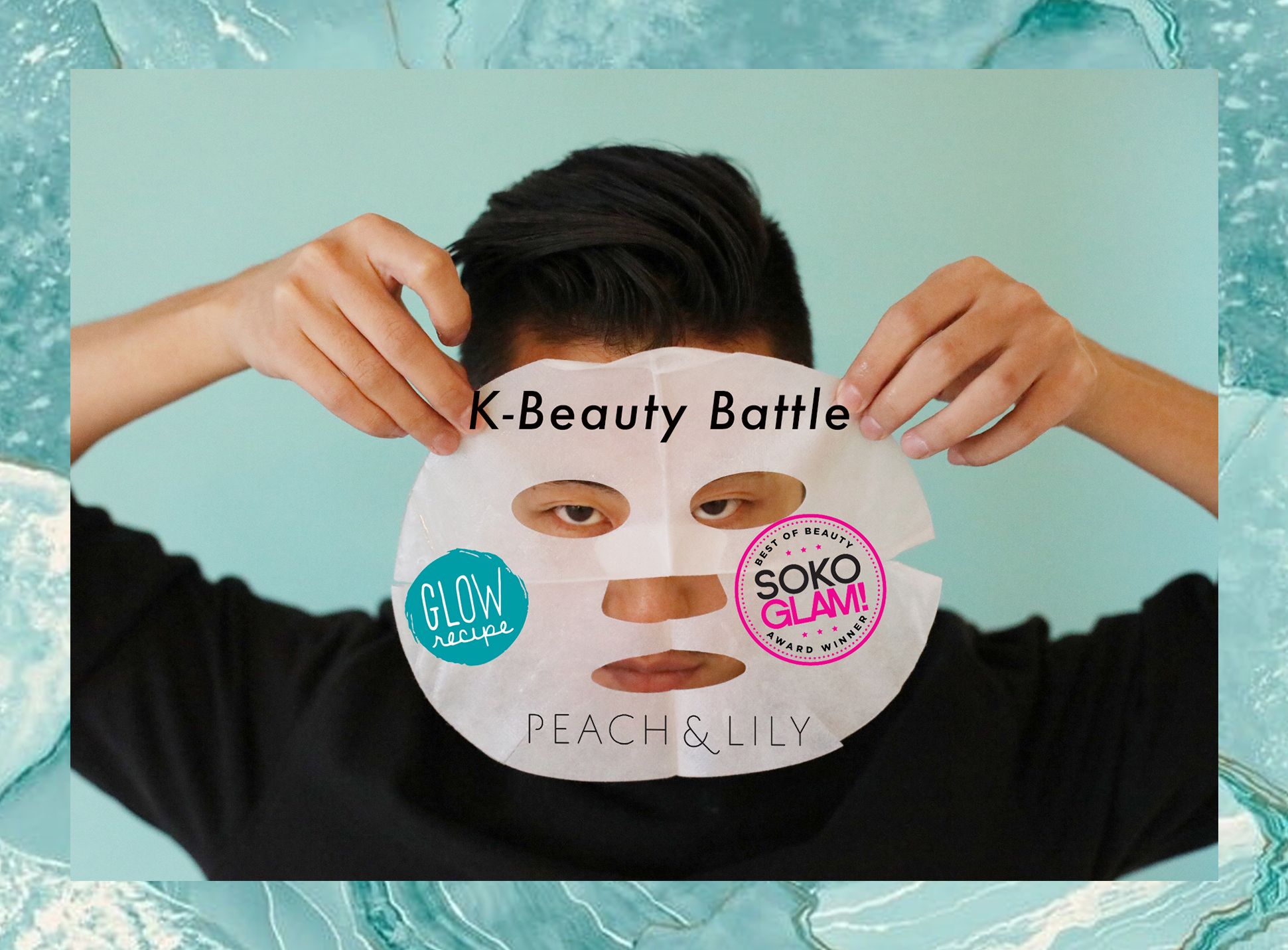 We're all riding the Korean beauty wave.
With Korean beauty products filling Sephora shelves, trends like snail slime or cushion compacts now becoming the norm, and terms like "chok chok" becoming mainstream, it's safe to say that it's a vast Korean beauty ocean we're swimming in.
SEE ALSO: How Koreans view K-beauty will surprise you
But with an inundation of products, brands and e-commerce sites popping up in what seems like every other day, how does one differentiate what's good and what's not? If you're a newbie in K-beauty and do a simple Google search, chances are very likely, you'll reach one of three sites. They are Soko Glam, Peach & Lily and Glow Recipe, the biggest Korean beauty e-commerce businesses today.
A cursory browse around each of the sites won't make it easy to differentiate what the true difference is. It's only through a deep dive that you'll discover that each really is unique in their messaging, products and branding. To break it all down, we've highlighted the three sites to give you what you need to navigate through your K-beauty journey and make the right decision.
But first, a little bit of history.
Beauty products have been around for hundreds of years in Korea, but it was only in the past few decades that it became a modernized industry. And it was only in the past five years that the Korean beauty philosophy made it Stateside.
The massive growth of Korean beauty took decades to build, investment from the Korean government, as well as a little help from the French and their factories. In the early 1990's, French brands were dominating the beauty sphere and some brands had factories in South Korea in order to affordably make their products. But as Korea's economy grew, the French eventually left, finding cheaper labor elsewhere and leaving South Korea with barren factories and beauty labs ripe for the picking. This allowed a new breed of entrepreneurs to finish what French factories started, creating new beauty brands unique to the Korean peninsula.
It was only after the rise of mega conglomerates like Amore Pacific, factories like Cosmax, as well as international interest in Korean pop culture like K-pop and K-dramas, that Korean beauty was able to explode into the zeitgeist. Today, Korean beauty is THRIVING. According to market research provider Euromonitor International, South Korea's exports to the U.S. have grown 59%, reaching $207 million.
That has a lot to do with Charlotte Cho, co-founder (with husband Dave Cho) of the site, Soko Glam. Back in 2012, Charlotte, a then-publicist who worked for Samsung, thought of bringing kitschy Korean beauty products stateside and selling them online. It was an instant success. Fast-forward a few years later and she's written a book, "The Little Book of Skin Care: Korean Beauty Secrets of Healthy, Glowing Skin," has become the face of Korean beauty for everyone from Elle.com to the Today Show, and coined terms like "chok chok". It was Charlotte, after all, who brought the Korean word for "hydrated" to the masses.
Then came a few other competitors like Peach & Lily soon after in the same year, and Glow Recipe years later. The latter put K-beauty on the national map when the two founders appeared on ABC's "Shark Tank."
And with so much new interest in Korean beauty came a real competition for consumers' attention. With several Korean beauty sites on the market, each of the founders suddenly found themselves rushing to coin new terms and trends to the beauty press, trying to solidify themselves as the true experts. These came in the form of trends like "glass skin."
"It means skin that looks clear, poreless, translucent, [and] luminous — like a piece of glass," once explained Glow Recipe's Sarah Lee and Christine Chang to Allure. The next "it" trend stateside was honey skin, which has actually been around longer than glass skin. To have honey skin is not too dissimilar to that of a baby's–"hydrated, dewy skin that's deeply plumped with nourishment."
Then came cloudless skin.
"Think of a young child who has yet to see skin damaged by the elements — skin is so full of life, vibrancy, and seems almost transparent," explained Peach & Lily's Alicia Yoon to Allure in early 2018.
You get the point.
To understand how each of these brands are unique in their own way, Very Good Light compiled a cheat sheet for you to find the K-beauty e-commerce brand that fits your needs.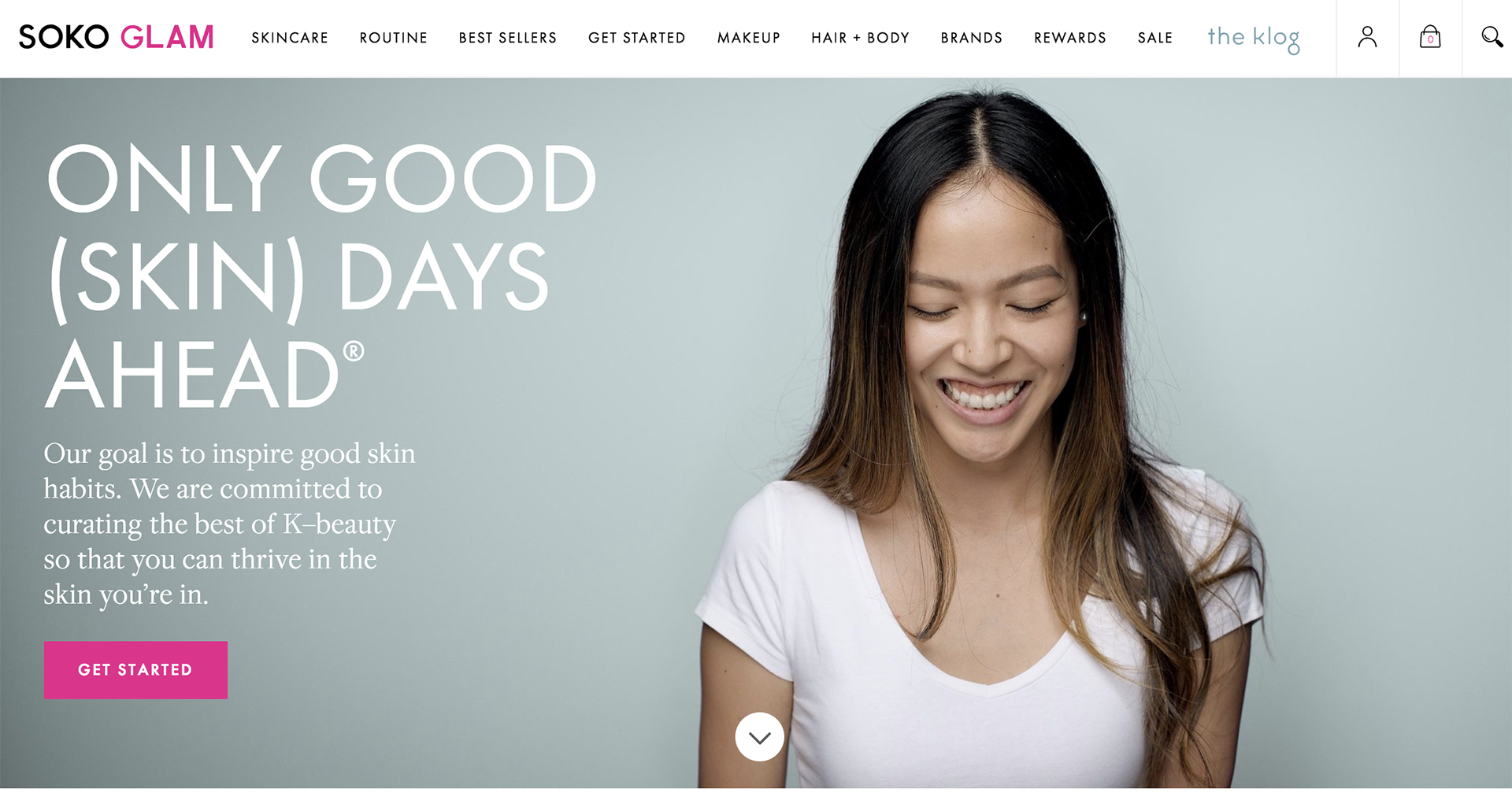 Founders: Charlotte Cho and Dave Cho
Founded: 2012
Founding Story: Charlotte Cho and husband Dave Cho founded Soko Glam from a genuine love of Korean culture and beauty. While working at Samsung in Seoul, Charlotte adopted the skin-first philosophy of Korean skincare. After witnessing her own skin transform, she became a believer. True to her international PR background, Charlotte wanted to share this innovative and different approach to beauty with the United States. Her husband Dave, who she met in Korea, joined Charlotte in launching her Korean beauty empire.
"I really thought this was something that I could bring to the US and people would be interested because it was so radically different and I saw results," she once told Fashionista.
Mission Statement: The core mission statement for Soko Glam goes back to its birthplace, Korea, where skin comes first. It's about care and prevention, rather than treatment, which was often the case in pre-K-Beauty America. As an ecommerce store, Soko Glam curates products directly from Korea. Everything is "tested and hand-selected by Charlotte and the Soko Glam team" and FDA-approved.
Site Traffic: 1.55M visits in July 2018 (according to SimilarWeb.com)
Instagram Following (at time of publish): 211K
Differentiation: "I believe curation is everything, and the selection we have is unparalleled," says Charlotte to The Life Style Edit. Providing mainstream brands that people in Korea actually use (like Missha and Skinfood) alongside up-and-comers ( like CosRx) is the core value of Soko Glam. Brands in Korea view Soko Glam as the most prestigious e-commerce site to be associated with. Stores like Olive Young, the Korean equivalent to Sephora, have stickers alongside Soko Glam's best of beauty products, showing just how prestigious the site's stamp of approval has become. It goes to show that being sold on Soko Glam really means something to Korean brands.
Price Point: From Etude House Soonjung Sheet Mask ($2.60) to 10-step korean skincare routine set ($199)
Retail Partnerships: In 2017, Soko Glam partnered with Bloomingdales to set up a mini-shop in their Soho location. Beauty junkies were able to see the products IRL for the first time. Plus, there were video tutorials courtesy of the brand's blog, aptly named, The Klog. The brand also curates products at Sephora, with Charlotte even creating videos on Korean beauty for the retailer.
Brand Highlights: Charlotte introduced the term "chok chok" to the world through the mega popular book, "The Little Book of Skin Care: Korean Beauty Secrets for Healthy, Glowing Skin." As the go-to face for Korean beauty, she's often quoted by everyone from Into the Gloss to The Today Show.
Hero Products: CosRx Triple C Lightning Liquid, Klairs Freshly Juiced Vitamin C Serum, Son & Park Beauty Water
VGL's Two-Cents: Soko Glam was one of the first to bring Korean beauty en masse to the states so naturally they're the first to come to mind in this category. While the number of variation of products on their site can be overwhelming, most everything I've bought has been without regret. The only item that didn't work was a BB cream but only because it was the wrong shade.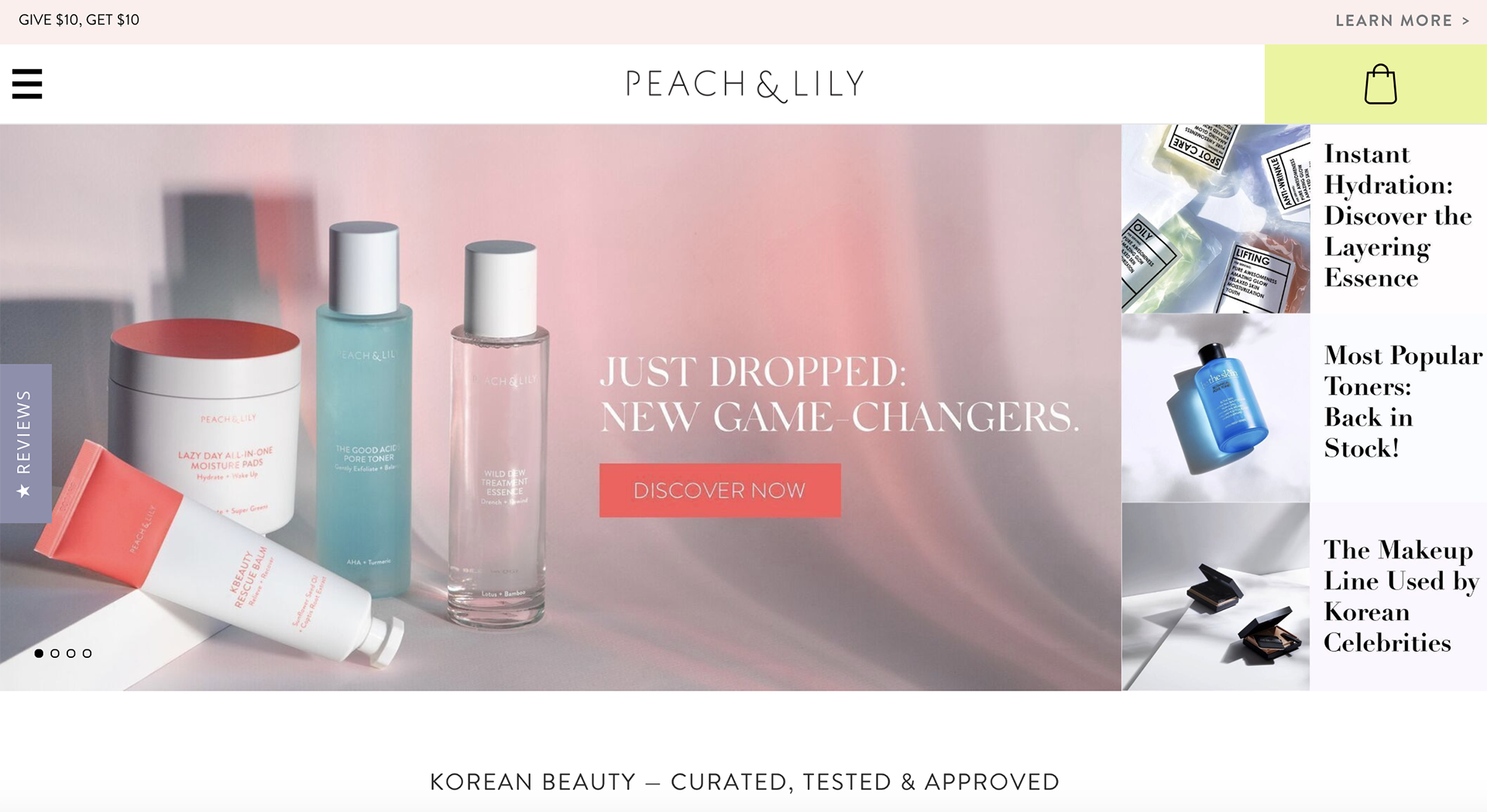 Founder: Alicia Yoon
Founded: 2012
Founding Story: Founder Alicia Yoon dealt with eczema growing up and by high school had given up hope for non-itchy and dry skin. However, this all changed during a chance encounter  with a stranger on the street who praised Alicia's makeup and encouraged her to go to beauty school. After that, Alicia became obsessed with beauty. It's important to note that the site was co-founded by Cindy Kim, who left the business and is now the co-founder of the NYC-based facial bar, Silver Mirror.
She eventually landed at Harvard Business School but was still keeping up with her skincare. "I continued pursuing skincare as a hobby, giving friends and family facials and beauty tips, and sharing Korean products I discovered with friends in the States. Helping people improve their skin felt incredibly rewarding," she says on Peach & Lily's site.  While working for a beauty client, she realized that she could bring the advanced and innovative Korean beauty products stateside. Combining her business degree and a passion, Alicia left her job in 2012 to launch Peach & Lily.
Mission Statement: Peach & Lily's mission is to help people find their most radiant skin through Korean and Japanese products vetted by their team. They provide the tools and guidance to find the highest quality products that match each person's skin type.
Site Traffic : 572K visits in July 2018 (according to SimilarWeb.com)
Instagram Following (at time of publish): 117K
Differentiation: Peach & Lily is the only K-Beauty site who also sells Japanese beauty products. Additionally, their vetting system is not only made up by the people of Korea and Japan, but also their own staff and a focus group of diverse individuals. The brand also just launched its own in-house line of skincare products ranging from the ingenious Lazy Day All-in-One moisture pads, that deliver vitamins and antioxidants with a quick swipe, to a serum that promises coveted glass skin status.
Price Point: From Peach Slices – Calm Mask ($2.49) to Korean Skincare Regimen – Combination Skin ($268)
Retail Partnerships: Peach & Lily was one of the first to get into retail stores with Macy's as their initial partner in 2015. Then in 2017, they partnered with Target stores across the U.S, and a few months later, launched in Barney's, Bergdorf Goodman and CVS stores as well. In 2018, P&L partnered with Ulta to launch its own in-house product line for the foreseeable future.
Brand Highlights: They are the first brand to get into mass-market stores like CVS and Target and luxury retailers like Barney's.
Hero Products: May Coop Raw Sauce, Mizon All-in-one snail cream
VGL's Two-Cents: Peach & Lily's curation of products are high and low. From CVS to Ulta to Barney's, Alicia Yoon has been able to find customers of all price points and backgrounds, catering to their very needs.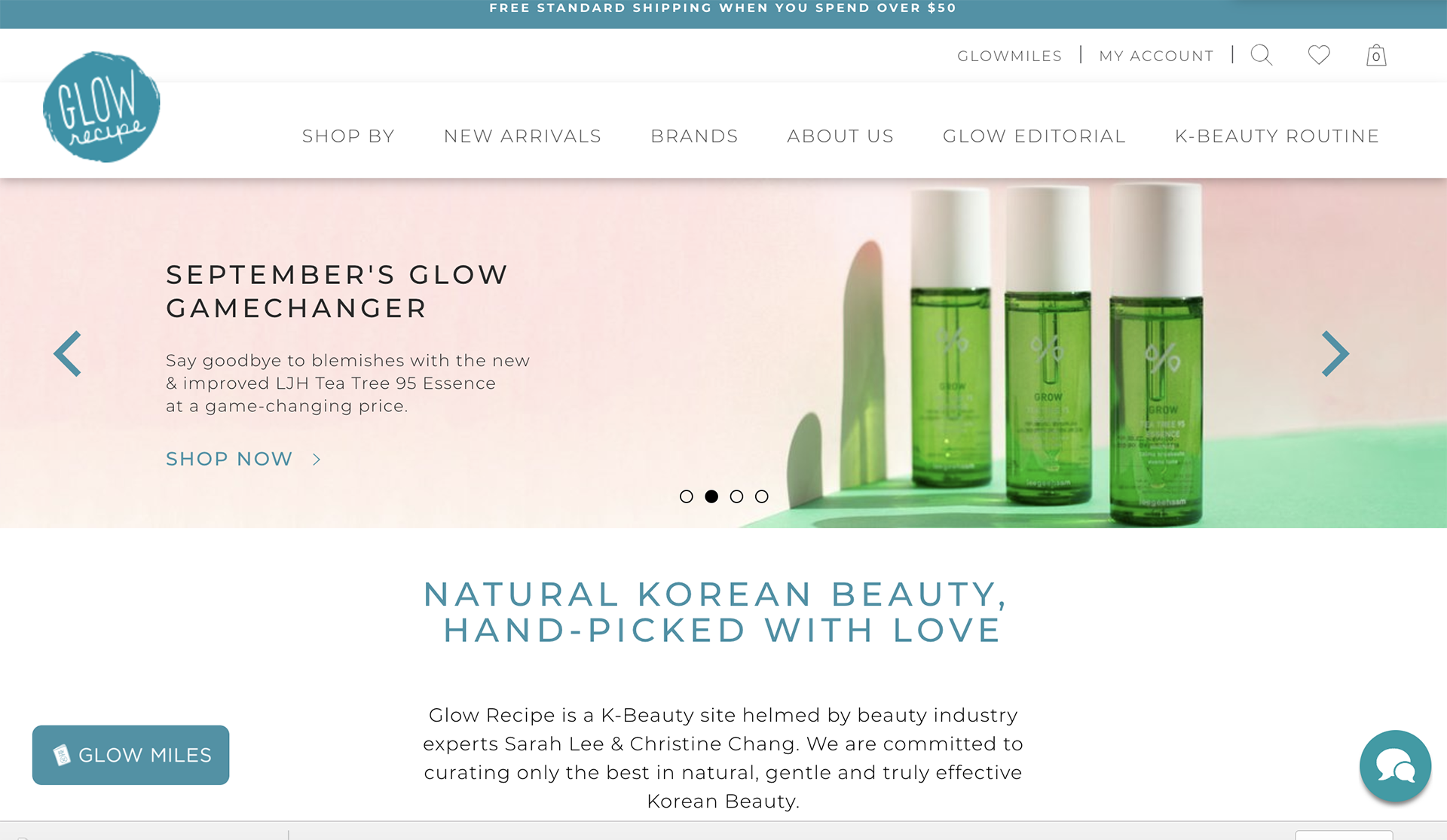 Founders: Christine Chang and Sarah Lee
Founded: 2014
Founding Story: Christine Chang and Sarah Lee both worked at L'Oreal, where they bonded over their background and love for Korea's beauty industry. During their time with the American beauty giant, each of them had a hand in launching two distinctly Korean products: Lancôme's cushion compact and Kiehl's facial essences. After that, the pair realized that they could go out on their own. They quit their jobs and launched Glow Recipe in 2014.
Mission Statement: Glow Recipe promises to provide  "best and most innovative products, and the most up-to-date skincare trends, tips and tricks that we absolutely love ourselves."
Site Traffic: 321K visits in July 2018 (according to SimilarWeb.com)
Instagram Following (at time of publish): 217K
Differentiation: Glow Recipe has their own in-house brand alongside their curation of products from Korea. They're also the only K-Beauty site that currently has a partnership with Sephora.
Price Point: Blueberry Bounce Gentle Cleanser ($10) – Glass Skin K Beauty Kit ($199)
Retail Partnerships: In 2016, Glow Recipe partnered with Sephora to bring a curated range of Korean beauty products to their retail stores. In 2017, they also began working with Target on an exclusive selection of products.
Brand Highlights: Glow Recipe was featured on Shark Tank where they signed a deal with Robert Herjavec. Later, the brand says they and Robert parted ways on good terms. The brand went on to launch its own brand of beauty products, which became a Sephora bestseller.
Hero Product: Watermelon Sleeping Mask
VGL's Two-Cents: Glow Recipe is best known for their Shark Tank appearance but has since developed a high quality product selection for Sephora. Their curated products aren't the most popular ones in Korea (ie most Koreans don't use their brands), though their in-house line is very popular here Stateside. People are obsessed with the watermelon products, which are constantly sold out at Sephora.
Tell us: Which K-beauty site is your favorite, and why?