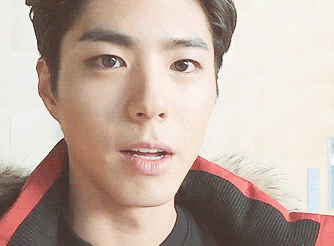 The best compliment you'll receive this season isn't the sequined blazer you're wearing for New Year's Eve.
It's your skin.
If you've been reading this site, you know that we're all about promoting healthy skin from the inside out. The key to beautiful, bouncy, healthy supple skin? Adhering to a regimen. We prescribe to Korean beauty not only because of its multiple benefits but because IT ACTUALLY WORKS. Not only is Korean beauty about hydration, it's about treating your skin from the inside out. Whether you're experiencing a dull complexion, dry or blotchy spots, hyperpigmentation, out-of-control oiliness, acne, or all of the above, Korean beauty will not only reverse your problems, but treat them from the inside out.
SEE ALSO: The best Korean beauty tips
The road to your best skin isn't a myth, nor is it something that is far out of reach or too challenging. If you adhere to a strict (and FUN!) regimen below, you'll be on your way to your best skin ever for the new year. While Korean beauty's 10-steps can seem super intimidating (seriously, we get it!), we've made it super easy with the guide below! Try this for two weeks and you'll be on your way to a better New Year, one that will sparkle far more than your NYE outfit. Guaranteed.
A good rule of thumb: Go from thinnest to thickest product. Meaning you want to layer on products that are the most water-like to most viscous so that they aren't overpowered.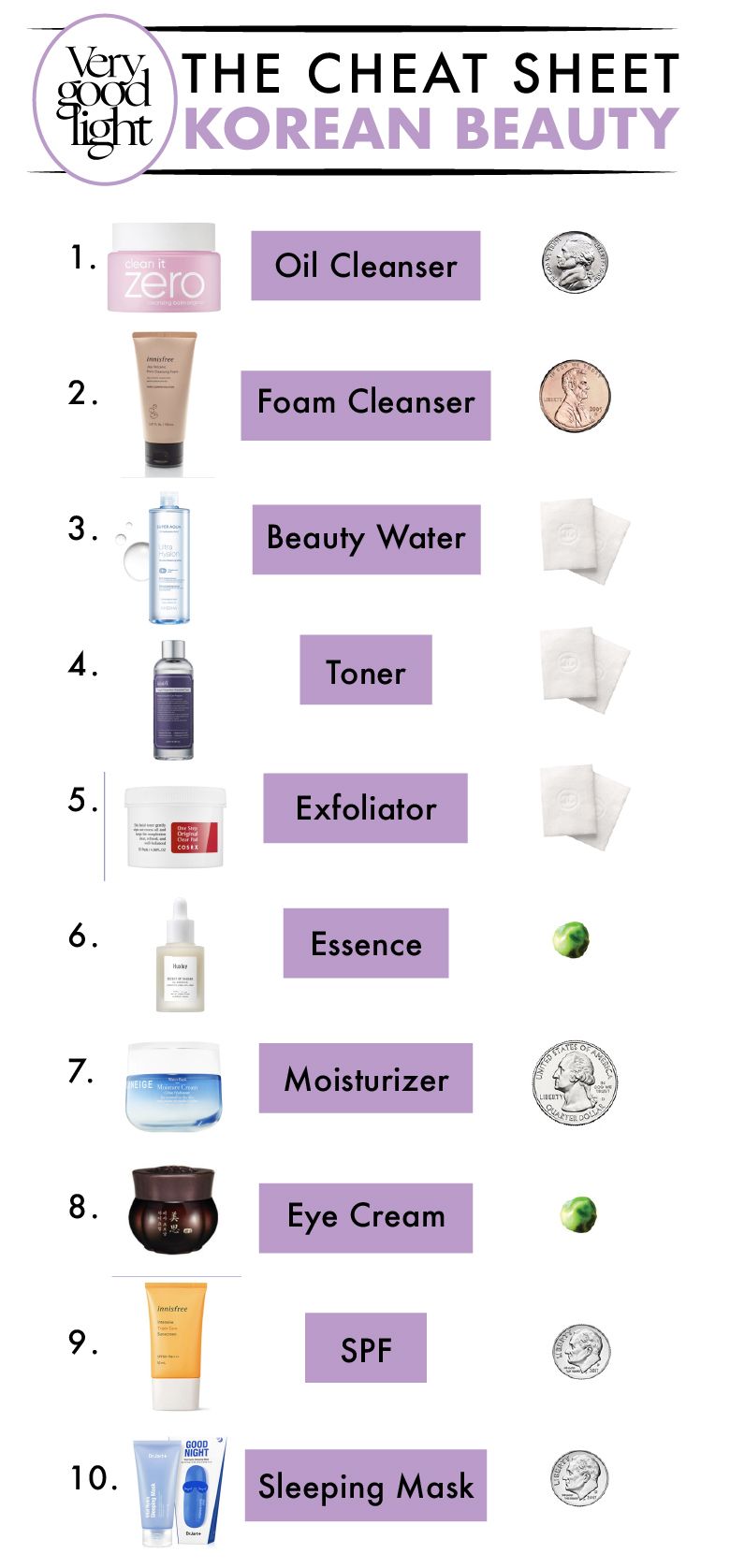 1. Oil Cleanser
The best way to cleanse your skin isn't by warm water and a cleanser alone. To get rid of the bacteria, pollution, dirt, extra sebum, SPF or any other "impurity" your pores have held onto the entire day, you need an oil cleanser to do the job. Seriously, this is going to help with those who have blemishes or acne.
It might sound counterintuitive to try cleansing with something you're trying to wash away, but it's not. An oil traps oil better than water or any foam cleansers will without disturbing your skin's natural barrier. It also rinses off easily without residue while the steam from the warm water will open up your pores. Think of it as the most effective way of purging your skin of any and all things that make you go YUCK.
WHEN: AM + PM
HOW YOU USE: Simply take a nickel-sized amount of product, and evenly place over your face. In a clockwise motion, massage it in for a good 15-30 seconds. Make sure you get deep into your pores. Remember, this is the first step in cleansing your skin so you should be gently massaging until you shine bright like a die-mun. After, rinse with warm water and use a clean towel to dry.
VGL RECOMMENDS: Banila Co. Clean It Zero ($19); Enature Moringa Cleansing Balm ($23)
2. Foam Cleanser
While an oil cleanser is your first defense at getting rid of any and all impurities, a foam or cream-based cleanser will do a great job at doing the rest. Together with warm water, this delicious lather will grab the last bits of "impurities" your oil cleanser may not have. A good cleanser does not strip your face of its hydration, nor does it completely dry you out. The key to Korean beauty is finding a cleanser that's gentle enough that it doesn't strip you of your natural oils but is tough enough to kick excess sebum to the curb.
WHEN: AM + PM
HOW YOU USE: When it comes to cleansers, more doesn't necessarily mean more effective. You only need a small penny-sized amount to really get the job done. Take warm water and open up your pores. Then, take your cleanser and lather it between your hands with water and massage your face for 15-30 seconds. After, take a clean towel and dry off.
VGL RECOMMENDS: Klavuu Pearlsation cleanser ($30); Innisfree Jeju Volcanic pore cleansing foam ($11.50)
3. Beauty Water
There's a lot of confusion when it comes to the subject of beauty water. Is it a toner? Is it micellar water? Is it actually water? Why use it? It's kind of all of the above. It's a multitasking product that will not only thoroughly cleanse, it'll balance out the skin while gently exfoliating at the same time. It also can substitute washing your face in the morning if you're too lazy to. Meaning, you simply take a cotton pad and wipe over your pores instead of taking a foam cleanser and water. We've written about this step as being super important at keeping our cystic acne at bay. It's because it's the last defense in ensuring you get rid of any dirt and grime that your oil and foam cleanser may have missed. Trust us, this is seriously a crucial step in your best skin ever. Proof is HERE.
WHEN: AM + PM
HOW YOU USE: After you've cleansed, take a cotton pad and dab it with beauty water. Wipe over your face until you've gone over every square-inch. This should take no more than 15-seconds. Don't be surprised if your cotton pad has some brown or gray residue. That's totally normal from the dirt and grime it's picking up. That means it's doing its job!
VGL RECOMMENDS: Son & Park Beauty Water ($30); Missha Super Aqua Ultra Hyalron cleansing water ($24)
4. Toner
A toner is ESSENTIAL to Korean beauty and probably the core to why this regimen works so well with people. Most people confuse a toner with an astringent and they are FAR from the same thing. First of all, a toner shouldn't have ANY alcohol in it – that'll dry out your skin and lead to many problems. Instead of drying out, a toner should do the complete opposite: help out your skin looks its best and hydrate. A toner balances out the pH levels of your skin so it's back to its normal state. Your skin is slightly acidic and water actually alkalizes it to a 7-8 pH level. It'll bring it back down to 4.5-5.5 depending on the toner you use. Not only will it calm your skin, it'll soften it so that a moisturizer can get deep into your pores.
Think of your skin as a dried sponge. Say you slather moisturizer on the top layer of a dried sponge. Will it seep through? Probably not. But if a dried sponge is drenched, it'll become more porous, allowing products to totally go through. That's what a toner does. It drenches your skin so that the next step (moisturizer) can do its job.
WHEN: AM+ PM
HOW YOU USE: You can use toner in two ways: with a cotton pad or with your hands. If you're clumsy, I'd recommend a cotton pad. If you're adept, use your hands. Take your toner, warm it with your hands before applying to your face. Pat it thoroughly in by gently tapping your face like you would a key on a piano. Hold your hands on your face so that the warmth can allow your skin to soak in the toner better.
VGL RECOMMENDS: Missha Time Revolution ($52); Klairs Supple Preparation Toner ($22)
BONUS: If you're using a Sheet Mask or masking, that step goes here! After your masking, skip to Step 7!
5. Exfoliator
When you think of an exfoliator, a brush like Clarisonic may come to mind. But when it comes to K-beauty, we're talking an actually chemical/acidic exfoliator. Before you RUN FOR THE HILLS, hear us out. Acid of the beauty kind, is actually super safe and gentle for your skin. An AHA (alpha hydroxy acid) and BHA (beta hydroxy acid) are used to get rid of excess skin cell build up, dead skin cells, clogged pores, sebum, that may be causing your breakouts. Think of this exfoliating step as one where you're taking out the trash and dumping it out for good.
WHEN: AM + PM or once a day depending on your skin type.
HOW YOU USE: Take your exfoliator and drench your cotton pad. Swipe across your face and pat dry.
VGL RECOMMENDS: CosRX One Step Clear Pad ($22); NEOGEN Bio-Peel Gauze Peeling Lemon ($27)
6. Essence
As mentioned, the core of Korean beauty is a toner, but it's also this step. It's the essence portion, one that is for treating your skin of what your body can't produce on its own. Whether it's essential vitamins like C (brightening) or E (fine lines or wrinkles), anti-aging properties, or more, this is a step that Koreans do not skip over. This is the one time in your regimen where you can be proactive and reverse whatever damage has been done to your skin.
WHEN: AM + PM
HOW YOU USE: Take a pea-sized amount and evenly dab over your skin. Getting massage until all product is seeped into your pores.
VGL RECOMMENDS: Huxley Sahara oil essence ($21); CosRX snail mucin ($23); Skinfood Royal Honey ($26)
7. Moisturizer
This step and its benefits are pretty self-explanatory. Except a lot of people still have misconceptions about what a moisturizer does. Yes, it, well, moisturizes the skin, but it's also used to create a defense for your skin's barrier against the environment. That could be pollution, UV rays, a dry climate, and more. A good moisturizer will also allow the skin to heal. You should always choose a moisturizer that is gentle enough for your skin but also leaves you with a nice glow.
WHEN: AM + PM
HOW YOU USE: More doesn't mean more. It only means you're wasting precious moisturizer that will either wipe away on your pillowcase (at night), or simply evaporate into the environment. The maximum you should use is a quarter-sized amount. Anything less than a nickel-sized amount won't do you any good either. Evenly disperse on your face and massage in until the product seeps through into your pores.
VGL RECOMMENDS: Laneige Water Bank ($36); Belif True Aqua Bomb ($38); Missha Snail Cream ($50)
8. Eye Cream
Why is an eye cream so important? It's because the skin surrounding your eyes actually have no pores. That means there isn't natural oil production there, leading to wrinkles. To prevent and/or treat this, using an eye cream is essential. While some may think eye cream isn't a step they need, you'll be thanking yourself 10 years from now. Trust.
WHEN: AM + PM
HOW YOU USE: The area around your eyes are super sensitive and pressing too hard will cause further damage/wrinkles. To prevent this, take the eye cream and place on your weakest finger: Your ring finger. Very gently, tap your under eye and the area under your brow bone. Do so until all of the eye cream is soaked into your skin.
VGL RECOMMENDS: 3Lab WW eye cream ($300); CosRX Honey Ceramide eye cream ($29); Missha Cho Bo Yang eye cream ($26)
9. SPF
SO IMPORTANT!!! We've written so much about how sunscreen is your #1 defense and we mean it. UV rays cause so much damage. After all, 90% of all wrinkles are due to sun damage. Not only that, UV rays can cause hyperpigmentation and worse: skin cancer. We cannot stress how important this is. If ANYTHING in your regimen, use SPF. Read all about SPF here.
WHEN: AM
HOW YOU USE: Use a dime-sized amount and evenly disperse over your skin including your under eyes. Do so until your skin absorbs. Wait 15 minutes before heading out.
VGL RECOMMENDS: Neogen's Day-Light Protection SPF 50 ($30); Innisfree Intensive Triple Care Sunscreen SPF 50 ($15)
10. Sleeping Mask
Sleeping masks have taken off in the past year and for good reason. They actually work. When you sleep, a lot of moisture is seeped out of your skin. That has a lot to do with you rubbing your face into your pillow. But it also has a lot to do with your sleep cycle. For one, your body is at a warmer temperature, meaning your skin will seep more products into itself. Your body also produces HGH (Human Growth Hormone), which produces cells and goes into overdrive. It also creates extremely dry skin or "transepideral water loss" in the process. Meaning, your skin will lose A LOT of water while you snooze. A sleeping mask will hydrate, protect and prevent so much hydration loss be sealing your skin shut. This is important as it'll ensure the steps above won't go to waste.
WHEN: PM
HOW YOU USE: Use a dime-sized amount and place over your entire face as a last step. Gently massage into your skin until it's all absorbed.
VGL RECOMMENDS: Glow Recipe's Watermelon mask ($45); Dr. Jart's Hydra Sleeping Mask ($16.99)